Last Updated: 9th Sep, 2021
The rental economy is perfectly poised to reach new dimensions and there's a good explanation for that. The idea of rental itself isn't something new but the revolution of digital technology, internet, and 3D modeling  and dedicated software solutions has increased both its appeal and the rate of growth in recent years. We've already seen rental marketplaces like clothing, furniture, equipment, office spaces, and bikes rental garner widespread popularity; and if the venture capitalists' projections are to be trusted, furniture is one market that's waiting to feel the sway of the rental economy.

Table of Contents
Why is Online Furniture Rental Gaining Traction?
Much like other rental markets, the driving force for furniture rental is the psychology of the millennial generation. Unlike their past generations, millennials are predisposed towards an active lifestyle that involves a lot of moving and shifting places. While some mention a hankering for a new lifestyle spurs them to move, others cite employment-related reasons. Still more mention, they move to get away from their friends and family or even to find new relationships.
Whatever the reasons, moving to new places means setting up things, in particular furniture, right from scratch. In the old days, people would simply take their furniture with them to a new place. But millennials are a different lot; they like to travel light and prefer minimalism. It's this lifestyle choice that has led to the proliferation of online furniture rental marketplaces all across the globe.
Top Players in the Online Furniture Rental Industry
Following is a list of some of the most successful companies in the online furniture rental space. It should be noted that most of these companies differ from one another in their business model, approach, target audience, and geographies. But their emergence,  rapid popularity, and impressive turnover figures clearly emphasize the growing demand for online furniture rental in recent years.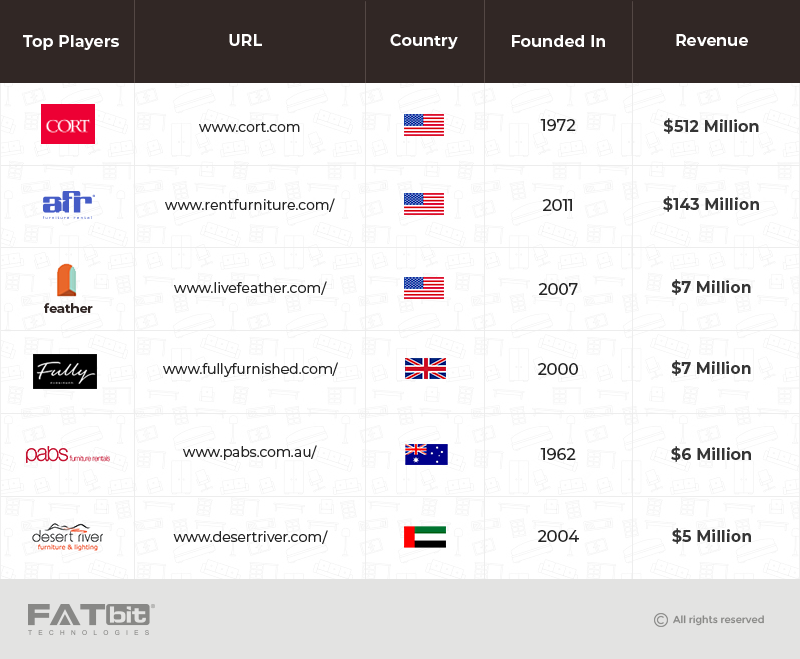 It's also worth noting that Ikea, the world's largest furniture seller, has said it wants to roll out furniture rental services to all its main markets.This move comes as Ikea observed many of its customers are frequently changing homes and can't afford to purchase new furniture with every new move. It's also driven by environmentalism; an IKEA survey found that 90% of its customers are ready to change their behaviour if that reduces the environmental damage.
Business Model of Furniture Rental Marketplace
An online furniture rental marketplace helps furniture owners, manufacturers and dealers lend their products. Collectivity, these all are referred to as vendors, which is an important user type of the marketplace. Other user types that make online furniture rental marketplaces viable are the admin and the customers.
User Types on a Furniture Rental Marketplace:
Admin (The marketplace owner or his/her representatives)
Vendor (furniture owner, manufacturer, dealer)
Customer
The ideal workflow of a furniture rental marketplace is as follows:
Vendors sign up on the marketplace and upload furniture listings
The admin approves or rejects the listings

Once approved, the listings are made public on the marketplace platform
Rejected listings are sent back for moderations and reconsidered

Customers browse the listings and place a rental order by paying the rental fee and submitting the security deposit
On receiving the payment, the admin deducts his/her commission from the rental fee and transfers the rest to the vendor. The admin also reserves the security deposit till the product is returned.
The customer receives the furniture product(s) as per the selected delivery method
On the return of the product, the vendor inspects the product for any damages and reports the same to the admin

The admin deducts reimbursement for the damages from the security deposit and returns the rest to the customer.
In case of no damages, the admin returns the entire security in full without any deductions.
Revenue Generation Model of Online Furniture Rental Marketplace
A furniture rental marketplace can generate revenue from multiple sources. To begin with, the platform owner can list their own furniture just like other vendors and make money off rented furniture. The other 4 revenue generation channels are as follows:
1. Commission – The marketplace owner earns commission on every transaction taking place on the website. This cost is deducted at the time of rental payments.
2. Advertising – The marketplace owner can invite advertisers to place their ad copies on his/her website. The cost of such advertising can be determined on the basis of number of clicks/views.
3. Featured Listing – The marketplace owner can invite vendors to list their furniture on the focus spots of the website, such as the header, homepage, or a separate Featured Listings section. By making it a premium feature, a sort of competitive environment can be created on the marketplace, where different vendors bid to get their products listed in the Featured Listings.
4. Subscriptions – The owner can also create various subscription plans that offer value or tangible benefits in the form of reduced delivery charges, flat discounts, or double-checks on quality assurance.
Also, the option of furniture selling can be enabled depending on the customer's demand, which will open another revenue stream for the marketplace owner.
Key Features To Have in an Online Furniture Rental Marketplace
When building an online rental marketplace, it's crucial to include the right set of features necessary to drive your business growth. Consider the following when building your online furniture rental marketplace.
Admin Features
Catalogue Management: A full-fledged system to upload furniture listings or review vendor listings. The marketplace should have features to update, disable or delete a furniture listing.  Some other functionality that should be included in catalog management is to set offers and discounts on selected listings.
Tax Management: A furniture rental marketplace with options to create and assign different tax categories is highly useful for a business owner. Tax module can help the owner in automating tax collections and preparing appropriate tax reports.
Portal Management: A good marketplace software is one with complete portal management options for the business owners. He/she should be able to add new web pages, change home page sections, select portal language, banner images, and more.
Order Management: One of the most important features for an online rental business, order management will help the business owner view order status, process orders, accept or reject orders and track order fulfillment by vendors. Some rental platforms also have features to track shipments and create custom shipping labels.
User Management: User management options such as order history, rewards history, GDPR request management and saved payment options assist the business owner in providing better services to the customers.
Rental Security Management:  The marketplace should have the feature to collect rental security from customers at the time of order placement. This security is used to reimburse any damages or collect late return charges. In case of no damages or late return, the rental security is returned to the customer in full.
Multi-User Admin Accounts: Businesses may require a team to manage all the admin operations. With a multi-user admin account, the owner can create super admin and sub-admin accounts to manage the store. The super admin can assign various privileges to sub-admin accounts for hierarchical management.
Vendor Features
Dedicated Storefronts: Dedicated storefronts attract more vendors in your marketplace. From a customer's point-of-view, they also streamline the browsing experience by making it easier to find all the listings of a single vendor.
Listing Management: This module allows vendors to upload detailed listings with proper images, pricing and currency. Once uploaded, vendors should also be able to edit, update, disable and delete a listing.
Return Management: Return management features should allow the vendor to keep track of product returns and send reminders in case of return delays. For the same, the vendor should also be allowed to charge extra.
Import/Export Listings: Vendors such as furniture manufacturers and dealers usually rent out products on multiple marketplaces. It is difficult and time-consuming for them to manually upload all listings on every marketplace. Thus, import/export features simplify the job for them.
Product Collections: Collections help vendors create an entire catalog of themed products. This feature is important for bundling and upselling on furniture rental platforms. Furthermore, it also helps both the vendor and business owner in speeding up their revenue generation.
Rental Agreements: Every vendor can have his/her own terms and conditions that can be separate from those of the marketplace. To implement those, the marketplace requires rental agreement features using which the vendors can upload their rental agreements and get them eSigned by the customers at the time of order placement.
Customer Features
Order History: For a better customer experience, users demand eCommerce sites to keep record of their previous orders.
Product Inspection: With the help of this feature, customers can inspect the rental furniture for any damages and report the same to the business owner and vendor.
Rent Extension: Many times customers of a furniture rental marketplace prefer to extend their rental period for a variety of reasons. This option should be provided to them under the orders section.
Delivery/Pickup Slots: Large items such as furniture cannot be delivered unplanned. For this reason, the rental marketplace is also required to have delivery as well pickup slots (for small items).
Smart Search Options: Selecting rental furniture is inclusive of many factors such as old/new, fabric, size, architecture style, color, wood, finish, and more. To help in this selection, smart search options in terms of filters and sorting options are very useful.
Rental Add-Ons: Customers often demand add-on products and services to complement the rental furniture. Some of these add-ons are throws, pillows, pillow covers, pet repellants, and drycleaning services. Both business owners and vendors can provide these optional add-ons at the checkout process. Here is a video to know how YoRent helps furniture rental businesses with its in-build rental add-ons module.
Subscription Module: In the rental economy, customers may want to rent products for a longer period of time. For example, let's assume the period of six months. However, for many customers, it is not a financially sound decision to pay the rental fee for six months all at once. In these cases, they rather prefer to rent out furniture on subscription basis and pay a monthly recurring fee.
UX/UI
Booking Calendar: The browsing process on a furniture rental marketplace is different from an eCommerce website meant for selling. To find or book furniture, customers are required to select a rental period on the basis of which an invoice is prepared. The booking calendar efficiently fulfills that function.
Multilingual and multi-currency support: Mid to large size rental marketplace businesses also offer multilingual and multi-currency options to simplify the booking process for tourists and immigrants.
Map View: A map view of all furniture listings makes more sense on a rental marketplace than a grid or list view. The feature is highly recommended to business owners wanting to launch a P2P furniture rental store and small size businesses aiming to operate within a very limited geographic region.
Easy Navigation: The navigation of the marketplace should follow the standard eCommerce navigation positioning and placement to make it easier for the customers to find the user profile option, checkout button, wish-list, etc.
Marketing
Promotional Banners: Promotional banners are the slider images that can be added to various pages of the platform. However, they are usually placed on the homepage and include creatives for sales offers, discounts, new launches, and more.
Social Media Sharing Buttons: The option to share favorite products through social media channels is an impressive marketing feature. The business owner can also place the marketplace's official social media handles in the website footer to increase engagement and followers.
Discount Coupons: Discount coupon management on the furniture rental marketplace should include options to create and update discount coupons. While creating, the admin should be able to set coupon quantity, inapplicable products and collections, number of usages, and coupon expiration date.
Reward Points: Reward points are useful to build a loyalty program. They assist in reducing churn rate and turning light users of your website into heavy users. To manage the reward points system, the admin should have the option to select reward points for each and every product.
Smart Recommendations: AI-enabled furniture recommendations are a proven asset for up-selling. Based on user activity, wish-list, and browsing behavior, these recommendations display the products to users that they are most likely to rent out.
SEO: Search Engine Optimization (SEO) is important to make your furniture rental marketplace appear in search results. For SEO, the marketplace should have the option to edit the webpage slug, add meta description and image alt tags. It should also have an XML sitemap for the quick indexing of new listings and web pages.
Display advertising: Placing vendor advertisements on various web pages of the marketplace can also help rental marketplaces promote specific storefronts and listings. Furthermore, the business owner can also charge vendors for advertising their listings and make extra revenue while doing it.
Referral Program: Referral programs benefit both the marketplace and customers. For marketplace owners, they imitate word of mouth marketing and for customers, they help them reduce the order amount.
Final Thoughts
The demand for furniture rental continues to be on an upward curve despite the recent COVID-19 outbreak. A number of US-based furniture rental companies stated they're faring surprisingly well, because they let people own big-ticket items without paying their full price. There's a general consensus among people that flexibility is important and it makes economic sense to rent things like furniture instead of buying them.
Setting up an online furniture rental marketplace isn't all that complex provided you have the right technology partner and a sound understanding of your target region. At FATbit Technologies we've helped a number of rental businesses set up their online marketplaces with our flagship solution Yo!Rent. If you're planning to build a furniture rental website or seek expert advice to get things started, feel free to get in touch. For any other feedback or ideas related to this blog, please drop a message in the comments section below.
Find out the cost to build a furniture rental website