The rental economy is perfectly poised to reach new dimensions and there's a good explanation for that. The idea of rental itself isn't something new but the revolution of digital technology, internet, and 3D modeling has increased both its appeal and the rate of growth in recent years. We've already seen verticals like clothing, furniture, equipment, office spaces, and bikes rental garner widespread popularity; and if the venture capitalists' projections are to be trusted, furniture is one market that's waiting to feel the sway of the rental economy.
Table of Content
Why is Online Furniture Rental Gaining Traction?
Much like other rental markets, the driving force for furniture rental is the psychology of the millennial generation. Unlike their past generations, millennials are predisposed towards an active lifestyle that involves a lot of moving and shifting places. While some mention a hankering for a new lifestyle spurs them to move, others cite employment-related reasons. Still more mention, they move to get away from their friends and family or even to find new relationships.
Whatever the reasons, moving to new places means setting up things, in particular furniture, right from scratch. In the old days, people would simply take their furniture with them to a new place. But millennials are a different lot; they like to travel light and prefer minimalism. It's this lifestyle choice that has led to the proliferation of online furniture rental marketplaces all across the globe.
Top Players in the Online Furniture Rental Industry
Following is a list of some of the most successful companies in the online furniture rental space. It should be noted that most of these companies differ from one another in their business model, approach, target audience, and geographies. But their emergence,  rapid popularity, and impressive turnover figures clearly emphasize the growing demand for online furniture rental in recent years.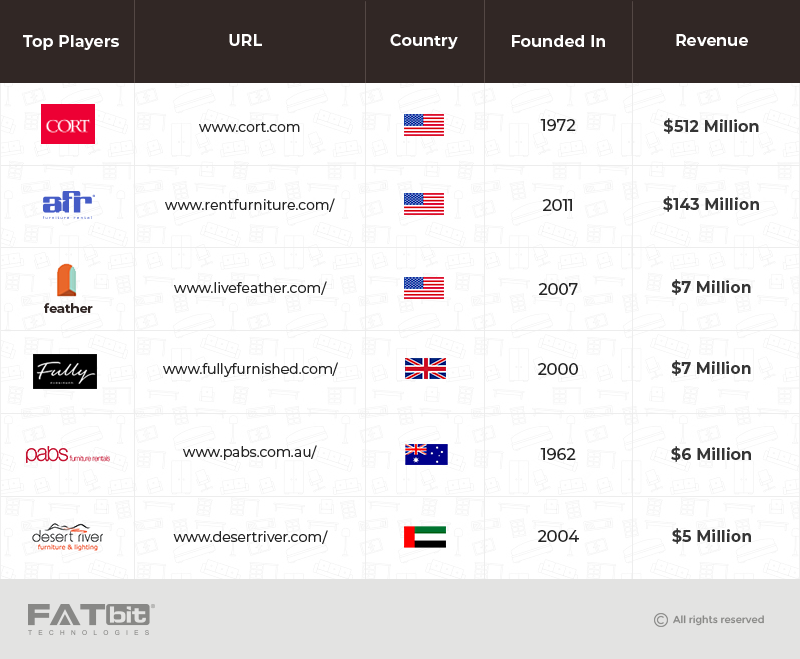 It's also worth noting that Ikea, the world's largest furniture seller, has said it wants to roll out furniture rental services to all its main markets.This move comes as Ikea observed many of its customers are frequently changing homes and can't afford to purchase new furniture with every new move. It's also driven by environmentalism; an IKEA survey found that 90% of its customers are ready to change their behaviour if that reduces the environmental damage.
Business Model of Furniture Rental Marketplace
An online furniture rental marketplace works on the collaboration of furniture owners, original manufacturers and dealers. On a marketplace, they're referred to as vendors, who simply list their furniture to receive rental requests from website visitors.
Website visitors(rentees) create a furniture rental request by paying a specified rental fee, which is first transferred to the website owner's account. As soon as the vendor accepts the rental request, the rental fee(after commission deduction) is released to their account by the Admin. The requested furniture is dispatched by the vendor to the specified delivery address. A security deposit is maintained in the admin's account, which is refunded to the rentee upon a safe return. Depending on a business' 'Terms and Conditions', deductions can be made from the security fee in case of an unsafe or delayed return. A video by CORT demonstrates this workflow quite well.
Revenue Generation Model of Online Furniture Rental Marketplace
A furniture rental marketplace can generate revenue from multiple sources. To begin with, the platform owner can list their own furniture just like other vendors and make money off rented furniture. The other 4 revenue generation channels are as follows:
1. Commission – The marketplace owner earns commission on every transaction taking place on the website. This cost is deducted at the time of rental payments.
2. Advertising – The marketplace owner can invite advertisers to place their ad copies on his/her website. The cost of such advertising can be determined on the basis of number of clicks/views.
3. Featured Listing – The marketplace owner can invite vendors to list their furniture on the focus spots of the website, such as the header, homepage, or a separate Featured Listings section. By making it a premium feature, a sort of competitive environment can be created on the marketplace, where different vendors bid to get their products listed in the Featured Listings.
4. Subscriptions – The owner can also create various subscription plans that offer value or tangible benefits in the form of reduced delivery charges, flat discounts, or double-checks on quality assurance.
Also, the option of furniture selling can be enabled depending on the customer's demand, which will open another revenue stream for the marketplace owner.
Key Features To Have in an Online Furniture Rental Website
When building an online rental marketplace, it's crucial to include all the right set of features necessary to drive your business growth. Consider the following when building your online furniture rental marketplace.
1. Categories To Simplify Browsing & Search
Visitors on a furniture rental website often have varied requirements. As such, they should be offered different search options to simplify the search. A website like Cort offers 3 options on its homepage – Furnish Your Home, Outfit Your Office, and Plan Your Event. This is a great way to help users navigate the website and quickly find the kind of furniture they're looking for. These 3 main categories are further divided into several sub-categories. For instance, Furnish Your Home has – Living Room, Bedroom, Dining Room, Bed and Bath and so on.
2. Move-In Packages Dedicated To Specific Target Audience
It's also a good idea to offer something like a Move-In package for different audience groups such as Professionals, Students or Military Personnel who are planning a move to a new place. The packages should be carefully designed so as to meet all the requirements of a specific audience group. A Student package could be further broken down into 2 or 3 packages covering everything from basic necessities to furniture earmarked for Urban Living.
3. Various Filters To Find Most Relevant Results
It's almost unthinkable to have an eCommerce website without search filters and furniture rental websites are no exception to this standard. To start with, users should be able to search for a specific item using a few keywords entered on a Search Bar. To further filter their search they should be able to select their preferences for location, lease length, budget, size, material and color and so on.
4. Wish List To Store All The Favorite Products
Wish lists are a great way to help users save/bookmark their favorite furniture items for a future reference. Whether the user wants a favorite collection to trim their selection options for order placement or they're tight on budget or time, the Wish list feature has a very practical usage for different use-case scenarios. Using it as a marketing tool, some companies would even send notifications or reminders to users if any of their saved items have special offers or are selling out quickly.
5.  Frequently Asked Questions(FAQ) As First Line of Support
An FAQ section is vital for the website visitors to understand your furniture rental platform's features and questions related to various use-cases. Common FAQs could be as follows – How does the rental platform work? How secure is the platform? What's the return policy? What's the cleaning process of inventory? Is there a security deposit? What are the different payment options? What happens if a user wants to cancel a lease early? Moreover, providing answers to the common questions in an FAQ section also saves unnecessary burden on your help and support staff.
6. User- Generated Reviews To Build Social Proof
While user-generated reviews can be a double-edged sword, it's usually agreed that their positives far outweigh the negatives associated with them. Any first time shoppers of a given product will be interested in knowing the opinion of people who have previously bought/used that product. In fact, many people would form a buying decision based on the reviews received on a product. Yes, negative reviews can badly impact the demand for a given product, but even then, shoppers would come to trust and appreciate a platform that hosts other people's honest reviews as opposed to no reviews.
7. Related Items To Enhance Engagement & Product Discovery
An average user on your furniture rental website will often search for specific items using a handful of keywords or filters. In other words, they won't get anywhere close to a vast array of the inventory you possess and might miss out on a lot of items that remain unexplored. This is where the 'You may be interested in', 'Similar items', 'People who viewed this item also viewed' marketing hacks come in. Showing items this way facilitates the user's browsing experience and often leads to higher order value.
8. Advanced & Multiple Payment Methods For Higher Conversions
eCommerce has come a long way from the old days of cash on delivery. Just consider Amazon one-click shopping. Users with registered accounts can buy with the click of a button. Digital payment is on the rise and people expect websites to offer them a wide range of options to choose from. The key thing is to understand who the buyer is and what's their go-to mode of payment. Moreover, if you're limiting certain payment options, it's a good idea to offer a fair explanation for that decision whether it relates to the payment method's security or unreliability.
9. Order Management For Centralized Control
Order management is a crucial feature in any eCommerce website. It allows the admin to track all the orders, their details related to processing, delivery, fulfillment and so on. In case of a dispute from either the owner or rentee, the admin can quickly retrieve the order details and resolve the dispute in the best way possible.
10. Offers & Discounts To Drive More Sales
For eCommerce businesses, offers in the form of discounts and price-drops remain the go-to marketing strategy to increase engagement and conversion. The offers should be prominently displayed on the header section of the website's homepage. For non-regular users, notifications about the offers can be sent out via email or SMS. To facilitate offer creation, make sure you invest in a platform that provides a reliable Content Management System(CMS) with the possibility to create, edit and update offers/promo codes in a few simple steps.
11. Airtight Security Set-Up
On some of the world's most popular eCommerce websites, transactions could be taking place in their tens of thousands every minute. That also means an unimaginable level of financial activity. It's no wonder, eCommerce websites serve as a lucrative target for Cybercriminals. That's why protecting customer's financial data and personal information is important. So when creating an online furniture rental website, it's necessary to invest in air-tight security features such as SSL certificate, two-factor authentication, and use of firewalls.
Final Thoughts
The demand for furniture rental continues to be on an upward curve despite the recent COVID-19 outbreak. A number of US-based furniture rental companies stated they're faring surprisingly well, because they let people own big-ticket items without paying their full price. There's a general consensus among people that flexibility is important and it makes economic sense to rent things like furniture instead of buying them.
Setting up an online furniture rental marketplace isn't all that complex provided you have the right technology partner and a sound understanding of your target region. At FATbit Technologies we've helped a number of rental businesses set up their online marketplaces with our flagship solution Yo!Rent. If you're planning to build a furniture rental website or seek expert advice to get things started, feel free to get in touch. For any other feedback or ideas related to this blog, please drop a message in the comments section below.
Find out the cost to build a furniture rental website