As the world adapts and reconstructs itself in the face of a humanitarian crisis, new factors emerge dictating 'a new normal' for companies. The response to this pandemic signals a broader social shift that redefines and distills essential from disposable. In a post-Corona economy, navigating the changing consumption patterns, businesses must comprehend and untangle temporary from emerging and permanent behaviors.
To understand the defining role of the pandemic in triggering the widespread adoption of online grocery and its potential ramifications, it's crucial to address three critical developments.
Is Post Covid-19 Surge in E-grocery, a Signpost for The Future?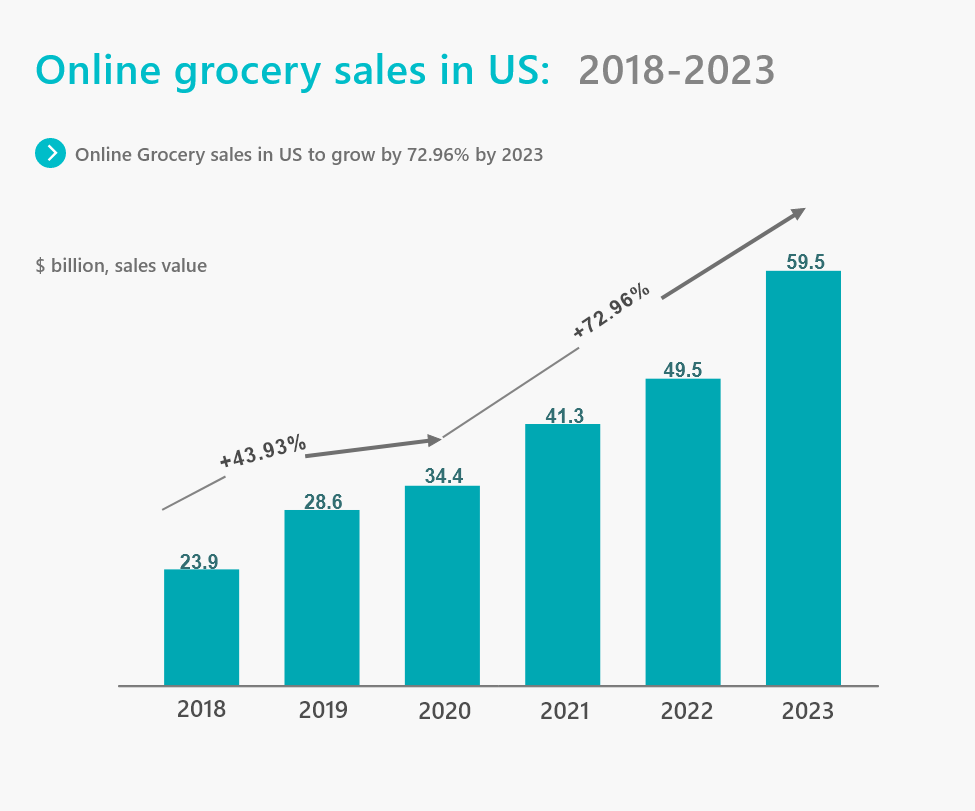 According to a 2019 report by Gallup, 81% of respondents said that they had never used online grocery services before the coronavirus outbreak. However, the crisis has led to a colossal change in the size and shape of demand, transforming the business model and ecosystem.
Online retailer, Rakuten's data reveals that through the period of March 12, 2020- March 15, 2020 online orders jumped by 151% and BOPIS and home delivery went up by 210%. Online grocery apps: Instacart, Walmart Grocery, and Shipt witnessed a significant increase in daily downloads by 218%, 160%, and 124% respectively.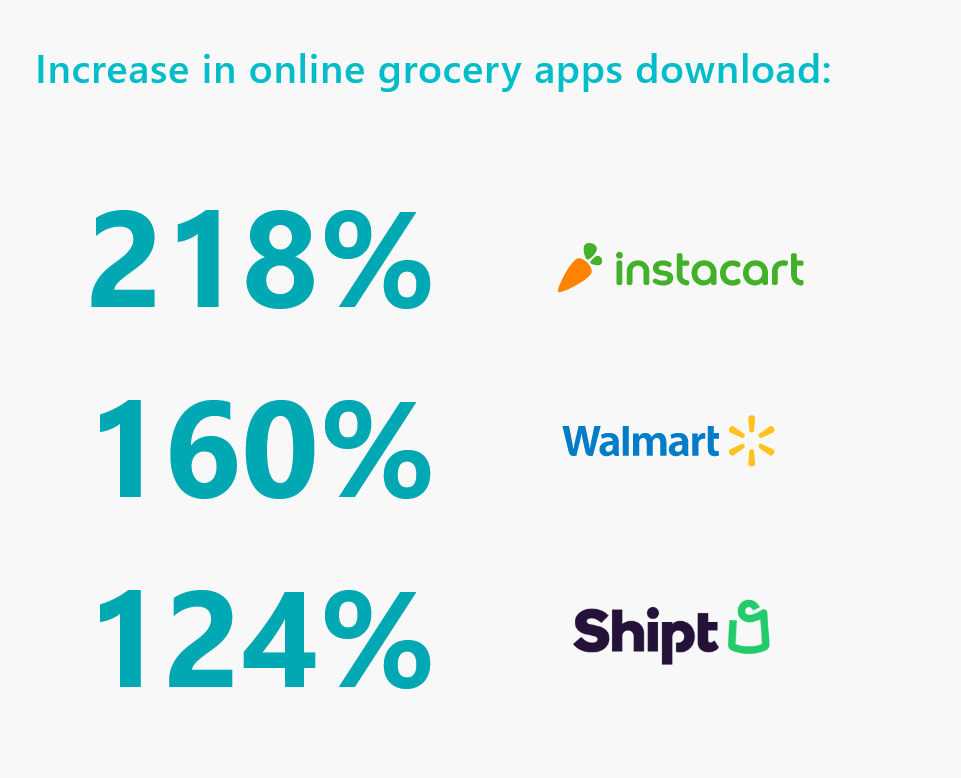 A March 23, 2020 – March 25, 2020 consumer survey conducted by food marketing and sales consulting firm Brick Meets Click and online order fulfillment platform ShopperKit found 31% of U.S. households have used an online grocery delivery or pickup service during the past month. The number is up by 145.3% when compared with a Brick meets click survey conducted in August 2019 which noted 13% of households buying groceries online.
Huge website traffic spike was observed between February 25, 2020 – March 23, 2020. Aggregate data for the 20 grocery/fresh food retailers by web measuring firm SimilarWeb Ltd. reports that there was an 84.5% traffic increase for the week of March 15, 2020 –  March 21, 2020 compared with the week of March 1, 2020 – March 7, 2020.
While the attitudinal shift is linked to the social crisis, rapid adaptation of consumers towards online grocery shopping and the growing appetite for the digital model suggests that there is a future at work.
"Rapid adaptation of consumers towards online grocery shopping and the growing appetite for the digital model suggests that there is a future at work."
Temporary Shift or A Permanent Pattern?
The magnitude of COVID 19 is a domineering push in inducing crisis shaped behavioral changes certain to usher in new consumption patterns across several sectors and channels. Grocery eCommerce is witnessing a similar change in consumption and growth pattern. By materializing millions of first time and infrequent buyers in a short time and by addressing their previous hurdles, it's consolidating growth.
The aforementioned March 23, 2020 – March 25, 2020 consumer survey from consulting firm Brick Meets Click and online order fulfillment platform ShopperKit also found 26% of the online grocery shoppers surveyed who said they are using a specific online grocery service for the first time. This category of new users jumps to 39% for shoppers aged 60 years and older.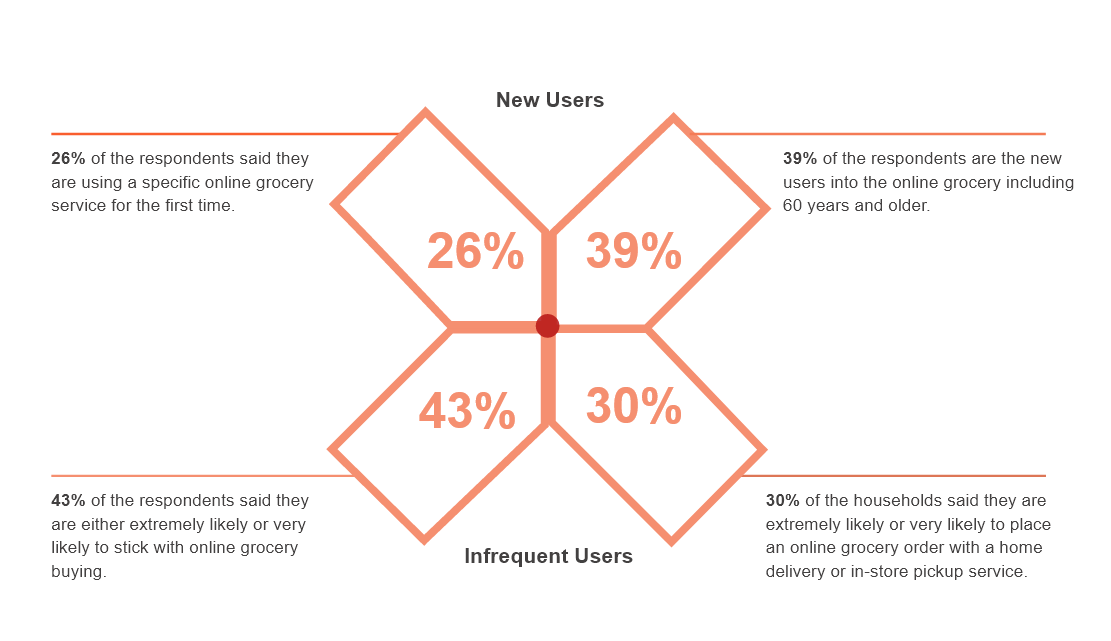 In the same survey, 43% of respondents said they are either extremely likely or very likely to stick with online grocery shopping. Interestingly, the survey reported that 30% of households that haven't shopped for groceries online during the past month are extremely likely or very likely to do online grocery shopping choosing home delivery or the service of In-store pickup in the next three months if the crisis continues.
According to the theory of adoption, confrontation of need leads to trigger action for innovation provided it occurs in the presence of enabling and motivating conditions. The present crisis replicates the exact condition stimulating the pressing need to enable the adoption of online grocery buying. A positive outcome from the experience further ensures continued use by the adopter. With each new cycle of buying, end-users tend to adapt more to the innovation of online grocery shopping.
"With each new cycle of buying, end users tend to adapt more to the innovation of online grocery shopping."
The crisis-induced disruption has paved the way for a fundamental shift reflected in a greater emphasis on E-grocery.
Opportunity in Adversity
The unprecedented challenge posed by the pandemic calls for a reorientation of your online grocery business model towards emerging customer needs. Products and experiences that align with the shifting priorities of customers amidst the pandemic are gaining momentum. Customers are prioritizing experiences that promote trust, health and hygiene, environment friendliness, and positive support.
By identifying and anticipating customer empathies, you can equip your online grocery business to respond adequately, chart the right course of action, and stay relevant. Here's how you can overcome the challenges and calibrate your crisis response:
Curated Shopping List
Curating a list of essential supplies for customers accelerates the buying process and ensures uniform distribution while reducing the pressure on inventory that may arise due to panic buying.
Optimizing Order Fulfillment
As the demand continues to increase and supply chains continue being disrupted, online grocery businesses must employ their resources in order to ensure transparent, safe, and fast delivery. Before a customer gets to the checkout page, there must be clear communication on the 'availability' and 'deliverability' of the items to their selected address. For online businesses, a thorough understanding of locations and the different kinds of products is necessary to develop a quick response. Maximizing the capability of a dynamic inventory management process helps to escalate the speed of supplying customers' needs, managing supply chain, and clear status of goods across the different channels in the grocery distribution network.
Optimizing Inventory
A grocery eCommerce platform that invests in big data and analytics platforms can ensure to become more insight-driven and hyper-focused to monitor and predict fluctuations in product demand, thereby optimizing inventory across a multiple channel environment. As the Corona crisis puts more pressure on the supply chain, it's imperative for E-Grocers to calibrate their supply chain capabilities to be prepared for demand planning in real-time and in the future.
Real-time Supply Chain Monitoring
In order to safeguard against the increasing strain of the pandemic, real-time supply chain management is crucial to build resilience against further disruptions. By using digital tools that allow to identify logistics capacity, manufacturing, demand planning, and operational viability, real-time visibility of the supply chain is enabled, ensuring better service, and sufficient flexibility.
Empathetic Customer Engagement
By developing customer-based communication that responds directly to their needs and is tailored to inculcate a sense of compassion and camaraderie, responsible e-grocers are recognized and differentiated. In this humanitarian crisis, it's crucial to approach your customers with empathy and help them navigate the stressful times through genuine, engaging, and meaningful content.
By following these steps, you can rise to the challenge and ease your customers' journeys: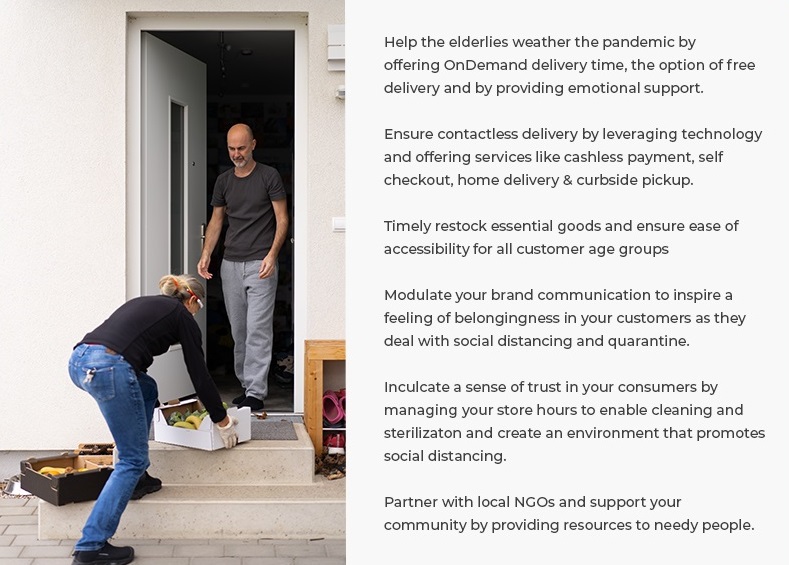 Employees First
The unprecedented speed with which Coronavirus is spreading demands coordinated and collaborative efforts by responsible E-Grocers to support their employees. Here's a list of steps that you can implement to protect your workforce.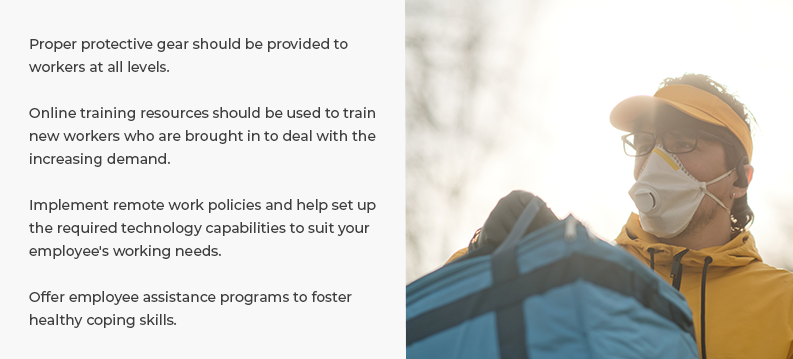 The Future Is Now
It takes innovators and early adopters to transform crisis challenges to futuristic changes and risks to resilience by acting swiftly to bridge the gap between the present and future.
COVID 19 has significantly changed the way human experiences are perceived and would continue to impact and invade the nature of operations, social welfare, and healthcare.
Such short-lived crises spur a set of interconnected long-lasting changes and it is between the duration and action of the two that sets the difference between pioneers and spectators. The commonality between COVID-19 and other such historic crises has been the emergence of new perspectives, behaviors, and subsequent policy and experiential changes.
While Grocery store robots might be considered as one of the innovations, for now, it is by rapidly reacting and shaping the perceived needs that allow true innovations to come to the fore.
We can continue to observe and visualize multiple possibilities, however, to shape the post-crisis future, businesses must act NOW by quickly addressing the current threats and setting a resilient foundation for the future.
Lead your online grocery marketplace to a new growth trajectory