Consumer behavior has changed drastically over the last year due to the COVID-19 pandemic. Faced with lockdown regimes and restaurant closures, many people have turned to online food delivery services to avoid going outside.
With the majority of food courts having closed off their traditional dining room areas for the public, there has been a surge in the number of food delivery app downloads. This sudden growth has opened opportunities for startups to thrive in the online food industry.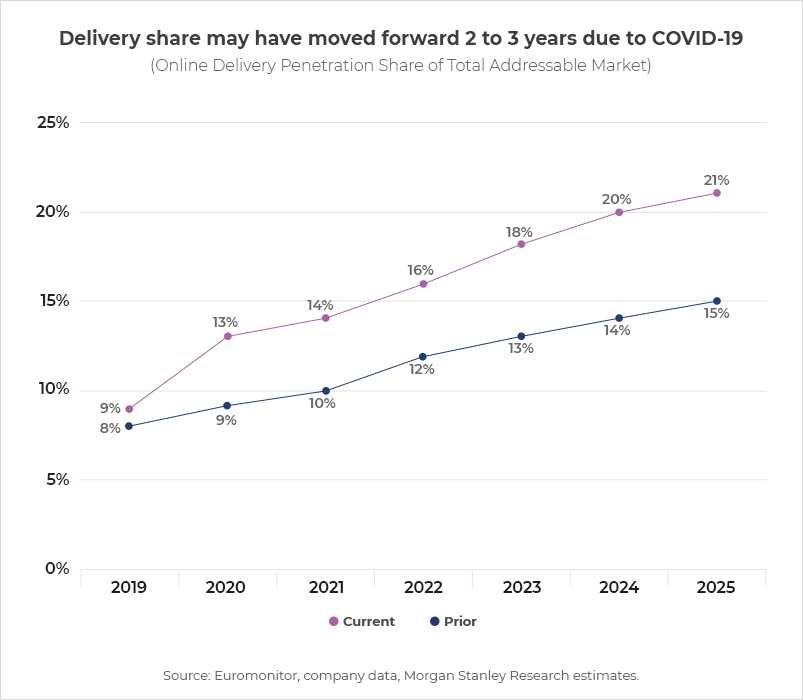 But before investing in the food delivery market, entrepreneurs must understand major online food delivery challenges faced by startups in this sector.
Table of Contents 
Major Challenges Faced in Food Delivery Business
Challenge 1: Volatile Pricing Model
Setting up a pricing model that drives business revenue and is not subject to fluctuation is challenging. The rising competition in the online food industry and volatility in food prices has made it difficult for entrepreneurs to identify the right pricing strategy. Many startups prefer to work on lower margins to survive in the online food industry. However, there is no guarantee that reducing the prices will lead to higher traffic and sales as customers always look for discounts & offers while placing an order.
Solution – The ideal solution to overcome this online food delivery challenge is to keep an eye on the food prices offered by established players and your competitors in the market. You can also set up a pricing model considering the latest trends in the online food delivery market. Moreover, analyzing consumer behaviour and understanding the price sensitivity of customers could help you create a profitable pricing strategy.     
Challenge 2: Difficult to Engage and Retain Customers 
Due to the arrival of SMBs and conglomerates in the food delivery sector, engaging new users and building a stable customer base is no longer an easy task. According to a report prepared by CleverTap, a U.S.-based mobile marketing company, only 22 % of the new app users remain active after the first week and 86 percent stop using a food delivery app within the 14 days of the launch.
Solution – Customer engagement could be improved by running a referral program and providing the new app users with introductory offers and discounts. You can also work on creating a compelling UI design so that users can navigate seamlessly. Keep it simple and organized with only important information such as an advanced search option, listing of food items, delivery time, and more to provide a better browsing experience. 
Challenge 3: Inability to Handle Order Fulfillment & Logistics Operations 
Below listed are some common logistics problems that food delivery startups face during the delivery cycle:
Selecting particular areas of a region for food delivery. 

Managing the influx of order requests coming from a specific area.

Prioritizing the order requests and providing on-time delivery. 

Allocating the right number of vehicles to delivery points. 

Maintaining the hygiene factor during the delivery cycle. 

Identifying the delivery routes and providing proper training to the delivery boys.   
Solution – Logistics issues could be solved by:
Integrating your online food delivery platform with features like location tracker, BOPIS (Buy Online, Pick up in Store), geofencing, delivery router, and order scheduler. For instance, Geolocation would help merchants to set virtual boundaries and deliver food in their preferred delivery zone. A delivery router would provide a detailed view of routes to the delivery staff and help them deliver the order in the minimum possible time.   
Challenge 4: Identifying and Partnering with the Right Experts in the Online Food Delivery Market 
Creating the restaurant onboarding process and identifying the right food delivery partners requires a hefty amount of time and effort. Collaborating with the right food delivery partners and listing them on your platform is crucial to build the brand image. With countless restaurants available in the food industry, entrepreneurs may find it difficult to hire reliable restaurant partners for their food delivery platform.
Solution – Hiring a restaurant onboarding assistant could be the best way to solve this online food delivery challenge. An onboarding expert could play a significant role in building effective onboarding strategies and providing excellent support to the restaurants throughout the onboarding process.
Challenge 5: Meeting Customer's Expectations Over Food Quality 
Filling the gap between the quality of food delivered at the customer's location and served at the restaurant's premises is another challenge that the food delivery companies must overcome. Delivering food at the customer's doorsteps far away from the restaurant while keeping it fresh during the transit becomes a challenging task for the delivery boys.
Solution – Entrepreneurs can check the packaging and safety guidelines followed by restaurants before listing them on their food delivery portal. Restaurants that use the best packaging products to keep the food unaltered during transit must be preferred. For example, online food delivery giant Doordash uses insulated food bags to maintain the food quality and keep it fresh at both hot and cold temperatures. 
Challenge 6: Finding the Appropriate Advertising Methods
Even if your online food delivery portal is integrated with impressive features, attracting new users could be challenging at the initial stages if you're not promoting it on appropriate advertising channels. Amid the constantly changing consumer demands and buying behaviours,  it could be difficult for startups to find the appropriate advertising method to target the right audience with the right service at the right time.
Solution – Entrepreneurs could create an advertising plan that would define marketing strategies, suitable social media platforms, and their target audience. Apart from creating an advertising plan, startups can also connect with food bloggers and influencers to solidify their brand presence.
Major Food Delivery Challenges faced Amid the COVID-19 Pandemic 
Challenge 1: Upholding Safety Standards
As the fear of Coronavirus is looming all over the world, customers may have doubts about the safety standards being followed by food delivery companies. From packing the food to delivering it to the customers, following the safety guidelines in all phases of the delivery cycle could be challenging for the food delivery businesses.
Challenge 2: Changing Order Preferences
The eating habits of consumers have changed to a large extent since the arrival of the COVID-19 pandemic. It could be challenging for the food delivery startups to customize the menu items on a timely basis considering changes in order preferences, dietary patterns, and nutrient intakes of customers.
Challenge 3: Adopting Multiple Delivery Options
Adding multiple delivery options to a food delivery platform and modifying the existing app features could be expensive and time-consuming. Food delivery companies also need to provide additional training to the delivery personnels about the new food delivery procedure and safety guidelines.
<
Essential Features to Include in Your Food Delivery App to Tackle Food Delivery Challenges during COVID-19 
Delivery-Safe Menu Items
Eating fresh and nutritious food is necessary to keep yourself protected from any disease. Consider adding a delivery menu in your app that only features dishes that can be refrigerated and reheated without compromising the food quality.
Multiple Delivery Options
Expand the ways customers can get their food by offering multiple delivery options like contactless deliveries and curbside pick-up in your app. Providing various delivery options to your customers would play a significant role in reducing the spread of the virus and promoting social distancing in these crucial times.
Awareness Notifications
It's necessary to make customers aware of the precautionary measures being taken by your restaurant to gain their trust and loyalty. Inform your customers via push notifications about the safety standards followed by your restaurant. 
Cashless Payment Methods
Include online payment methods in your app to support cashless transactions. Cash exchange could become one of the reasons for Coronavirus transmission. Allow your customers to transact easily by providing them with multiple payment options like credit or debit cards, e-wallets, and net banking.
Build a feature-rich Online Food Delivery Marketplace with Yo!Yumm
Restaurant Management Tips for Restaurateurs to Overcome COVID-19 Challenges in Food Deliver Business
Guide your restaurant's staff about the precautionary measures needed to be followed to keep the virus at bay.

Implement the following workplace controls to reduce transmission among employees:
                    → Social distancing
                    → Temperature tracking
                    → Face masks compulsion
                    → Regular cleaning & disinfecting
Keep raw food separated from cooked food to avoid cross-contamination.

Use hot water to sanitize and wash utensils.

Help customers maintain proper infection control by:
                    → Discontinuing operations like salad bars, buffets, and beverage service as all of them                             require customers to use common utensils or dispensers.
                    → Finding ways to encourage proper spacing while eating.
                    → Discouraging customers from bringing pets to the restaurant.
Effective Tips to Boost User Engagement For Your Online Food Delivery Business 
1. Use product badging to help users make informed purchase decisions
Adding badges on the food items with offers & discounts, ratings, & estimated delivery time could help customers make the right purchase decision. Product badging will not only enable customers to discover products faster but also improve your sales volume and business revenue.
2. Make your customers aware of the changing delivery timings & policies via push notifications
Offering food items with impressive menus is no longer enough to keep your business going during the COVID-19 pandemic. Share timely updates with your customers about the operational working hours & delivery policies of your restaurant to keep them engaged in your online food delivery portal.
3. Encourage your customers to share your food delivery portal's content on social media platforms
People love to interact with images of delicacies on social media platforms. Organizing photo-sharing contests could be the best way to improve business reach amid the COVID-19 pandemic. Ask your customers to participate in such contests and reward them with gifts & vouchers for sharing the best images of your restaurant's food items.
Future Predictions: Online Food Delivery Sector is expected To Grow at a Faster Rate After the Pandemic Ends
For a clearer insight into what the future has in store for the online food delivery market, have a look at some important facts and statics:
According to

Business Wire

, the global online food delivery services market is expected to amount to $192.16 billion in 2025 at a CAGR of 11%. 

The study conducted by the National

Restau

r

ant

Association

revealed that 68% of Americans would prefer to purchase takeout from restaurants after the pandemic. 

As per the recent reports by

Statista

, 
                  → The number of worldwide users in the food delivery segments are expected to reach                               upto 1,589.3m  by 2024.
                  → The average revenue per user (ARPU) in the Online Food Delivery segment is                                               estimated to amount to US$113.49 in 2021.
Food Industry Trends to Watch out for in the Post-Pandemic World 
Ghost Kitchen
Though many people prefer to avoid dining out amid the pandemic, restaurant owners need to find an alternative method to manage their operating expenses such as electricity bills, rentals, and manpower costs. Converting sit-down restaurants into ghost kitchens or delivery-only outlets could be the most viable option to survive in the online food industry in the coming future.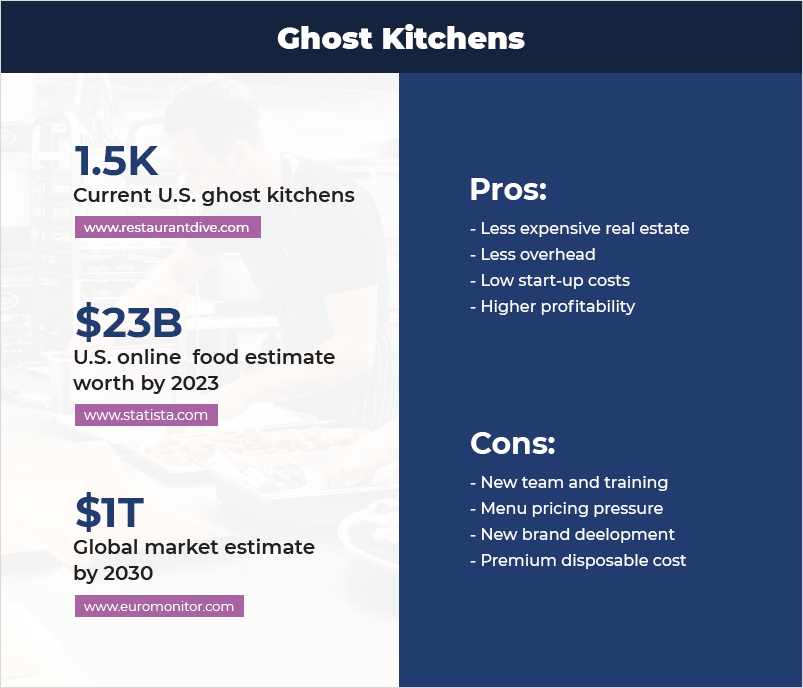 Vegan Restaurants 
Taking into account the benefits of vegan food for the immune system, one could expect the rise of 'vegan only' restaurants in the online food industry. Online food delivery companies that will promote plant-based products and offer vegan food items to their customers are likely to earn more profits after the pandemic.     
Considering the future trends listed above, the online food delivery platforms will most probably consider restaurants with vegan food options and ghost kitchens as their listing partners.
Conclusion 
Entrepreneurs must combat the online food delivery challenges listed in the blog post to survive in this highly competitive market. Though the future of the online food industry looks bright, it is the right time for startups and existing players in the market to set up an online food delivery platform to uplift their business. In order to do it conveniently within a shorter time span, entrepreneurs could opt for a ready-made food delivery solution.      
YoYumm, an online food ordering marketplace solution, comes with ready-made web portals and mobile apps for buyers, merchants, and delivery staff, that allow entrepreneurs to launch an online food delivery marketplace. 
Launch your Online Food Ordering & Delivery Marketplace with Yo!Yumm