Last Updated: 05th April, 2021
The booming on-demand economy has shaken up every sector over the last few years and the food industry is no exception. On-demand food delivery apps are experiencing a huge surge in daily downloads and have become a global trend amid the COVID-19 pandemic. According to a report, Uber Eats has witnessed a 30% increase in the number of signups for its food delivery service in the last few months. Furthermore, food delivery apps like GrabFood and Deliveroo have seen a 20% increase in daily food deliveries during May. Owing to this massive growth, entrepreneurs are making healthy investments in the online food industry and widely opting for on-demand food delivery app development.

Pain Points of an Online Food Delivery Startup
Pain Point 1: Customer Retention 
With countless food delivery startups entering the market these days, customer retention has become a crucial pain point for various food tech biggies. Therefore, it has become difficult for newbies to retain their position in the market and build a stable customer base. According to a recent report by CleverTap, almost 86% of the users stop using a food delivery app within the first two weeks of its launch. 
The best way to deal with this problem is to keep an eye on what's trending in the online food industry so that you can meet the customers' expectations. Hiring a team of experts for the food delivery app development helps you incorporate customer-centric design and impressive features that other key players don't provide. This can help make your customers feel special and earn their loyalty. 
Pain Point 2: Restaurant Partnership 
Whether you are a startup or an existing player in the online food industry, adding renowned restaurants to your food delivery platform plays a crucial role in engaging customers and driving business growth. In the present scenario, the competition in the food delivery market is so fierce that partnering with existing & new restaurants has become an arduous task. 
Attracting restaurants by providing introductory offers & discounts could be the right way to solve this pain point.
Pain Point 3: Logistics Management
When it comes to logistics management, food tech biggies face various challenges like selecting a coverage area, keeping food fresh when delivering to far-off destinations, providing on-time delivery, allocating delivery boys to delivery points, determining the number of vehicles required for efficient delivery, etc. Insufficient logistics can disappoint customers and make them lose trust in your food ordering app. This pain point must be addressed at the time of app development by integrating a feature for seamless management of logistics. Considering the above-mentioned parameters while deciding the last-mile logistics model is of utmost importance.
These issues can be solved by organizing training sessions for the newly joined delivery staff and educating restaurants about the food packaging guidelines. With on-demand food delivery app development, you can add features like geo-fencing, location tracker, BOPIS(Buy Online, Pick-up In-Store), etc. to your on-demand food platform.
Business Benefits of Building an On-Demand Food Delivery App Development
Improves Business Outreach
Opting for food delivery app development will help your startup to get more visibility and reach out to the customers in a more efficient way as it enables you to incorporate eminent features for enhancing your business reach. It not only helps you to build a robust and prominent brand presence but also enables associated restaurants to enjoy more discoverability for a larger audience. 
Builds Better Customer Relationships 
Collecting valuable data about customers including their likes and dislikes is something that could help you build better customer relationships. Use firebase analytics to gain insights into your app's performance and understand your customer's behaviour. Analyzing consumer behaviour will help you to promote the in-demand food items which will further improve the restaurant sales and make it easy for your food delivery business to stay afloat in this competitive era.
Solves Location Constraint Issue
Hiring a capable food delivery app development team that understands your requirements and offers befitting solutions to trounce the location barrier would play a crucial role in luring your customers. Delivering the food items at your consumers' doorstep within minutes and serving them beyond a particular geographical area will help flourish your food delivery business build customers' preference towards your food ordering app.  
Promotes Loyalty Programs 
Promoting loyalty programs is another major business benefit of creating an on-demand food delivery app as it could help you earn customer loyalty. You can send push notifications regarding reward points, discounts & offers, and other promotional schemes to improve customer engagement on your food ordering app.
Business Model of an On-Demand Food Delivery Startup
When it comes to launching an on-demand food delivery startup, implementing the right business model is something that can make or break your business. The most prominent challenge that every entrepreneur faces while setting up a food delivery business is to properly strategize their business operations and identify the right business model for higher customer satisfaction. 
If you are starting your business without a well-planned business model, then there are chances that the amount which you invest in building an on-demand food delivery app may sink. Hence, it's necessary to analyze your business requirements before selecting a business model. Here's the business model that a food delivery startup must follow to provide a seamless experience to their customers.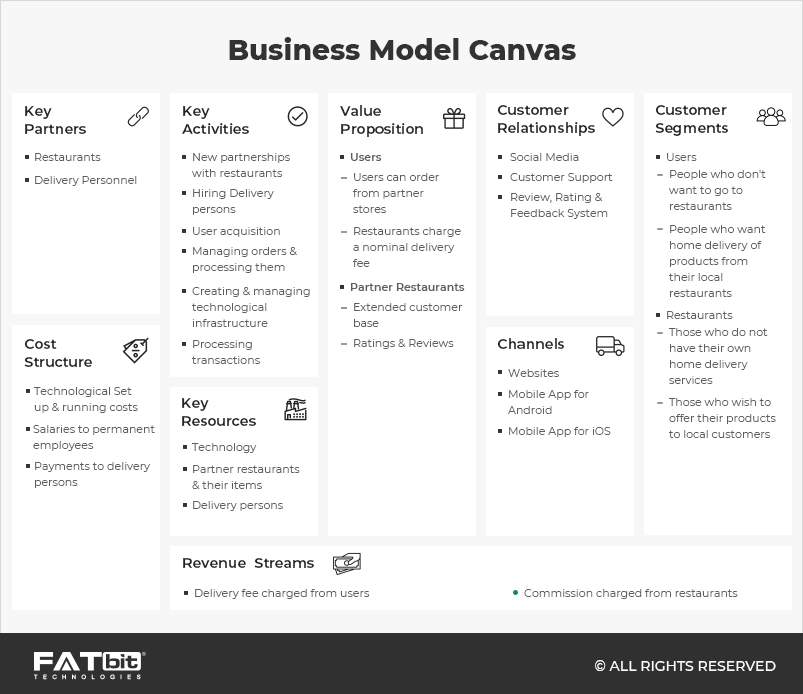 Revenue Model of an On-Demand Food Delivery Startup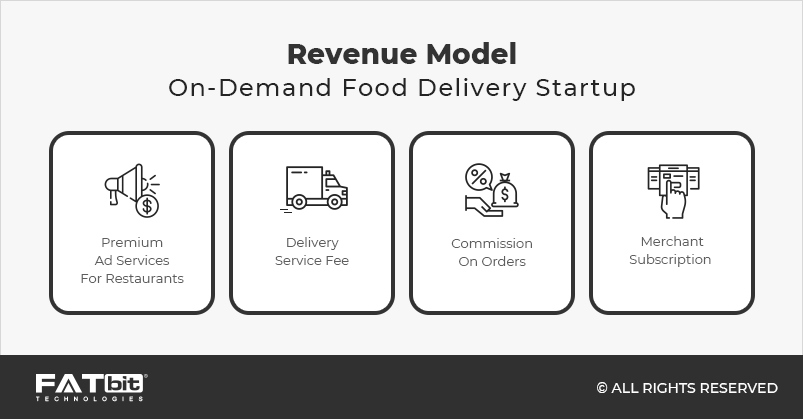 Below listed are some monetization methods that can help entrepreneurs to generate revenue from their on-demand food delivery platform: 
Commissions
The portal owner will charge a commission to restaurants on every order placed through the food delivery platform. When a user places an order, the admin will receive the order amount and will further send it to the seller after deducting the commission amount.   
Subscriptions
It is a type of revenue model in which the admin will charge a subscription fee to the merchant on a monthly or yearly basis to list his restaurants on the food delivery platform.
Advertisements
The admin will charge advertising fees to the sellers for promoting their restaurants with banner ads on his app. The cost of adverts will depend on the size of the ad, estimated running time, and the position of the ad on the food ordering app.
Delivery Charges
The delivery commission is charged by the portal owner from customers. If the admin uses his logistics network to deliver the food, he can earn money by charging the delivery fee to customers. 
Must-Have Features of an On-Demand Food Delivery App
Restaurant App:
Order Management 
It is highly advisable to discuss the features of your food ordering app with the development team beforehand. Opting for on-demand food delivery app development allows you to incorporate features of your choice into the food ordering app. Order management is one of the key features that must be included in your app. This feature will allow restaurant owners to systematically manage multiple orders and check order histories whenever required.      
Menu Management 
Using menu management, restaurant owners will be able to alter and update the menu list on the basis of food availability and demand. 
Push Notifications
Merchants will receive instant notifications for every activity (order placement, order delivery, payment reception, etc.) taking place on the website with this advanced feature.
Payments Tracking
This powerful feature will help restaurateurs to keep track of their payments. The payment tracking option will allow them to view payment histories and check any pending payments as per their requirements. 
Track Delivery
Delivery tracking is one of the essential features that must be discussed with the team at the development stage. This feature enables restaurants to track the real-time location of the delivery staff and order status.
Daily Sales Updates 
This feature will enable sellers to keep an eye on the overall performance of their food ordering app. They will get daily sales updates and analyze some crucial website metrics like traffic source & total earnings of their restaurant.    
Customer App:
User Registration
Customers will register on the food ordering platform using this feature. Giving instant access to the app via social media integrations could also make the registration process more convenient and hassle-free for users. 
Multiple Payment Options 
You must discuss the various payment methods or gateways to be integrated, with the developers at the initial stages of the on-demand food delivery app development process. Adding multiple payment options like digital wallets, cash on delivery, net banking, etc. will help customers to make order payments efficiently.
Advanced Search 
The advanced search feature will help buyers to find preferred restaurants and food items in a shorter time span with specific keywords without navigating through the entire app.
Ratings & Reviews
Customers can share their reviews and ratings on the website regarding the quality of services being received, restaurants' prices, and more with this feature. 
Self-Pickup
This customer-centric feature will allow buyers to opt for self-pickups while placing orders as per their convenience.   
Order Tracking
Using this feature, buyers will be able to track the real-time location of their orders. They will also receive the latest updates about the order status.
Delivery Staff App:
Secure Login
A secure login process is an essential factor that determines the reliability of the food delivery app. You must opt for a multi-layered security architecture development to provide a secure log in to the delivery boys. It will enable delivery boys to safely log in to the platform by using their username & password and proceed with accepting or rejecting orders.
Delivery Management
This feature will enable delivery boys to manage multiple deliveries at a single time. They can view and schedule order deliveries as per the priority.
Push Notifications
The delivery agents will receive push notifications for the deliveries being assigned with this feature. They will also accept or reject the orders as per their convenience. 
Delivery Routing 
With delivery routing, delivery staff can get a detailed view of the route and experience easy navigation to the customer's location in a shorter time span.  
Delivery Status
This unique feature allows the delivery boys to mark their availability as active or inactive. Only the active personnel will receive the notification for new orders.  
Admin Panel:
Delivery Management
Adding this option will help the admin to view and streamline the deliveries in one place and manage the influx of orders smoothly.   
Restaurant Management 
Admin will manage and list multiple restaurants on the food delivery platform. He will also have the authority to add and remove restaurants from the app as per his requirement. 
Report Management 
With this robust feature, the marketplace owner can analyze the overall performance of the food delivery platform and draft future strategies for business growth.  
Notifications Management 
This feature updates the admin about the activities taking place on the platform. He will receive notifications regarding new restaurant registrations, affiliate requests, latest user sign-ups, etc. 
Review Management
Including this feature in your food ordering app could play a significant role in building customer loyalty. This feature will permit the admin to moderate review in accordance to his discretion.
Launch a feature rich On-demand food delivery app with Yo!Yumm
Ways to Enter On-Demand Food Delivery Market
Start Locally
Setting up your food delivery business on a single location and then expanding it to more cities is one of the best ways to enter the on-demand food delivery market. Not only it will help you to attract early adopters but also enable you to build a better relationship with local restaurants.  
Creative Marketing 
Using creative marketing for your brand promotion is another lucrative way to set your foot in the food delivery industry. Here are some significant methods to creatively advertise your food delivery startup:
Start adding your company's name and logo to your employee's uniform, bikes, hats, and delivery bags. Promoting your brand using this marketing technique will help you to create a distinctive place in your customer's mind.  
Merely focusing on online advertising and neglecting traditional marketing could turn out to be a major roadblock in the success of your food delivery business. Consider promoting your brand via billboards to make people aware of your food delivery startup. 
Social media marketing is one of the powerful marketing methods to gain sales and solidify your brand presence. Start publishing promotional content about your food delivery business on various social media platforms.   
Connect with Food Bloggers & Influencers
Collaborate with prominent food bloggers/influencers and provide them with an offer or discount in exchange for a promotional post. Make a list of food bloggers with a genuine follower count and connect with them for your brand promotion. 
Conclusion
Launching an on-demand food delivery app requires a detailed study of every aspect surfacing the food industry. In this guide, the information on pain points, business model, revenue model, app features, marketing methods, and reasons for investing in the online food industry were shared.
As part of our initiative to help startups to set up their online food delivery business, our astute team of developers works with a goal to provide the best mobile app development services to businesses of all sizes. If you're willing to know more about the food delivery app development process, then assistance could be sought from the experts at FATbit Technologies.
Launch Your On-Demand Food Delivery App