I recently bought Elon Musk's biography by Ashlee Vince and here is a passage from the book that gives us a peek of the hectic schedule of the world-renowned entrepreneur & industrialist: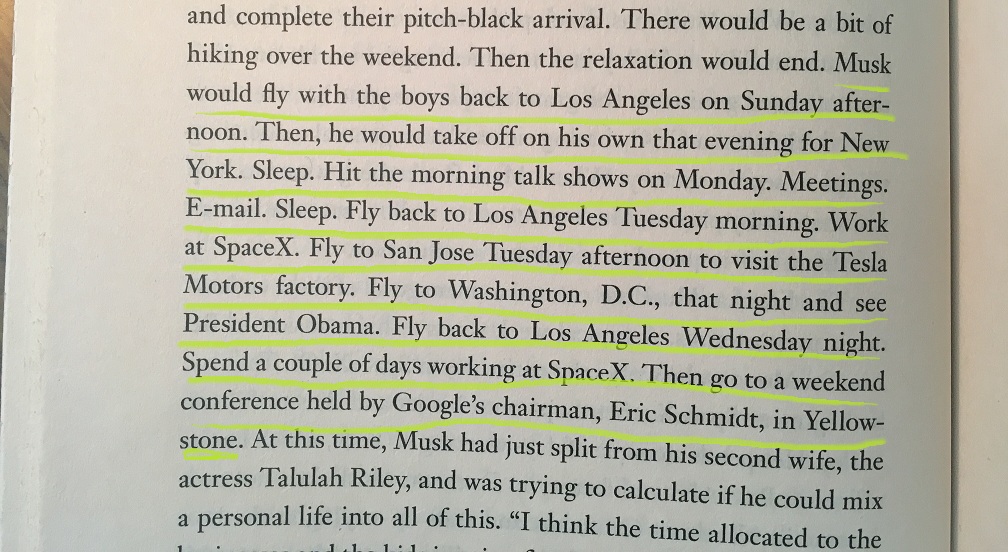 To some extent, any high-profile businessman can easily relate to this kind of tight schedule. But unlike Elon, not many have private jets to fly around cities, countries, continents and fulfill their duties timely.
What most businessmen have to go through is – find brokers (directly or through an agent) and negotiate prices for the limited number of charter flights, which usually take hours to days. Plus, there is no financial accountability and assurance of a safe & secure flight.
But now, they too have a solution. Charted flight booking websites like BookMyCharters, PrivateFly, and JetSetGo have made booking a private jet as easy as booking an Uber cab. These real-time online private jet booking platforms let people book private jet charters in the quickest and easiest manner. Just select your departure & arrival location, travel date & time, and the number of passengers; and get your private jet booked within a couple of minutes.
Besides instant bookings, these portals also give access to lot more options of charted flight and eliminate the concept of middleman to reduce the cost significantly.
In current dynamics, where convenience & time are of utmost importance to customers, online charted flight booking portal is a sound online business idea for entrepreneurs planning to enter the ecommerce arena.
Here is an in-depth analysis of online charted flight booking portals – business model, revenue model, and essential website features.
Business Model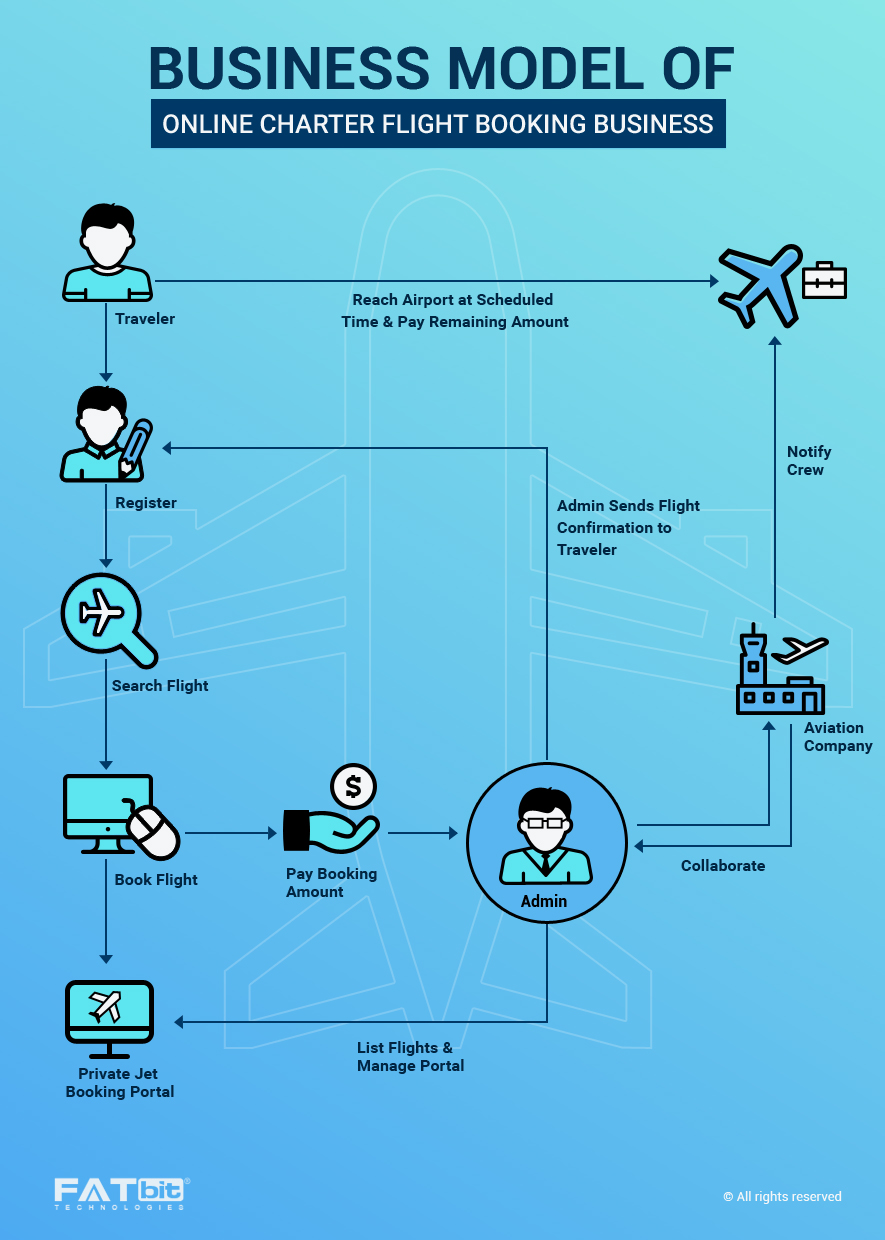 On the surface, these charted flight booking websites look like any other online travel booking platform. It's only when you dig deeper does the uniqueness of a business model begins to surface.
To begin with, this online business idea can be used for following charted bookings:
Private jets
Helicopters
Yachts
Air ambulances
Secondly, every time a one-way private jet is booked, an empty leg flight (ferry flight) becomes available for the return journey. The 'real-time availability check & real-time booking' nature of these platforms resolves the persistent issue with charter flights industry quite effectively. Plus, travelers can get heavy discounts on these flights, since the jets would be flying empty anyway.
On these platforms, for domestic travelling, customers should be able to book charters with following details:
Source & destination locations
Type of charter
Journey date & time
Number of passengers
Onboard facilities
Baggage type & amount
For international bookings, travelers are to provide following additional details:
Nationality
Passport number
Visa details
Additionally, the setup of such an online business would also require you to connect with several aircraft/helicopter/yacht, etc. companies/operators of the target market and get access to their data base of flights, routes, prices, and other key details.
Revenue Model
The primary revenue channel for online charted booking portals is the service fee, which is generally cut as a commission from the amount customers pay to the flight operator. This service fee/commission can vary based on the operator, flight type, amenities, etc.
Besides commission, following can be used as additional revenue streams:
Monthly/Annual subscription for customers to get notification for empty legs, available seats on a booked jet, and other discounted charted flights
Hosting banner ads of various tour and travel activity marketplaces (as it will also be helpful for customers booking flights on your website)
Another key aspect of the revenue model worth mentioning here is the cancellation policy.
When a customer makes a booking, operators have to make a number of arrangements like –
Crew arrangement
Staff Stay
Ground handling
A huge amount of money is involved in these processes. So, in case of cancellation, a conflict between your business & operators may arise (or it might cause you some capital) if you haven't thought through the cancellation charges in advance. So, do a little research to understand the market and formulate a sound cancellation policy beforehand.
Now let's move on to website features.
Also Read: Things An Entrepreneur Ought To Know Before Planning a Travel Based Start-Up
Key Website Features for Online Charted Flight Booking Platforms
The convenience and swiftness of booking charted flights that this online business model introduces should also reflect on the website. Thus, the website should be well-structured, easy to use, quick to load, and secure. Here are some website features & tips on their implementation to help you in this regard.
An All-inclusive Search Tool
The homepage banner is the right place to put your search tool to help users begin with the booking process right away. The search tool should comprise input fields for following details:
Origin
Destination (both with autosuggest feature)
Date & Time (preferably implemented in Calendar view)
Number of passengers
Additionally, users should also be able to choose which type of charter they want to book and their trip type. Relevant options in this context would include:
Private jet / helicopter / yacht  (charter type)
One way / round trip / multi-city
User Experience of your website helps you get edge over competitors
Make it better
Logically, these selection options should be placed right above the search tool to provide a seamless user experience.
Search Results
A grid view for search results will be ideal. Make sure that every result is displayed with key details such as price, seating capacity, and whether it is available for instant booking.
There should also be options to allow users to filter results based on parameters like aircraft type, cost, cabin height, and other aircraft facilities.
Booking
Booking process should pretty much be the same as other online travel related bookings, but with following modifications:
An advanced booking fee to allow customer to book flights without having to pay the full amount right away  (you can keep it as a certain percentage of the total amount)
Cost breakdown, and details of facilities & amenities available onboard
Also, remember to take advanced security measures while implementing the payment gateway for your charted flight booking website.
User Profile
All registered users should be provided certain features to set their preferences – flight types, amenities they usually want on their charted flights, time of the year they usually travel, which day of the week they usually travel. This data can be used to understand customers better and suggest them better flights.
Discounted Flights
You also need to build a section on your website for discounted flights to list empty legs, available seats on booked flights, etc. Here, customers can register to get notifications about these flights. Make sure notifications are sent as per user's preferences.
Multi-country Platform
If you are planning to go multi-country (say, across Europe), then it is important that your website is available in multiple languages and payments are processed in multiple currencies.
Fleet Offered
It would also be mindful to put a distinct page to list all type of aircrafts, helicopters, & yachts you offer charter bookings for. In addition, each of these aircrafts or yachts should also have a dedicated product page which lists the facilities & amenities offered onboard.
FAQ
The uniqueness of this business model can also make it a little difficult to understand. To address that concern, you can prepare a comprehensive Q&A section that will cover all the common challenges faced by customers on your website. Also provide the feature to let users ask unique queries.
Mobile App
To make the private jet booking experience exactly like that of a cab booking, you need to provide charted flight booking service through an app as well. Make sure the mobile app isn't an exact replica of your website. Include only the most relevant features to make it light and easy to use.
Also Read: Go Mobile First to Make Your Mark in the Saturating Online Travel Industry
Conclusion
The mindset of business class is changing towards travelling. To save time, reduce travel stress, stay productive, & make impression on business partners – for a number of reasons, people are switching to private travel.
Give your online private jet booking business a perfect start
Build it with FATbit
Online charter flight booking portals may be a new business idea, but given the shift in business class behavior, its future is secure & promising. For new players, this budding industry has an abundance of opportunities. All they need to do is start early & start strong by following the tips provided in this post.