Imagine you have just finished your graduation and you need some career advice. You turn to your parents, but they are not from the same field, and thus, they are unable to guide you properly. You want to get advice from someone from your field so that you know you are on the right path for a bright future.
When you fall sick, you visit a doctor. When your car breaks down, you visit a service station. But what do you do when you need some personal, professional or relationship advice? Nowadays, people are resorting to the internet for everything like shopping, ordering food, finding a home, finding a car, buying grocery. Why not have a portal where people can seek advice from experts!
Launching an Online Advice Marketplace is a good idea for aspiring entrepreneurs. Focusing on bringing people who seek advice and advisors together, this business idea is a revolution in itself. Fatbit analyzed this business model and created a guide for entrepreneurs who want to be part of this revolution. What follows next is a thorough discussion on the business model, revenue channel and critical features of an online advice marketplace. Let's begin the New Year with a new idea.
Business Model
As we mentioned earlier, online advice marketplace is a common meeting point between the advisors and the users. The website has experts, their ratings, their expertise, and other details which makes it easy for users to find advisors according to their query. The process is simple; the users just have to sign up and find the appropriate advisor for the query they are looking to be answered. Depending on the target audience and niche market you can decide which all categories to add to your website.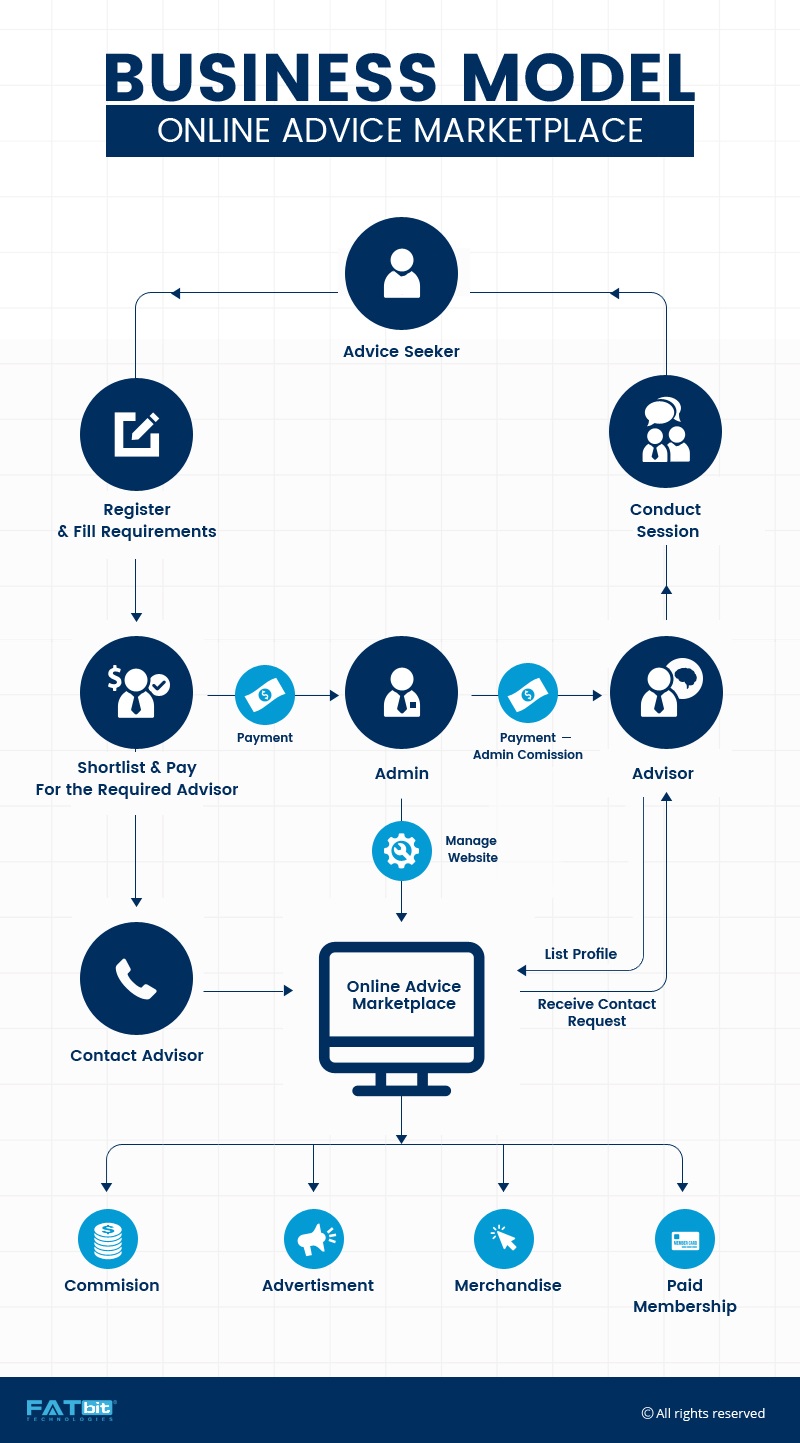 As an Advisor
Sign up on the website.
List your expertise and provide appropriate certification for the same.
After the Admin accepts the signup form, you can be approached by the users with their specific query.
You can mention your time of availability so that customer can fix video or phone call appointment.
Also Read: Create Right First Impression on Your Visitors
As a User
Sign up on the website
Fill out to form to shortlist the type of expert you need for your queries e.g. Business Coaching.
Get an access to coaches, advisors. Shortlist the one which best suits your requirement.
Contact the Advisor via messages, call, video, etc. according the time frame suiting you and the advisor.
Top Market Players of Online Advice Marketplace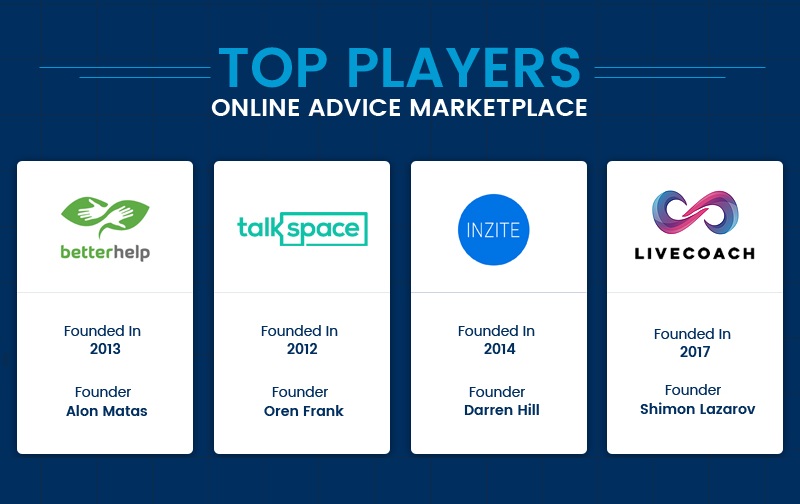 Revenue Model
There's one primary revenue channel and three secondary revenue channels. Let's take a look at them in detail.
Primary Revenue Model
Commission- One of the primary source of revenue for online advice marketplace is commissions. When the user pays according to the session to the experts, the money is transferred to the admin.The admin deducts his commission from it and transfers it to the experts.
Also Read: How To Structure Your Revenue Model
Secondary Revenue Model
Merchandise- Online advice marketplace can sell merchandise. This is not only an extra source of revenue but also will help the website in branding. Some of the merchandise which will attract users in buying will be key chains, t-shirts, badge, wrist band, etc.
Advertisement- Partner with relevant business whose advertisements you can display on your website. Advertisement can be displayed of relevant businesses like meditation course etc. so that the user experience is not hampered,rather increases the chances that the customer would visit the relevant website too.
Paid membership- There can be an option where users as well as advisors sign up by paying a certain amount of the website. The paid version of the website can include extra benefits like users getting a list of best advisors while advisors getting featured on the homepage under the section of Featured advisor.
Improve the website UX to increase the conversion rate
Critical Features
FAQ- FAQ section in an online advice marketplace is different than usual. It answers the frequent queries of the people who visit the website. These questions are not related to the website but for the advisors to answer. Some advice should come free of cost which are not complicated and would be everyone's queries.
Categories of Expertise- Every online advice marketplace have different categories of advisors available like personal, professional, etc. So, to inform the potential customers regarding the available expert, create a category to showcase it.
How it Works- With the increasing number of online businesses, not everyone is aware of the working of the website. Both the users and advisors can find it difficult to understand how to go about on the website. Add a section on the homepage of the website or the navigation bar of how it works. This section should have detailed information regarding the working from both user and advisor's perspective. The website owner can also add benefits of the website in this section.
Blog- For the website to be among top searches on any search engine and enhanced user experience, a blog section is very important. Make sure you keep in mind that the blogs are keyword focused. Other than that a blog section also educates and showcases the expertise of website. Some people will only understand they need the help of an expert when they read blogs regarding similar issues.
Featured Advisors- Add a section to your website which displays the best advisors in different fields. Not only will it be a source of revenue but also inform the customers about some really good and selected advisors.Advice seekers would resort to them for their problems. It is also a trust-building factor on your website.
Request Advice- The main purpose of your website is that users can request advice from the advisors.Maintain a section where users can add the query and specified advisors can reply to their query. You can allow the users to take these advices for free for first 7 days and then charge according to the mentioned rates of advisors.
Become an Advisor- To attract more advisors on the website, one of the best things to do is to keep an easy way for the advisors to sign up to the website. Though the procedure is easy, make sure you check the credentials of the advisors, including but not limited to their qualification, experience and their capability to become an advisor.
Testimonials- One of the best ways to build the trust of the customers is to add a testimonial section to the homepage of your website. The testimonial section will showcase how many people were able to get help from your website. This helps in building the trust of potential customers on the website. Reading motivational testimonials of the past customers will bring more customers.
Pricing- Not many people know what the charges of taking advice from experts are. They need to be informed about the charges before they sign up so that they have a clear idea what they are getting into. Categorize the pricing page according to the type of advice and segregate them into the way they are getting advice i.e. phone, video, messaging, etc.
Terms of Use- This is a very important section of an online advice marketplace. This will inform the users as well as the advisors about the terms and conditions pertaining to the use of the service.
Conclusion
People have to make life-altering decisions more often than they think they have to. For this, they mostly require advice from experts. It's a good idea to build a website that bridges the communication gap between the user and the advisor. Launching an Online Advice Marketplace is not just a lucrative business idea, but also the need of the hour. The points we discussed above will definitely help you start your venture with more confidence and a more solid footing.
Want to build a Unique Business with Unique Idea?