Last Updated: July 21, 2022
The maturation and proliferation of the online rental industry has led to an exponential growth of the online rental textbook industry. According to a McKinsey survey, the projected rented buying preference has increased to a great extent in previous years. As the online textbook market is expanding, the proportion of rented textbooks is increasing as a mainstream option instead of buying.
According to the same report, the sales of online rental textbooks will start to cannibalize the new text book sales by 5 to 10 percent by 2020. Global textbook rental market report by Technavio suggests the market to grow at a CAGR of 20.74%.
The major driving force in the surge of the online textbook rental websites is an effective pricing model. Students are renting textbooks instead of buying them online, as it is more pocket friendly. In response to the changing competitive and marketplace demands an increasing number of publishers are going online.
A recent study found that in the United States an 'average student spends as much as $1,200 each year on textbooks and supplies alone.' And online textbook rental websites like Chegg, BookRenter & eCampus help them in saving up to 90% of that money.
Especially in the US, textbook rental platforms are in full-swing, and in all the other markets need of such marketplaces is great. This makes online textbook rental marketplace, a great area of opportunities for aspiring entrepreneurs.
If you also aspire to launch a textbook rental startup, then this post will help you deploy your business idea in the best possible manner by explaining;
Let's start off with the book rental business model.
Textbook Rental Business Model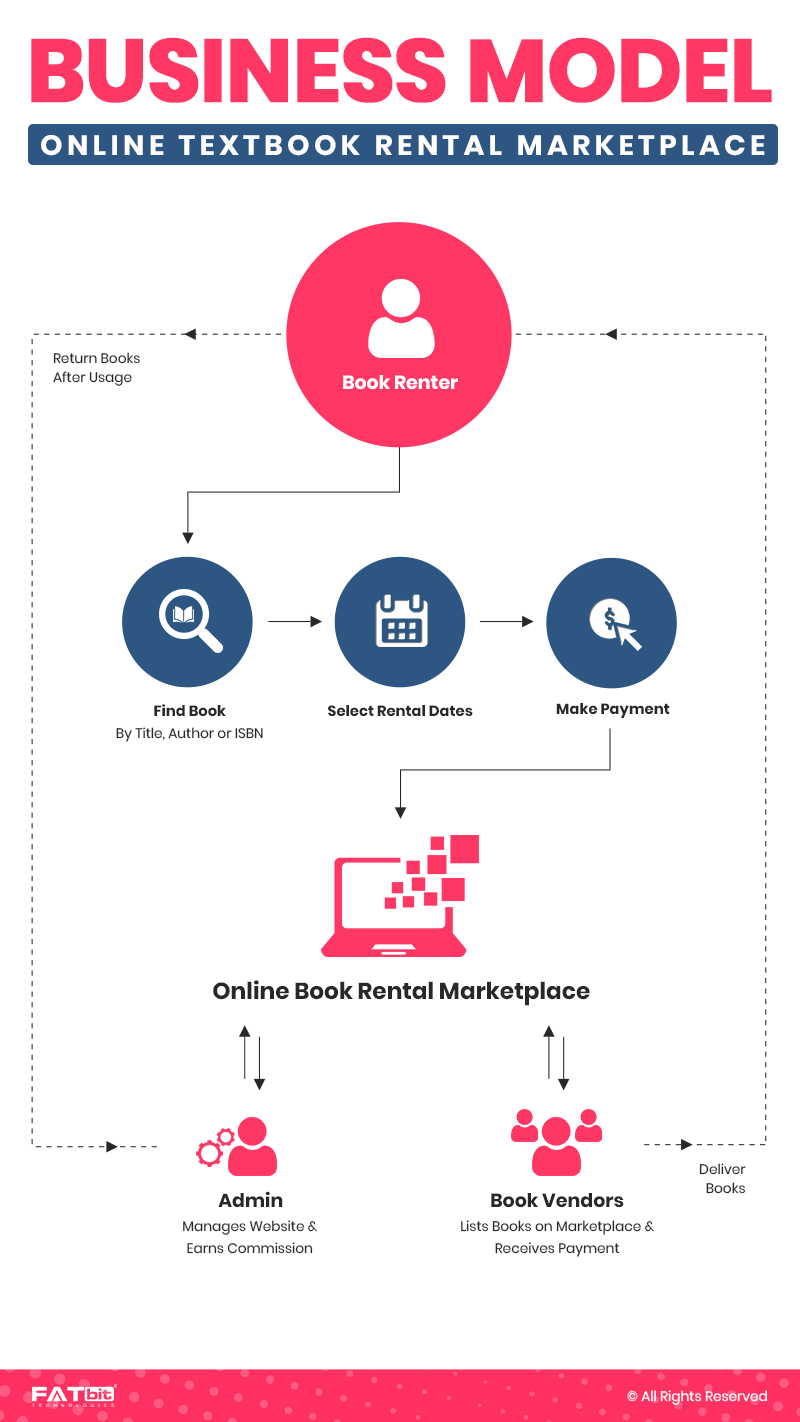 So, rather than an innovative business idea, online textbook rental solutions are a modified form of an existing but under-functioning marketplace that solves a pain point for students at all levels. But the interesting part is that these textbook rental websites can be turned into complete education hubs. Top players of this marketplace such as Chegg & BookRenter have already accomplished this feature by offering the following set of services:
Textbooks on rent

New/used books at considerably cheap price (in digital and physical formats)

Old books (in suitable condition) from students

Homework help to students through live tutors, textbook solutions, and community Q&A

Counseling students to find the right college, courses, internships, and jobs

Scholarship program to empower students at different levels and of different origins
The successful brand Chegg provides all these provisions along with career and test preparation services. Apart from these, there is much more you can offer to students through your textbook rental platform and cover massive market opportunities.  All that we will cover after discussing the essential marketplace features first. For now, let's figure out how these platforms can generate revenue.
Book Rental Business Revenue Generation Model

The textbook rental websites can make money from following revenue channels:
Renting/selling books

Banner ads

Monthly subscription to access textbook solution & Experts/Community Q&A

Online tutoring service that may charge students on weekly/monthly basis, depending on how long the session was
Website Features and Services of Online Book Rental Platform
Despite the extensive services offered, your website should be quite easy to use, understand, and navigate through. But then, 'The simpler a website to use, the more complex it is to build.' So, you be prepared to do a little brainstorming and we are here to assist you. Let's begin with the essential features & components you would need to build an advanced textbook rental marketplace website.
 Homepage Features
Top navigation bar with tabs for all your offerings. On mouse hover, each of these tabs should pop up a drop-down list of services available under it

Homepage banner area should highlight your prime offerings clearly, for instance:

Find books (for renting or to buy)

Get homework help

Find Internship & jobs, etc.

The Homepage banner should also feature a search tool box to help students search for Textbooks, solutions, tutors, community Q&A, etc. (depending on your offered services)
You can use below-the-fold section of the homepage to explain your different offerings, and put the important quick-links for different services and content-based pages in the footer area.
Keeping in mind, the design practices for the homepage will help you to create more cohesiveness between everything the business puts out. A clean and neat design is the  first step in winning more and more customers.
Search Tool
It would be good to have a common search tool box for textbooks, solutions, tutors, and community Q&A search. Although it would be a bit trick some to implement at the backend but considering the ease it will provide to your target audience, it will totally be worth it. To make things look even better, you can add another input field in the search tool that lets students choose the category before starting a search.
How It Works
If you are planning different education-related services through your textbook rental website (which you should), then you have two choices for the How It Works section. Either create a dedicated How It Works page and explain how your different services in different sections, or explain how the service works on its dedicated landing page. We would recommend the latter.
Now, let's list all the offerings and essential marketplace features under them:
Renting/Buying Books
Students should be able to rent or buy a book by simply searching for the book using its name, author's name or ISBN(International Standard Book Number), just like on a regular ecommerce website. The book page should have the following details and options:
Textbook's renting, selling and listed price along with savings

Textbook solution's price

Textbook's details

Other textbooks of the same subject category

Breadcrumb for book listing at the top to provide students easy navigation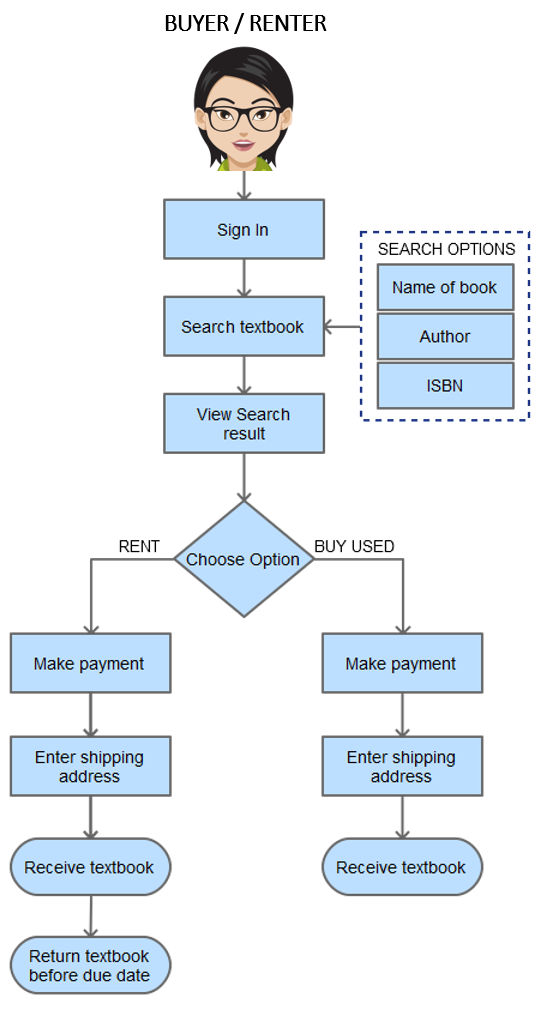 In addition to these features & options, you can offer the following value-added services to make your textbook rental startup more advanced.
Offer free shipping beyond a certain amount of order.

Returning a book doesn't cost students anything. All they have to do is use the prepaid return shipping label that comes with their order.

Additionally, either offer instant access to the corresponding eBook until the delivery or offer same day/next day delivery
Selling Books
Students should be able to list & sell their used books on your website simply by entering the name or ISBN number of the book. Two important features that you must include under this service are:
Criteria for acceptable books (condition, year, etc.)

An algorithm to automatically generate a price for that book based on the provided information
If you are planning to build your textbook rental marketplace through a readymade solution, make sure it has these important features.
Study Help
Through this section, students should be able to get help with their homework and exam preparation. Services listed under this section would be:
Textbook Solutions:

Step-by-step solutions to textbook problems

Expert Q&A:

A 24/7 live community of students and subject matter experts to help each other in solving textbook problems and understanding concepts

Online Tutors:

Through this service, students should be able to schedule private tutors with subject experts (teachers/ private tutors)
In addition to these, to make your platform more valuable for students you can offer the following services:
Definitions of key topics & concepts:

The section would feature definitions and explanations of various key concepts of Mathematics, Science, Engineering, and Business. Students can either search for the topic, navigate through the subject categories and sub-categories.

GPA Calculator:

A pretty eye-catching tool that would allow a student to calculate their GPA by filling a few required fields.
Adding such user-engaging value-added services will certainly have a direct impact on the retention rate of your website, consequently on conversion rate.
Internship & Job Search
This section should be dedicated to help out students in finding internship & job opportunities. The internship & job search feature should allow students to make the search using the following filters:
Results should provide an easy way to visit the employer website so that students can proceed further. Besides these, you can also ask students to upload their resumes, so that you can offer them even better results.
In addition to that, you can maintain a comprehensive Q&A and article section to council students pursuing the right career path based on their qualifications, skills, & interests.
College Search
If you are to become a total education hub for students, you've got to help them out in searching for the right college in accordance with their academic achievements and career goals.
This section should help students explore colleges, their details, their offerings, etc.There should be a search toolbox which allows students to search colleges & filter results based on the following criteria:
Location

Course duration

Gender Preference

Religious affiliation
The college page should feature all the details regarding its offerings such as:
Courses offered

Infrastructure

Student Experience

Location details

Student population, sex ratio

Admission cost, tuition fee, etc.

Facilities available
In addition to that, you can also implement a 'compare college' feature that lets students compare colleges based on the above mentioned college details. This feature will certainly make your website more valuable and take its user-experience to a new level.
Yo!Rent makes it easy to build a textbook rental website
Scholarships
To establish yourself as a brand, you should offer scholarships to students on the merit basis or on other criteria, depending on your target market. For instance, US-based online textbook rental business Chegg offers following scholarships through its platform: 
This list should give you a fair idea about the scholarships you should include in the textbook rental business.
So, these were the services you need to offer through your textbook rental eCommerce store. Now, let's quickly overview the user profile options.
Signing Up and User Profile Options
The signing up process should be simple and should allow students to register via email, as well as social media accounts. And the student profile should have the following features:
List of rented books

Check order history

Extend the period of a rental book

Quick links to sell books, track orders and Help section

Add a quick FAQ section explaining basic services
Blog
Including a blog in your textbook rental marketplace is certainly a sure thing. Through, the blog you can provide more value to students as well as keep them informed about your new services.
Mobile App
Make sure you build a mobile app for Android and iOS devices to let students leverage your services on-the-go. The mobile app should be a trimmed down version of the website, but with all the major services for students intact.
Referral Program
Launch a friend referral program, through which students can earn some monetary rewards that can be used towards making transactions on the website. Implementing this program will also help you build a user-base.
Community Program
Being an education hub, you should also get involved in the community programs that make students aware of various social & environmental issues. Get associated with related non-profit organizations, arrange seminars and debates at campuses. In the long run, it will help you in establishing a brand.
Book Rental Website UX Design 
As already discussed, the simpler the design the more the engagement and conversions on the website. Online book rental websites are providing diversity and financial freedom to the  readers. The website should be designed catering to the target audience and feature rich to make the customer journey through the website more smooth and transparent.
A great example of a simple and neat web design would be Chegg. This online book rental website provides an intuitive experience by creating a smooth user friendly flow throughout the website.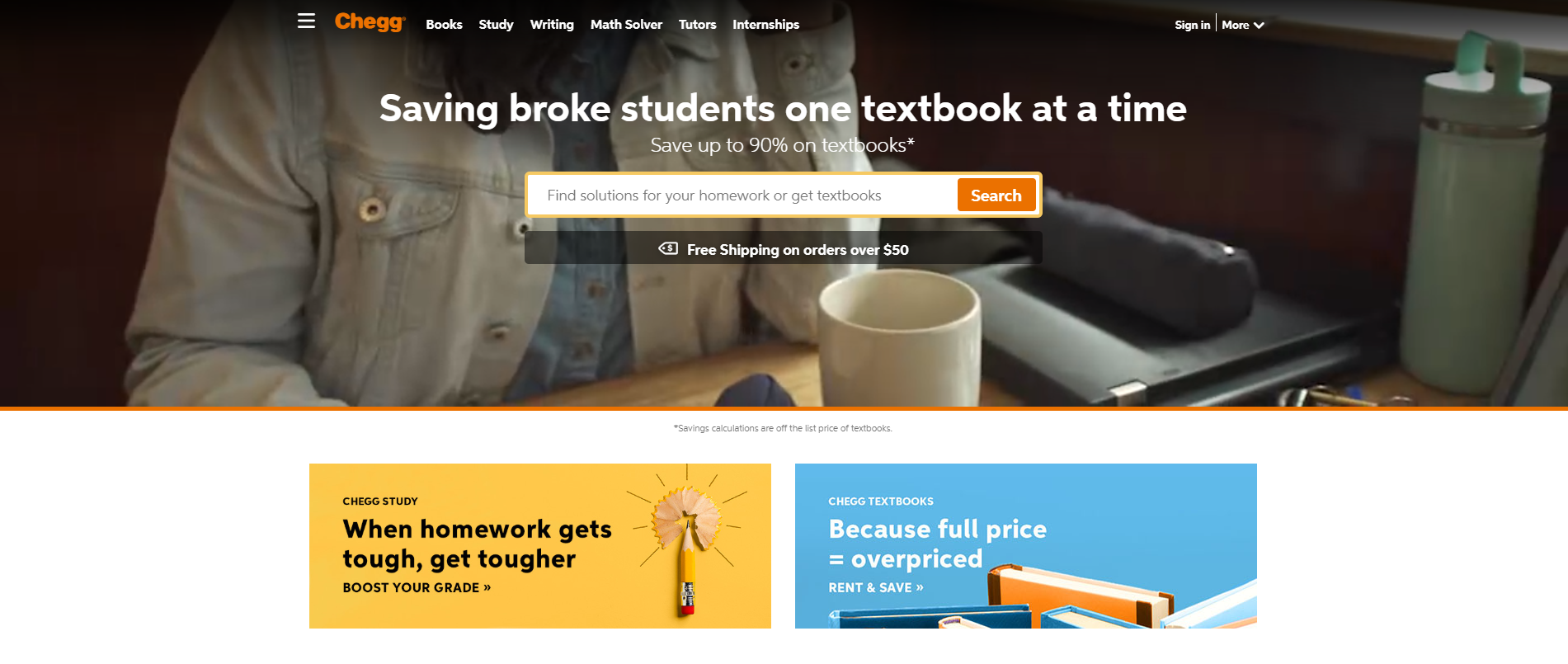 Business Model Canvas of Online Textbook Rental Platform
Here is the business model canvas visually depicting and communicating the simple story of running an online textbook rental website

Final Words
In the past couple of decades, the rise of online education platforms has simplified education at various levels. There are platforms like edX, Udemy & Coursera that enable students across the globe to study courses offered in best schools on the planet. There are platforms that help students find local tutors and schedule private lessons to improve grades. And there are platforms like Skillshare and General Assembly that provide students and professionals work-based or project-based training classes to help them advance in their career.
After acknowledging the growth opportunity in online textbook rental industry and the key features essential for running the website, it is imperative to carefully decide the platform to build the website. Yo!Rent is a rental eCommerce marketplace platform to launch a scalable marketplace with multivendor, renting and selling capabilities. If you need more such insights for your online textbook rental marketplace, then we would be glad to be of some additional help.
Explore Top Textbook Rental Features in Action