Over the last couple of decades, technology has incredibly revolutionized the world and reached a point where it has impacted almost every sphere of our lives. Of the many different industries and verticals shaken up by technology, education is perhaps the most notable one. The paradigm shift in education from traditional classrooms to virtual learning means has made learning more interactive and collaborative, helping learners better understand the subjects they are learning. As per market forecasts, the revenue of the eLearning market will hit $325 Billion by 2025. The EdTech space has seen its fair share of innovations and disruptions but none more significant than the introduction of video conferencing. 
Table of Contents
Video Conferencing – Future of Online Tutoring
Video Conferencing has become increasingly popular in the educational sphere over the past few years. This growing technology allows learners and tutors from different locations to connect in real-time using the internet and computing technology. It provides learners with the opportunity to learn when they aren't able to attend classes. There are several other benefits to this style of learning:
Remote Learning:

This is one of the most significant benefits of video conferencing. Eliminating the geographical and time restrictions, learners and tutors can access the live sessions from anywhere in the world, which also includes the remote and rural areas.

Enhanced Interaction:

The one-to-one interaction between the learners and tutors isn't always feasible in a traditional classroom. It becomes difficult for the tutors to spend as much time with the learners as required for efficient learning. Video conferencing gives them the opportunity to connect virtually irrespective of the time and location to provide and seek help.

Encouraged Self-Paced Learning:

Learners are not always teenagers, but also include working professionals and parents, who struggle hard to fit learning into their busy schedules. Video conferencing allows learners to schedule and attend the classes as per their availability and learn at their own pace.

Engagement:

Enabling unobstructed engagement, video conferencing allows participants to discuss, share material, and make their contribution in real-time simulating the real classroom experience but with greater flexibility.
Video Conferencing Features to Deliver the Best Learning Experience 
Whether one needs to collaborate with learners, host virtual sessions, or offer a way to the learners to communicate with online tutors, the features of video conferencing make it seamless for everyone to interact online without disrupting the flow of the class.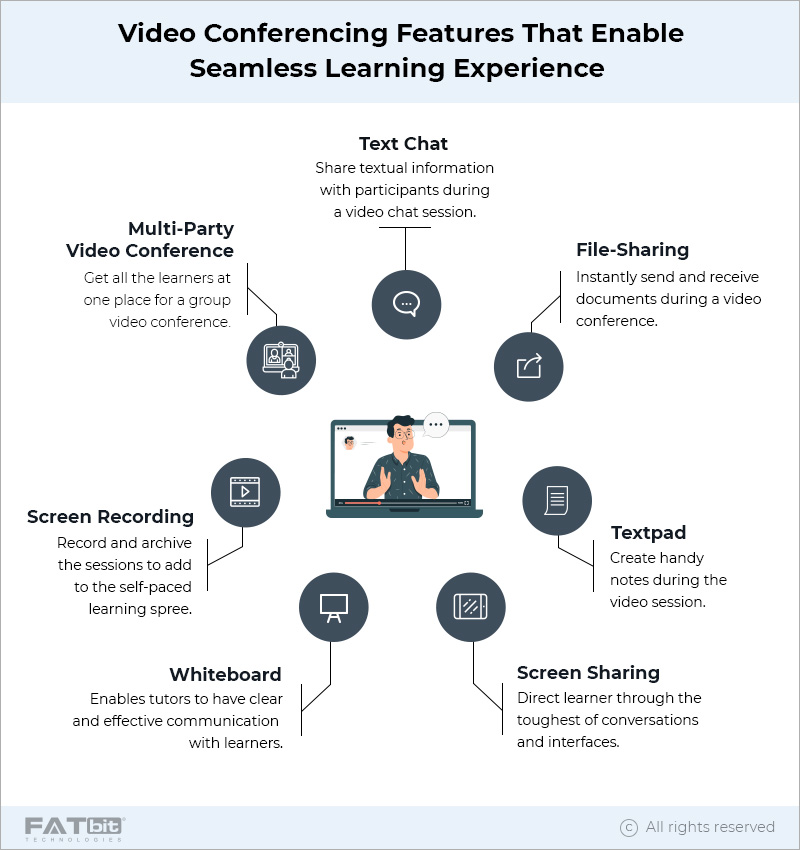 With the following video conferencing features, tutors and learners can elevate the classroom experience and increase productivity to a greater extent:
Text Chat:

This feature allows users to

share textual information with other participants during a video chat session

. The information could be a text message, document, or even an emoji.
File-Sharing:

Users can

instantly send and receive documents during a video conference,

which allows them to collaborate and communicate effectively. The file could be an image, audio, video, document, etc.
Textpad:

With several formatting features like font style, size, color, bullets, a Textpad helps the learners and tutors to

create handy notes during the video session,

which can be used for future reference.
Multi-Party Video Conference:

Tutors can

get all the learners at one place for a group video conference

making the virtual session as productive as they would be in person.
Screen Sharing:

The feature enables a user to see another user's screen in real-time and

direct them through the toughest of conversations and interfaces

making the video session more interactive.
Screen Recording:

A number of video-conferencing tools offer the option to

record and archive the sessions.

Moreover, it proves useful for the learners who are not able to attend sessions due to sickness, official meetings, or some other commitments, video conferencing

adds to their self-paced learning spree

.
Whiteboard:

Incorporating the virtual whiteboard feature into the arsenal of video conference tools

enables tutors to have clear and effective communication with learners

aiding the learning-tutoring process.
Video Conferencing can add a New Dimension to Your Online Tutoring Business
Planning to Launch an Online Tutoring Platform with Video Conferencing Functionality?
Now that we have understood the significance of video conferencing in online tutoring sessions, let's have a look at the ways to launch a similar platform.
Custom Development:

This approach involves developing the platform as per the specific business requirements. Also called a proprietary platform, this is built to attain the pre-defined and very specific requirements of the business. Development can be done either by hiring a team of in-house developers or outsourcing the task. In this method, you could either require your development partner to build the conferencing functionality from scratch or opt for a ready-to-use, third-party API compatible with your platform.

Off The Shelf Software:

Alternative approach is to go for a readymade

solution

that comes

pre-integrated with video conferencing

functionality. Businesses that have time and cost constraints can choose readymade solutions to launch their business instantly. While most off-the-shelf software are designed to cater to seemingly static requirements, a lot of them can be customized to incorporate a varying degree of features for specific business use-cases. 
Both approaches are ideal for different sets of situations. While buying a readymade solution is an affordable, easier, and more secure way, building your own online tutoring platform is more challenging. It is important to do homework considering various factors that underline your business goals. One also needs to set the priorities with regards to innovation and convention, risk and security, success and stability to make an informed decision.
Ready-to-Use Video Conferencing APIs and How to take Advantage of them?  
Turnkey APIs offer a great way to integrate video conferencing functionality in online tutoring platforms. Along with a number of advanced features that take a huge amount of time if developed from scratch, these APIs reduce the time-to-market and enable you to get into the market quickly.
Recommended APIs for Video Conferencing in Online Tutoring Platforms
Below listed are some popular APIs that offer essential features like screen sharing/recording, text chat, whiteboard to complement video conferencing.
AtomChat
Offering unparalleled features to connect tutors and learners in a collaborative and robust distance learning environment, AtomChat becomes an ideal video conferencing API for online tutoring platforms.
Group Video Conferences

One-to-One Video Chat

File Sharing

Theme Customization
Lessonspace
It provides the most versatile collaborative space for online tutoring. Along with its exemplary space for code editing, Lessonspace's one-click connect makes it more than easy to get right into the session and get started.
Multiplayer Learning Tools

Import & Annotate Documents

Code Editor

Advanced Troubleshooting

Noise Cancellation
Zoom
This is a complete unified communications platform enabling new ways of teaching, learning, and working across diverse educational environments. The tool provides flexible work environments to ensure continuity of academic services and communication across the platform.
MirrorFly
Bridging the gap between the tutors and learners through virtual interactions, MirrorFly allows users to connect from any device making the learning sessions more interactive and engaging.
SIP/VoIP Calling

Live Broadcast

Encrypted Chats

Call Queuing & Waiting
WebEx
Engaging the learners and tutors digitally, WebEx provides an impactful and advanced virtual learning experience. With plenty of interactive features in the tool, it gets easier for the users to join the lessons and get started.
Session Recording & Transcription

Powerful Session Controls

Google & Microsoft Calendar Integration

Two-way Whiteboarding
Get Expert Consultation On How Ready-made APIs Can Benefit Your online tutoring Business
Yo!Coach – A Robust Solution Pre-Integrated With Video Conferencing Functionality
Yo!Coach – a ready-made software to build online tutoring and consultation websites, is pre-integrated with AtomChat, Lessonspace, and Zoom, making it an ideal solution to launch a video-interaction-based online tutoring platform. In addition to these video conferencing APIs, Yo!Coach offers an array of features, which include location-based time scheduling, multilingual, multicurrency, review/rating, gift cards, flashcards, and many more that help in sustaining the current trends of the market.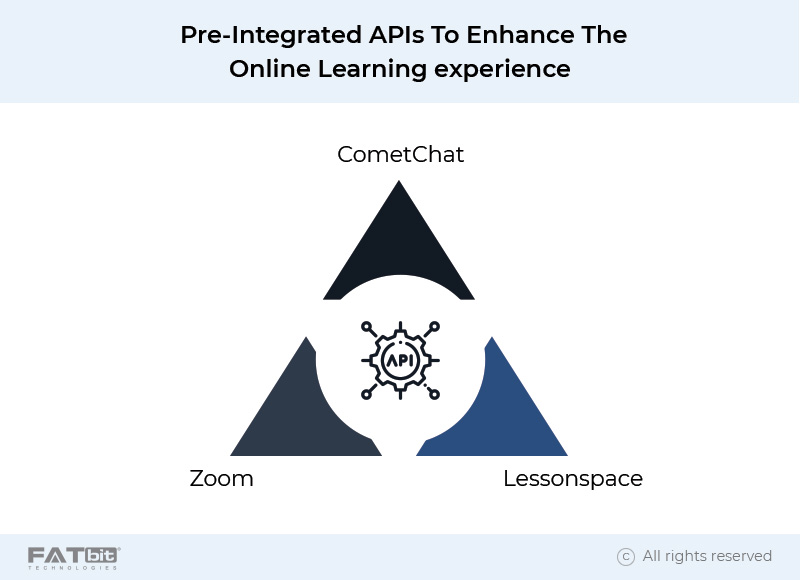 With all these features, Yo!Coach becomes highly capable of bridging the gap between the tutors & learners. As the software is fully customizable, it is possible to build marketplaces serving many other business verticals listed below:
Language Learning

Business Consultation

Music Learning

Fitness Coaching

Dance Learning

Medical Consultation

Legal Consultation

Culinary Coaching

Personality Development
Addressing the constantly evolving needs of users who are into online tutoring, Yo!Coach is a step forward to transform the traditional classrooms in the coming times.