Author and writing platforms may lack the sparkle that surrounds online shopping websites but if you speak of engagement, they clearly outsmart them. And there isn't better examples than Wattpad, Figment and WriteOn.
It is clear that marketplaces and websites focused on writing community carry serious business potential. This is the reason why we took it upon ourselves to analyze the best in the market and tell you what business model and features it take to succeed with an online venture focused on creative community.
Let's start with business model and also throw some light on how such websites makes money!
Business and revenue generation model
An online writer-reader community is known for creating & consuming articles, stories, fan fiction and poems. The leading writer websites carry an engage user base of writers and readers that spend large number of hours every month to consume user generated content.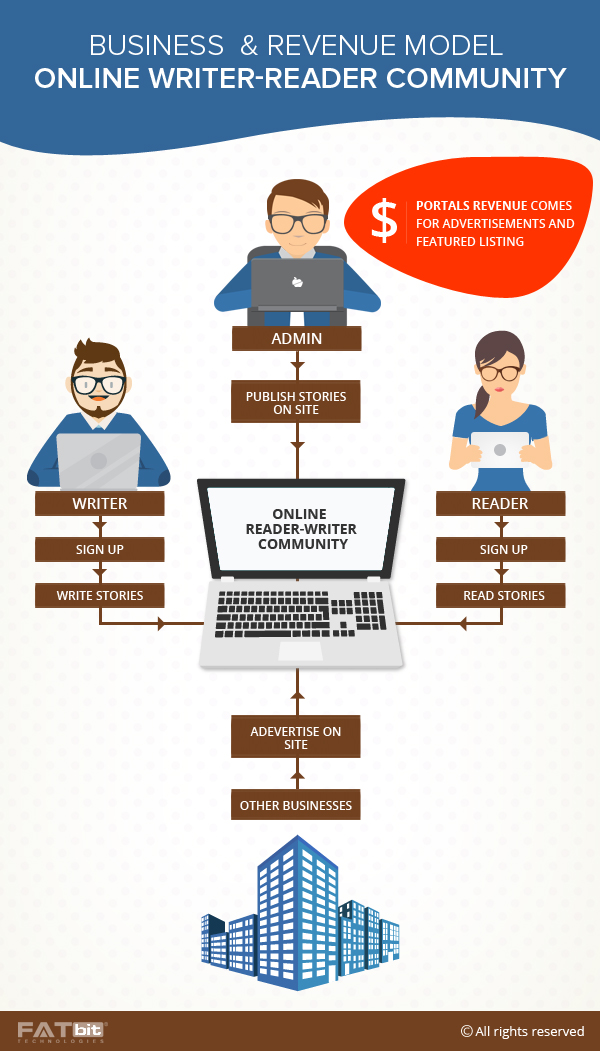 Most writing communities mainly depend on Google ads and native ad campaigns to generate profits. Here are other monetization options we think can generate good dividends:
Featured authors
Book in Spotlight
Merchandise sale
Google ads
Premium ad-free profiles
Figment, WriteOn, and Describli are major online writing platforms targeted towards the writing community. Their clones can keep above revenue generation models in mind to start earning soon.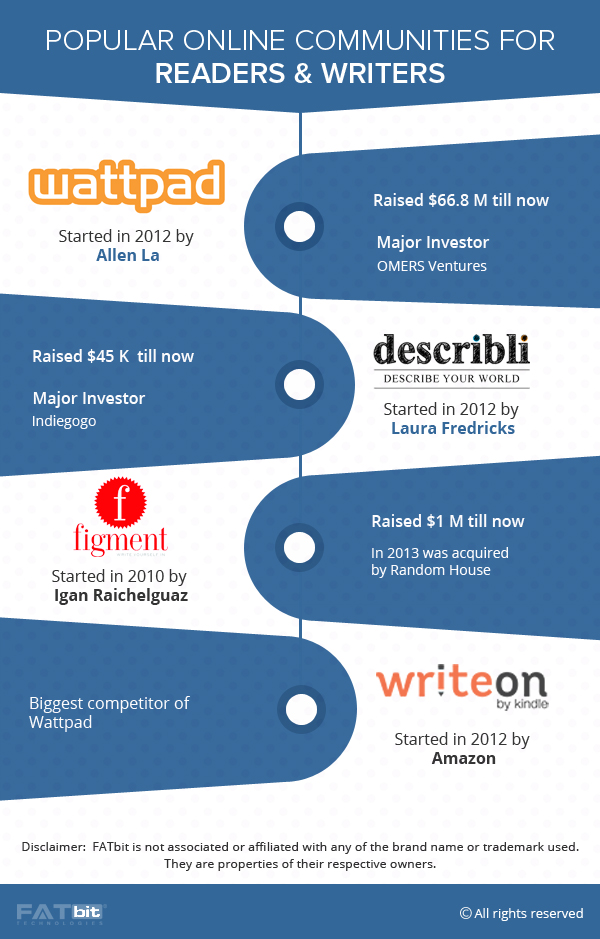 It's time to take a closer look at the features of writing platforms that have hooked users.
Author website features
Besides a rich community of writers, popular online writing and publishing names also benefits greatly from websites that has been created after extensive research. Here are the most fascinating features and aspects:
Homepage attractions
A website that fails to impress its target audience on homepage has little chance to succeed. Writer portals makes a great first impression with their visual as well as informative homepage. Major attractions have to be:
Banner-registration hybrid – Simple slider banners are stuff of the past. Modern websites are going for something more evolved. Homepage of your online writing clone should clearly communicate with target audience and tell what the website is all about. Login option should also be present on the homepage.
Feature introductions – Introducing your most interesting features to website visitors make perfect sense. Use homepage to put the spotlight on some of them. For instance, if you have the feature of offline reading, they tell your users.
App bait – Reading is going mobile, and this is the reason why mobile applications have to be a big part of your writing platform's vision. Create space for this focus on homepage.
Signup process
It is no rocket science that every platform driven by user base needs registered users to keep growing. From this angle, signup is very crucial. Top designers always recommend keeping the signup process short and sweet. The process can be started from the short form on homepage.
Impress site users with field validation. It helps visitors register correctly and also play a crucial role in checking spam. Email confirmation can also be used to check spam.
Discover and search feature
Finding books, stories and other content can become a challenge in the absence of Discovery feature. So, categorize content under vast range of topics to help simplify the task of finding relevant content.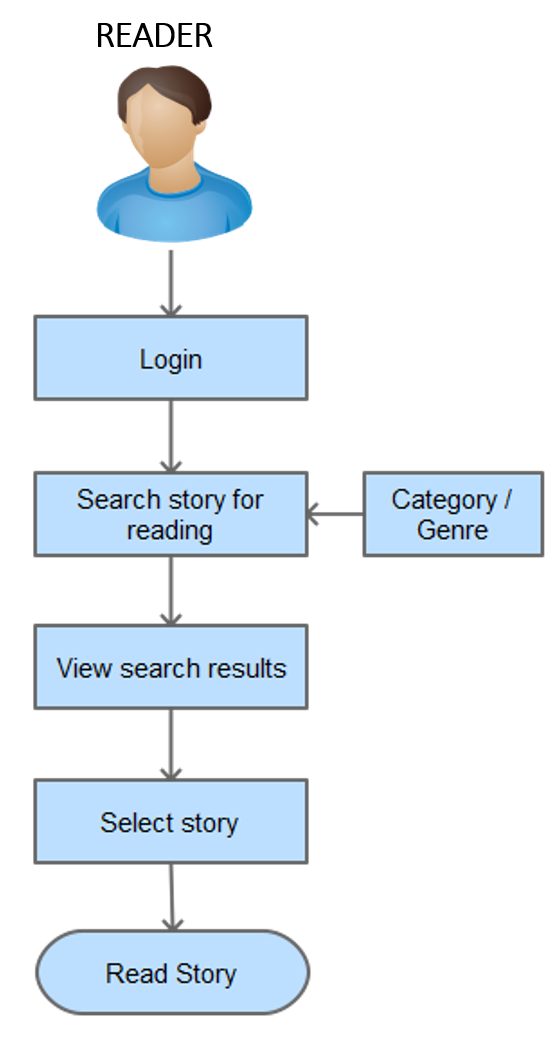 Make sure that Search functionality work flawlessly. This simplifies the search process which can be tiring in the presence such vast amount of content.
Genre pages
Genre pages are important for every writer marketplace. Below tabs can add great utility to every genre page:
These pages show can carry covers of the books that fall under the chosen genre. Every book listing can share:
Author name
Book name
Book cover
Other details
The genre pages can have unending feed, giving readers endless supply of content.
Also Read: How Paperweight Helps Build Writer's Marketplace For Freelance Writing Service
Book page
Dedicated book pages are an obvious requirement. Ask your website design and development team to deftly plan these pages, and keep the focus on book, writer, and other details. The difference makers of the page has to be:
Banner with book cover and author profile
Social sharing buttons
Book intro
Similar stories
Advertising space
Comments section
Make sure that these pages are highly search engine friendly, and give authors the advantage of search traffic as well.
Pro tip – Pick a writer website clone script that comes with search friendly interface and pages
Reading interface
Building a writing platform without sturdy reading functionality doesn't make sense. Popular author platforms uses the chapter or work publishing model and has created a decent reading interface which includes features related to:
Social sharing
Views, favorites and comments
Vote
Comment functionality
And of course ads
Get unique features for your writing platform
Hire pro developers
Writer pages
Writers want to make an impression with their work, and Writer pages helps in the task. These pages normally introduce visitors to:
Followers
Following
Published works
About me section
Social buttons
Writer photo
Message functionality
Author platforms that aim to compete with leading brands like Wattpad and Figment need interaction focused profile pages to build personal relationships without compromising privacy.
Story creation functionality
It's hard to imagine a writing platform without a dedicated writing functionality. Create an impressive process of writing and publishing that handles vast range of challenges.The main ideas that can be used to begin could be:
Story title
Category
Language
Copyright
Tagging
Keep the focus on writing by minimizing the distractions.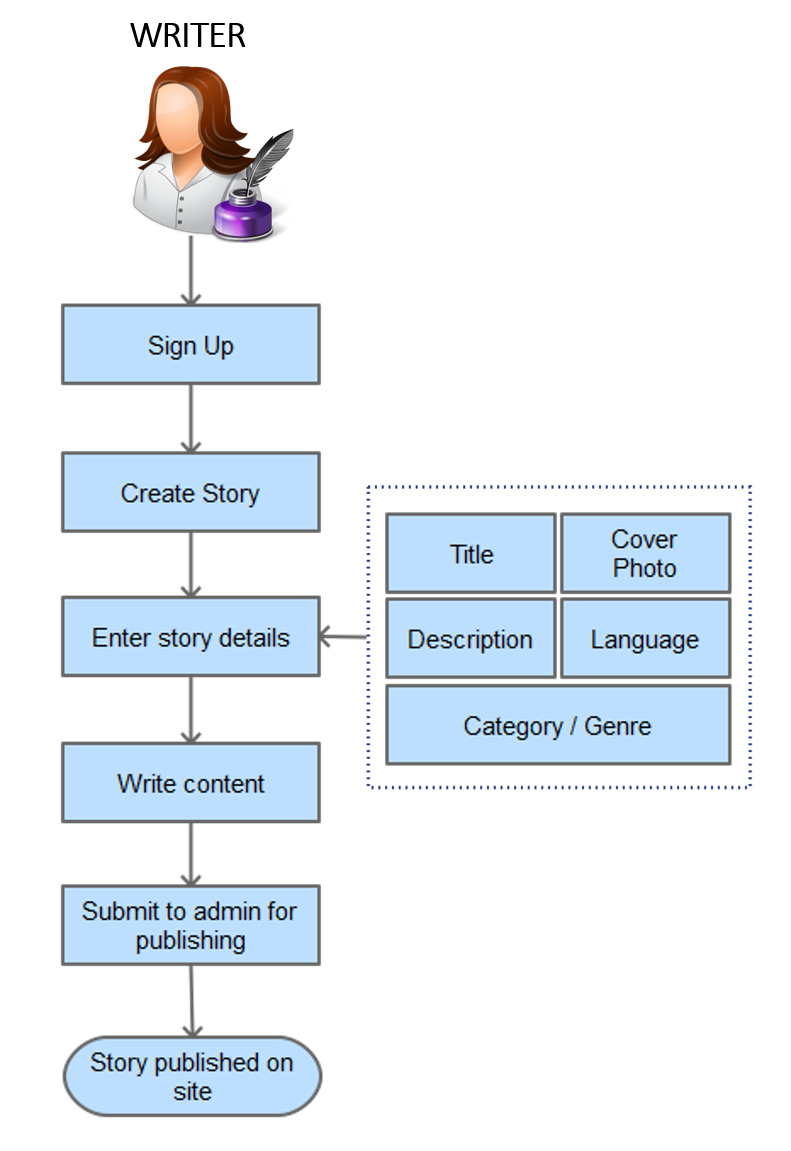 Take steps to protect content of writers from blatant copying. Make sure your clone of popular online writing platforms brings this benefit.
Analytics
Be it a story writer or blogger, everyone wants to see what impact their content is making. So, you need a powerful Analytics. While keeping focus on Engagement, and Demographics, share insights related to:
Unique readers
Completed reads
Comments
Age, gender and location
Help Center
Be it peer to peer marketplace or multivendor store, every 'big' online platform requires a FAQ section or Help page to assist visitors with queries. So, create a feature rich Help Center to make your platform as hot as Wattpad.
Messaging functionality
Social communication channels can be integrated easily but there has to be a dedicated feature to exchange messages. Our team of analysts thinks more could be accomplished through the Inbox besides using filters to show Unread, Read, and Sent messages. Watch out for our insights in the recommendations section.
Story or Author Clubs
Comments section of stories ought not the only channel of communication. Help writers and readers interact through clubs to gain new skills, interact with like minded people, and engage in insightful conversations.
Joining a club and leaving should be super easy. Such interactive features are important to keep people hooked to your writing platform. So, confirm it in your clone script before buying one.
Mobile focus
Though not part of website's functionality, mobile applications are strategic pillars of future platforms. Invest time and energy in UX focused mobile apps.
Language support
To amass a large user base in non-English speaking countries like the UK, Canada, Australia, and the United Arab Emirates, you need a social writing platform that supports multiple languages.
Pro tip – Make provision of filtering stories as well as site content on the basis of language.
You obviously need to work hard to build the perfect social writing platform for young writers to share their work but there are many areas in popular platforms like Writeup, Figment, and Wattpad that can use enhancements and upgrades. Let's talk about them!
Recommendations for author writing platforms
Advanced comment system – Most writing platforms have done a remarkable job in starting interactions between readers and writers through comments. What they needs is better visual arrangement of comment threads. This will go a long way in engaging new visitors and making sense of interactions happening through comments.
Ace homepage – A well-thought homepage can make or break your game. Add newsfeed, social activity section, and engaging graphics to make your platform appealing to future writers.
Reading and writing experience – When it comes to reading functionality, don't compromise with UX. Make sure that your writer website offers optimal experience ion desktops as well as smaller devices.
As we mentioned earlier, there are already platforms (Figment, WriteOn, and Describli) that are trying to make a name amongst writing community. But the market still has potential for advanced writing websites.
Also Read: How to improve User Experience of your blog to get maximum shares
Coming up with a unique platform for writers can be a big difference maker and money spinner. Whether you choose to launch one on clone script of already established platform or hire a dedicated team to build yours from scratch, make sure you consider features and recommendations listed by us.

Have a unique online business idea that you think can take the internet by storm? Discuss it with us and we will help you make it a reality.