Updated On: 1st March 2023
With the incorporation of latest technologies, artificial intelligence, and machine learning, the healthcare industry has transformed tremendously over the last few years. This transformation has improved the entire healthcare experience for both patients as well as medical professionals by providing operational efficiency and improved patient care. 
According to a survey, one out of two patients reported the use of healthcare consultation apps on their mobile devices. The primary reasons behind such behavior of patients are access to the consultation of more than one medical professional, the reduced hassle of traveling and waiting in long queues, and the ease of use. As technology continues to advance and demand for online doctor consultation platforms rises, there has never been a better time to build a platform that connects healthcare professionals with patients. 
Whether you are a healthcare professional or an entrepreneur interested in entering the online healthcare industry, building an online doctor consultation platform can be a rewarding experience. Further, in this blog, we provide you the information on how to build a successful online doctor consultation platform. From understanding the business model and identifying the right set of features, we will cover everything you need to know. 
Table of Contents:
Is it The Right Time to Start an Online Doctor Consultation Platform?
Considering the current scenario, experts are expecting a tremendous increase in the demand for online doctor consultation platforms. Some of the reasons why now is the right time to start an online doctor consultation platform are: 
Increased Demand:

The online doctor consultation industry is valued at

$25.1 billion

in 2023, and is expected to reach a market value of $35.5 billion by 2027 growing at a CAGR of 8.76% in the forecast period (2023-2027). We anticipate that demand for online doctor consultation platforms is rising and will continue to increase in the coming years, providing numerous lucrative opportunities for budding entrepreneurs. 

Connect Globally:

With an online doctor consultation platform, you can connect patients and doctors regardless of the geographical barrier. Consequently, increasing the reach and revenue of your platform. Additionally, online consultation platforms make it easy for patients to leverage the expertise of specialists unavailable locally.

Cost-Effective And Time-Saving:

Starting an online doctor consultation platform is more cost-effective and time-saving as compared to building a full-fledged hospital with all facilities and infrastructure. 
Benefits of Starting an Online Doctor Consultation Platform
Online doctor consultation platforms efficiently bridge the gap between patients and healthcare professionals. The growing popularity of online doctor consultation platforms can also be attributed to the fact that it offers endless benefits to doctors as well as patients.  Some of the benefits offered are-
Benefits of online doctor consultation platform for doctors:
Expanded global reach:

Doctors can provide their medical advice and services to patients globally, breaking all geographical barriers. 

Increased revenue:

Online consultation platforms offer additional revenue streams for doctors like they can sell ebooks, and medical learning material to their patients. Additionally, doctors can refer services of other healthcare professionals such as specialists, diagnostic centers, or labs by charging money in return. Such lucrative revenue opportunities may not be possible in an offline setting.

Flexibility:

With an online doctor consultation platform, doctors have the flexibility to choose their schedules, set their own rates, and work from any location. 

Efficient time management:

Doctors can efficiently manage their time with an online consultation platform. They can attend to patients without dealing with the hassles of managing administrative tasks, waiting rooms, etc.

Better patient management:

Online doctor consultation platforms enable doctors to manage their patients more efficiently. They can access their medical history and records, track their progress, and follow up when needed. 

Genuine feedback:

Patients can provide feedback in the form of ratings and reviews for the doctors which will eventually help them in improving their services. 

Improved patient satisfaction:

Online doctor consultation platforms are more convenient and accessible for patients, hence, offering more customer satisfaction. Patients can easily manage their appointments avoiding the need to travel to the clinic. Satisfied patients mean more referrals, which translates to more patients coming in for your services. 

Better work-life balance:

Doctors can achieve a better work-life balance with an online consultation platform. They can work from home or any location and can see patients as per their schedule and convenience.

Expert advice:

In case of complicated problems or diseases, doctors can seek advice from their fellow senior/expert doctors through online discussion forums or groups.
Benefits of online doctor consultation platform for patients: 
Convenience:

Patients can avail of medical treatment from the comfort of their homes without having to travel to the hospital. This is extremely beneficial for those who live in remote locations or have mobility issues.

Accessibility:

Online doctor consultation platforms provide patients with access to a wide range of doctors, regardless of their location. Patients can easily connect with specialists across the globe depending on their health concerns and condition.

Time-saving:

Individuals with busy schedules or work life can save time who otherwise would have to take time off or spend time traveling to the hospital. 

Cost-effective:

Online consultation is more cost-effective than in-person consultation. They can save money on travel expenses and consultation fees. 

Better monitoring:

With digital reports and prescriptions, doctors can track the progress and monitor their patients more closely and efficiently. This is also beneficial for those suffering from chronic diseases and requires continuous support and care. 

Increased privacy:

 Doctors provide consultation in the privacy of the patient's own homes, which is beneficial for those who are uncomfortable discussing their health concerns in a hospital setting. Additionally, online consultation platforms keep privacy of their patients at utmost priority by keeping the medical data encrypted and safe. 
Offering and integrating features that can cater to the needs of doctors and patients on your platform will eventually contribute to the growth and success of your online doctor consultation business. 
Start Your Online Doctor consultation Platform With Our Scalable Solution
How to Start an Online Doctor Consultation Business?
Starting an online doctor consultation business may seem like a daunting task, to begin with. However, with the right information and knowledge, this challenge can be overcome easily. In this section, we discuss key things you need to consider while starting your online doctor consultation platform. 
Compliance
To operate an online doctor consultation business, one has to adhere to different rules and regulations. For example, to start an online doctor consultation business in the U.S, compliance with HIPAA is essential, and to operate in Canada, compliance with PHIPA is vital.
Research
It is vital to understand what society needs. Conducting market research will give the basic idea of how to proceed forward and establish an online doctor consultation business. Ideally, one may initiate market research by identifying potential partners and studying the competitors.
Define Unique Value Proposition
To separate a new business from the rest of the crowd depends on how well the unique value propositions are defined. Depending on the value propositions, the user experience, customer service, selection of products and services, and more, will vary.
Create a Prototype
Conducting market research and defining unique value propositions will generate an ample amount of data to create a prototype or a minimum-viable product. The prototype and the number of features one wishes to integrate depend entirely on the budget.
Opt For a Reliable Solution
It is essential to choose a reliable software solution that can streamline the operations of your online doctor consultation business. Yo!Coach is one such popular software solution that offers exemplary features and functionality essential for running an online doctor consultation platform. This comes pre-integrated with popular collaborative tools like video conferencing, text chat, etc. to make communication between doctors and patients effortless on your platform. It also offers multi-lingual and multi-currency features to help you serve your global audience. 
Get Feedback
Once you have launched your platform, consider creating a list of hand-picked users who will gain access to the website or mobile app before everyone else. The feedback of these people matters, and after careful analysis, one may choose to include the learnings on the website or mobile app.
Check The Feasibility Of Your Online Doctor Consultation Business Idea
After knowing how to start an online doctor consultation business, the next important thing would be to know about the popular online doctor consultation platforms in the industry.
Popular Online Doctor Consultation Platforms
eGlobalDoctors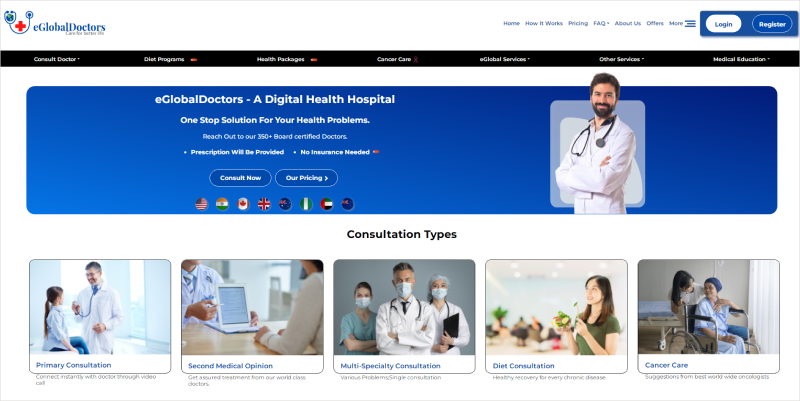 eGlobalDoctors is an online doctor consultation platform providing more than 40 medical services in 8+ countries around the world. This platform provides all the features of a hospital at a click of a button. More than 350+ renowned doctors from various medical fields with years of medical practice experience are associated with the platform. This platform generates revenue through commissions, offering subscriptions and various other services like health packages, diet programs, etc.
SteadyMD
SteadyMD connects patients with primary care physicians via video calls, secure messaging, etc. This online medical service provider earns revenue through multiple streams such as subscription fees and others. Its primary revenue stream includes different variations. For instance, they offer separate medical plans for single patients and family members. A one-hour welcome video call is generally scheduled between the patient and the doctor. The purpose of the call is to enable the patient to share his health history with the doctor.
Nexia Wellness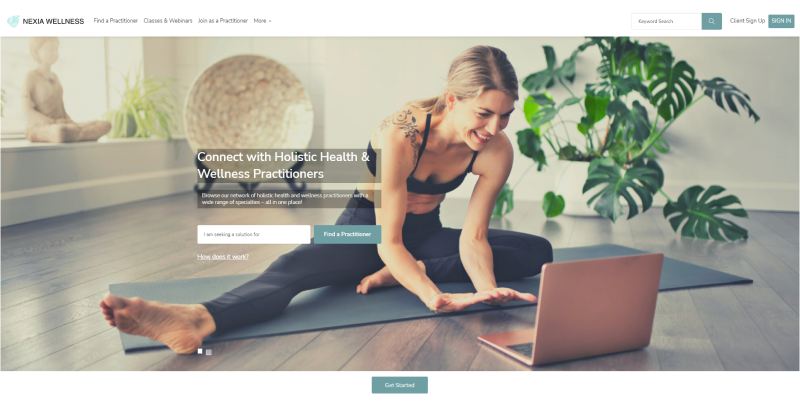 Nexia Wellness is a popular online doctor consultation platform developed by Yo!Coach. This is an online therapy platform that connects individuals with certified health and wellness practitioners They aim to provide an easy and accessible way for users to avail of wellness services such as counseling, fitness coaching, nutrition coaching, therapy, and more. People can search and find a variety of healthcare professionals on the platform. By making online payments they can book their appointments and start their healing journey.
This platform allows flexible communication through video consultation and chat support. Additionally, Nexia Wellness is a highly secured and encrypted platform to protect users' information and ensure privacy.
Launch A Feature-Packed Platform Like Nexia Wellness With Yo!Coach
Doctor On Demand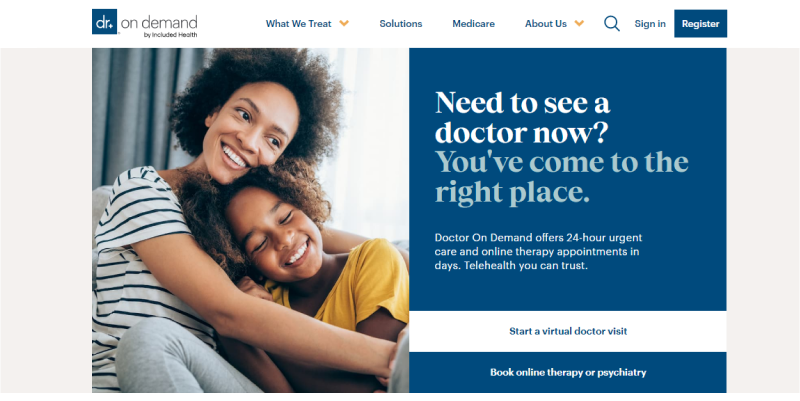 Doctor On Demand is a fast and easy way to see a doctor, nurse, practitioner, therapist, or psychiatrist online on your desktop or mobile device. Their licensed doctors have an average of 15+ years of experience. This platform offers services 24/7 and connects doctors with patients in minutes. Unlike other online doctor consultation service providers, Doctor On Demand has no subscription model. There is a flat-rate for those who seek consultation. 
Coupon code management, patient management, etc are some of the features offered by this platform. Doctor On Demand also accepts insurance coverage from a few.
iCliniq
iCliniq covers 80+ specialties ranging from obstetrics, and gynecology to psychiatry, and dermatology. It is a medical second opinion platform where users can get medical advice from certified doctors. Their doctor panel consists of medical practitioners from US, UK, Germany, Singapore, and more. To ensure the highest quality for the patients on the platforms, they verify online doctors' licenses, qualifications, and experience before listing them on the platform. 
iCliniq generates revenue by charging patients for each consultation. The cost of consultation varies depending on the time for the video consultation, the starting price for a 15-minute video consultation is $79. 
Zocdoc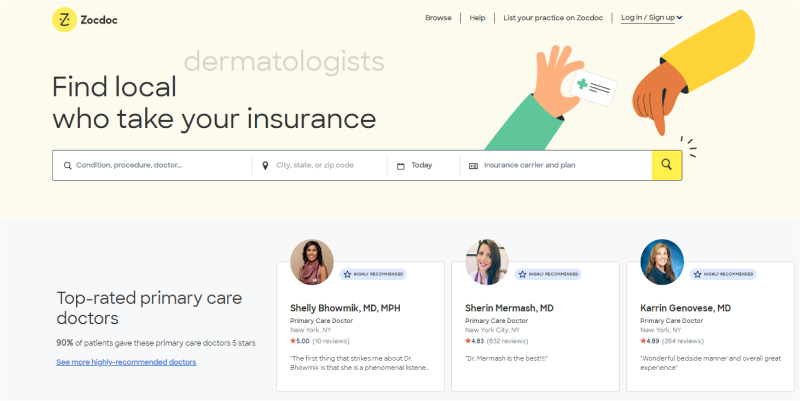 Zocdoc is an online doctor consultation platform that allows patients to find and book appointments with doctors based on their location, specialty, and insurance plan. After selecting a doctor, patients can view their availability in the calendar and can book an appointment by paying a fee. Patients can make informed choices with verified profiles, reviews, and ratings and can stay on top of important check-ups and appointments with custom reminders. 
The platform earns money from both a listing fee and a booking fee from healthcare providers. The fee is charged in the form of monthly and annual subscriptions.
Therapy Panda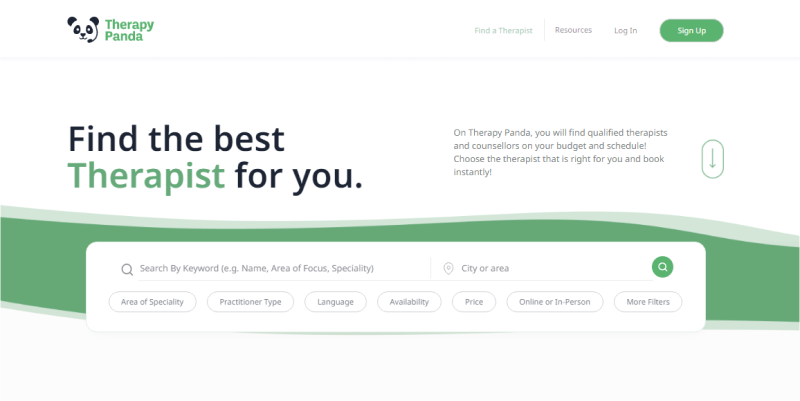 Launched by Yo!Coach, Therapy Panda is a global platform that connects people with qualified and experienced therapists, psychologists, and counselors. Those seeking therapy can search for the therapist around their personal preference such as price, specialty, therapy approach, availability, nationality, gender, age, rating, and more. Before making a booking, they can even watch videos of therapists to get a better understanding of what to expect from the therapist in the session.
Additionally, this platform is multi-lingual and offers multi-currency features to serve global clientele around the world. Therapy Panda is highly secure for online therapy as it is both HIPAA and GDPR-compliant.
Planning To Launch An Online Doctor Consultation Platform Like Therapy Panda
After exploring the key players in the online doctor consultation industry, let's gain insights on the business and revenue model of an online doctor consultation platform.
Business Model of an Online Doctor Consultation Platform
In an online doctor consultation business model, there are three different types of users. The three types of users are – Platform owner or admin, doctor, and patient.
Platform owner or admin
The admin manages all the operations of an online doctor consultation business. As the owner, he has to take care of everything associated with the platform, including marketing and customer care.
Patient
A patient can schedule an online appointment with a doctor. The conversation can happen over video or text.
Doctor
A separate dashboard is provided for doctors which can be accessed once the doctor successfully completes the sign-up process. A doctor also has management tools to keep track of patients.
The general operational flow is elaborated in the business model diagram below: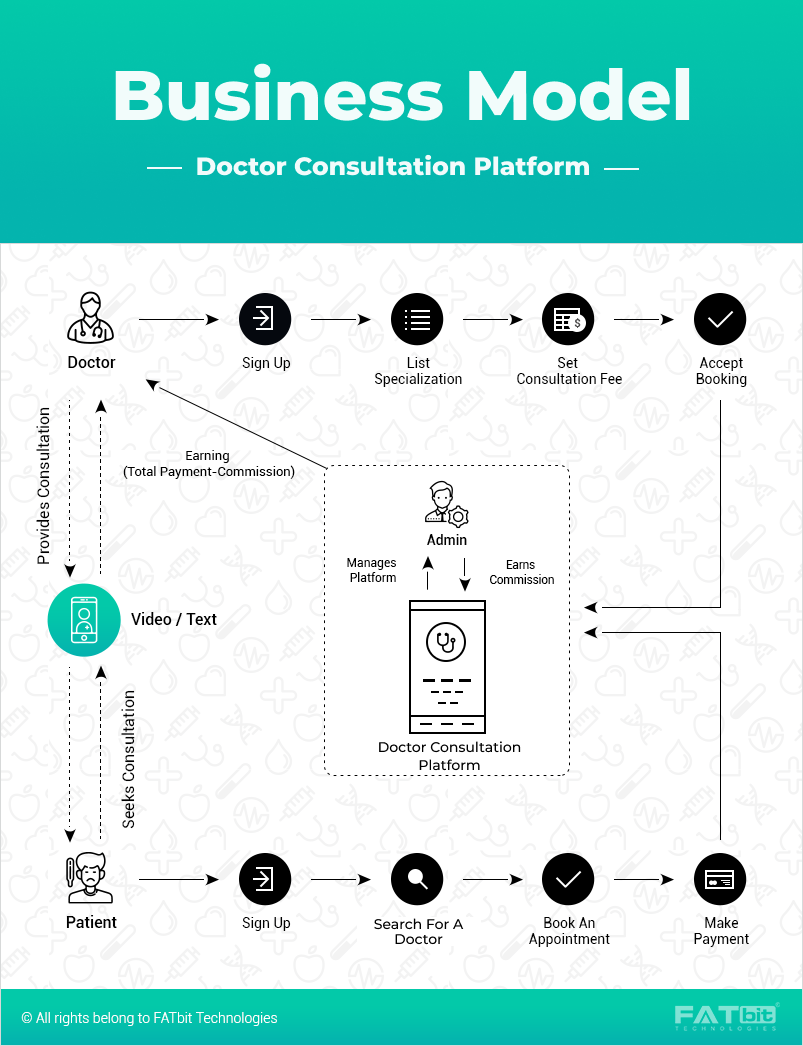 Revenue Model of an Online Doctor Consultation Platform
An online doctor consultation platform can generate revenue through multiple sources. Here are some of the popular revenue streams:
Commission
The admin can earn commission behind each appointment scheduled with a doctor. The online payment can come directly to the admin, who can then deduct the commission and send the rest to the doctor. One should consider the payment gateway charges as well before finalizing the commission.
Subscription
Patients can pay a monthly or annual subscription fee to access the platform and connect with the best doctors around the world. 
Partnership Program
The platform can generate revenue by partnering with other healthcare providers (dieticians, nutritionists, etc.) and insurance companies by providing them the opportunity to offer their services through your platform. 
Sponsored Placement
Healthcare professionals can list themselves on different web pages such as the homepage, search listing, and more on your platform. Using this feature, the admin can charge a fee based on time duration and the number of clicks.
Advertisement
The platform can generate revenue by displaying ads to users. In this method, specific space is allocated to different web pages for advertisers. To calculate the advertisement fee, pay per click method can be implemented in your online doctor consultation platform.
The revenue streams should be aligned with your platform's value proposition, and business goals while ensuring sustainable growth and revenue over time. 
Essential Features of an Online Doctor Consultation Platform
Doctors Detail Page
The details page includes essential information about the doctor. This may include a video introduction, medical qualification, experience in years, language spoken by the doctor, area of expertise, availability, ratings, and review, consultation fee, direct message capability, and more.
Booking and Checkout
Booking and checkout are essential components of an online doctor consultation platform. The booking process should be simple with clear instructions and prompts for patients to follow. Patients should easily be able to cancel or reschedule their appointments. Additionally, the refund and cancellation policy should also be clearly communicated to the patients on the platform. 
Consultation Tools
For an online appointment to be successful, consultation tools play an important role. These tools improve communication between doctors and patients. Relevant tools that enhance the user experience for patients include file sharing, collaborative documents, text chat, text pad, screen sharing, screen recording, etc. 
Matching Filters
Matching filters could be a powerful tool for an online doctor consultation platform to effortlessly match patients and doctors on the platform. This filter allows patients to easily match with doctors based on their specific needs, such as doctors who are specialists in a particular field, speak a specific language, or are of a particular gender.
This efficient and quick matching of doctor and patient can save a lot of time and effort patients will invest in finding a suitable doctor. On the other hand, doctors with specific specializations can easily be found by patients eventually increasing their visibility and attracting more patients. 
Calendar Availability and Scheduling
This feature helps doctors manage their online availability and schedule more efficiently. With a calendar, doctors are able to specify at what time of the day they are available for consultation. Patients can book appointments with doctors as per their availability. This also helps reduce waiting time for patients, hence, improving overall patient satisfaction. 
Reviews and Rating
Reviews and rating helps in building credibility and trust among patients. Patients can provide valuable feedback to doctors based on their experience. Ratings also help patients in making informed decisions regarding their healthcare and whether to choose a particular doctor or not. Doctors should also have the option to respond to reviews, whether to thank patients for positive feedback or to address concerns raised in the negative feedback.
Multiple Payment Options
It is very crucial to smoothen the transaction process for global users on your platform. It is recommended to provide multiple payment options like eWallets, net banking, credit /debit card, etc. for quick transactions on your platform. In addition to that, consider integrating globally popular payment APIs like Stripe, PayPal, Authorize.net, etc. 
Multi-Lingual
In order to reach global users, an online doctor consultation platform must be available in multiple languages. This offers convenience and ease to users while using your platform and breaks the language barrier. 
Session Notes
Session notes play an important role in online doctor consultation, as they help doctors document everything from patients' online visits accurately, including patients' symptoms, treatment plans, and follow-up instructions. These notes also help doctors communicate with other healthcare professionals more efficiently by providing a comprehensive record of the patient's condition. Session notes should be securely stored on the platform in order to ensure the patient's confidentiality and privacy. 
E-Sign
Completing the admission process by using electronic signatures can streamline the process of documentation for both patients and healthcare providers while maintaining privacy and security. E-sign makes it easier and faster for healthcare professionals to share critical information and obtain consent. By using e-signs, physicians can quickly sign and share prescriptions with patients. 
Video Chat
Video chat enables face-to-face communication, thus, allowing doctors to assess the physical condition of patients more accurately. This feature lets doctors make the correct diagnosis of the problem and eventually provide immediate feedback, advice, treatment recommendations, and prescriptions. Online platforms must ensure end-to-end encryption and no audio or videos are sent or stored on the server. 
Security and Privacy
Offering high security and privacy is very important for an online doctor consultation platform. The platform should be secure and encrypted so that patient's confidentiality is not compromised. The platform must have inbuilt features to ensure end-to-end encryption, and no accidental leak of patient's information. Online doctor consultation platforms must be HIPPA and GDPR-compliant in order to offer maximum security to users on the platform.
Discuss The Right Set Of Features For Your Online Doctor Consultation Platform
Other Recommended Features for an Online Doctor Consultation Platform
Free Consultation Offer
Initially, it might be challenging for an online doctor consultation business to win the trust of users. To earn the trust and give a glimpse of the service to users, a free consultation can be offered. For example – if a user comes to a doctor consultation platform for the first time, he can be provided 30 minutes of free consultation.
Gift Cards and Offers
Users can give a gift card to someone who needs a consultation with a doctor regarding any health issue. For marketing, this may work well as people will bring other members of family or friends to the portal. Thus, increasing the overall user base. Additionally, lucrative offers can be shared with existing and new customers for promoting your platform. 
Conclusion
An entrepreneur needs to invest time and effort to understand the pain points addressed by an online doctor consultation platform. Once understood, entrepreneurs can start building their own doctor consultation platform. Building such a platform requires careful planning and execution, hence, to enable entrepreneurs to make an informed decision, this blog touched on important areas of an online doctor consultation business.