Online gigs marketplace to book artists and performers is the next big thing in the world of ecommerce. Event planners, party hosts and performers had a tough time finding each other, and this niche addresses the issue in an efficient way. The idea was simple, bring performers and seekers together and organize the market, creating equal opportunities for both the involved parties. Moreover, ecommerce industry has always been all about transparency, whether in operations or in transactions, so online gigs marketplace also led to better and faster bookings in comparison to the conventional, offline methods.
The online gigs industry is relatively new, and the success of market players such as GigSalad and GigStart shows that these companies have found the pulse and understood how to tap it the right way.
Let's take a look at the number they're crunching.
GigSalad
Founded In: 2007
Founders: Mark Steiner, Steve Tetrault
Revenue: $7.3 Million
Twitter Followers: 6956
Facebook Followers: 29170
When Mark put his dream into motion, it started with well-established artists and big numbers, $5000 or above per gig and 10% of its commission was what Mark aimed as a minimum. But it was meant to be more than this.
Soon, he started receiving signups from local artists, bands and performers asking if he could find a gig or an event for them. And they were ready to pay commissions for the gigs they were able to grab (50% of something is better than 100% of nothing – Han). 11 years later, GigSalad today is a $7.3 million strong company with more than 25% profit margin.
A company that grows within its own means, GigSalad never asked for venture capital from anyone. The company is constantly growing and has helped many event planners find a performing artist that suits their requirement.
GigStart
Founded In: 2013
Founders: Atit Jain, Madhulika Pandey
Revenue: $4.4 Million
Twitter Followers: 481
Facebook Followers: 20621
GigStart is a result of a realization. While looking for venues, event planners and artists, Atit and Madhulika had to make and receive an endless number of calls. Entertainers market was chaotic and the duo decided to streamline the process, and thus the road to GigStart started shaping up.
3 years after its inception, GigStart's majority shares (85%) were purchased by Mumbai based Kwan Entertainment and Marketing Solutions, a Mumbai based celebrity management firm.
GigStart recommends the artists to follow a simple, 3-step strategy, which, in their own words, is:
Get Discovered
Look Attractive
Get Booked
With more than 400 artists in 17 categories, GigStart has made a strong presence in India's National Capital Region. The founders aim to make it a huge name in the Asian and African continent.
What Made GigSalad and GigStart a Success
While GigSalad and GigStart have inspired many other startups of the kind, merely following the business model is not enough. There are other lessons too that one can learn from the founders of these top shots.
Mark Steiner worked as a craft service provider before becoming an agent. With prominent bands and artists in his portfolio, the day he launched GigSalad, he already had major performers willing to work with him. The connections and relations he established over a span of 24 years helped him make a smooth start. His business partner, Steve Tetrault, is a designer. The GigSalad website that you see is all Steve.
Moreover, the same connections also helped him grow through possibly the oldest marketing tactic: word of mouth.
At the same time, Madhulika and Atit made sure their contrasting backgrounds become their strong suit. Atit is an engineer while Madhulika has an arts background, and their diverse talents complement each other very well.
That's the importance of teaming up with someone who has a talent different from yours. If you and your business partner(s) come from the same background and have the same talent and skillset, bringing something new on the table becomes difficult. The founders of GigSalad and GigStart knew how to master the business model to the core and also relied heavily on marketing, while their varied talents helped them complement each other.
Challenges Solved by Online Gigs Industry
Madhulika Pandey of GigStart stated that the major challenge she and Atit faced was the scattered market of artists. There was no order and things seemed to run in a haphazard manner.
The challenge was to bring the maximum possible number of artists and performers on board and streamline the communication. The latter was a major challenge because artists weren't listed on yellow pages and many of them used to go off the radar whenever they felt like.
Another challenge was the high price due to involved agencies, managers and other middlemen. A marketplace is not for talent agencies. The core idea is to bring freelancers close to event planners and party organizers. Middlemen simply make things complicated and unnecessarily expensive. So, Mark stopped being an agent and became a connecting dot, charging a nominal fee (commission) for each successful transaction.
Get Detailed Market Research on Online Gigs Marketplace from Industry Experts
Growth Prospects of Online Gig Marketplace
The industry paints a bright picture with huge scope for success. Apart from the key market players we mentioned above, Event Peppers, GigMasters and Gigmor are some of the other names that are doing great.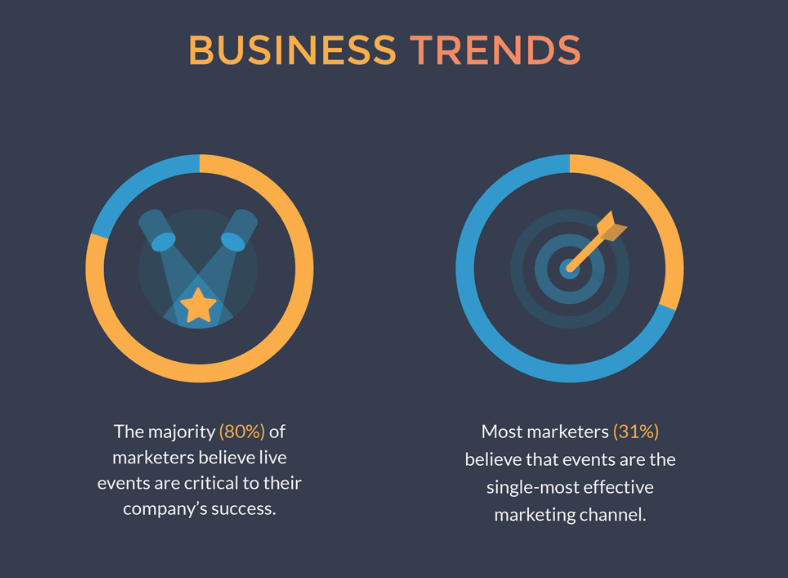 Image Credit: Bizzabo
The utility and popularity of events point to the growing need of performers and artists in the entertainment industry. Companies like GigSalad and GigStart are tapping on this need and making huge profits while helping event planners and performers find an organized market to earn.
Although computers remain the preferred device for people to buy tickets, the numbers of smartphones based ticket shoppers are increasing consistently. A study by Google & Ipsos Media CT shows a 50% rise in smartphone usage for ticket purchases from 2012 to 2014.
Do You Really Need a Mobile App to Run a Gigs Marketplace for Event Planners & Artists?
Not if you don't want your business to grow and maximize its reach. In any other case, an app is a useful addition to your arsenal. From offering mobility to instant access to better retargeting, mobile app packs a plethora of benefits. The question is not whether you need an app, the question is, what kind of ecommerce mobile app you should go for.
Take a decision based on three primary factors: your budget, the stage of your business and your traction in the market. You can choose the right app from:
Native Apps
Developed for a specific mobile operating system, native apps offer amazing speed and reliability. Push notifications further make reaching out to your marketplace users easy.
Creating individual apps for different operating systems will cost you a good amount, and also as many codebase as the operating systems you are looking at. Go for it only when you have a huge audience and are absolutely sure about your apps' success.
Hybrid Apps
Hybrid apps are built for multiple platforms, are easier to manage, and can be scaled for any OS.
Hybrid apps don't do so well on the performance front. They are ideal option when you don't know how your app will be received by your audience. It's good as a test run, but not as pragmatic as a permanent viable solution. Do a native v/s hybrid app comparison to see which one suits your budget and needs the best before finalizing on either of them.
Progressive Web Apps (PWA)
A web development approach that gives a website the same interface an app would have, PWA can be accessed through any browser from any smartphone. Considered to be the future of mobile apps, PWAs are gaining popularity among business owners as well as the end users.
Building a Practical and Salable App
All apps need to have a light, speedy and easily navigable design. Apart from the essential nitty-gritties such as online booking and ticket purchasing features, the online performers booking app should also be able to establish an artist's credibility. Don't forget:
The app should be able to handle video content effortlessly.
Yes, reviews help a great deal in establishing an artist's credibility, but things run even better when people can see their performances.
Performers upload their videos on various channels such as YouTube, Instagram, Snapchat, etc. Visual content is the key factor here that drives hosts and event planners to find the right artists for their events.
Allow users to embed links to the videos so that service seekers can make an informed decision. Doing so will also help you keep your app light and speedy.
Building an online gigs marketplace could be your best decision provided the research and analysis is not limited to just getting the business model right. Decide what all features your marketplace and app should have.
The good news is that there's always a quick and effective way to do things. VivoGigs is one such turnkey system that can help you launch your online gigs marketplace with all the necessary features. Available in ready to launch and fully customizable versions, VivoGigs helps you create a marketplace as per your requirements.
The system is completely customizable and responsive to fit any business need. A highly advanced search option ensures that a client can search for the artists and can also take a look at their public pages. VivoGigs also includes features such as power search and location mapping that not only makes it easy to find an artist, but also allows event planners to tag the location so that artists can reach their destination in a comfortable and timely manner. Talk to our technology experts to know more about the feature requirements of this business model.