According to several forecasts given by Gartner Group or International Data Corporation, eLearning and its commercialization seem to be a growing market in the digital economy. Forbes recently launched an eLearning platform, named Learn@Forbes making it evident that the demand in this industry is skyrocketing. The reason for this rapid increase is the paramount importance of knowledge, globalization, life-time learning, and mobility.
The sphere of eLearning is enlarging with a number of courses and genres and is expected to grow by as much as $38 billion from 2020 to 2024. Therefore, starting  an eLearning business is one of the most profitable businesses, especially in the midst of a pandemic, where attending traditional classrooms is not possible till a reliable solution of the virus is not available. Physical classrooms cannot be seen anywhere in the near future. However, a successful eLearning business requires an insight into the different types of eLearning methods prevailing and which one to choose to suit your business model.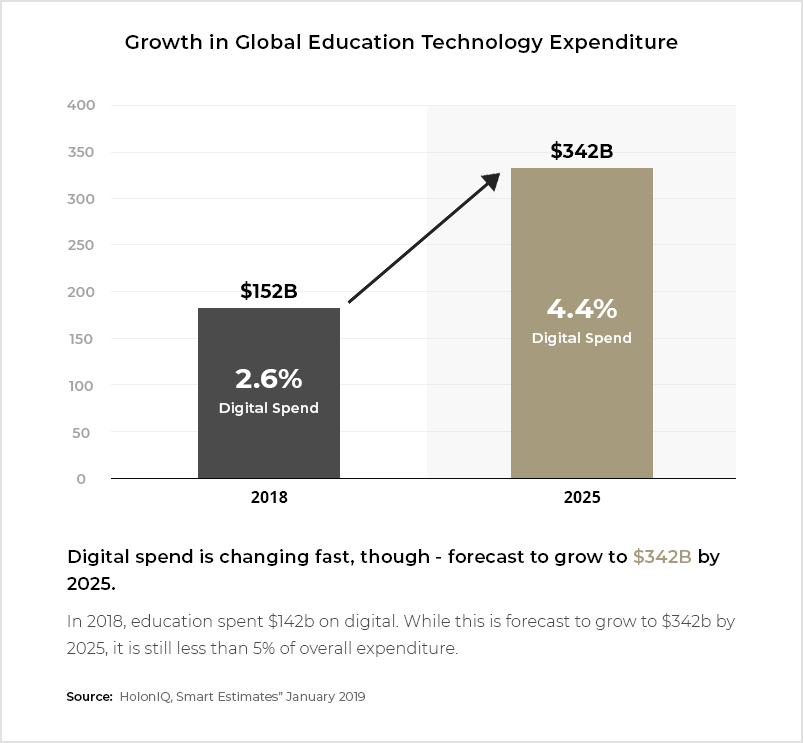 Let's have a look at some of the most popular types of eLearning to get an idea.
Video-Based Learning
It is no surprise that the usage of videos for online training is increasing. Video-based learning is experiencing unprecedented growth and popularity as it is more effective, reduces the cost and efforts of instructors, and drives consistency. Tech companies report that the human brain processes images and videos 60,000 times faster than text and therefore, smart edupreneurs are rapidly investing in this form of teaching.
They improve the learners' performance by providing them with visual examples, allowing them to interact, explore, and digest the content at their own pace. Some popular examples of eLearning platforms delivering content through videos are Udemy and Masterclass. Each course on these platforms is created by the instructors which is available in the form of pre-recorded video, slides, interactive text assignments.
These online videos for each lesson serve as an efficient and effective way to enhance the learning experience of learners.

Benefits of Video-Based eLearning
Videos make the course more effective and engaging

Reduces time and learning costs

Offers ease and flexibility to both trainer and learner.
One-on-One Online Learning
This form of online learning is ideal for learners who want to study a specific topic/subject and at a time that suits them. One-on-one online learning model helps learners create customizable lesson plans based on their requirements. So, whether learners are looking to maximize their progression in any language learning, continue to study their school subjects, or prepare for exams, there is a bespoke online one-on-one course customized as per the requirements.
Examples of one-on-one online learning platforms are Verbling and Lessonface. While Verbling is an online language learning platform enabling teachers and learners to communicate directly through a video chat interface and elevating the experience of language learning/teaching, Lessonface allows music teachers and learners to come together on a single platform via a computer or tablet.

Benefits of One-on-One Learning
High-quality and personalized interaction between students and teachers

Eliminates distraction for students

Students and teachers adapt to each other's way of communication
Online Group Learning
No doubt, one-on-one learning is considered as a preferred method of learning online, but collaborative learning has its benefits. In many subjects/lessons, collaborative learning proves to be more beneficial as it allows learners to learn while interacting with other students. Like a complex maths problem with lots of complicated steps, or a project on Ancient Egypt where students need to combine their knowledge of history.
It focuses on building collaborations and encouraging interactions among all the learners and instructors. Teachers can have special sessions where students are asked to share their thoughts and ideas on a specific topic. Varsity Tutors and TakeLessons offer personalized and cost-effective online group learning to its learners by connecting them to the right tutors and sharing the cost with other learners.
The result of these sessions is a rich group learning experience where learners and instructors feel like they are in a physical classroom.
Benefits of Online Group Learning
Allows learners to learn from the ideas, skill sets, and experience of other learners.

Encourages students for group analysis and collaborative team-building skills
Proposal/Bidding Based Online Learning
This form of learning connects students to the tutors who can answer their questions. Students can come and post their academic questions, homework, or project. They will receive bids/proposals on their questions from verified tutors who are willing to help them. After analyzing the price, reviews, and profile, students can then select and hire a tutor.
The payment is released to the tutor only if the students are completely satisfied with the solution/answer given by the tutor. Students can also claim a refund within a specific time frame if they are not satisfied with the answer. Platforms offering this type of learning are Studypool and SolutionInn. These platforms have video chat interaction, 24*7 availability of tutors, and collaborative workspaces to provide a perfect learning experience to the students.

Benefits of Proposal/Bidding Based Learning
Students can compare the reviews, price, profile of the tutors before hiring them.

Payment is only done after the student is satisfied by the answer/solution of the teacher and can also request a refund after reviewing the request within a time limit.
eLearning Platform for Teachers
These platforms are a solution for teachers where they get the resources and knowledge to teach students efficiently. A number of free and paid resources are available on these platforms by the teachers themselves who understand what works in the classroom and want to support other teachers by sharing their expertise. These platforms are coming in great need for the educators who require any guidance for their teaching sessions.
Teachers Pay Teachers is a marketplace where teachers can get unlimited education material to make their teaching sessions easy. The resources and knowledge on this platform are uploaded by the teachers themselves to support other teachers. A wide range of resources for teachers are available from Pre K-12 education.

Benefits of eLearning Platforms for Teachers
It enables the teachers to be more confident in what they are delivering in the class.

Teachers can monetize their knowledge and resources by making it accessible for other teachers.
Online Employee Training
Having an employee training program in an organization is an essential part of employment. It helps to improve the skills and knowledge of employees to cope up with the industry changes. And, having an online corporate training platform makes it easy and cost-effective for organizations to create and deliver training materials to the employees. Moreover, it also allows the employees to schedule their training sessions whenever and wherever they want.
Kitaboo Insight and SAP Litmos are some of the few popular online employee training platforms that help organizations to deliver interactive employee training sessions enabling targeted learning and boosting employee experience. The training content can be delivered on multiple devices like mobiles, tablets, and laptops.

Benefits of Online Employee Training Platforms
Having an online training platform for employees enables the organizations to deliver the same training content to every employee to make sure every employee is on the same page.

Every employee cannot have the same level of knowledge, skill, or experience, and which means that training for each employee cannot be executed in the same way. Online training allows employees to learn at their own pace as per their learning capabilities and requirements.
Massive Open Online Courses
MOOCs are gaining extreme popularity among students and professionals as they offer accessible and affordable distance learning opportunities to all the learners worldwide. While most of the courses on MOOC are available for free, a few platforms charge a small amount if you want a certificate of completion. MOOCs have a self-paced format where you learn from the pre-recorded videos and webinars.
Cognitive Class and Coursera are some of the popular Massive Open Online Course providers offering free classes for learners. They provide fully-remote and self-paced learning opportunities with no time-restrictions and also provide certificates at undergraduate, graduate, and postgraduate levels.

Benefits of MOOCs
One of the most lucrative benefits of MOOCs is that most of the courses are free certificate courses.
Courses and deadlines are flexible, so students can start, study, and complete the course at their own pace.

MOOCs are open to everyone and available in different languages.
Also Read :- Factors to Consider while Developing An E-learning Website like Coursera
Online Consulting
There has always been a demand for consulting services in a variety of domains, from education to finance. And the arrival of the Internet has given the consultants an opportunity to go global and offer their services online. Online consultation is suitable for any type of industry; be it financial, real estate, dietician, psychological, astrology, or any other industry we can imagine.
FlexingIt and QuikConsult are popular online consultation platforms that provide online consultation services for businesses and education respectively. FlexingIt connects the organizations to top quality and experienced business consultants and consultation seekers can search and select an expert who can understand the requirements and work closely to meet the requirements.
QuikConsult facilitates online career counselling from the top education experts helping students to select the best school, college, and degree.

Benefits of Online Consulting
Remote consultation spares the cost and inconvenience of travel.

The consultation provided is private/confidential and not shared with anyone else.
Download our whitepaper to read about the benefits and detailed aspects of e-learning.
Conclusion
With a massive demand for online learning in different areas, it is now evident that starting an eLearning platform would be a highly profitable business venture in the near future. However, choosing the right eLearning business model is a huge dilemma for the entrepreneurs. Yo!Coach is a turnkey solution that can be used to set up a fully-featured online learning or consulting platform using different methods.
With some striking and engaging features like location-based time scheduling, rating and reviewing teachers and courses, video chat, gift cards, one can launch an eLearning portal with minimum to no hassle.
Still Confused which Business Model is Ideal for your eLearning Business?