B2B businesses wonder if content actually holds the power to generate leads and improve their ROI- well that's a thing of past. As per CMI only 11% of the B2B businesses are not making use of content marketing as of now. Most businesses have recognized the importance of content and begun experimenting with it to build more connections and generate effective leads.
For those who are still doubtful about the right techniques or fear of spending an absurd amount of time and resources in creating content and planning campaign for different channels, we have put together this list of lead generation strategies.
Email marketing
One of the few online marketing channels that have sustained any type of competition is email marketing. Email has turned 25 years this year, and it still holds the first spot on many of marketers' lists and lead generation strategies.
The trend most marketers are adopting (due to great results) is marketing automation. Marketing automation tools are hybrid email marketing tools that connect with your CRM to send out effective / highly targeted emails to prospects.
The era of traditional newsletters and email marketing is still here, the race of capturing more data on users and checking user-behavior has made marketers smarter and more capable of capturing a user through their inbox.
Also Read: How to Use Big Data in Content Marketing for Improved Results
Content marketing: Blogging & microsites
Recent statistics by WebDAM's revealed B2B marketers who blog consistently generate 67% more leads than those who do not.
Take a hint by this stat that no matter what your business model is, content will always RULE, so plan your marketing strategy keeping content as the primary goal.
To reach the customers directly and to leave an impact on them, these steps can help –
Identify the content user wants
Create successful content headline
Gather data and statistics
Write your content and make it in-depth
Next step is- concentrate your energy on promoting your content on the right platforms.
In 2012, Xerox created a campaign, which offered relevant tips for businesses owners.
The results showed that 70% more businesses interacted with the microsite, which led to 300-400% increase in readership. This campaign also added 20,000 new contacts out of which there were 1000+ scheduled appointment. In all, this campaign yielded $1.3 billion in the pipeline.
Given the broad areas of content marketing, a good question is what type of content should B2B marketers concentrate on to generate maximum leads. Look below to know the answer.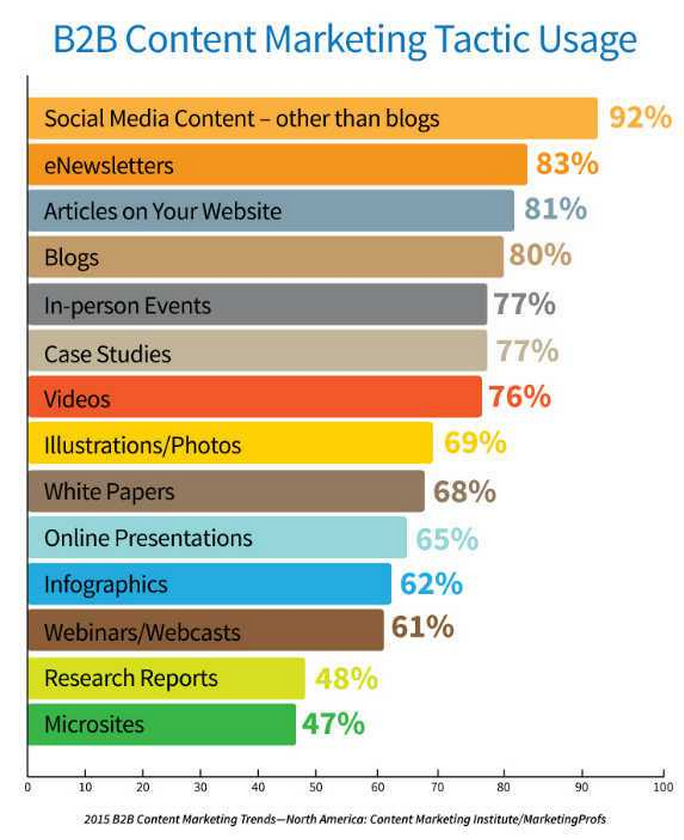 Also Read: Various Metrics to Measure Content Marketing Success
That said, let me tell you that a good marketing strategy requires a high level of diversity and experimentation to figure out the best opportunity for your business.
Search marketing
According to a survey in 2016, 93% of consumers begin their shopping journey on a search engine, out of which 73% purchase the product/service. Organic search marketing is undoubtedly the best long-term strategy for generating B2B leads.
Here is one case of Hauser-Ross eye institute, Illinois, that invested in local SEO strategy and observed humongous results. Illinois-based keywords were researched to appeal patients, and were strategically embedded in various parts of the site. The overall results were –
Revenue boost of over 333%
Improvement in ranking for more than 400 keywords
More than 50% organic traffic and boost in revenue
Reaching the #1 on Google has become challenging due to the huge amount of competition and content on the internet so search marketing is one feasible way to get there.
Social media marketing
In the 21st century, 40% people spend more time interacting on social media rather than face to face conversation. Exactly why marketing through social media channels is the perfect place to gather your target audience and turn them into leads.
Lead generation through social media is a piece of cake as people readily share their information on social media and these platforms have armed marketer with various promotion strategies. Promoted posts, ads in videos, live videos and a robust analytics system to gauge the difference between paid and free content promotion is there. Just choose a platform and see how quickly your brand image improves.
About choosing a social media channel- one of the biggest mistakes most marketers make while marketing on social media is they try to get leads from the wrong channel. For instance, it is assumed by most marketers that due to the number of users on Facebook, it is the best option, but that is not always the case. The investment must be made only after confirming presence of your potential customers on a platform. To know how brands can make their Facebook marketing campaigns more fruitful, click here.
Lastly, integrate your lead generation strategy
At the onset of a business, experimenting with strategies can help you decide what works and what does not work for your business.
Later, you can use the time and revenue of your business on specifics, to yield high returns and more leads.
The key to generating high quality and quantity leads depends upon the marketer's inclination towards experimenting with different tactics.
Generate most relevant leads for your B2B venture