The Home Decor industry is undergoing a sea change, and there are many innovative startups catering to the huge demand. Platforms like Pepperfry, Urban Ladder and FabFurnish are India's most successful ecommerce portals that are helping people decorate their homes.
Impressed by the success of these platforms, FATbit's team of analysts closely studied their business model and website features to share ideas for launching an home decor and furnishing marketplace.
Let's first learn about the business model and moneymaking capabilities of such websites.
Business and Revenue Model
An online furniture marketplace is an ideal platform for furniture artisans and merchants who wish to sell their products on internet. It allows merchants sell furniture products like furniture, home décor products and appliances to a large base. For every sale, the website earns commission. Such websites can also makes profit from featured listings.
Online stores handle the entire web part for merchants – from pre-sale listing of products to delivery. This in fact, is crucial, especially considering India's unorganized furniture market with most merchants not being internet savvy.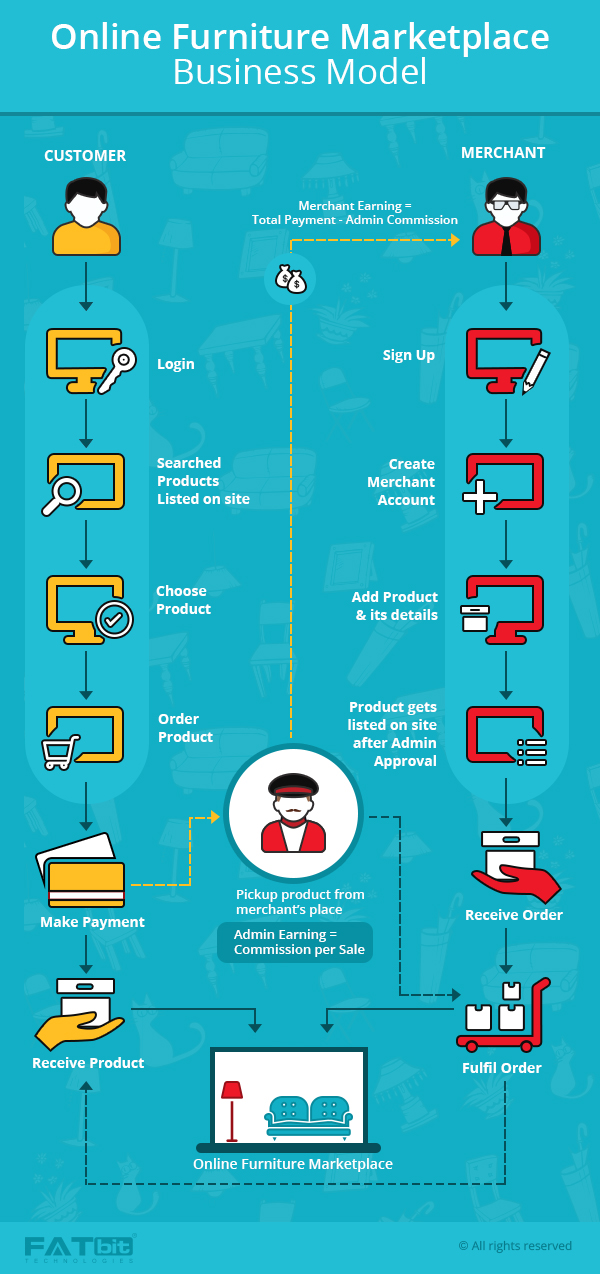 Let's discuss the website features and critical areas to make your online store a huge success.
Main Navigation
Do not make it hard for buyers to find products and exclusive deals. Plan a UX focused navigation bar focusing on categories like:
Home Décor
Furnishings
Lamps & Lightening
Kitchen & Dining Appliances
Others
Use drop-down to show products falling under each category. This will demand great skill from your team of AI experts and designers if you plan to feature a vast collection of products.
Popular Products
Feature the most popular products and offers on the homepage itself. This will introduce visitors to interesting products without having to browse inner pages. use high quality images and make provision of:
Price
Category
Buy button
Popular categories can also be featured separately on the homepage itself.
Customer Support
Make customer support extensive to make it easy for users to get to know about the platform easily. The site should provide:
Consumer-friendly return and refund policies
Extensive FAQ section to help shoppers
Easy way to track orders using the order number and mobile number
Popular furniture marketplaces score in this area, and yours should too.
Homepage Highlights
The entire look and feel of the homepage should be looked upon carefully. Here are a few noticeable points to be kept in mind while building your home decor website:
Provision of powerful product search tool
Trending products and top brand products section
Comprehensive footer area with links to internal pages.
Work process section or video
Collaborate with experienced team of UX designers to perfect the site design. In case building on a clone script, we highly recommend going for custom design for uniqueness.
Sign up/Login
Sign up/Login can be handled through a dedicated page but we would recommend using a popup for the job.  Traditional Sign up basically involves options like:
Full Name
Email address
Password followed by Signup or Continue button.
Make way for users to signup or login via social media sites like Facebook and Google+ for quicker registrations. A special discount can be offered on first shopping once user completes the registration process.
User Account
Shopper will manage their profiles from the Accounts section. Hence, make provision of all the important details in it. For instance:
Dashboard
Wishlist
View your orders
Address Book
Change Password
More
Make sure the whole design is minimalistic and includes only the most important action links.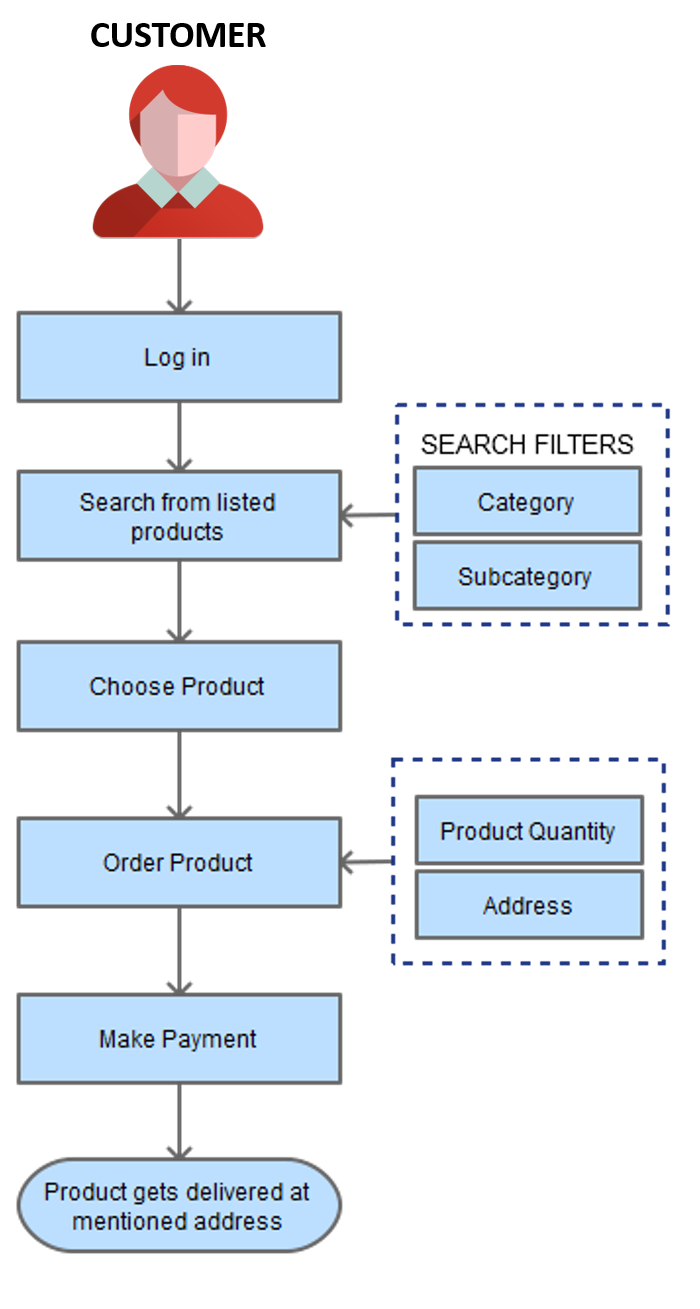 Recently Viewed/Shortlist Items
The 'Recently Viewed' feature remembers product interactions for later reference. Add a Shortlist button with a heart or star icon on every product to increase the conversion rate. User should be allowed to shortlist as many products as they want. Also make an option to delete products from shortlisted ones if user wants.
Some ecommerce stores cap favoriting and ask users to register first. No need to do this with your furniture marketplace clone.
Want to improve user experience of your ecommerce website?
Consult UX experts
Selling Products
Allow furniture makers and merchants to connect with you to discuss selling possibilities. Create a dedicate page for this and highlight benefits of partnering with your furniture store. Registration form can ask for:
Store/company's name
Contact details
Product categories offered
Bank details in order to sell products
Don't ask unnecessary information from sellers through the form. Keep it simple.
Merchant Account
Merchant account must be loaded with powerful features so that sellers can manage their products and other details with ease. Just like PepperFry and FabFurnish, allow merchants to check and manage:
Orders,
Product listing
Prices and offers
Ensure that all the products listed by merchants on your site are of the finest quality.
Offical Blog
Your home decor marketplace must have an interesting blog. It will help shoppers gather new ideas on home decor, furniture trends, and other helpful material. Divide the blog into several categories so that users can read the blog as per their interest.
Big Orders
There are many online stores which are just made without the thought of taking large orders. Such stores make little sense in terms of sales. So, your online store must handle bulk orders in a skillful manner. Provide customers with discounts on large orders and simplify the process of order placement.
Entrepreneurs planning to start an e-commerce venture should pay special attention to evolving innovative offerings to differentiate itself from others.
Checkout Process
Poorly planned checkout process can turn out to be the silent killer of your furniture store. Striking a balance between good functionality, and trust building to come up with quick checkout experience. Consider using following for your checkout process:
Big checkout button
Order editing
Display security logos
Divide it in steps
Use validation
Mobile App
With mobile devices becoming prime source for browsing internet and online shopping, it is customary for every ecommerce business to launch a mobile app. A mobile app is essential to provide buyers a seamless way to shop online.
Of course it will not make monetary and business sense to launch both together. If launching your furniture venture with a website, make sure you get the advantage of responsive design.
Testimonials/Brands
One of the most important trust signals are testimonials, reviews, and media coverage. If a user finds a trustworthy review, it goes a long way in maintaining user trust towards the brand. Feature these in the homepage to immediately communicate your authority.
Corporate Sales
Targeting big organizations separately can turn out to be profitable affair as they usually make bulk purchases and generate huge referral work. Having a team of furniture consultants for such clients will also be a great idea.
Recommended Read: How to Launch an Online Furniture Rental Marketplace? 
Final Remarks
As we have mentioned time and again in this post that success of a new e-commerce portal depends on new offerings it brings into the market. While sites like Pepperfry and Urban Ladder are good sources to gather site insights, brainstorming something new will put you in a stronger position.

With 10 years of experience in e-commerce portal development and internet marketing, FATbit Technologies can help you build & establish your unique online startup. Get in touch to share your budget and let's get you started!
Hire top developers to build your dream ecommerce portal
Check packages