Last Updated: 30th March, 2021
The global furniture industry is flourishing well with demand for all styles and types of furniture. More than cost-effectiveness, attributes like quality and designs are the key factors driving furniture production.
With top furniture businesses like Ikea, Etsy, Ashley Furniture, La-Z-Boy, and Habitat already selling their furniture successfully through eCommerce stores, consumers are gradually shifting their preference towards purchasing furniture products online.
However, not all furniture businesses have the means to sell their products on the internet. For this reason, many of them are highly dependent on online eCommerce marketplaces. On an online furniture marketplace, various manufacturers and vendors can sign up and sell their products. You as the owner of the marketplace aren't even required to maintain product inventory.
Business Model & Revenue Model of a Furniture  Marketplace
The business model of an online marketplace simplifies business operations for both sellers and marketplace owners. While the sellers sign up on the marketplace platform and upload listings to sell, the marketplace owner handles the entire online management and product displays for vendors.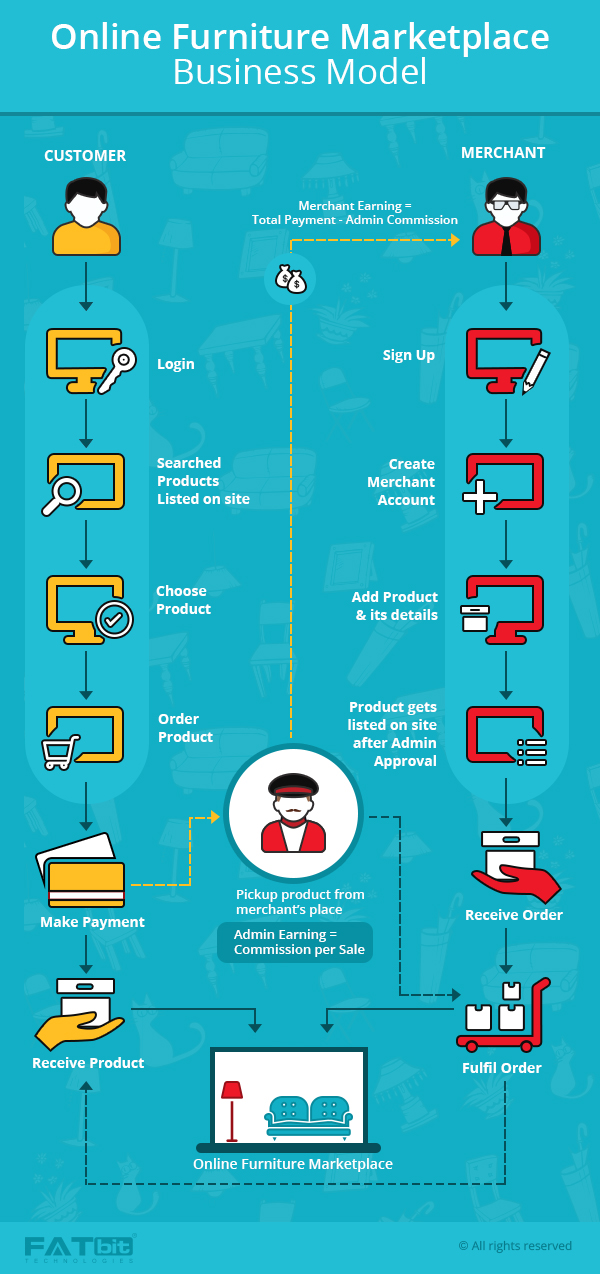 In this blog, we have covered some important eCommerce website features to increase the value of your online marketplace for your customers.
Top Features and Sections for a Furniture Marketplace
The following features comply with what we call behaviour scripts, which in this context, are the ways the minds of visitors are expected to behave while visiting an eCommerce site. These features will assist in improving the overall customer experience and make your brand look highly reliable.
Homepage Features
The homepage of a furniture marketplace should have the following features:
Navigation bar

Top selling products

Search bar

Sign up/login button

Shopping cart

Banner image
Some of the homepage features are discussed below:
Navigation Bar
Navigation bars are the top strips that you see on a website. They are important as they allow visitors to quickly open any section of the marketplace. Navigation bars include the menu button or important links like:
Products/Categories

Gallery

About Us

Contact Us

FAQs
Marketplace owners can also use drop-down menus to show product styles falling under each category. Collapsing menus are a very popular web design trend.
Top Selling Products
Visitors on furniture marketplace want to know the vendor who creates the best furniture items. They want to know the latest furniture trends. Top selling products section on your homepage will effectively convey that information. It will also highlight the best products on your marketplace.
Customer Support
Extensive customer support makes it easier for users to make purchase decisions on the platform. The customer support features on your website should include:
Search and Filter Options
The search bar on a furniture marketplace should be easy to find and consistent on every web page. To simplify the search, you can provide various search filters such as:
Furniture type

Wood type

Style

Brand

Dimension

Price

Discount
Sign Up/Login Button
If you want separate user profiles for every customer on your store then you should consider providing your visitors with a signup and login button along with the cart. User profiles are helpful as with them, visitors  can create and save objects into their wishlist and they aren't required to repeatedly enter payment and delivery details for ordering furniture.
Sign up and Login buttons usually display visitors 3 fields:
Signup via social media handles such as Google, Facebook or Twitter will further simplify the signup process for visitors.
User Profiles
The user profile of a customer should provide him the access to the following features:
Wishlists

Pending orders

Completed orders

Address book

Option to change password

Option to change profile image

Payment info

Registered contact number and email address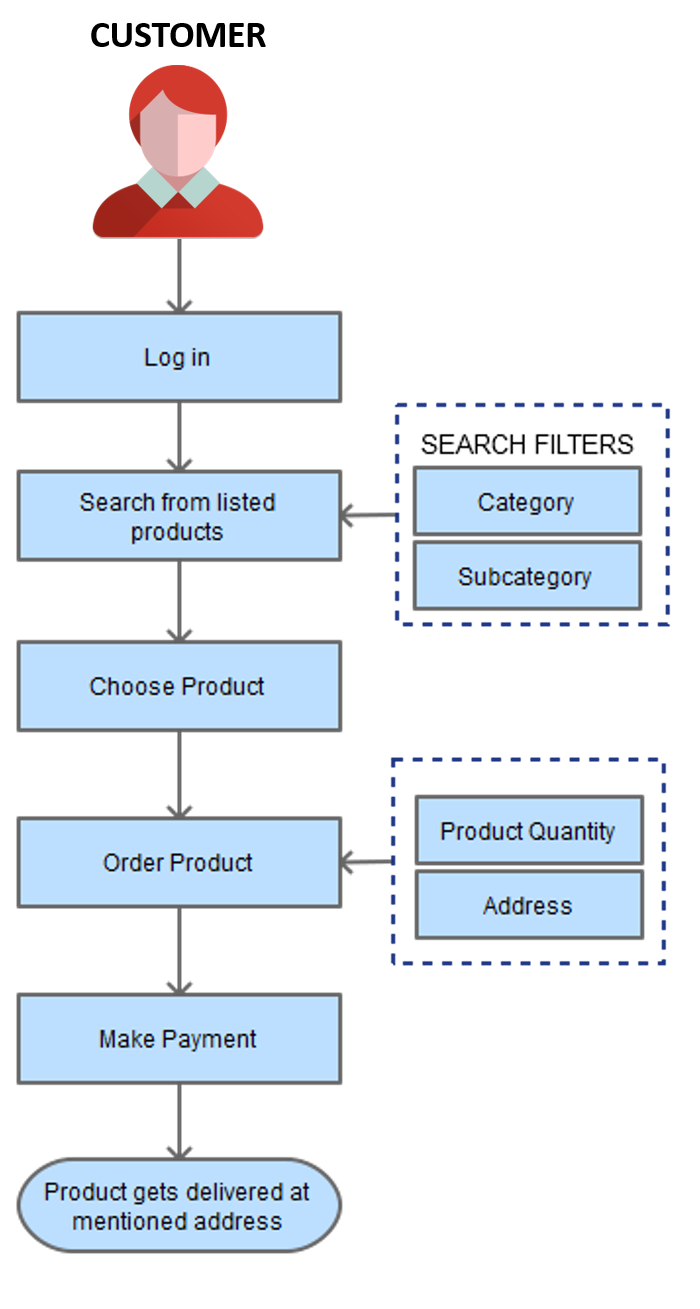 Recently Viewed Items
The 'Recently Viewed' section remembers product interactions for later reference. Fashion businesses can add a shortlist button with a heart or star icon on every product to increase the conversion rate. Users should be allowed to shortlist as many products as they want. Also make an option to delete products from wishlist.
Some eCommerce stores also provide access to the wishlist only after signup.
Want to Improve the User Experience of your eCommerce website?
 Register as a Vendor
Vendors should be provided with clear instructions to help them register on the marketplace for selling products. For this, the marketplace owner can reserve a specific section on the homepage or create a dedicated web page.
The vendor registration form can include:
Vendor name

Contact details

Product categories offered

Payment details

Business license for verification
Vendor Profile
The vendor profile should have features to create categories and upload and edit product listings. Along with these, the vendor should be also provided access to the following:
Completed orders

Pending orders

Discount offers

Sales reports

Payment information
Official Blog
Blogs help shoppers gather new ideas on home decor, furniture trends, and other helpful material. You can divide your blog into several categories so that users can find them easily.
Bulk Quantity Discounts
Hotels and businesses may require furniture in bulk. To capitalize on the opportunity, furniture marketplace can offer other businesses bulk order discounts. Such a feature should be integrated in the website itself to eliminate the efforts of providing manual quotations.
Checkout Process
Poorly planned checkout processes can turn out to be the silent killer of your furniture store. Strike a balance between good functionality and trust-building to come up with quick checkout experience. Consider using the following for your checkout process:
Contrasting and easy to find checkout button

Order editing

Divide the process in steps

Use OTP verification to complete payments
Mobile App
With mobile devices becoming the prime source for browsing the internet and shopping online, it has become important for eCommerce businesses to optimize their touchpoints for mobile devices. A mobile app is a seamless way to optimize mobile shopping experience.
Although modern websites do come with responsive designs, they are as not mobile-friendly as dedicated mobile apps.
Comment Section
The comment section on product pages is essential for eCommerce stores. Customers consider the comment section as a trustable source for information. They are more likely to believe the reviews and ratings uploaded in the comment section rather than the words of the vendors themselves. Thus, adding a comment section assists in developing the social proof for an eCommerce website's products.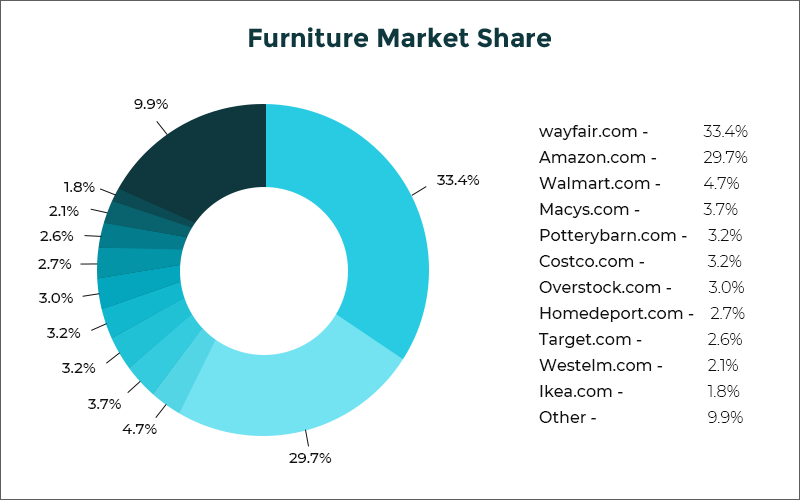 Recommended Read: How to Launch an Online Furniture Rental Marketplace?
Final Remarks
While the aforementioned features will assist a furniture marketplace owner in delivering a smooth customer experience, they are flexible in nature and not compulsory. The marketplace owner reserves the right to customize his marketplace as per his discretion. However, IT consultants can guide the marketplace owner in the right direction. Launch your own furniture marketplace with best furniture ecommerce platform.

With more than 17 years of experience in eCommerce development and recognition in leading business magazines like Inc., The Entrepreneur and Forbes, FATbit Technologies is an IT development organization that can assist you launch a furniture marketplace startup. Get in touch with us to get started.