Parents, who are new to the concept of parenting, go through a lot of difficulties while making decisions related to raising their child. To search different things related to parenting, such as finding best activities in city, buying clothes, discuss parenting problems, and more, they go through multiple websites such as parenting forums where you can ask your doubts, kids clothing websites to buy clothes for their kids, kids portals to search for local fun activities for their kids, and more. Wouldn't it be great if all their queries can be answered at a single place? Opening such an online portal for kids as well as parents is one of the best online business ideas of recent times. The annual sale of kid clothing products alone is predicted to grow multiple folds every year, so why not bank upon this growing segment of eCommerce? There are many small players in this segment that focus specifically on the following services:
Sell clothes for children
Organize local activities for children and their parents
Maintain a forum for parents
Educational content along with fun games
One notable thing is that there are businesses that focus on any one of the above mentioned services, but only a handful of businesses focus on more than one service. However, aspiring entrepreneurs looking forward to start their own kids' portal have the option to implement individual sections as well. At FATbit, we understand the importance of the profitability and uniqueness of an online business idea, which is why our experts went on analyzing few of portals for kids and parents that are currently running in few countries.
Business Model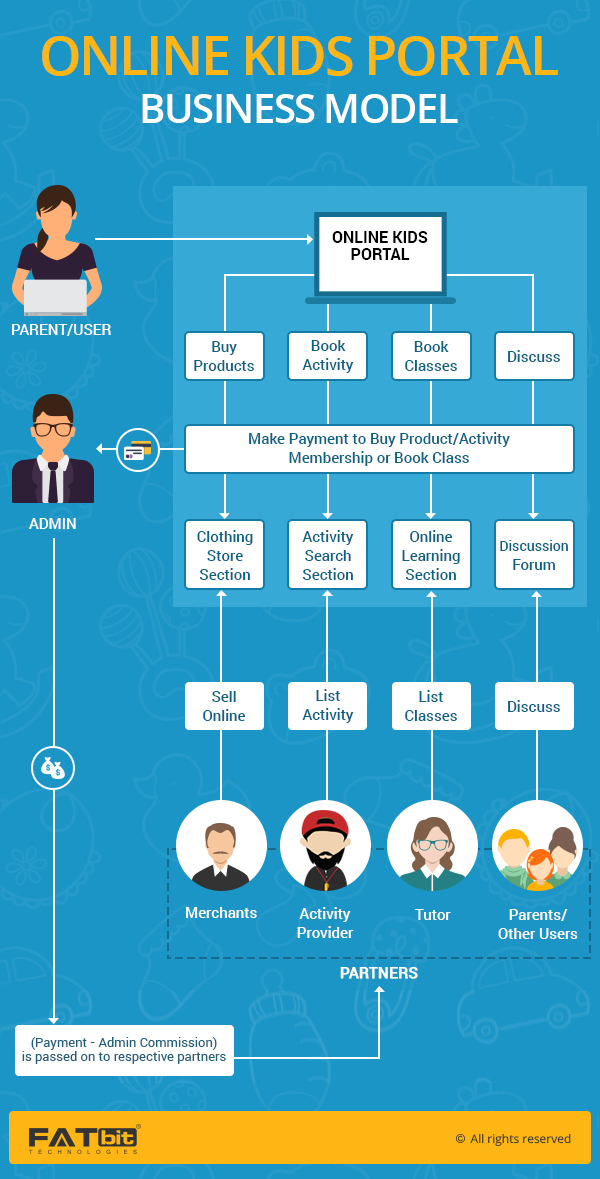 The online portal for kids usually has various sub sections made to let users find the required product/service easily and buy it accordingly. This ecommerce nature of the business is the major reason a payment gateway is the epicenter of the entire portal. When a user registers with the portal, he or she can be given credits, which can be used to avail the services offered by the portal. Once the user spends all the credits, more credits can be purchased by paying a nominal fee. Upon signing in, the user will be shown various sub sections of the portal such as clothing store for kids, forum section, education and fun section, and local activities section. To understand how ecommerce transactions will take place in each section, let us look at the working of each section in detail.
Clothing Section for Kids
Any registered-member/website-visitor of the store can browse through various categories present in the clothing section. After selecting a product, the user will be guided through the checkout process. If an unregistered user selects a product to buy, then the user will have to register first before buying the product. In case, a user wishes to sell in the clothing section, then he or she can do so by selecting the option to sell, which is present within the clothing section. The selling option will show all the relevant functionalities required to update and maintain the list of products, which visitors and registered users of the portal can buy.
Local Activities for kids Section
In this section, members as well as visitors of the portal can browse the local activities using the search feature. They can also check the reviews left by other people, who participated in those activities. After the decision has been made to select a certain activity, then members can use credits to take part in that activity.
Also Read: Ideal Features and Business Analysis to Create Local Services Marketplace
Parents Forum Section
In the forum section, members and non-members can view the discussions. Registered members can participate in the ongoing discussions to ask for a solution or put a question for others to answer. This section can also have free as well as featured section for online seminars, where members can participate in the discussion and get their queries answered by experts. For featured seminars, certain number of credits will be deducted from the account of the member.
Education Games Section for Kids
In the education section, some online educational videos and games will be available to public. However, this section will also have featured content, which can easily be accessed by using the credit points. The educational content can be provided by members, who can make their content available for free or as featured.
Revenue generation
Credits: In the online portal for kids, the primary source of revenue is the credit system. Upon registration, the user will have the option of becoming a member on a monthly as well as annual basis. A discount can also be availed if the user decides to become a member on annual basis. Once, the user becomes a member, a certain number of credits will be added to the user's account, which can be utilized for participating in the activities, enrolling kids for educational classes, and more. If a user has drained all the credits, then more credits can be purchased. Online Advertisements: Online advertisements serve as the secondary source of revenue. The owner of the portal can either signup with a pay per click advertising network such as Google Adwords or can publish his/her own online advertisements by offering other businesses the space for showing advertisement on a monthly, 3 monthly, 6 monthly or yearly basis.
Let Your Online Business Earn For You Improve your digital branding
Key Website Features:
Homepage
The homepage of a kid's portal should contain all the necessary sections that educate visitors and keep them glued to the website. The information on the homepage should be relevant and focus on the target audience i.e. parents. Additionally, use of light color scheme is advised to be used throughout the website as light colors often go well with the theme of parenting or kid based activity. In the header section, there should be signup and sign in buttons. The footer section should enlist all the essential links to the kids' portal such as, FAQ section, terms and conditions, blog, and links to all the sub-sections contained in the portal.
Signup and sign in functionality
Top corner is the ideal place for the signup and sign feature. Another feature worth implementing is the social media login convenience as there is a vast number of people present on social media websites, who are already a part of communities, where discussions about parenting and nearby kids' activities take place. Additionally, a hero image coupled with strategic call-to-action and signup functionality can boost your chances of conversions.
Also Read: 9 Homepage Design Practices to Improve Usability and UX
Becoming a member
By becoming a member, a user can get access to complete website including all sub-sections and featured content, such as:
Featured educational games and videos
Featured seminars from experts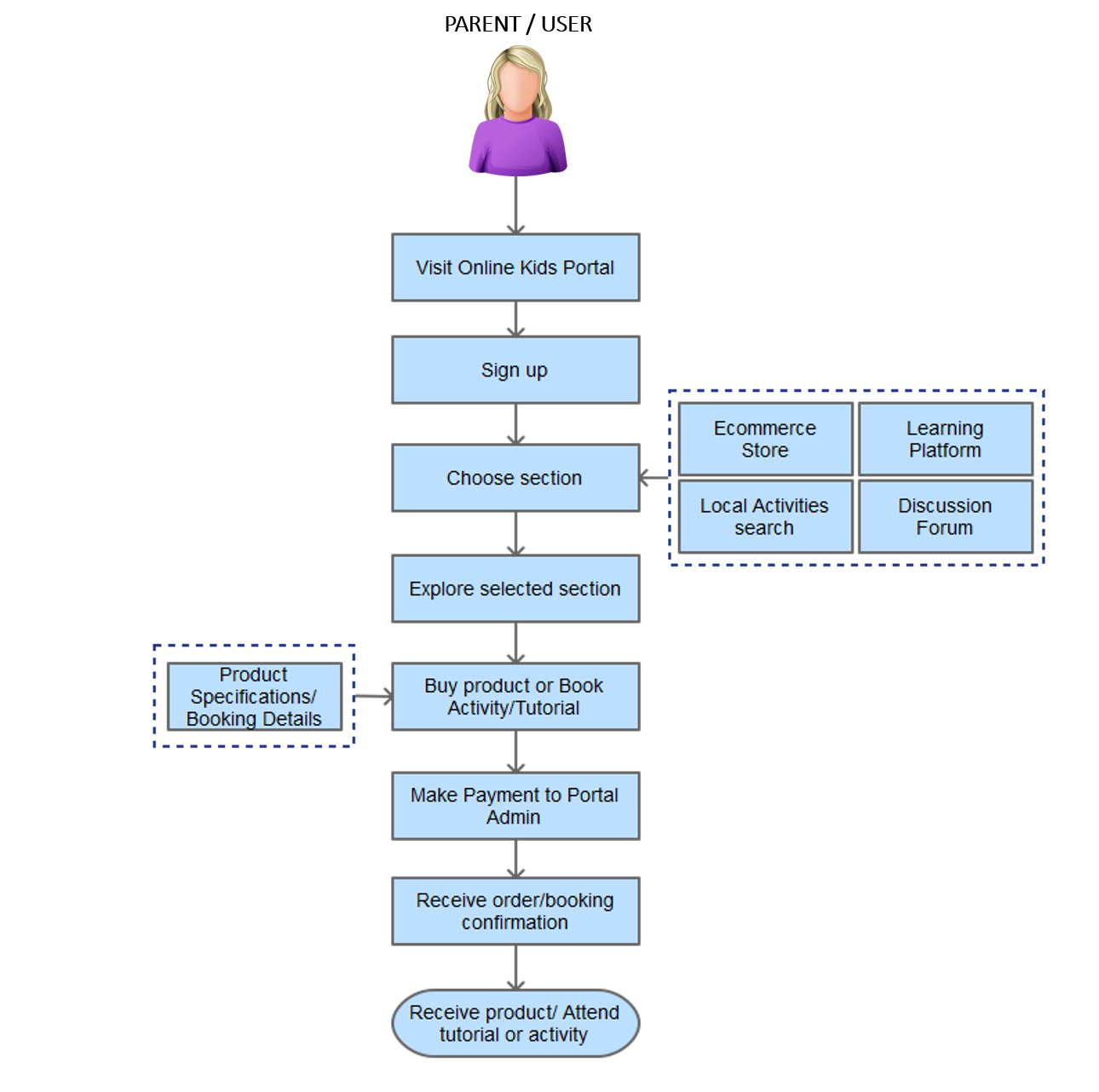 My Account page
My account page is the main page, which the members see after signing in. An online portal for kids, which offers several sub-sections, such as kids clothing, local activities, forum, and education sub-section, can confuse the visitor with the amount of information being showed. It is advised to give separate tab for each section to make the information easy to understand.
Blog
A blogging platform should be integrated to post news about the portal. Additionally, members should be allowed to voice their opinion through blog posts. This not only helps in building a better community but also attracts potential customers.
Clothing Section for Kids
In this section, parents can buy dresses and accessories for kids. This section is similar to any other online clothing ecommerce store, but offers clothing for kids between 1 – 12 years of age. The store can also offer maternity clothes for mothers to help nurture their motherhood. The clothing section should contain the following functionality:
Search Functionality: The search functionality can be implemented with filter option that offers listing according to age group, gender, brands, color, price, and category.
Shopping Cart: When a user selects a dress to buy from the store, it will get added to the shopping cart automatically. The portal should have a functionality to empty the cart if the decision to buy the product is rejected.
It's Quick, Painless & Inexpensive To Start an Online Multivendor Store View How
Local Activities for kids Section
This section can list nearby activities for kids in two ways: 1. Normal listing 2. Using Google Maps API The latter is preferred by a majority of people as it provides an interactive way for parents to know different activities for their children in a fun way. In addition to this, the local activity section should consist of the following:
Search functionality: People prefer results listing with option to filter them, so that they see relevant results that matter to them. Some of the important search filters are location, age group, and categories.
Review functionality: Parents can leave reviews about a certain activity that they enrolled their children in, giving way for other parents to gain more insight into that activity.
Featured Listing: Paid listing is an optional feature, which can be implemented to generate more revenue by showing results in the first few positions of the search result. However, the admin should make sure that not many featured listing should be allowed, as it will have a negative impact on the user experience.
Parents Forum Section
Parents across the world face lots of problems while raising their children, which is why a forum section serves the purpose of connecting parents with other parents, who have already gone through various stages of raising children. To implement a forum section, make sure it has the following:
Parenting Discussion Section: There is not a better way than discussion when it comes to parenting. At every step, proper guidance is required and therefore, the right thing to do is to ask experts. The discussion section bridges the gap between parents and experts to help solve the problems, which new parents are facing. The discussion section can be implemented in the form of questions and answers, with additional functionality of comments and ratings for each answer.
Featured Seminars: To organize online educational seminars on parenting, renowned speakers can be invited and members can be given access to such seminars with or without extra fee. Such seminars should also be open for non-members on pay-per-view basis.
Education Section for Kids
The education section for kids can have numerous educational games, which can offer academic lessons in mathematics, science, history, geography, and more. Moreover, this section can have fun games, which can make children learn important life lessons like team work and more. The educational games section for kids should contain the following:
Categories: An online education section for kids can become a maze for visitors if things are not properly categorized. Therefore, it is necessary to categorize everything such as video lectures and games.
Featured Games: The members of the portal can be granted exclusive access to all the educational games, whereas, non-members can have access to some of the games.
Payment Gateway
Payment gateway lies at the heart of an ecommerce store. For kids portal, it is essential to have a mechanism with which members and non-members can buy products from the store. It is an essential part of the kids' portal to enable a visitor pay for the membership fee, buy from the clothing section, make purchases for featured content such as featured seminars, games, and more.
FAQ Section
A frequently asked questions (FAQ) section will not only answer a broad range of queries from the users, but it will also help a potential customer in making an educated decision. There are many benefits of implementing a FAQ section, such as:
Internal linking of webpages
FAQ pages helps achieve a better rank in search results
Online business ideas such as portal for kids have a huge potential as this industry segment is not yet fully explored. Implementing a portal dedicated to children and their parents is a profitable idea as well as unique one. However, one should not fall for scripts that offer such functionality, but instead, join hands with experienced web designers and programmers to implement this profitable idea. At the end, check this business model canvas to get a comprehensive view about the online kids portal.