Last Updated: July 14, 2022
Online real estate business models are witnessing impressive growth from past few years. These models eliminate manual efforts while providing a wider reach to customers. The captivating and user-friendly UI of real estate listing websites also provides a satisfying customer experience to visitors.
A major reason behind the growth of real estate websites is that customers trust these websites to be a reliable source of information. According to a report from National Association of Realtors (NAR), 87% of new homebuyers confirmed they used the internet as an information resource during their home-buying process, and nearly one-third mentioned they first learned about their newly purchased home from an online channel. The same report also states that real estate related searches on Google grew 253% over the past four years.
These stats surely highlight the demand for a property listing website as well as growth potential, but before you jump into the pool of property listing you need to understand how the online property listing website actually works. In this post, we have carefully analyzed online property listing market and have covered all the vital aspects which will give you an insight into the business before starting it.
Real estate listing marketplace business model
The business model of a Real Estate listing website revolves around connecting property buyers with sellers. It saves time and efforts of both the parties and bridges the gap between them.  The broker/seller lists the property on the website which is available to the people looking to buy/rent.
So the basic function that a Real estate listing website performs is: –
Rent property
Sell Property
Buy property

So after a buyer or a seller understands their requirements they go through these simple process: –
Process for Buyers
Select the City/ Region/ Country where they want to rent/buy property
Choose the property suitable for you among the entire list of properties
If you haven't registered on the website then register with your phone number and email id.
After you have registered yourself an automatic message is sent to the seller to contact you
If that does not happen then, the contact number of the seller is available for you
Contact the seller and fix an appointment
Process for Sellers
Register on the website
List the property on the website by mentioning the locality and the address
Fill in all the details of your property i.e. number of rooms, property size, the number of floors etc.
Fill in the contact details and your property will be listed on the website
Popular real estate listing websites
MLS
Zillow
Magic bricks
Housing
Home Finder
Realtor
Trulia
Revenue model
Subscription fees – The revenue model of a property listing website is channeled through brokers. Most websites provide a subscription model to the broker who wants to list their property on the portal. This model allows the broker to list as many properties they want under a certain package which also gives an extra advantage to the website owner as they get a comprehensive list of properties.
Featured Listing – Another easy way to add revenue is by providing feature listing option to brokers as well as individuals. Those sellers who wish to make a quick sale can brand their property on the homepage of the website. Brokers, as well as individuals, will get attracted to this revenue model as listing your property on the homepage of the website can attract a lot of buyers on the property and drive sales.
Secondary revenue stream
Personalized assistance to help you find and manage relevant buyers for your property.
Know the right price of the property from an expert
Expert guidance on all property related issue from experts in astrology.
Speak to a legal attorney for all legal advice on property matters such as purchase/lease/rent, property tax, legal advice, property disputes
These revenue models can bring maximum benefits and can be used for different type of users
Individuals
Agent or Brokers
Builders
Critical features
Go beyond just high-quality images– One of the essential features is to have high-quality pictures on your website. When a customer has to choose if they like a specific property or not, it is through pictures. The website owner has to be very careful about pictures while screening a listing by brokers or individual.
Today, even high-resolution pictures are not enough to convince a potential customer. Many property listing websites are providing 3D view and virtual tours of properties. Website owners also need to optimize images strategically to drive traffic without reducing the website's loading speed.
Highlight the USP of every property– It is very important that you paint a picture for potential buyers. Include as many details about the flooring, appliances, equipment, etc. Writing a description is the best way to depict in a paragraph about the neighborhood and location which cannot be covered in a picture of the property. For a buyer to make the final decision about the property they surely need to know the details about the neighborhood.
Testimonials– There is nothing better than a user's review & testimonial to generate potential customer's confidence on your service. Most property portals include a testimonial on the homepage of the website to grab the attention of users. Incorporating videos from a user on the homepage of the website can yield better results than written testimonials.
Property value calculation– The broker has full knowledge of the market trends and the prices of property, but when an individual sells the property on such portal they need some guidance as to how much their property is worth in the current market.
Home loans– The property listing owner needs to realize that not everyone has enough funds to buy a dream property. So the listing website should have tie-ups with banks that can provide home loans to the customer easily.
Talk to an expert– There are a lot of confusion when it comes to selecting the perfect property you want to buy or while selling your own property. Queries about property tax, legal documents, property disputes, etc. An expert can be provided by the property listing website to give guidance to the seller or buyer. This will help clear confusion and result in more people listing and search for property on your website.
Have a look at the Business Model Canvas below to know the various components involved in setting up an online property listing website.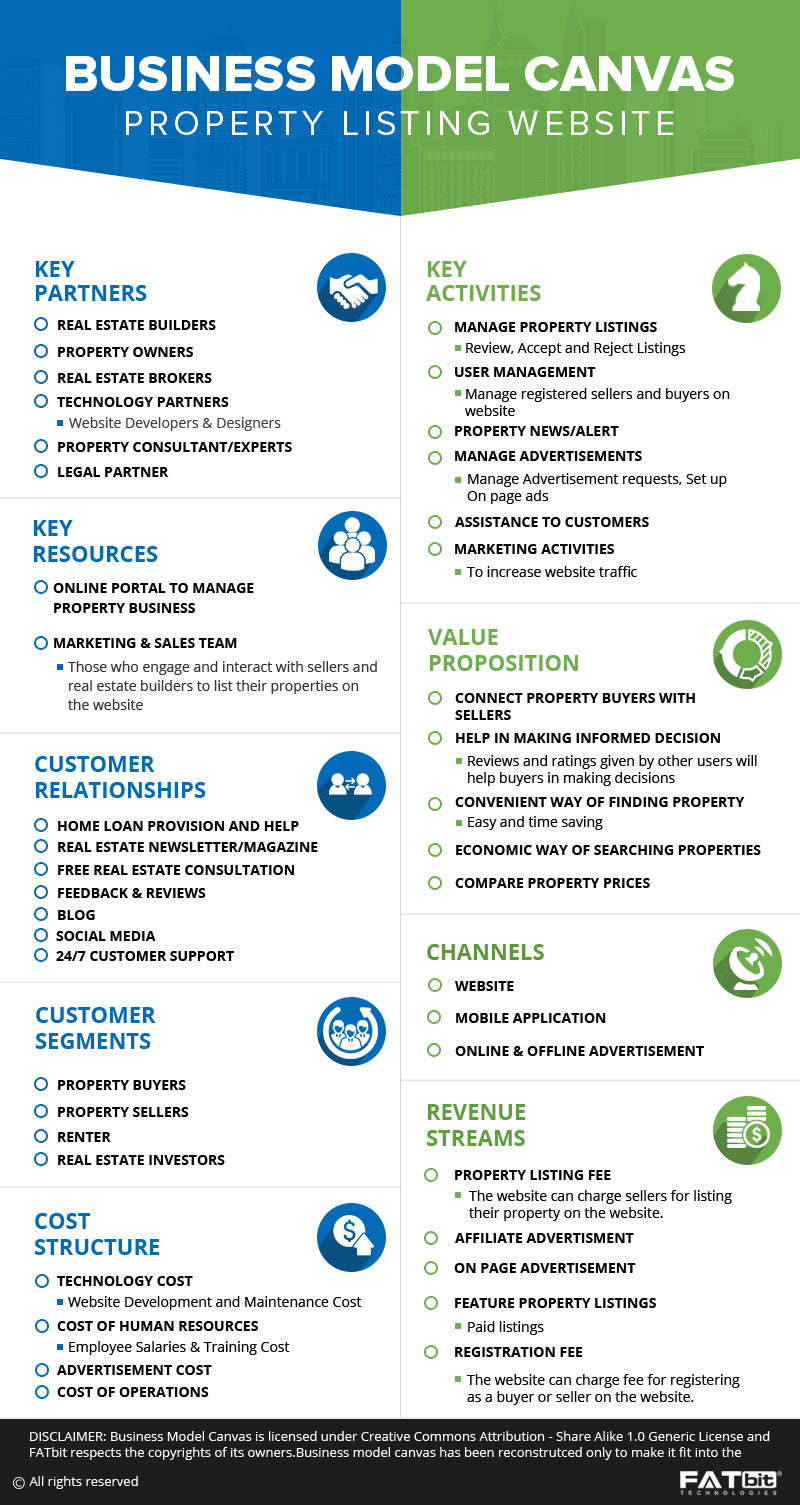 Recommended Read: Your Real Estate Website is a Failure without These Design Elements
Conclusion
In a technology-driven world, people prefer shortlisting property online and eliminate those properties which are not in accordance with their needs. To save the time and efforts of visiting every property and later selecting the best out of the list, people prefer searching for the property online.
Property listing website may not be a new business idea but after checking and analyzing the market trend, it has a secure and promising future. Those who are planning to start a property listing website, there is a huge scope. Entrepreneurs need to keep in mind the latest technology and tactics involved in building a formidable real estate listing website. The above-mentioned points will help you stay informed about the latest trends.
Get Your Real Estate Listing Website Developed by Experts
FAQ:
How much does it cost to start a real estate website?
Website developers are available at an hourly rate and the rate varies as per technology, experience, country and brand reputation. In the USA and Canada, you can find a developer for your real estate website for anywhere between $40 to $100 per hour. In the UK and other European countries, the rates vary from $25 to $75 per hour. In Asian countries like India, Philippines and Israel, the hourly estimates are $25 to $60. 
How long will it take to develop a real estate property listing website?
The timeframe of the project depends on the selected development methodology, which can either be agile development methodology or waterfall development methodology. 
In agile development methodology, a software is incrementally developed in multiple sprints and each sprint lasts one to two weeks. Due to this, you can launch a real estate property listing website within a few weeks and keep introducing changes at later stages.
In waterfall development methodology, every feature and functionality is finalized beforehand and the entire website is developed as a whole instead of parts. Due to this, the entire time frame takes between 2 months to 12 months. 
A professional web development company can guide you which development methodology would be the right fit for your requirements. 
How do real estate property listing websites make money?
As stated above, there are two main revenue streams that real estate website owners can use to make money:
Subscription Fees: The website owner can charge brokers a subscription fee and provide access to advanced features and some free listings. 
Featured Listings: To highlight specific property listings, the website owner can also levy special featured listing charges.