Choosing a tourist destination is one thing, but finding what to do there is something entirely different. Online adventure activities booking platforms like Peek.com, Zozi and Vayable have made this task extremely easy for people traveling to new places across the globe.
Travel based online ventures are not new. Globally established brands in the industry already exist. But adventure activities booking platforms, with their unique features for travelers and activity vendors, have given rise to a whole new business.
FATbit team, after a thorough analysis of this emerging and potential marketplace, prepared this post to help entrepreneurs interested in building a travel activity booking platform. So, let's get started with the business model of this emerging ecommerce business.
Business Model
Unlike the traditional travel sites that usually list down the activities to do in different places, the adventure activity booking website creates an interesting list of experiences (curated by people) that travelers can look and decide the place they want to go. Furthermore, these websites provide popular adventure tour activity destinations from which you can choose.  With the destination, the travel activity portals enlighten the travelers with the adventure associated with that region along with pictures and videos. Such platforms are capable of attracting a number of travelers.
For the activity booking portals, the adventure seekers visit and look out for the options they might visit and chooses the one that offers the best adventure activity for them. Similarly, the vendors list the activities they offer and provide personalized services to the customer.
Here is how things work for adventure seekers on such platforms:
Select a destination
Explore activities, experiences, and events
Reserve a spot for an activity by paying for it right away or wishlist it for the next trip
This is how it works for activity vendors:
List offered activities on the website
Accept online booking 24/7 through the website
Let travelers know about their availability in real-time
Keep in constant touch with customers through the website, and plan activities accordingly
As for the revenue generation, these travel activities booking portals have following money-making channels:
Charging commission on every booking
Subscription-based service for operators and vendors let them list their activities on the website
Now that we have covered the business aspect for travel activities booking clone websites, let's begin with our analysis of the essential website features.
Website Features
The website layout should be true to its prime offering, i.e. searching and booking activities. From the very start, users should be able to easily figure out how to go about the site. Let's first gather some handy insights for the homepage's layout:
Homepage Layout
To make the homepage attractive, you can put an image slider in the banner area that features photographs of different adventure activities. Other ingredients for the banner section include a catchy website message and a search tool with an input field for location.
You can use the below-the-fold section to feature the top tourist destinations or best adventure activities that users can book through your website. It would really make an impact on the visitors if you display them in a grid view of big images (say under 3 columns).
Footer area should feature the usual quick links to content-based pages, blogs, top destinations and social media plugins.
By and large, through the homepage, you need to make sure that visitors get to know about all your offerings. So, a big takeaway for people planning or working on a travel-activities booking platform is that it's not just about making an appealing layout with attractive pictures; it's also about fitting relevant features to keep visitors exploring the site.
Exploring Places and Activities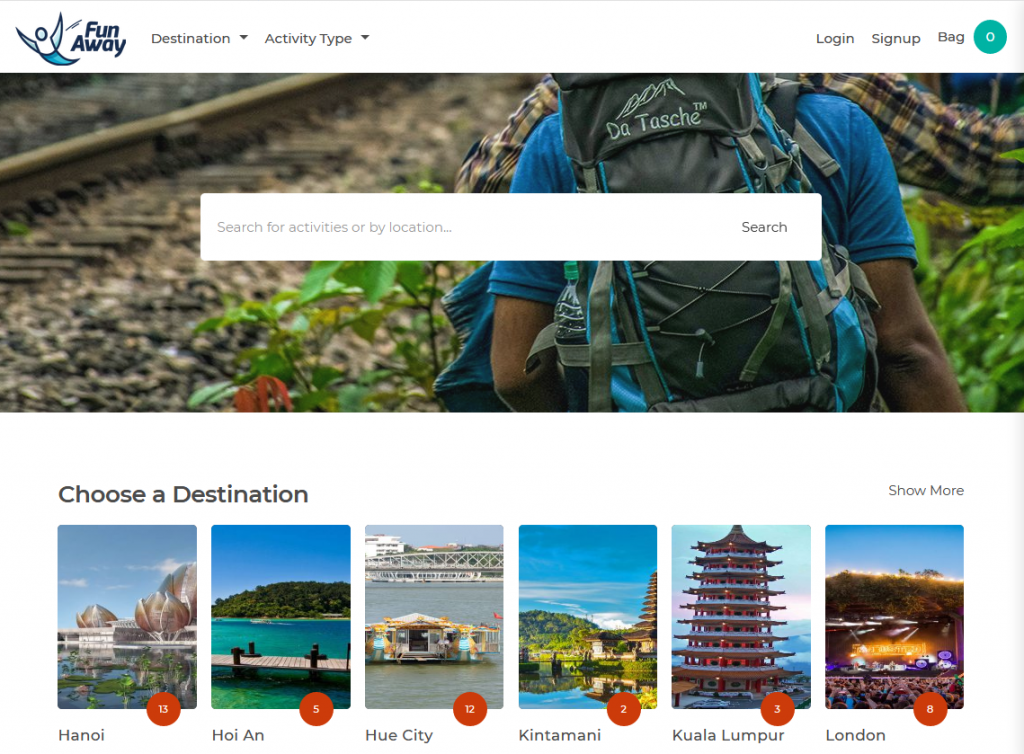 As an adventure activity booking platform, your website should inform travelers about the best things to do in the best places of the world in a very comprehensive manner. As users search for a destination, they should be taken to a page dedicatedly prepared for that particular destination. The destination page should have the following features:
A custom search box in the banner section with two input fields; visit timing (dates from & to) and activities interested in
An option (preferably a drop-down button menu) that tells users all sort of adventure activities to do at that destination
Popular activities in that destination should be highlighted in the below-fold-area
In addition to that, you can also put some facts and figures about the destination's history and culture to make it more valuable to your users.
Clicking an adventure activity category should produce related results with event/activity's name and price listing. Additionally, at the bottom of the result page, also list some quick links for other popular activities in that area, as well as for other destinations. This would be a very thoughtful UX implementation since it will save users from going back to the pages in case they want to check out more activities or destinations.
Bring Design Thinking to Improve the UX of your website
Scheduling & Booking Tours, Events and Activities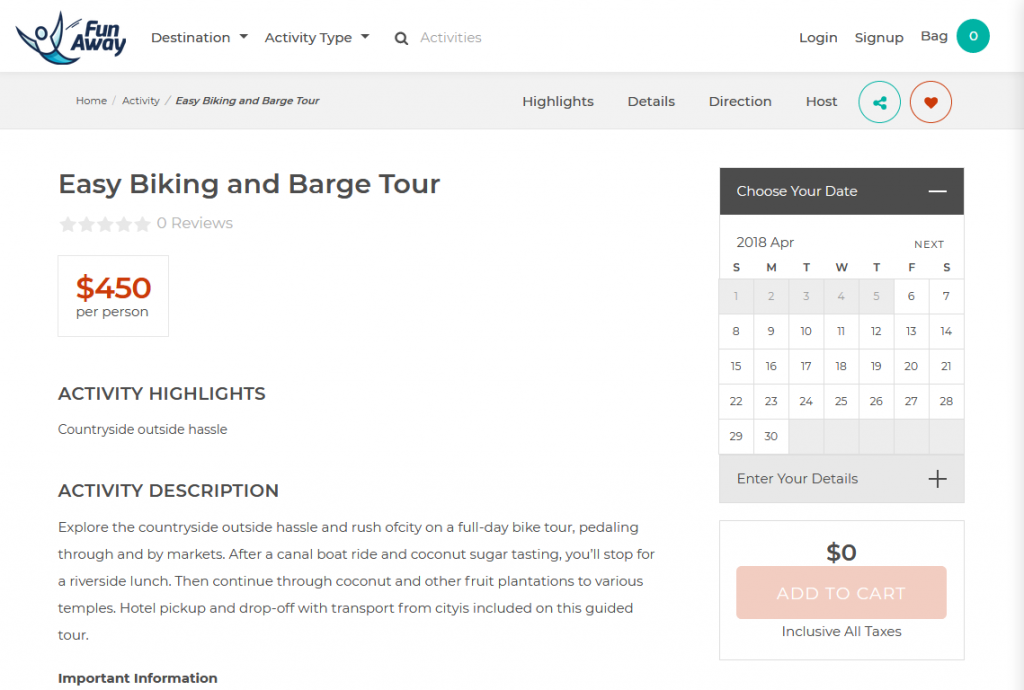 As users land on the activity page, they should be treated with a grid of photographs, so that they know right away what they are going to experience. In addition to that, you need to include the following features for the activity page in your travel activities booking platform.
Activity's location/route in the map view with address
Duration
Availability (in calendar view)
Maximum participant limit
Remaining slots for a particular day
Other rules (such as age and regarding children)
Number of times (number of people) activities have been scheduled in the past
Option to wishlist the activity for later participation
Option to share activity page with friends via email and on social media
Rating and reviews on that activity by past participants
Price details with scheduling option
Scheduling the activity should be followed by the checkout page. To provide convenience to users, provide a range of accepted payment options. In addition to that, also include an option that allows users to mark the activity as done. As a user marks an activity as done, he should also be able to rate and review it.
User Profile Options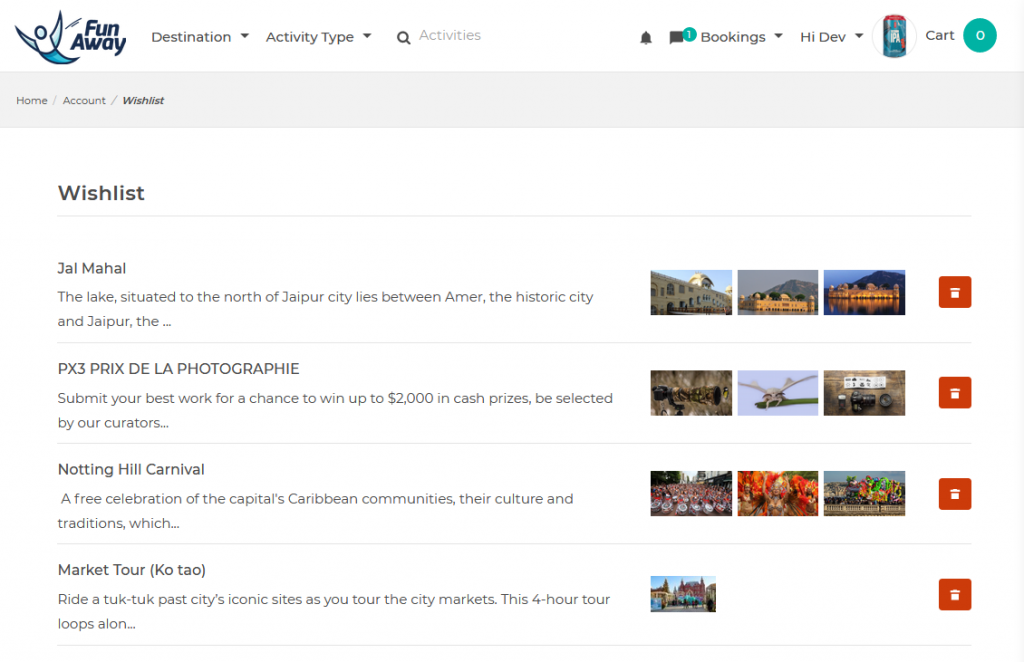 User profiles' on your travel activity booking platform should be loaded with features that enable users to maintain a catalog of their past activities and also give them ideas regarding what to do in the future. To make that happen, users should be asked the following things during the sign-up process:
Their profession

Travel cravings
Kind of traveler they are
Their best travel experiences
Age and fitness overview
The dashboard area can be used to feature activity recommendations for that user based on the information provided. In addition to that, there should also be a dedicated section that keeps all the activities a user has wish-listed on the website with options to share them with friends on social media or via email.
In our analysis, we found that user profiles can be enhanced further with some additional features that no existing travel activities booking website is providing. Here is a list of suggestions in this context:
A section where registered users can log the activities and events they have covered
A rating & reviews section, through which users can access all the past feedbacks they have provided
A messaging system through which people can interact with other users and get personal advice about tour and activities
Now, let's see how your adventure activity booking platform will work for tour operators and activity vendors.
Features for Tour Operators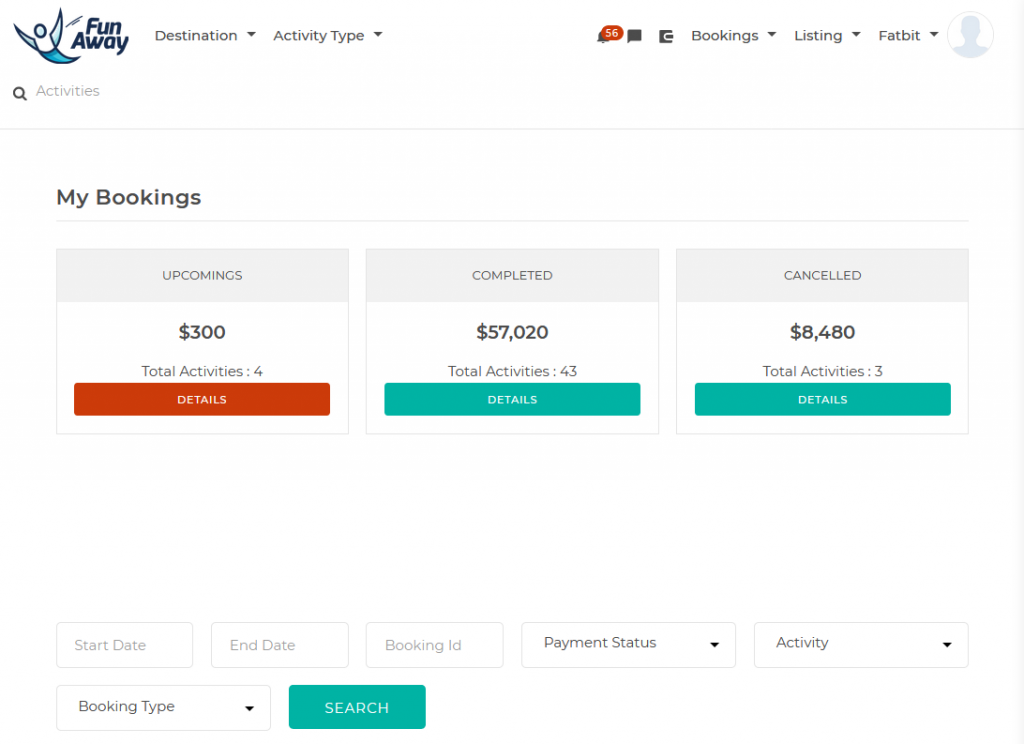 While your travel activities booking website enriches the experiences for travelers, it should also empower tour operators with features that enable them to attract more and more tourists. Plainly, there should be a separate module for tour operators and their profile should offer them a complete tour activities management system. Here is a list of features that should be provided to tour operators:
Book activities outside business hours
Mobile powered bookings to manage things on the go
Handle scheduling and cancellation in real-time
Track which activities are the most popular, and where improvements can be made in order to enhance customer experience, and plan activities accordingly
A section that catalogs all the users a tour operator has served in past
Add a new activity and customize the existing ones
Cross-sell products on activities to earn more. For instance, sell backpacks and gears if the activity vendor is offering trekking and mountaineering tours.
So these were the features that you need to implement in your travel activity booking clone script in order to attract more tour operators and activity vendors. Now let's discuss some value-added features that will make your website more unique and valuable.
Perfect Day
Under this feature, users will be suggested a list of activities to do throughout the day at a particular place. While primarily the section will feature Perfect Days designed by ripened travel-&-tour guides & tour operators. But to bring some fun to it, also allow users to create their own Perfect Days based on their experience. You can feature experts' Perfect Days and users' Perfect Days in separate sections.
While implementing this feature in your clone script take care of the following:
Option to browse Perfect Days by location and category (user/expert)

Description to a Perfect Day would pretty much look like a blog, so also remember to allow users to share Perfect Days with their friends on social media and via email

Author bio & a list of other perfect days created by that particular user/expert

Wishlist the Perfect Day

An option to create a new Perfect Day

Option to re-plan the Perfect Day (for Perfect Days created by users)
In addition to these, make sure your Perfect Day page scores high in terms of design. Here are some suggestions in this context:
Represent Perfect Day in a timeline view with attractive images of activities associated with it

Integrate a map with the page that features the location of activities suggested under the Perfect Day
For more insights, we suggest that you visit the Perfect Days section of Peek.com, as it is implemented very mindfully.
Corporate/Team Activities
To give your business a good hype, also offer group activities for organizations, institutions, schools, etc. through your website. Users should be able to browse & book corporate activities in pretty much the same fashion as for individual activities. To make this feature more attractive, provide users assistance in booking them, as well as offer gifts if the number of participants crosses a certain number.
Image Attribution
Primarily, your site's main attraction would be a huge collection of pictures of different places and activities. Taking pictures from the internet or building a huge database on its own, are both unfeasible options. Therefore, you need to ask professional photographers and tourists from across the globe to add images on the site that they have taken while traveling places.
In return, feature them and their work on a separate page to offer them a little publicity, and few more followers on their social media profiles.
Blog
Like any other tour and travel site, your travel activities booking platform needs to have a blog that features travel experiences, trip planning ideas, best food destinations, adventure activities hubs, etc.
Features enhancements and suggestions mentioned throughout the post will certainly add value to your travel activities booking clone website. Certainly, many more enhancements can be made in the script to make the platform look and perform better. If you already have some suggestions then we would love to know about them. Write them in the comment section below.
And in case, you need further help in the implementation of these features, then you can contact FATbit to give your adventure activities website a few more design and marketing advantages.
Launch your adventure activities booking website at the right note