Post Updated On: 22nd May, 2018
While making plans for next adventure, travelers often run online searches to know more about their destination. Searches are mostly related to best time to visit, places to see, where to stay etc. There are community based websites that offer answers to such queries and serve as a platform for travelers to ask questions and get expert answers.
With online travel planning industry growing at an amazingly fast pace, community driven sites have a huge potential & bright future. If you are planning to launch a travel community like Travellerspoint, Trippy, Barclaycard travel,  etc. based on a clone script, then you need to understand the functionality and unique features these platforms.
Business analysts at FATbit Technologies have listed the main features and functionalities along with revenue generation methods of travel communities for building a perfect clone. Let's first understand the core business model: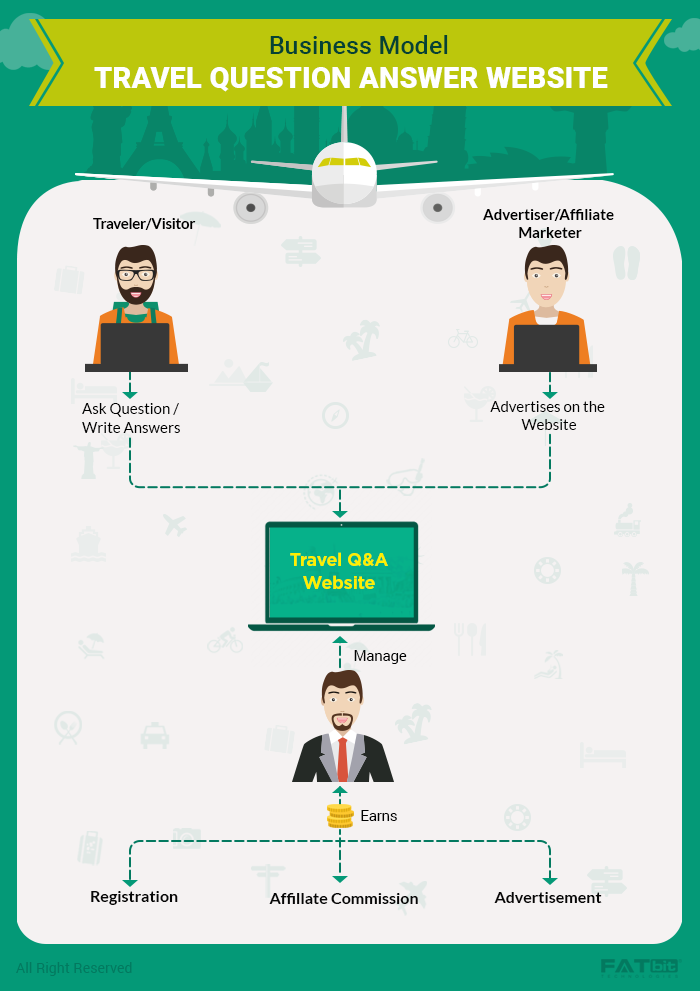 Business Model
The business model of an online travel based question-answer website revolves around travelers sharing knowledge with each other. Following are few things that you may need on your site to encourage travelers for sharing experiences and helping others to plan their trip.
Option to let a registered user ask a question and answer a question asked by other members.
Option to add photographs in answers.
Let people tag a place while answering a question
Option to vote for the best answers which float to the top.
List all questions asked and answered on every user profile.
For unregistered users, give access to question-answer database for reading purpose only.
Revenue Generation Model
Business Analysts at FATbit Technologies found that travel community based websites are absolutely free to use. To monetize  these sites you must first work towards building a massive community related to travel industry and earn from advertisements. Following are two major sources of income for leading travel sites:
Google Ads:  Ads powered by Google are placed in the side widget of a webpage.
Affiliate Marketing: Affiliate marketing has proved to be a great source of revenue for travel based sites like Trivago, Trippy, Vayable. Smart affiliate link integration can be useful in this regard. Now that we are through with possible revenue generation options, let's start feature checkup.
Website Homepage
The homepage of travel experience discovery and sharing websites is kept simple. Sign-up and sign-in buttons can be added to top navigation bar. The banner image should be inspiring and relate to travel. A captivating copy as a message for travelers can be placed in the center to grab instant attention of users. If not an encouraging travel message, it could be one line defining how your site works.
At few sites, we saw that just below the first fold, the recent answers are shown. This gives a better understanding of what to expect inside the website. The footer area must include links of some important pages like 'About Us', 'Travel Destinations', 'Privacy Policy'. Moving forward, let's check out the functionalities of sign-up and sign-in.
Sign-Up
Mainly 2 options to sign-up, one with Facebook and the second with email are provided on these sites.
You can make your travel community clone unique by offering picture upload feature or more signing-up options.
Don't forget to add a dedicated page to provide for sign-up. Usually websites offer this this through a pop-up only and ignore the value of a dedicated page.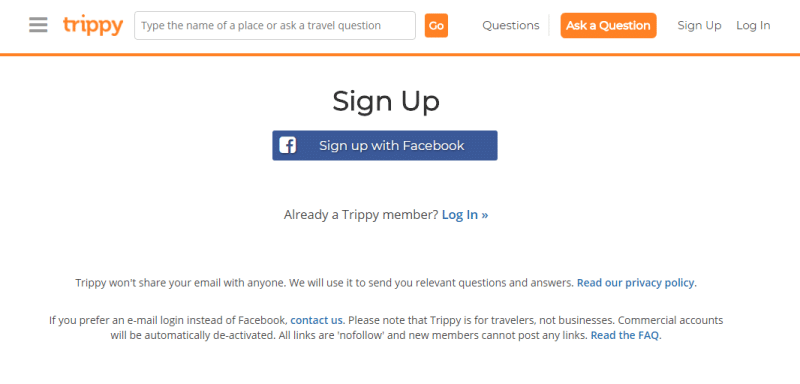 Sign-In
Log-in process can also be carried out with the help of a pop out.
Also provide the option to login with Facebook.
Check out more suggestions by our UX designers under "improvement section" below.
Features
Let's check out the excellent features that make a site travelers' favorite:
Building up profile
Motivate users to complete their profile. Follow a unique approach as follows:
Prompt to upload profile pic few sites show question mark or exclamation on the image space until it gets updated.
Add a percentage bar somewhere on the top of the page to show the percentage of profile completed.
Suggest next steps to be followed in order to complete a profile.
Don't forget to add these features in your travel clone as it improves visitor experience.
Give Option to follow Places
Make sure a user can follow as many places as he wants.
Add database about places to  give instant results in a drop-down as the user types.
Make it obligatory to add minimum (2-3) places.
If you are targeting specific country or continent, then, a special database can be created. Also minimum and maximum number of places to be followed can be customized. All such upgrades are possible only if you create a travel question-answer platform from scratch or go for a flexible clone script.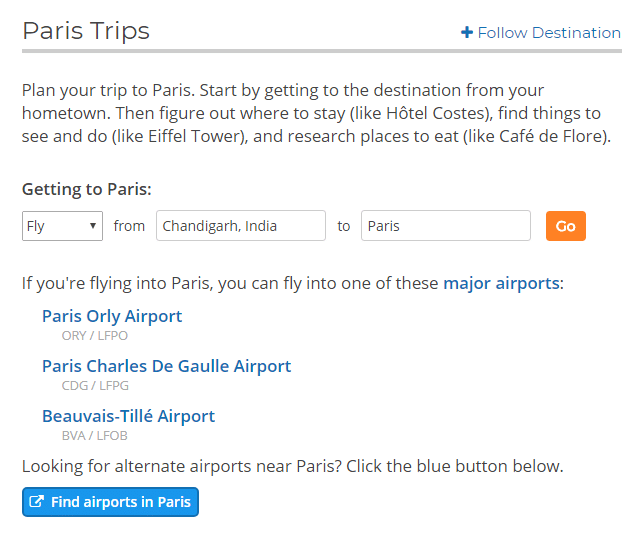 Homepage Feed
Home feed as we observed on many sites includes questions related to the places one has followed. A list of the followed places along with an option to follow a new destination can also be displayed in the home feed. Apart from this, the home feed acts as the main page of your profile must include following options:
Questions for me
Notifications
My Answers
My Questions
Saved Answers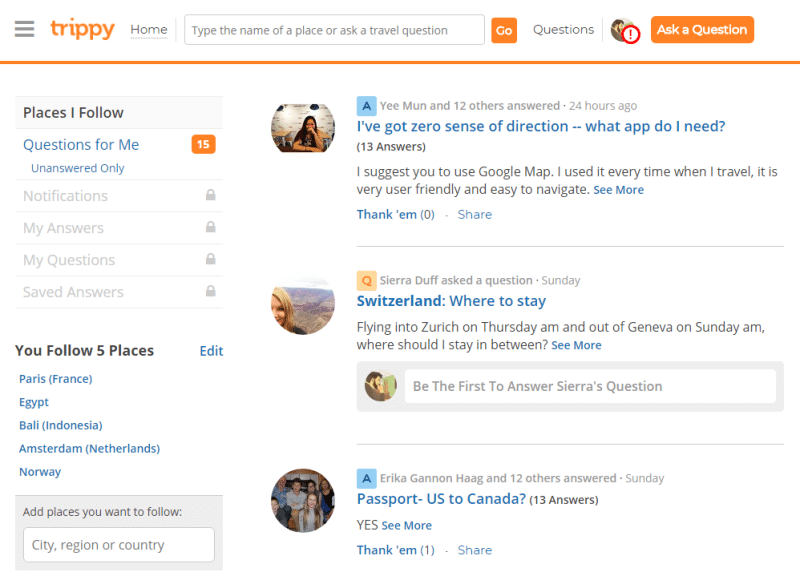 General Feed
This would be the second feed section on your site where all the questions asked on the website, irrespective of location and followed places are asked. You can give a special name to it to make it more impressive. The main purpose of this feature is to make your website more interactive and let people check out other tourist places in the world.
Questions in this feed can be further categorized as Latest, Popular and unanswered.
Members
Add users' profile a special section named "Members". Make this section appealing by adding following options/categories:
Sub categories – Last week's top members, new members and search option.
Top members list should be updated automatically every week based on the activity level of members.
List newly created accounts under "New Members" section.
Add a special search bar to enable users to search for a member by their name.
Popular Travel Destinations
List all the popular travel destinations on a special page for users to check out the latest questions about that particular city. Also give a link in the footer section of the website to access popular travel destinations.
Ask a Question
"Ask a question" feature should be kept quite. Adding 3 fields namely location, question, headline and question details is a must, rest depends on your needs. Few other elements of this feature are as follows:
Only registered members should be allowed to ask questions.
An option to choose between location based and general travel question should be given.
Let users add more than 1 location.
Formatting options (Bold, Italic, Numbers and Bullets) can be added.
Option to link a URL can also be provided.
Answer a Question
This features is added to let any registered member answer a question posted on a travel community based sites. This feature can be highlighted using:
A special informational video on 'How to write a great answer'.
Giving members the option to like any posted answer.
Giving formatting options (Bold, Italic and Bullets) to be used while writing an answer.
Giving option to link a URL.
Let users add an image in the answer.
Map Integration in Answers
Let users  tag places of interest in a map. Follow the undermentioned rules to enhance this feature:
Allow any number of places for tagging using "@".
Mark all places on the map as A, B, C, D… and so on.
Let a new place be created in the map for a place that does not appear in the options.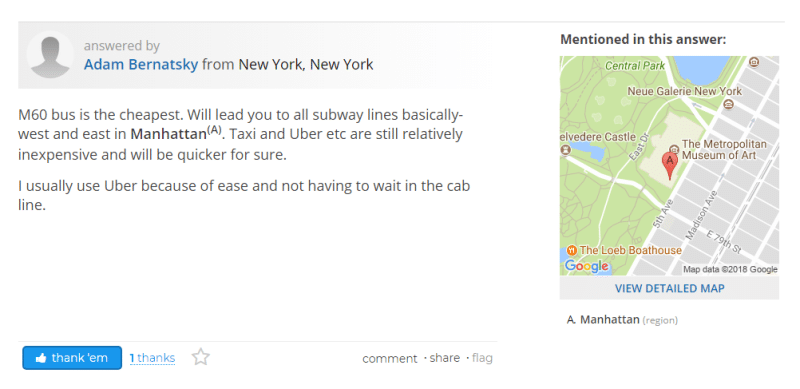 Other Unique Features
Option to give Feedback
The 'Feedback Tab' can be added in the main navigation area to receive feedback from its users. This not only makes it easy for website users to contact website's team but also makes them give a true feedback.
Search Feature
Provide a search bar in the main navigation area to enable users to search for a particular place. This should work as soon as a user starts typing and give auto suggestions for places and questions. The drop down list of questions will help users directly select a question or a particular destination.
Some more distinguished features on a particular destination's search result page can be added, like:
Option to follow that Destination.
Questions categorized as Latest, Popular and Unanswered.
Map representation of popular areas.
A separate section for all uploaded photos.
Such unique features will play an important part in the success of your travel website and bring it at par with big brands like Travellerspoint, Trippy. So, make sure the clone script you choose has all these advanced features.
User Profile Features
Offer a dedicated profile page to users including following options:
'About Me' Section.
Follow other users.
Number of Questions answered and asked.
Questions asked by a user & recent activity to be displayed on profile page.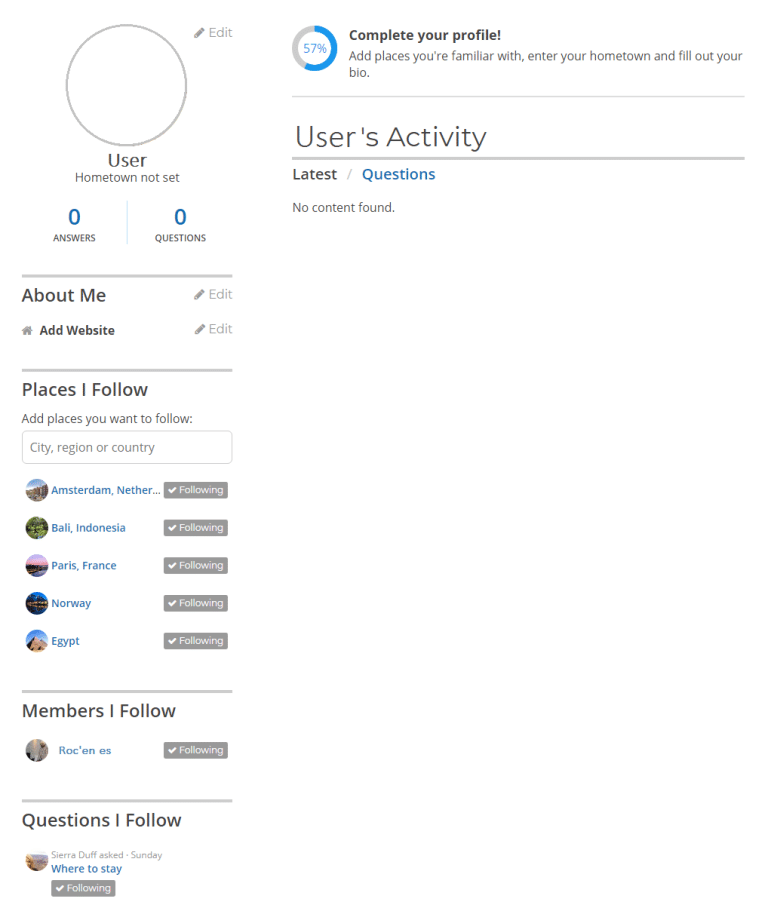 FAQ Section
A section about 'Frequently Asked Questions' is to be provided on your travel community website to let visitors know about common queries without contacting customer support. This section should be designed to cater to the most common questions covering topics like general, sign-up, profile, questions and answers.
Below are some feature improvements our team of experienced designers and developers suggested for building a travel community website:
Recommendations for building a Travel Community Site
Social Media Integration
Login: Login with Google account or Twitter account should also be given along with Facebook login. We would suggest multiple sign/up options to users.
Sharing: Give option to share a question or answer on social media sites. Sharing options will not just help the website become more popular but will also generate more traffic. Make sure your clone script has social sharing options.
Mobile App
A travel related website without a mobile app is sure to lose a lot in regard to traffic and revenue. Building a mobile app will help you capture the mobile audience and score big in terms of revenue & audience.
"Places I have Visited" Feature in profiles
A section by the name "Places I have visited" should be added to a user's profile. This section will make others aware about the places visited by a user and support the answers as well.
UX Improvements for Homepage
Your homepage can be enhanced using eye-catching banner image.The banner area can be made a bit more interactive. Sliding banners or a background video can also be added.
User rewards & privileges
A reward program can be started where users with highest number of answers or the ones with highest number of top answers can be given some appraisal in the form of a reward. It can be an upgrade of profile, some discounts at partner websites or something else. Implementing such feature in your clone can take you a long way.
Final thoughts on creating Travel community Portal
The concept of community driven platforms is sure to grow further in the coming years. If you are planning to launch a similar website, then, this is the perfect time to do so.
Make sure that you hire an experienced team for your travel based question-answer platform so that you can compete with established brands like Vayable and Trippy.  In case you pick a clone script, then, go for a flexible one that comes with unique branding and customization provisions.
Get cost idea of a Travel Community based Website
Ask experts