Last Updated: 23rd May, 2022
Traveling to a new place without any information about the lay of the land is a thing of the past. Today, you can search for all the major attractions in and around a particular place and get all the information like distance from the city center to the modes of transportation available to reach those places with ease. This is the reason behind the increasing number of travel booking marketplaces in the eCommerce sector. 
According to Statista, the global market size of online travel booking platforms amounted to $517.8 billion in 2020. The market size is forecasted to reach around $983.2 billion by 2027.
The segment offers sustained profitability and is a hot favorite among entrepreneurs today. As is the case with any business idea, we must first find out 'why' should one enter into a particular field, and the travel & adventure booking platform business is no exception. So, without further ado, let's try to find the answer to this 'why' before we get into exploring other aspects of the same.
Table of Contents:
Why Online Travel & Activity Booking Is a Profitable Business Idea?
Travel made easy

: Today, travelers have access to economical transportation options, well-built infrastructure, and a focus on tourism. These factors are now adding some of the best-kept secrets and lesser-known places to every traveler's bucket list. With travel made easy, it is the right time to leverage this segment.

Profitable venture

: According to

Statista

, it is forecasted that, by 2025, 72% of all travel & tourism sales globally will be made online, up from 65% in 2020, These stats highlight the increasing penetration of digital platforms and changing consumer preferences. This is why starting an online travel & tourism platform is a profitable business venture with sustainable growth potential.

Lack of niche-based websites and apps

: When you wish to travel, you would prefer to book your accommodation in advance, but wouldn't you prefer booking the adventure activities at the same time and confirming your itinerary beforehand? Of course, you would. But most of the websites and apps offer generic solutions and as an entrepreneur, you can solve this pain point and create a platform that connects travel activity businesses and travelers. Sounds good, right?

It's easy to start

: Gone are the days when you needed a full-fledged development team to create your website. Now, you can have a website up and running in no time thanks to the availability of out-of-the-box solutions like FunAway. These solutions offer hundreds of templates and have extensive customization options to design a website that resonates with your vision, mission, and brand image.
Psyched about launching a travel activity booking website? Your excitement is well-placed. But before we discuss the must-have features for your website, we should understand how the business functions.
Business Model of a Travel Activity Booking Website
The travel activity booking business model consists of two participants:
Travelers:

 These are tourists looking for fun and engaging activities on their trips. On an activity booking website, a traveler can search/select their desired activities. Next, he/she will create a reservation request and make payment. Once done, the traveler will receive a confirmation for booking approval.

Activity Organizers

: Activity organizers can be a local guide or an event management firm that provides travel activities. The organizer is responsible for listing the activities online, receiving payment for their booking requests, and sending booking approval to the seeker. From adventure sports to sightseeing events, there are a variety of activities that travelers seek.
When starting your business, you will be bringing the aforementioned entities onto a common platform — Your travel activity booking website. Here is a graphical presentation of the business model.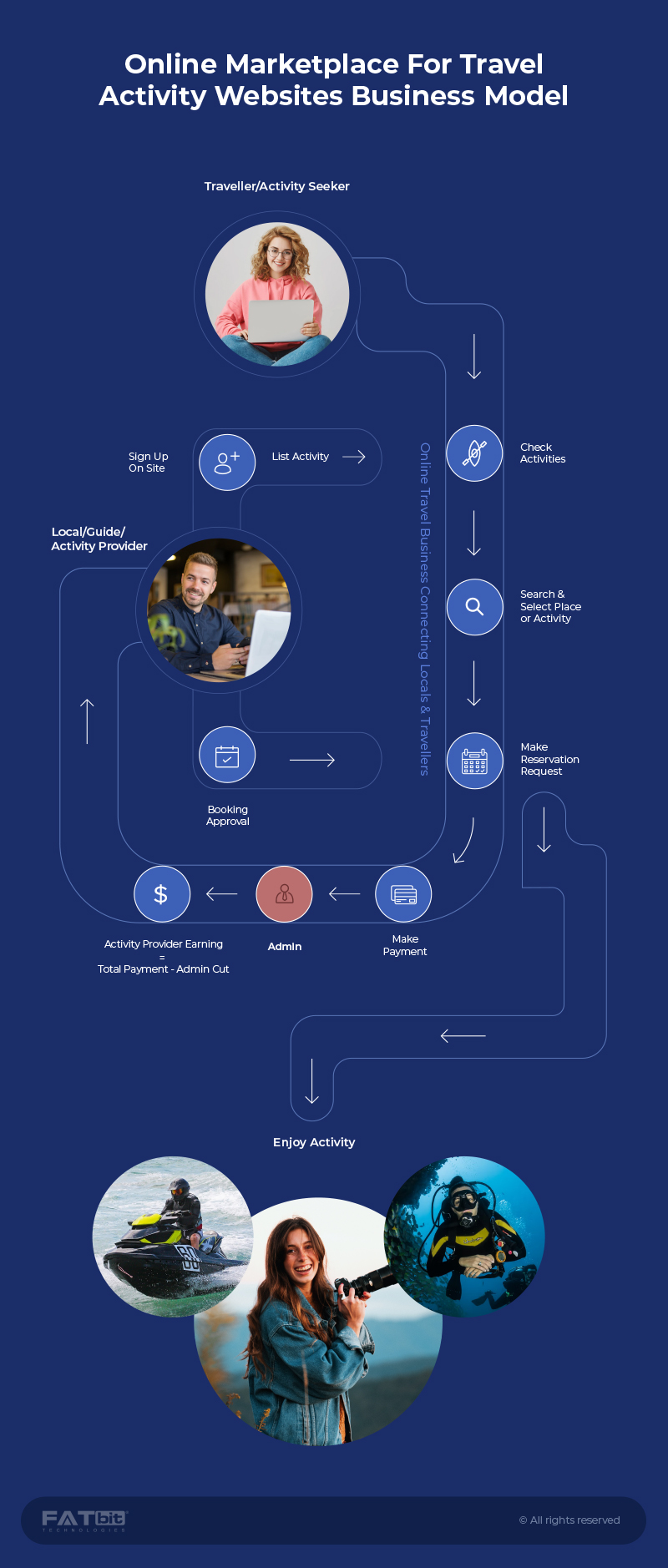 Travelers today often plan shorter vacations and they wish to make the most of them during the few days that they have. Take a look at some of the prominent names in this segment.
Top Online Travel Activity Booking Businesses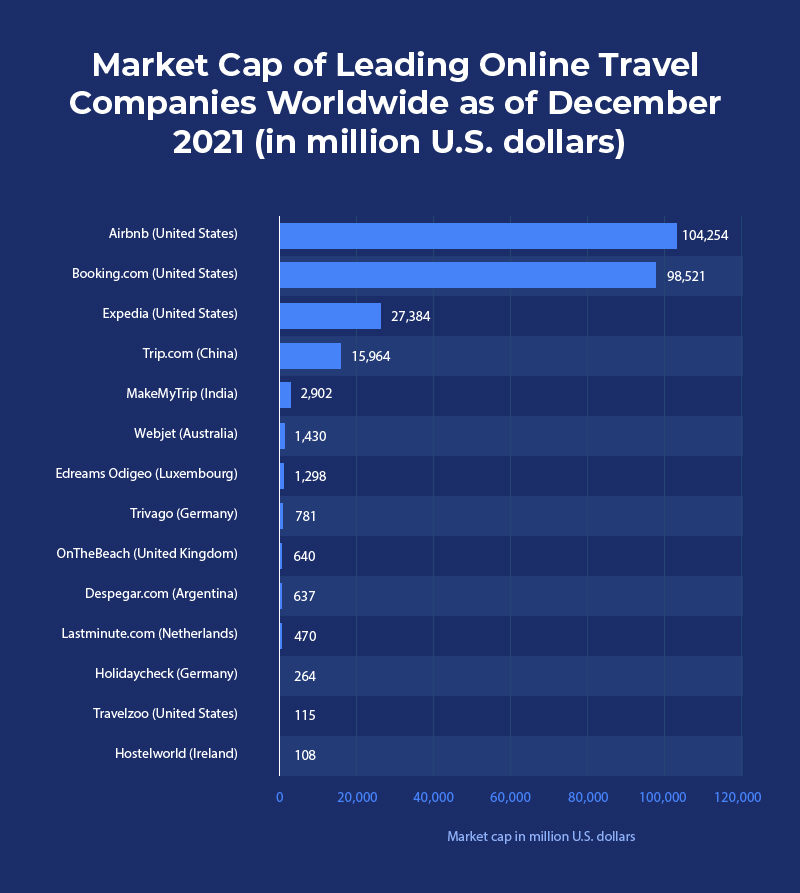 Source: Statista
Airbnb:

 It is the world's largest online travel company with a market cap of $104.25 billion. Airbnb has over 6M listings with 41k+ active experiences listings in 220+ countries. Plus, it has registered a record 1B+ guests to date. 

Booking.com:

 A Dutch travel agency and a subsidiary of Booking Holdings, Booking.com is the world's second-largest online travel company after Airbnb.com. Launched in 1996, It has a market cap of $98.52 billion, as of December 2021. 

Expedia:

 Expedia is an American online travel company and a subsidiary of Expedia Group. Founded in 1996, Expedia.com offers a wide range of vacation packages, activities, attractions, and more. It has more than 50,000 experiences and activities for travelers worldwide.

Trip.com:

 It has over 400 million members, 1.4 million hotels in 200 countries/regions, and 2M+ flight routes connecting more than 5K cities. Similar to other travel firms on the list, Trip.com also offers a wide range of activities/attractions for travelers to search & book from.

MakeMyTrip:

 Launched in 2000, MakeMyTrip is an Indian travel company and one of the leading firms with a market cap of $2.9 billion. From custom tours to shore excursions and adventures, MakeMyTrip offers a variety of activities for travelers. 
These are the top 5 leading market players with a combined market cap of over $248 billion as of December 2021. This is nearly 45% of the overall market size of the global online travel sector (forecasted at $561 billion in 2021).
If they can do it, you can too. But remember this, building a website with a local twist can prove to be a game-changer. If you can identify the expectations of your target audience and deliver something they desire then you can capture a significant market share within a short span of time. With that said, let's take a detailed look at the revenue models of online travel agencies (OTAs).
How to Make Money with Online Travel & Activity Booking Business?
How are OTAs making so much money? There are multiple methods through which online travel firms can earn revenue. Below, we have highlighted some of the key revenue channels:
Most OTAs earn money via commissions on every booking. These commissions can range anywhere from 5% to 25% and vary from brand to brand and property to property. As a new entrant in the market, start attracting more vendors to your marketplace by charging lower commissions or giving certain perks for achieving some milestones.
Customized Trip Offerings
You can cater to the needs of your customers by helping them in creating a customized trip during their visit to a designated location. You can organize their trip and provide services like airport transfer, arranging accommodation, local transportation, and creating an itinerary for an additional fee.
Also, termed as pay-per-click, advertisement is another major source of revenue for OTAs. Here, travel firms can charge service providers for boosting their services over others. The OTAs charge a per-click fee. For instance, hotels pay OTAs a substantial fee to rank above organic searches.
In addition to these, there are other monetization options like launching premium memberships for customers when scaling up or adding a rating system that highlights the best vendors on your website.
Now that the revenue channels have been discussed, we come to the most critical part of this blog post – The essential features that your website must have in order to give a strong start to your travel activities booking website.
Looking to create an Expedia-like marketplace
Must-have Features and Functionalities of a Travel Activity Booking Website
Website Overview
Create a clean and minimalistic website design that has a user-friendly interface. Images or text should not be cluttered and serve as value addition and not as a hindrance to seamless user experience. Here are the most important sections that you need to work on moving ahead:
Homepage
The heart of your website — Homepage — must clearly explain what your website is all about. The first fold of the homepage should contain a search bar along with the names of top destinations mentioned under it. Other sections can include:
Important modules can be added in the top navigation area, such as:
List an experience

Login

Sign up

Request a trip
Your website's top navigation should be simple and concise. It is recommended that you only add the most important links in the top navigation and leave the rest for the footer area.
Other than that, your online travel activity booking marketplace should have the following features in the front-end:
SEO-Friendly URLs:

 Optimized as per search engine norms, SEO-Friendly URLs tend to be keyword-rich and short. Your marketplace should offer sellers the flexibility to rewrite/create SEO-Friendly URLs.

Map View Feature: Enable service providers to add a precise location for their travel activities. This helps activity seekers to track and reach the location with ease.

Multicurrency:

 An important feature in eCommerce, multicurrency allows seekers to view prices of packages as well as activities in multiple currencies.

Booking Calendar:

 Make trip scheduling effortless and date selection super easy for travelers with a calendar view-enabled booking system. With the booking calendar feature, your travelers know exactly which dates are available so they can plan in advance. 
And more.  
Now, with the basics in the right place, let's discuss features specific to travelers and hosts in an online travel activity marketplace.
Features for Travelers
Travelers are the people who will spend the money on listed tours and packages. Hence, features related to them require special attention. The most critical features on different pages of famous travel websites have been discussed below:
You can gain a competitive edge in the market if you move smartly and spoil your customers with convenience. Travelers don't mind spending a few extra bucks if it makes their trip more comfortable. In order to cater to their requirements, you can add the following features to your website:
1. Search Places
A search feature must be enabled where users can search for destinations and activities to do in a specific location. Key highlights of a search feature include:
A large database of information about places

Catchy design and smart labeling

Auto-suggestions

Traveler – book activity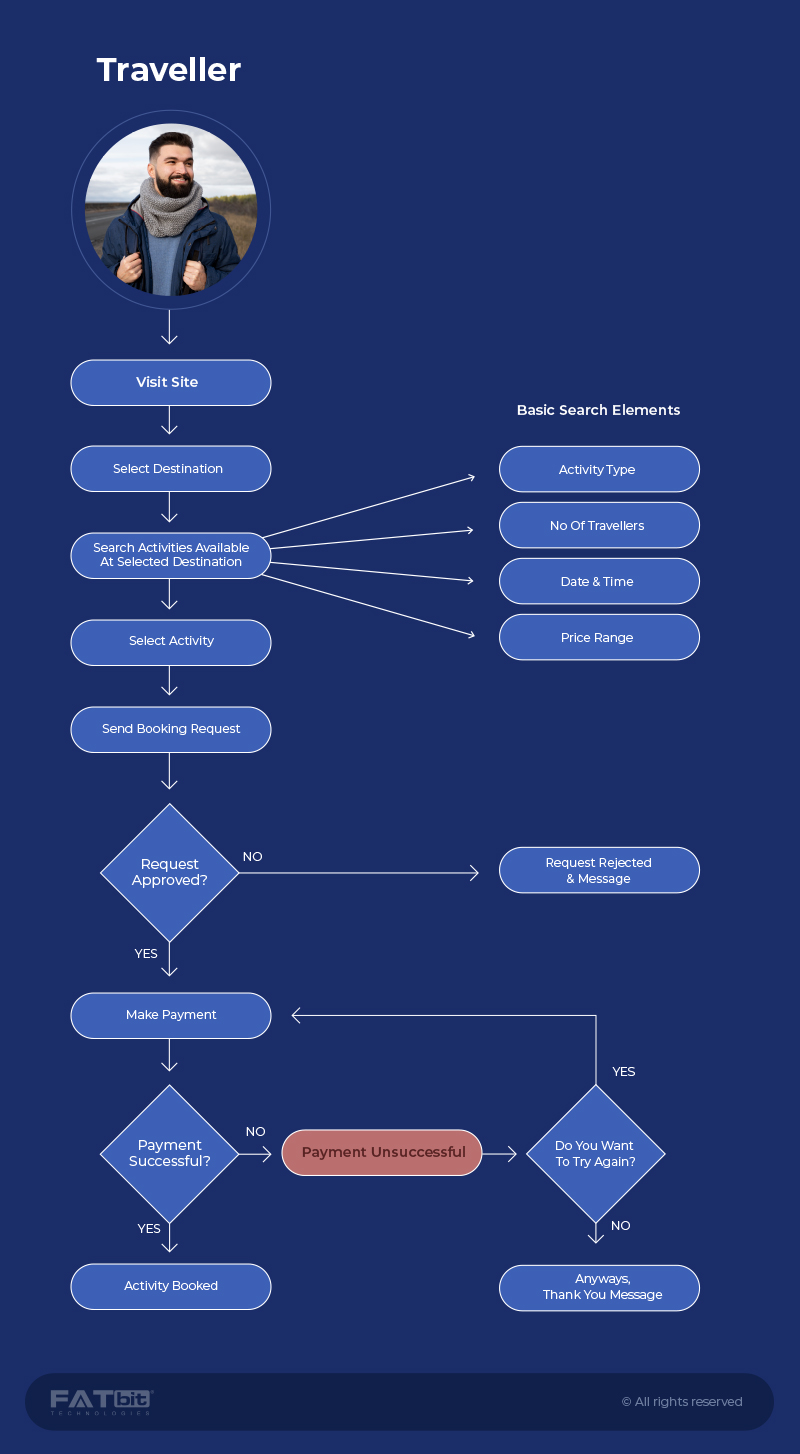 2. Activity Listings Page
This page lists the activities to do in a particular city and must have a crisp design that highlights:
The price of each activity mentioned upfront

A short description of the activity

Number of reviews mentioned against each activity
3. Filter Options
Filter functionality should be present in the activity listing page to help travelers sort experiences based on their interests, popularity, reviews, pricing, etc. Filters come in handy when you have a substantial number of activities listed at and near a destination. So, don't forget to incorporate this feature in your travel and activity booking portal.
4. Social Login
A single sign-on feature where all the details are fetched from your social media profile to create a user account on the website. Social Login provides a secure, feasible, and quickest way to engage users and drive growth. It increases the conversion rate by up to 50%. This is why almost every OTA uses this feature.
5. Activity Details Page
As soon as a user clicks on an activity from the listings page, they should be redirected to the page containing information about all activities. Users should get all the information they require about the desired activity on this page. They can choose to book online, contact the provider, or seek answers to their queries.
6. Activity Photos & Videos
Showcase photographs and videos related to activities in a special section — you can also label that tab as 'Gallery'. Add a carousel slider where all images are displayed and can be browsed with a single click.
7. Insider Profile
Just below the images section, feature the activity provider's information. It is very important as the explorer will get a more transparent picture of the person providing that particular activity/experience.
You can also add a brief introduction to the activity provider in the "Your Guide" section on the Activity detail page. This information can be fetched from the Guide's profile page and a link to their "Full Profile" can be hyperlinked. The following information can be included on the profile page:
Name

Profile Picture

Location

Contact Functionality

Wishlist

Review Functionality

Provider Verification
These features might appear basic but they must be part of your portal as they foster trust between your business and the visitors.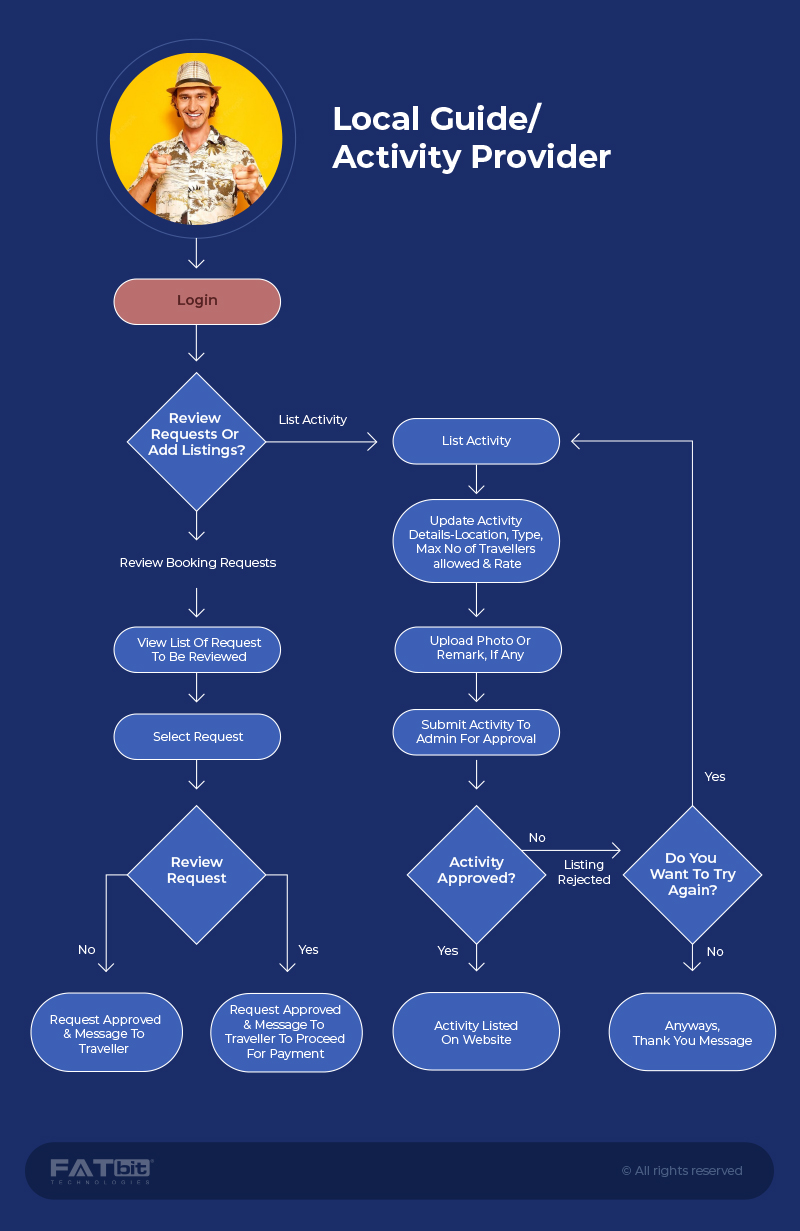 8. Reviews
Reviews help travelers to evaluate the quality of the services provided by different vendors. Enable the reviews section on the activity details page to help users in choosing the right service provider to facilitate their travel plans.
9. Map Integration
Further down the activity detail page, a map section can be integrated on the page to showcase the exact location of a destination and/or activities to the travelers. This traveler-friendly feature should definitely be included in your travel website.
Note: If you are building your website on a clone script, make sure this feature is available in order to provide a better user experience.
10. Nearby Experiences
Similar to the "Also Check" or "You may Like" sections on eCommerce websites, this feature can help you list nearby experiences on multiple pages. You can use this widget to list more activities based on the visitor's activity on your website.
Travelers can book multiple activities during their trip to a particular destination and this section allows them to explore more options on your website and share them with their friends as well.
11. Save and Contact Option
Simple yet effective. This feature enables users to save a listing and get the contact information about a specific activity provider. This feature allows them to:
Save an activity in their wishlist

Enables website visitors to contact activity provider for queries
12. Making Reservations
'Making Reservations' feature is the backbone of any travel booking website and is the biggest revenue generator for the company and vendors alike. Visitors can make a reservation from the activity details page by providing information like date, time, and the number of people.
While some activities can be booked instantly, others need to be approved by the respective service providers.
13. Making Payments
Integrating secure payment methods is a must for every eCommerce business, including travel businesses. Your website must have a streamlined payment process that is supported by a neat user interface. Enable payments from major payment processing platforms like Visa, MasterCard, Amex, PayPal, and Discover Cards.
Note: If you are building your website on a clone script, opt for the one that integrates multiple payment gateways. Only then will you be able to compete with big players like Vayable and Peek.
14. Account Menu
Some more useful options should be included in the account menu for the convenience of your registered users. These include:
Profile:

Profile page for travelers

Messages:

A special inbox for users

Reservations:

Section listing past and upcoming reservations

Wishlist:

A place for activities marked as 'Save to collection'

Invite Friends:

This is part of a promotional activity where users get some perks whenever they recommend a user to make bookings from your website
15. Request a Trip
You can add this feature to help users request a specific trip. In fact, several companies are offering tailor-made plans among their listings. These plans include airport transfers, accommodations, travel arrangements, and specific activities in a particular area to name a few.
This feature works best for users who do not want to spend their time exploring every aspect of the trip individually and want everything to be pre-planned as per their convenience.
16. Gift Cards & Discount Coupons
'Gift Cards' option enables users to purchase an electronic gift card, usually a coupon code, that can be redeemed later by other users as well. Do not forget to add redemption of discount coupons during checkout to attract more users from a price-sensitive market.
Features for Host or Activity Providers
Offer free listings on your website if you want to attract more vendors to join your portal. Here are some interesting features that you can provide to service providers on your website:
1. List an Experience
This is the area of your website, vendors can track any feedback posted by a customer, manage listings, schedule posts ahead of time, and more. Highlights of this section include:
Fetch the basic information of service providers like title, location, a maximum and minimum number of people, duration, and price

Add photos to a listing

Prepare a schedule

Complete profile

Verify bank details where payments are to be forwarded

Reviewing and Publishing
Some sites give distinct badges to top activity providers. These badges can be showcased on a profile to help travelers know that a vendor is credible. The criteria for earning these badges and their advantages are as follows:
The vendor needs to have a minimum number of reviews

Offerings from premium users (with badge) should appear higher on the website

Offer perks like free passes, press opportunities, and referral bonuses

Add this feature to your travel discovery website and motivate your vendors to deliver excellent service
2. Account Menu
Activity providers should be given a dedicated panel to have complete control of their website presence. Here are some important links to include in this section:
My Experiences:

This allows the providers to see their listed activities and edit them

Reservations:

Past and upcoming reservations made by travelers

Payout Settings:

Bank account details and related information

Transaction History:

This section will display a list of monetary transactions
3. Official Blog
Add a blog to publish travel-related posts and news on a regular basis and an awesome way to get more leads through inbound marketing. A blog helps you in improving your website's positioning on different search engines. Make sure that your website's script includes a blog-powered section that can be managed easily using a CMS.
4. Floating Main Navigation Bar
Travel eCommerce sites often opt for a floating navigation bar that remains on top even if you scroll down. This also makes navigation easy and improves the user experience.
5. Go to Top Button
As a travel website displays many activities on its listing page, a 'Go to Top' button makes sense. It will save the hard work required to browse through the activities and return all the way to the top by scrolling.
Conclusion
After hotel booking websites, travel and activity booking marketplaces are the next big thing for the travel industry. If you are planning to launch a travel activity booking website of your own then this is the best time to do it.
Make sure you find the software solution that fits your website requirements and includes the aforementioned features. Alternatively, you can opt to create your website with an out-of-the-box solution like FunAway and have a brand new website up and running in very less time.
FunAway is an online travel & activity booking software with all essential features