Since the launch of Yo!Coach, we have focused on offering a feature-rich and fully customizable online learning & consultation software. While this focus has remained steadfast, we are excited to announce the upgraded and enhanced version – Yo!Coach 2.1 which is packed with new integrations and latest functionality. 
Over the past couple of months, we realized that the trends of digital learning are evolving with the ongoing advancements in technology.
Insights Drawn From Market Research & Client Requirements
We identified that businesses required advanced real-time video conferencing tools and collaborative spaces to interact more efficiently.

Businesses needed an advanced reporting engine integrated into their platform to measure and improve their marketing strategy and serve their target audience based on data-driven decisions.

Since business owners had to deal with commissions and distribution of payments every day, payment management became the most significant part of every online marketplace.

Last but not least, we also identified the need for premium security features to protect the personal data of the users including passwords and financial information.
To keep up with these trends and fulfill the requirements of the edTech startups and enterprises, we are here with a new release of Yo!Coach. The advanced features in the latest version are crafted for businesses to sustain the current trends and be ahead of the curve. 
Whether you are planning to launch an online tutoring/language learning marketplace or a business consultation platform, Yo!Coach is the ideal solution to ensure your business runs seamlessly. The update is another step towards adding more value to your business.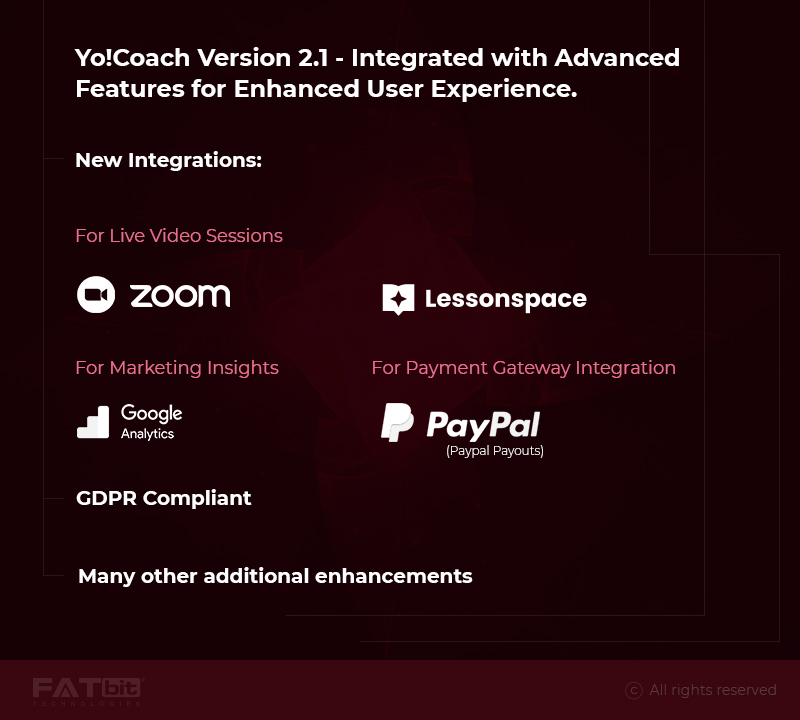 Want to know more about Yo!Coach 2.1
Let's learn about all the new features and integrations added in Yo!Coach:
New Integrations for Live Video Sessions
Zoom
Yo!Coach is now integrated with Zoom to enhance the experience of virtual classrooms. A meeting link is automatically generated once the session is scheduled enabling tutors and learners to interact in real-time.
Additionally, it also allows:
Lessonspace
Integration of Lessonspace with Yo!Coach helps tutoring platforms to conduct one-on-one or group classes easily and more efficiently. Lessonspace offers an extensive set of features to seamlessly collaborate tutors and learners for online teaching.
Features of Lessonspace include:
Multiplayer Learning Tools like shared whiteboards, documents, and code editors

Import & Annotate Documents

Manage Everything From Single Dashboard
New Integration for Marketing Insights
Google Analytics
To get the most from your tutoring platform, Yo!Coach 2.1 comes pre-integrated with Google Analytics. Drawing insights from in-depth analysis like visitor statistics, bounce rate, traffic sources, and much more, you can deliver better experiences and drive results.
New Payment Gateway Integration
PayPal PayOuts
This is a global, secure, and flexible gateway to issue payments to multiple vendors at once. Supporting 180 currencies around the world, PayPal makes the process of payment transfer more efficient and convenient. 
Enhanced System Security
GDPR Compliance
Yo!Coach is highly committed to the users' rights to privacy and protection, and therefore, has now become GDPR (General Data Protection Regulation) compliant. It now aims to offer control to the users over their personal data. The compliance now enables business owners to assure the platform users who are concerned about their security and privacy.
Additional Enhancements
Improved UI/UX:

The enhanced User Interface of Yo!Coach gives you a competitive edge in the constantly growing industry. Facilitating the interaction between the user and your platform, the improved UI/UX maximizes the chances of turning potential visitors into customers.

Detailed Business Reports:

Yo!Coach provides a means to track and analyze the performance of your online business with its system-generated reports while identifying the areas of improvement and opportunity growth.

Sitemap:

The XML and HTML sitemap generated by Yo!Coach acts as a blueprint of your marketplace that helps search engines find, crawl, and index all of your website's content. Indicating the most important pages, it will help visitors and search engines to navigate the website.

Bank Payouts:

Admin can now choose to set up the bank transaction charges (flat/percentage) which will be deducted from the tutors' payable amount.
Build Your Niche-Specific Learning Platform With Yo!Coach 
As the upgraded version of Yo!Coach comes with new and advanced features, it is viable to build marketplaces specific to various niches. 
Yo!Coach is an ideal solution to build online marketplaces for:
Online Tutoring

Language Learning

Business Consultation
Apart from these popular niches, Yo!Coach also supports various other business verticals with minor customizations:
Music Learning

Dance Learning

Fitness Coaching

Culinary Coaching

Medical Consultation

Legal Consultation

Personality Development
The new version of Yo!Coach has much more to offer for your online learning and consultation business. In case you have a feature upgrade suggestion for us to include in Yo!Coach, feel free to get in touch with us.