The demand for online food ordering systems is soaring. All thanks to giants like Uber Eats and Grubhub that weaved technology and convenience together and made it easy for consumers to instantly order their favourite meals via mobile apps. To facilitate this convenience and keep the revenue cycle intact, relatively new entrants in the market have to consistently brainstorm and come up with innovative ideas. Being a food business owner, if you want to scale better and establish your brand, then maybe it is time to expand your business with a white label food delivery app.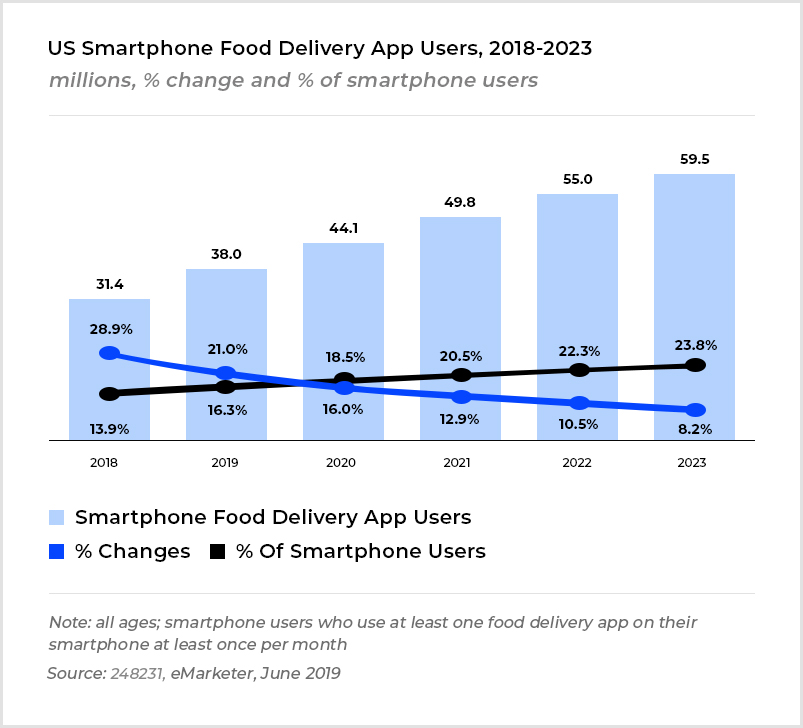 Let's dive right into understanding why launching a white label food delivery app is the right choice for your online food delivery business.
Development In Mobile Technology
Self-isolation measures amid COVID-19 have led to a surge in the demand for online food ordering and delivery services. Studies predict that mobile eCommerce is expected to grow by 68% by 2022 as people will start making more purchases using online means. The convenience of getting food home delivered at affordable prices, especially in these trying times is pushing consumers to download food delivery apps and limit their exposure to the virus. 
This demand reflects a growing and dynamic market for white label restaurant apps. Today, mobile apps allow consumers to schedule curbside pick-ups, order food deliveries, and make payments using electronic payment methods.
The Impact Of COVID-19 On The Digital Food Industry
A change in consumer behavior amid the pandemic has resulted in an instrumental growth in the online food ordering and delivery industry. The total number of people ordering food deliveries has risen but is restricted to certain age groups. A report from CivicScience suggests that based on week wise analysis, around 22% of the U.S. adult population preferred ordering food online rather than going outside to make purchases. Earlier this figure was 19%. This reflects a 3% increase in the demand for convenience ordering. 
Many restaurants that earlier did not provide online meal delivery have now started providing contactless deliveries to generate revenue and survive in the industry. This is where the need for a white label food ordering and the delivery app comes for restaurant owners. 
Reasons To Choose A White Label Solution To Launch A Food Ordering And Delivery App
A white label solution is a service that is developed by an enterprise and used by another under their respective brand name.
White label programs are also commonly known as "reseller programs" as the services or products can be procured without any branding.
This way, the reseller or the company purchasing the white label solution can flexibly customize the solution under their own brand name, giving it a new identity.
White label solutions are an ideal choice when planning to launch a food delivery app. Opting for a white label food delivery app can enable companies to channelize the distribution of their services. Having a white-label solution enables service providers to access a wider network via the reseller partners. This helps the resellers expand their service lines. The providers do not have to invest time and money in the production of goods from scratch. Also, companies can present their customers with a range of options to choose from, building a wider customer base. 
Let's take a look at the potential reasons to choose a white label food delivery app. 
Branding becomes convenient using a white label solution. A white label solution can entail a variety of benefits and enhance the productivity of the service. Also, entrepreneurs can add new features with easy customization options. One major reason to opt for this online food delivery solution is that it is turnkey and pre-loaded with advanced features for scalability. As a result, branding becomes very easy eliminating any additional costs. 
Launching a white label food delivery app can help entrepreneurs save huge investment costs and cut on the development time. If you choose to build your app from scratch using a custom solution, it will require a considerable amount of time for brainstorming on design, architecture, testing, and more. Thus, delaying the launch! For a quick product launch, investing in a white label solution may be more cost-efficient.
Easy development & deployment
The USP (Unique Selling Point) of a white label solution is that it is a fully tailored and customizable solution. You do not need to invest time in developing the website from scratch. This also accelerates the deployment process. 
Critical Features Of A White Label Food Delivery App
Below mentioned are the must-have features for a white label food delivery app.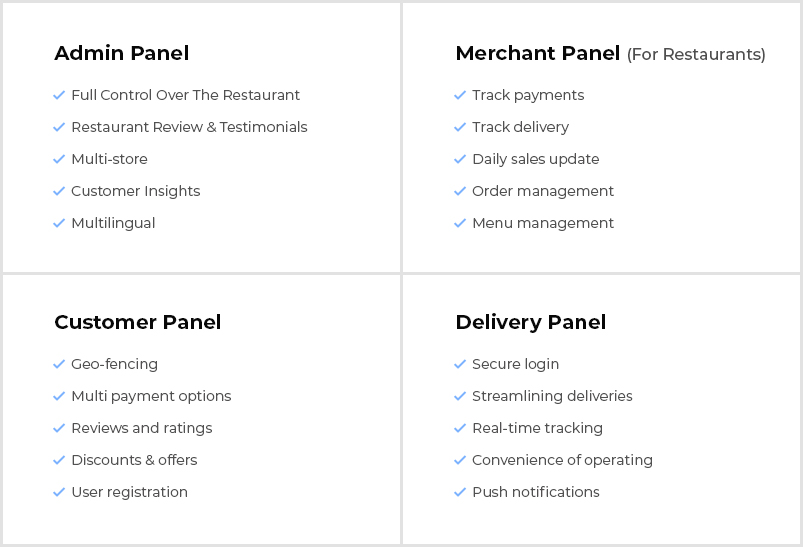 Key Questions To Ask Your White Label Service Provider
The industry is brimming with companies that provide white label multi restaurant delivery software to launch an online food ordering and delivery website and mobile application. Before proceeding with purchasing a white label solution, entrepreneurs must focus on performing an in-depth market study of the available options. Initially, this can be achieved by participating in online forums, reading customer reviews and ratings, and becoming a community member. Next, it is essential for entrepreneurs to critically evaluate the company's policies, price quotes, and the services being offered. Some of the key questions to ask your white label service provider are stated below:   
Choosing the right white label solution
Simply selecting an online food delivery solution isn't enough. The white label solution that you choose should be compliant with your business requirements and enable exceptional scalability. 
Questions to ask:
Is the white label solution compliant with the critical security needs of the food ordering and delivery industry?

What is the frequency of upgrades for bugs fixing?

Will the white label solution provide data migration services?
For unhindered business operations, it is important that the white label solution that you choose guarantees instant support and assistance. 
Questions to ask:
Will a demo be provided?

Which software tests are performed before launch?

Does the service provider guarantee data recovery support & assistance in case of hardware failure? 

Will any additional services for increasing sales be provided? 
Finally,
Choosing a white label solution can prove to be an ideal choice for starting an online food ordering and delivery business. The solution comes pre-loaded with a variety of benefits such as quick market acceleration, cost-effectiveness, and after development support & assistance. One major advantage of choosing a white label multi restaurant delivery software to launch a food delivery app is that it can be fully customized according to the needs of the business. Entrepreneurs must critically evaluate all their options and then choose the most viable solution.  
Launch a Robust Food Delivery App with FATbit's White Label Solution