Fashion purchases are no longer only influenced by advertisements. Social media is influencing how fashionistas buy and recommend clothes, accessories, shoes, and everything stylish. Indian style divas were earlier using Facebook and other image driven channels but this is not the case any longer. In the current market dynamics there is a huge demand for a fashion-driven social network that young women and celebrities can use to share their unique sense of style.
For entrepreneurs planning to start a social media driven fashion venture, FATbit Technologies is sharing the best features below. Read and learn about:
Business and revenue model
Necessary website features
Design & feature recommendations
Let's dig in the details of business model and revenue generation first.
Business model of fashion driven social network
A fashion driven social network uses technology to recommend relevant items to website users as per their taste and preferences. Collective social behavior and social signals are also crucial part of fashion search engine based website. Hence, it would not be wrong to call it a product discovery and recommendations engine.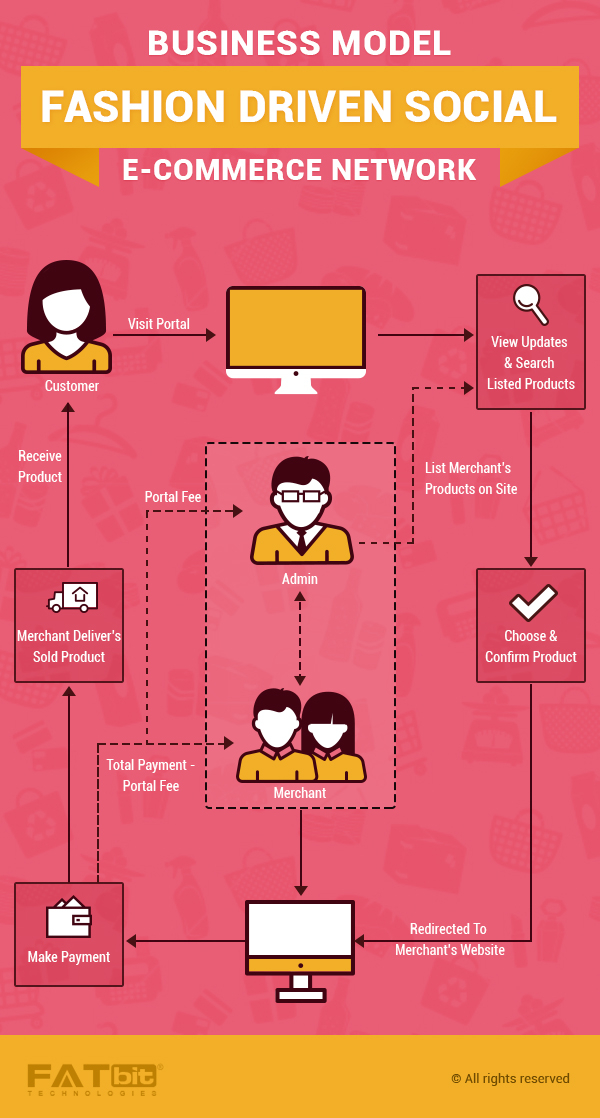 The users can:
Browse products through categories
Follow others and interact through posts
And of course make purchases
Revenue generation and competitors
A search network for fashion fraternity can use the power of affiliate marketing to generate profits. This means products are listed on the platform but final transaction takes place at seller's site. This also means the brand doesn't bother with shipping and logistics. All it does is send relevant traffic and get a cut.
Quite simple, right?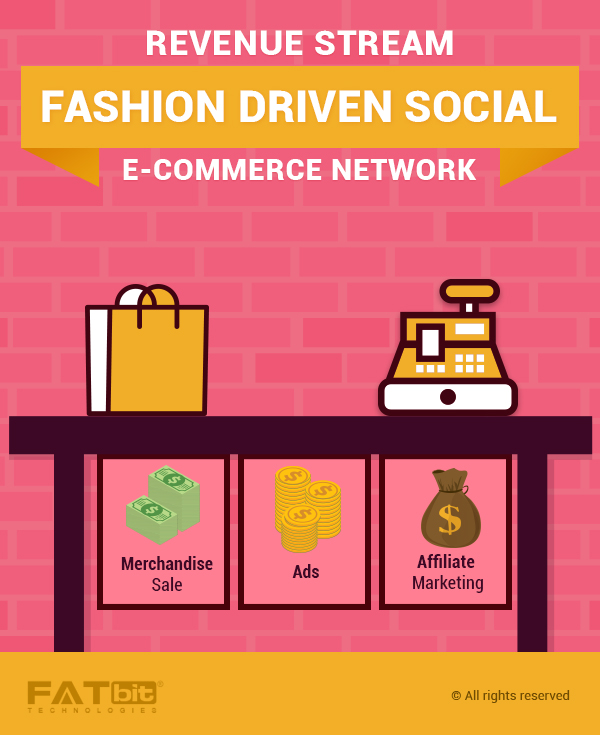 The trick as you must have figured out by now is to generate and divert right traffic. You could also use an alternative by creating social storefronts for SMEs. It can also use per transaction and subscription model to generate revenue. Other monetization options open for such websites are:
Designers in spotlight
Exclusive collections
That's enough of money making. Let's see what website features and areas you need to focus on to come up with a cutting-edge clone!
Also Read: How to Increase Sales Of A Business Using Social Media Marketing?
Main websites in this category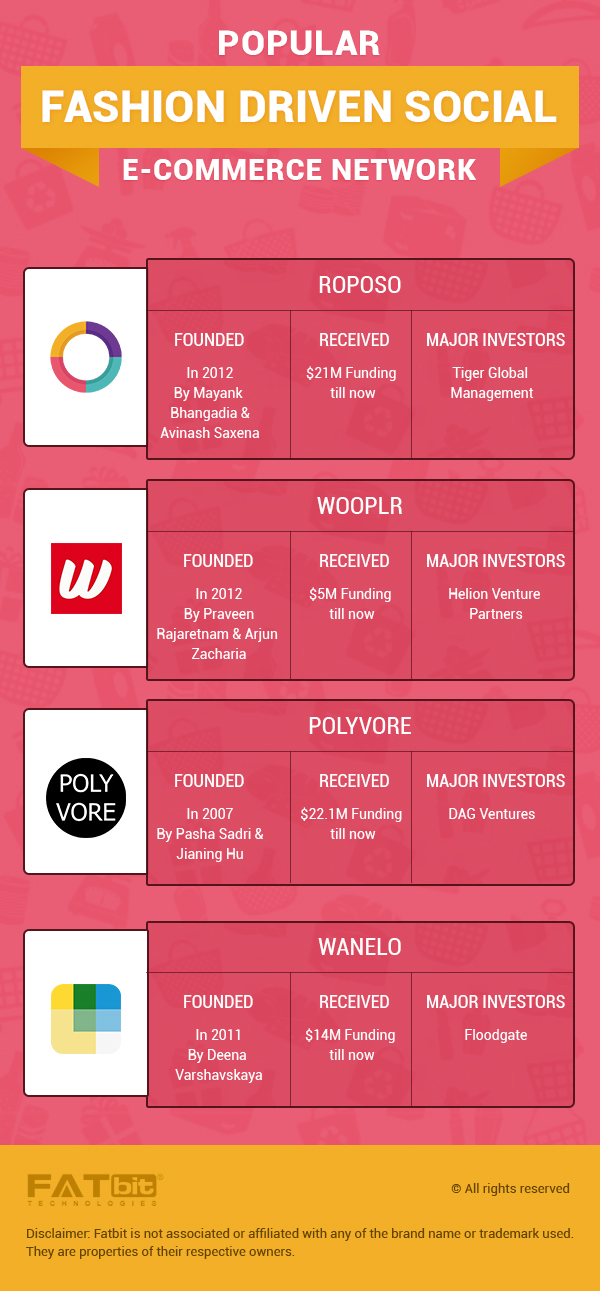 Necessary website features and attractions
The social fashion platform is driven by girl power, which apparently forms majority of its user base. Celebrities are popular users of such websites. Besides that, designers, hair stylists, makeup artists, and fashion bloggers can also use it to share stories, fashion ideas and engage followers. Time for a sneak peek, starting with homepage!
Distinctive homepage
Most ecommerce driven websites carry homepages that have a plain navigation bar, discount offers, product collections, and big images. However, FATbit analysts recommend a completely unique view of the homepage.
Categories – This section acts like the main navigation bar. Besides regular categories like bags, and shoes, there can be specific categories like Boyfriend Steals, Contemporary Mix, and Office Formals.
Feed – This section is the social quotient of recommendation engine. The feed updates every few seconds and brings stories created by members. The posts carry Like, Share, Comments, and also recommended products.
Besides the above said two dominating sections, the homepage can also have other crucial elements like:
Login
Menu button
Create a story button
At the top of the window can be Search functionality, followed by other similar product categories. The platform can use product images to show off its collection and compliment them with price and Likes. In addition to that, there should be powerful filters on the window namely:
Popular
New
On Sale
Filtering results as per price (high to low and low to high)
Advanced filter as per price, vendor, brand, color
Let's make one thing clear before moving ahead. Just get a clone script that is flexible, and you can have any type of design.
Product page
The major elements of this page are:
Product images
Price and product details
Similar products
Products in same price range and color
Action buttons
Like, Comment and Share options
It is noteworthy that the platform must have space available only for most important elements. Additionally, there should not be any lengthy product descriptions.
Story page
Just like Products, Stories posted by site users also get a dedicated page and pop out from the feed when interacted with. Like most pages, it can also carry the Like, Share, Comment, and Recommendations feature.
As the main users include celebrities, they can get approved profiles just like Twitter. A fashion driven platform can greatly benefit from such high profile users.
Get unique website for your online startup
Consult experts
Search functionality
The platform must evolve a unique search functionality, which segregates results under various categories and still manages to show them in a neat manner. These categories involve:
Everything
Collections
Hashtags
People
Stories
Lists
Products
The interesting thing is that these categories need not always remain the same. They are search query specific.

NOTE –There is a rare chance such features will come with a clone script. If you really need them, hire a design and development firm.
Signup and sign-in functionality
Gathering registered users is crucial for every ecommerce powered platform. That's why the signup process is crucial. The platform should go for a sign up option that focuses heavily on social media. For people who are unwilling to sign up with Facebook and Google, it can offer a simple signup using email.
The sign in functionality should be equally trouble free and go with email and social option.
Create story functionality
Stories published by users introduce audience to new clothing, styles and ideas. They are central to website's engagement quotient. Hence, the website should have a very simple process to publish a story. The functionality contains fields like:
Add a title
Description
Upload a picture
Reset and publish
User Profile
User profiles can appear small but content should be organized effectively. It gives the option to share:
Name
Twitter handle
Blog
Image
The activities can be organized under different tags, namely:
Stories
Activities
Likes
Discounts
Unlike others, this section should be highly UX focused and intuitive. Your fashion social network clone should definitely be inspired from this section.
Also Read: Achieve Higher Conversion Rate with These 11 Website Design Practices
Advanced filters
We touched lightly on the filters in the product search functionality but they obviously deserve a special mention. Besides brand, vendor and price, these filters give shoppers the power to run searches on the basis of color. This is something unique and critical in helping shoppers locate exactly what they want.
Make sure your fashion driven social network clone comes with powerful product filters and search option.
Dynamic menu
Menus usually carry links to other critical sections andstatic pages. However, your platform can empower its Menu section with more than just links. Open windows are listed under relevant categories for easier management and navigation.
With all the action happening on the same page, Menu dropdown is a medium to resort some order.
Wallet functionality
With a path breaking recommendation engine to discover women centric products you cannot forget to integrate Wallet functionality and link it with credit & review program. While the top banner of the section can show Wallet credits, feed can be divided into:
The platform caters to a growing user base of young women who love to share stories, real images, and reviews. So, there is no end for user generated content and engagement. Amid all the celebrity power and focus on unique features, there is one thing that you need to focus upon, that isusability.
Overdose of uniqueness
Creativity can work wonders but an overdose can leave visitors confused. It obviously takes time to get comfortable with the design and navigation.This is why you need to walk a fine line when it comes to simplicity and uniqueness.
Usability issues
Experimenting with design does not mean you should sacrifice user experience. During our analysis, we found that usability related issues are highly vital for the user base. The bottom line is 'don't mess with user experience while building a fashion driven social network clone'.
Comments functionality
For a highly engaged audience you need to have smarter comment functionality. Story creators should have the power to reply to specific people directly or through mentions.
Dedicated blog
Though every Story created by fashionistas is unique,the website can clearly benefit from a dedicated blog. It can be used to share tips, ideas, and other insightful posts with its user base. It can also be used to feature Viral Stories of the Week contributed by young ladies.
Final thoughts on fashion search engine
While Roposo has raised around $21 million since 2012, its competitor Wooplr too has bagged $5 million. This means that businesses committed to simplifying product discovery and buying have bright future. Thinking of launching fashion focused search platform for women or men?
There are two options in front of you:
Unearth the best clone script to build your portal
Hire a dedicated team to build an advanced website
Still have any queries about building fashion driven social network? Get in touch with our UX designers and pro developers to share your questions and get straight answers.