How French tech success could define the future of e-commerce
For years, the idea of immersing yourself in a realistic 'virtual reality' environment was the realm of science fiction: a tantalizing prospect referred to in films like Tron or The Matrix, but always just out of reach.
Fast forward to 2016, however, and virtual reality is plain reality. The technology that Deloitte's TMT researchers are already calling a "billion dollar niche" has started a virtual arms race, with corporations like Facebook and HTC staking billions on the potential of these bulky headsets. The earliest software for these devices has been used for video games and extensions of existing platforms like Netflix, but analysts are predicting that VR will spread to many routine aspects of daily life within the next two to three years.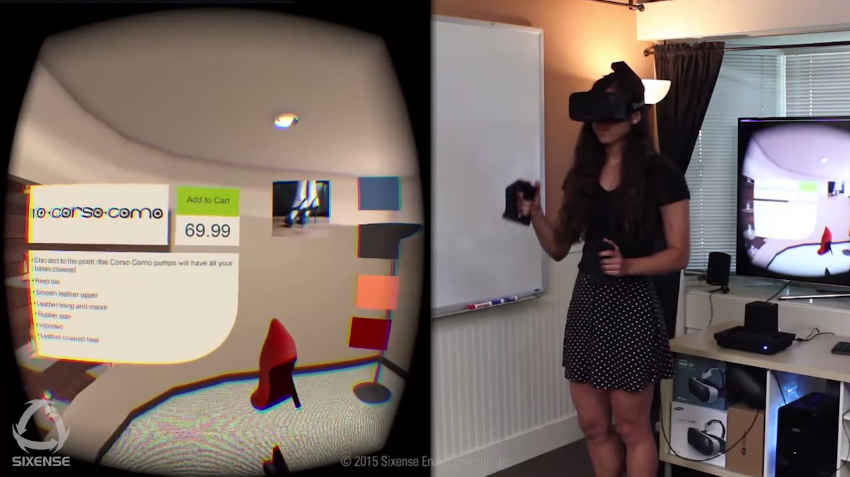 Shopping in vRetail, a v-commerce environment for the Oculus Rift headset (Source: Sixense Youtube)
One of the most promising areas from a business standpoint could be v-commerce. Once synonymous with 'e-commerce', the term v-commerce has been reappropriated for virtual reality shopping. With VR entering the public consciousness over the last year, this is not as alien a concept as it might seem. More than a third of people surveyed for 2015's Reinventing Retail Report indicated that they would purchase more if given the option to shop in virtual reality, and nearly two thirds anticipate VR impacting their shopping experience in the near future.
For both customers and business owners, v-commerce offers numerous potential benefits over e-commerce. While nothing will ever quite replace the physical shopping experience, browsing a real 3D environment eliminates some of the issues with online shopping. Customers can see the item for themselves before they buy it, increasing trust in the quality of the product and helping to ascertain features like size and colour. The speed and simplicity of e-commerce is not likely to disappear either, but v-commerce looks set to compliment existing shopping services. For the uninitiated, the VR landscape can seem intimidating and gimmicky. It wasn't so long ago that 3D was proclaimed as the new revolution in consumer technology. But for the right business, VR already offers considerable potential, both as a marketing tool and a way to enhance your interaction with customers.
Why is France a good place to start a tech business?
With a long history of engineering and a recent focus on building a digital economy, France is already a haven for VR companies. Paris alone is home to over 4000 tech startups as of January 2015, offering some 100,000 sq/m of co-working spaces to foster co-operation and the sharing of ideas. With thirteen other city districts officially accredited as tech hubs, and successful startups such as Giroptic and Mimesys alongside large companies like Kolor and Ubisoft, here's why France is becoming the place to be when considering the application of VR to your business:
It has the most startups of any kind in Europe, with an average set-up time of 4.5 days
It has more than 50 private 'accelerator programs' in Paris & other tech hubs
A €6.5 billion funding pot for startups over the next three years (Bpifrance SA, 2016)
Tax exemptions up to a certain threshold for certified Young Innovative Enterprises
A "French Tech" grant of up to €30,000 and a 200m Euro state accelerator program
Source: Business France
In this wild west of software development, no concept is too outlandish. Backed by a Belgian startup fund, Mimesys promises to replicate real human conversation as a virtual hologram, opening the door to a new world of teleconferencing. And in the world of entertainment, Parisian company ePawn, who Kickstarted their idea for a digital board game with real life pieces, was recently acquired by major Swedish video game studio Starbreeze.
For startups outside of the tech industry, the most interesting example may be Diakse. The self-proclaimed "V-business" has developed a form of what is becoming known as v-commerce – a shopping experience contained entirely in virtual reality. Putting on a headset transports you to a pristine digital showroom, where you can check out and purchase products at your leisure. Competition is starting to flourish, too – popular alternative vRetail is staking a claim to be the industry standard for v-commerce, combining Minority Report style floating menus with a traditional 'bricks and mortar' shopping experience.
France's VR startup successes
The current crop of innovative French startups who are leading the VR scene are:
Photonomie – this Parisian company's app enables the recording of 360-degree video from a standard smartphone
Gyroptic – this Lille based business crowdfunded $1.5m and raised a further $3m in investment to make their popular 360-degree camera
Mimesys – a tiny team with big promises including full-size holographic versions of real conservations, Star Trek style. Forget Skype – say hello to virtual reality teleconferencing
ePawn – a Parisian 'toys to life' company built on the success of Activision's Skylanders and Disney's Infinity. They crowdfunded their digital board games with real life pieces. Recently acquired by Swedish video game studio Starbreeze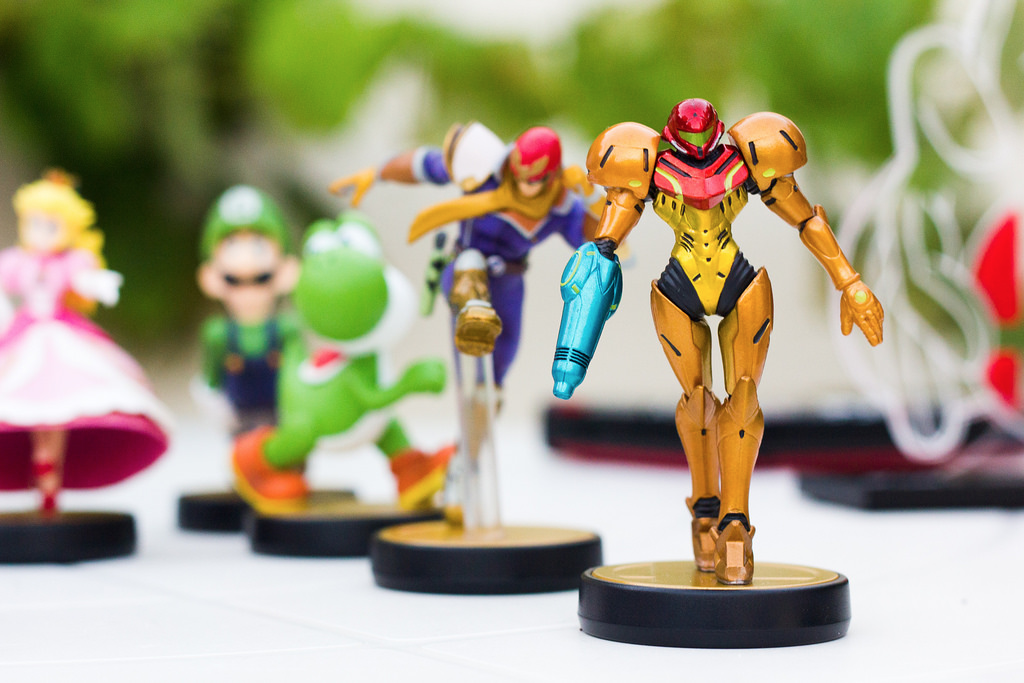 Nintendo's popular Amiibo toys allow physical products to interact with virtual worlds
(Source: https://www.flickr.com/photos/farusantos/16099341577/in/photostream)
It should come as no surprise that the latest app on the production line is another French offering. Startup Fitle offers a virtual changing room experience, with a unique avatar allowing you to try real clothes on for size using a digital representation of your body. The idea has proved so popular that Fitle has already struck deals with French and Swiss outlets, and has sought business partners with a view to hitting German stores by September.
While this may seem like a tempting avenue, there are also drawbacks to remote v-commerce. At this early juncture, premium VR headsets are still decidedly niche, requiring a powerful home computer and thereby a considerable sum of money to purchase. Mobile phone VR options are cheaper, but still have a limited install base, and offer a lower quality experience. This is not only a limiting factor in scope, but also for your target audience.For tech companies and high end brands, a captive audience of big-spenders and tech influencers could be considered a positive, but broadly, remote v-commerce might be a future consideration.
More practical is the prospect of using virtual reality in-store to compliment the shopping experience. Boutiques in New York have begun to experiment with an offshoot of virtual reality called 'augmented reality', a technology exemplified by the short-lived Google Glasses. Augmented reality, or AR, uses digital data overlaid onto real world environments to add real time information and simulated aspects to physical locations. This can take the form of a mirror that simulates you trying on clothes or posing with digital characters, or a phone app that shows the price of an item simply by looking at it through the camera.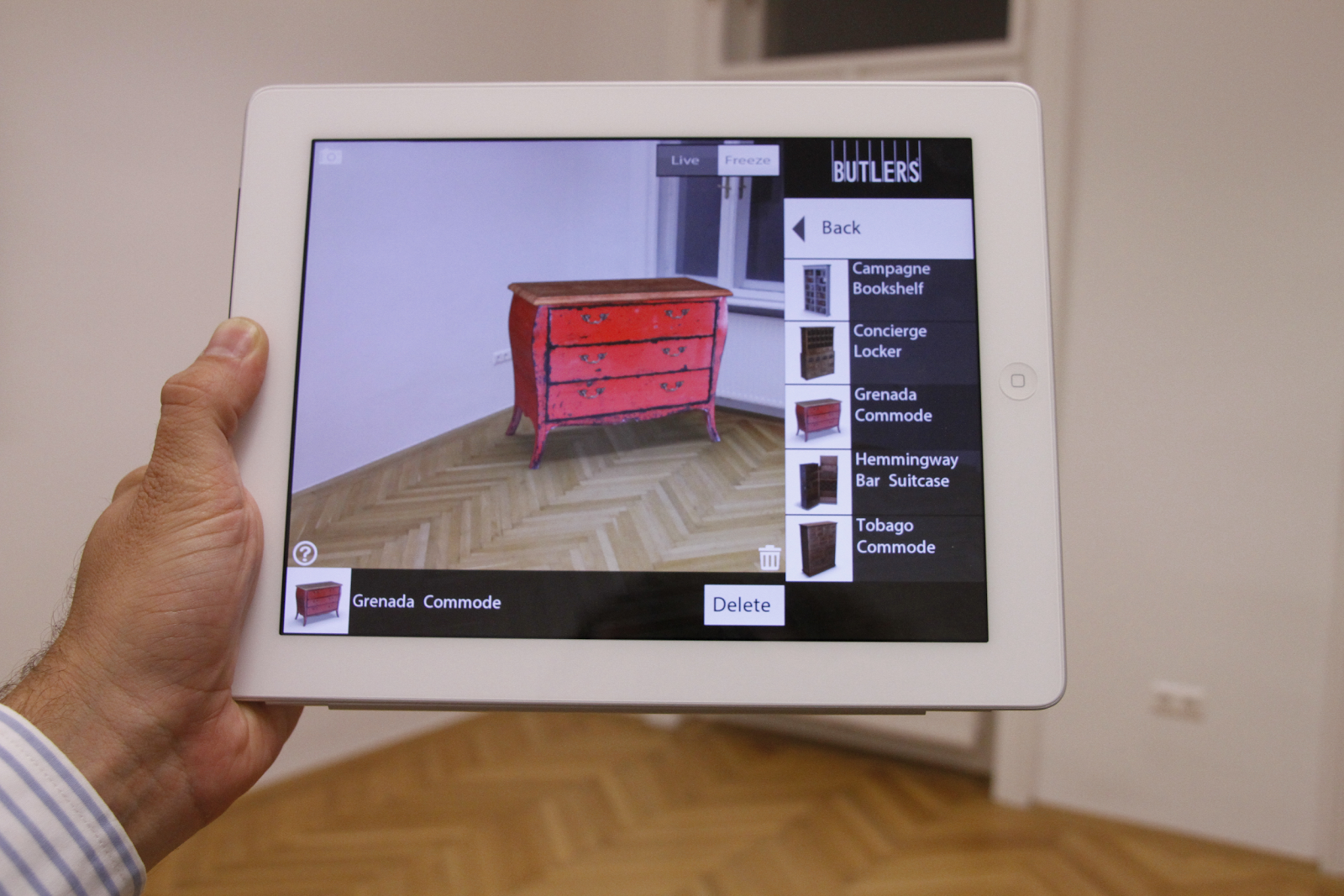 An augmented reality app, showing a dresser 'virtually projected' into the room (Source: Wikipedia)
Both virtual reality and augmented reality are becoming more realistic, mainstream propositions. Budget options such as Google Cardboard for Android devices and Samsung Gear VR are tapping into the massive smartphone market to enable impressive, if technically limited virtual reality. At the other end of the spectrum, HTC's Vive is enabling unparalleled sensory experiences occupying a whole room's worth of digital space. Three years after the Kickstarter success of the now Facebook owned Oculus Rift, VR is beginning to capitalise on its potential.
With a possible audience of hundreds of millions of mobile phone users, and software developers still eagerly experimenting with the platform, the virtual reality landscape is awash with ideas, experimentation and promise. There are risks involved in this nascent and fragmented medium, but for the bold and forward thinking business, this could be the perfect time to brave the fourth dimension.