The growing popularity of eLearning platforms is one of the brightest instances of digitized learning. According to a report by Allied Market Research, the global eLearning market is expected to reach $840.11 Billion by 2030, registering a CAGR of 17.5% from 2021 to 2030. In this article, we discuss the 5 steps of starting an online tutoring business in detail, but first, let us give a brief overview of online tutoring.   
Overview of Online Tutoring 
Online tutoring is a process of teaching students/learners virtually through a webcam. The tutoring can vary from one-to-one to group sessions. Additionally, the teachers and students can connect with each other from geographically diverse locations. 
Why Do You Need to Start an Online Tutoring Business?
Flexibility –

 Having an online tutoring business gives you the flexibility to start your business from anywhere in the world. You do not have to tackle operational issues, such as renting classrooms, paying bills, providing facilities to teachers, and more. 
Scaling Business Geography –

Every business faces the urge to scale at some point. However, if you choose to create a tutoring website, rather than scaling, you go global from the beginning. By having your online tutoring business, you can work with both tutors and students from across the world, providing them all with the desired flexibility.
Analytics and Reporting –

As already mentioned above, by adopting an online tutoring platform, you can spare yourself the operational headache. You can also automate the payments and get in-depth insights into all your business processes through analytics. For example, you can learn how much time individuals spend on your platform, how many have subscribed, which course is popular, and so on.
Branding –

A well-designed online tutoring website can contribute to brand awareness in the market with brand colors, design patterns, tone of voice, and so on. This, in turn, will allow you to develop your brand even further. 
Withstanding Covid-19 Impact –

When the pandemic first started, social distancing was of the essence. Several businesses struggled to pay the rent as they had no customers. With an online tutoring website, you will be able to mitigate such issues.



Start Your Online Tutoring Business with an Expert's Opinion
The 5 Steps to Start an Online Tutoring Business

1. Identifying Your Online Tutoring Market Niche
The tutoring industry is growing exponentially in the wake of Covid-19. Therefore, before starting an online tutoring business, it is crucial to determine your market niche. But how do you do that? You need to identify tutoring segments where demand exceeds supply. Excess demand will aid in establishing your tutoring business online and will set you on the path to higher profit margins. That said, some of the on-demand online tutoring services are as follows:
Young learners who cannot attend school 

Learners with proven difficulty in STEM (Science, Technology, Engineering, and Mathematics)

Learners who wish to improve their grades 

Individuals with dyslexia 

Individuals who need to prepare for exams, job interviews, and special tests 

By defining your niche, you will have a clear vision and understanding of the audience you are targeting. And, once established, you can also expand into adjacent markets.
2. Conducting Market Analysis and Competitor Research 
By analyzing the market, you can choose which part of it you want to focus on. For example, who will be interested in your tutoring business? You can start with the basic demographics like: 
And, then examine other factors that define your target market. While you validate your idea through market research, it is pivotal to analyze the competitors and market leaders, their USPs, customer segments, and their motivation. A few of the top players in the online tutoring space are showcased in the graphic below: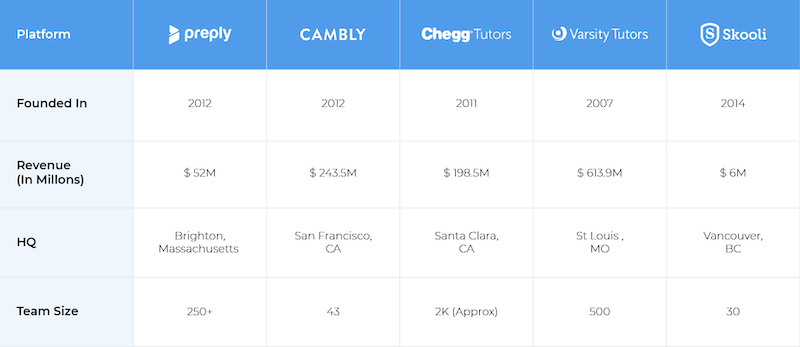 3. Completing Legal Formalities to Run an Online Tutoring Marketplace
Before getting started with running an online tutoring business, it is crucial to complete the legalities associated with it. This includes: 
Naming your online tutoring business; getting it registered. 

Determining what legal structure your business should adopt. This is pivotal for tax and other implications. 

Insuring your online tutoring business. 

Opening a business account in the name of your online tutoring business. 
Note: The most common doubt most tutoring startups have is whether a license is needed or not. The answer is no, a license is not required to run an online tutoring business.
4. Creating the Marketplace
Purchase a domain name that represents your tutoring business and create a supporting marketplace. This will not only be a place to send prospects who want to learn about your tutoring business but will also serve as a portal for supplemental content that your students will need access to.
To ease the process of marketplace creation, you can either opt for a readymade online tutoring solution or choose to develop it from the scratch.
Custom Build Your Online Tutoring Platform
An online tutoring platform is said to be custom-built when it is tailored as per the requirements of the business or the entrepreneur. Such a platform is built from scratch and provides the flexibility of:
Customization
Scalability
Added Security
However, the cost and time of development depend on the complexity of the functionality to be incorporated.
Choose a Readymade Solution to Launch Your Online Tutoring Platform
Choosing a pre-built software like Yo!Coach can aid in launching your online tutoring platform. You just need to buy, install and start using the platform. It is simple to use and offers 12 months of free technical support. A few other factors contributing to the success of online tutoring platforms built from it are:
Yo!Coach is time and cost-efficient
Scalable and Customizable
Secure and GDPR compliant
100% White Label solution
Create Your Own Online Tutoring Platform With Yo!Coach
5. Marketing Your Business
Building an online tutoring platform will not suffice as you will need students and teachers as well. To spread awareness, you will need to focus on marketing strategies too. Listed below are a few marketing tactics for your newly launched online tutoring business: 
The platform should be SEO friendly

Social media should be used for promotions 

Educational marketing videos should be created 

The platform should be mobile-friendly 

Testimonials should be published on the website 

Digital media advertising should be done. 

Note: You get a basic digital marketing services package free with Yo!Coach GoCustom.
Summary
Online tutoring will continue to remain on an upward trajectory worldwide. And, with the increasing competition, it is essential to choose the right solution to launch a feature-rich online tutoring platform. Hence, Yo!Coach is the solution that can be used to build an online tutoring platform as it comes with an array of features and functionalities.