Last Updated: 31st March, 2022
Bike-taxi services, often seen as an off-shoot of the popular on-demand ride-hailing services, have received an exceptional response in many parts of the world where last mile connectivity still remains a major challenge.
This was evident in the $1.17 billion funding raised by Mobility startups in India across 56 rounds in the first nine months of 2019. The two largest players, Ola and Uber acknowledge this shifting trend, where riders are turning to cheaper and quicker means of travel. As such, we can expect these companies to bank more on bike taxis to shore up the falling ride numbers in recent years.
Due to the uptrend, the bike-taxi business is gaining traction as a lucrative opportunity for startups to start with a new venture and existing taxi businesses to scale and include this service. Read ahead to find the factors fueling this business and the phases in bike-taxi app development.
Table of Contents
What's Fueling The Demand For Bike-taxi Services?
In many developing and highly populated countries, people have been migrating from rural regions to urban cities that offer lucrative employment opportunities. Many of these opportunities lie in the transportation sector, which is dedicated to meet the demand for everyday services. But transportation from nodal points to the final destination remains a major challenge. Following are some of the ways in which Bike Taxis address this problem:
1. Ideal in Traffic Congestion & Rush Hours
We've talked about the growing population of urban cities and one of its most notable consequences is traffic congestion on the roads. To beat the traffic, commuters in countries like Indonesia and Nigeria make use of bike-taxis, which proves to be a convenient and affordable means of travel. Since two-wheelers take less space on the road than cars, they don't contribute to existing traffic congestion woes.
2. Affordable Alternative to Cabs
Bike Taxis or two-wheelers consume far less fuel than cars and as such, they're an affordable way to travel. In India, it's estimated that a bike taxi ride costs around Rs. 60-70, compared to a cab ride which costs Rs. 200 for the same distance. So for the cost & time-conscious rider, the bike-taxis make an obvious choice.
3. Last Mile Connectivity
We know the bike-taxis' effectiveness to zip through the busy, traffic-congested city roads but they are almost tailor-made for the rural stretches and narrow lanes, where the last mile connectivity always remains the biggest issue.
4. Abundant Resources
Most of the south-Asian countries form the base of the bike-taxi market. India is currently the world's largest two-wheeler market with an estimated 2 crore plus vehicles sale in 2018, which translates into 60,000 two-wheelers every day. Bike taxis are the preferred mode of transport in these countries and the success of startups like Ola and Rapido is a clear indication of that fact.
5. Employment Opportunities
In areas where there's a lack of public transport, bike-taxi services help generate employment opportunities and support the livelihood of thousands of people. This eventually contributes to the growth of mobility and builds an inclusive mobility ecosystem.
Top Players in The Bike Taxi Industry
Bike taxi businesses have been around for over a decade now. Initially concentrated mostly in Southeast Asia, they're beginning to acquire new markets in India, Africa & even Latin America. Following is a list of the most notable bike-taxi businesses: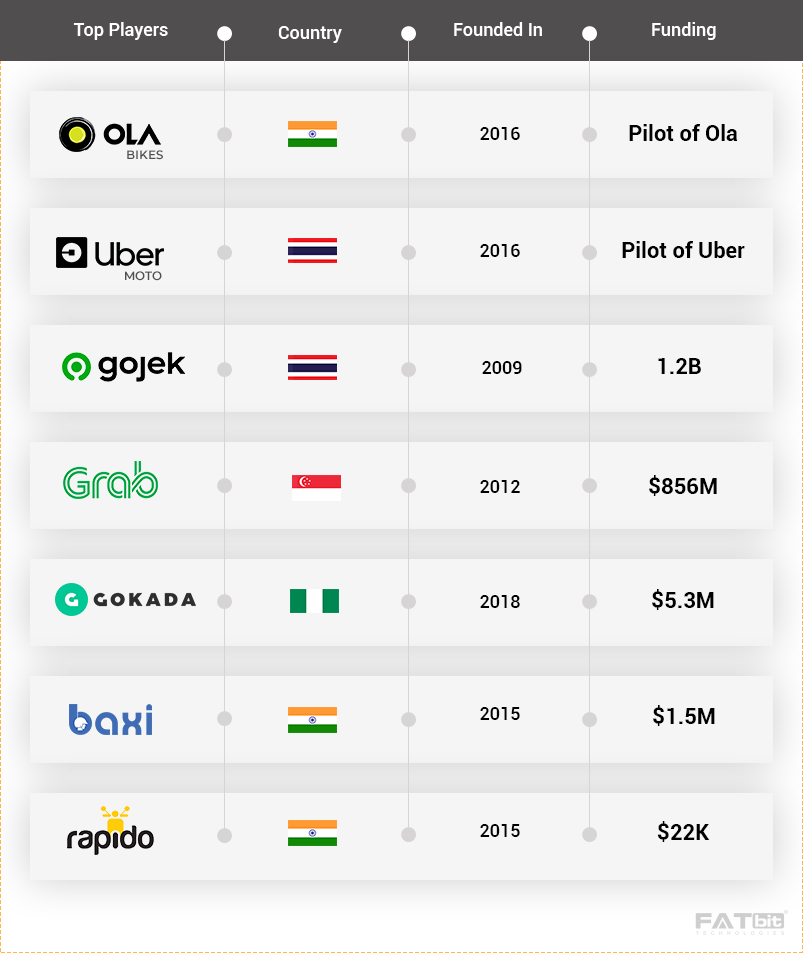 Bike-taxi as a Contemporary Ride-hailing Solution
While the top players are conducting business in the South-East Asian countries, the efficiency of these services to navigate through the traffic, especially in congested cities, presents an opportunity for a flourishing business in countries apart from the above-mentioned ones.
Limobike, a bike-taxi service in London, presents a strong case of the viability of this business in countries other than South-East Asia. The service provides a fast way to navigate through the traffic and reach destinations faster.
Uber-moto has extended its service in cities in Brazil. They too leverage bike-taxi services' capability to wade through traffic congestion in the busy streets of cities like São Paulo.
Bike-taxi services can prove to be a contemporary solution in countries other than the ones they are already operating in.
Phases in Bike-taxi App Development
As evident from the facts stated above, the bike-taxi business can be a lucrative option for startups. Let us delve into the process of bike-taxi app development by analyzing the phases in launching a bike-taxi business. Let's start from the beginning.
Key Considerations Before Starting a Bike-taxi Business
The first step would be to perform a thorough market analysis. A successful bike-taxi business has the potential to churn out millions of every imaginable currency in the world.
The business looks simple on paper – it revolves around conveying passengers across different locations of their choice. It's different from public transport since the pick-up and drop-off locations are selected by the rider. The choice factor is what makes this business model so popular among people.
Before starting a bike-taxi business, it's vital to properly understand and research the industry. The great thing about a bike-taxi business is that it can generate sales effortlessly so long as the vehicles are well equipped to carry out their services. But this knowledge alone isn't enough; it has to be backed by key insights for maximum output. Following are some of the ways in which you can give your bike-taxi business the perfect start to become successful:
1. SWOT Analysis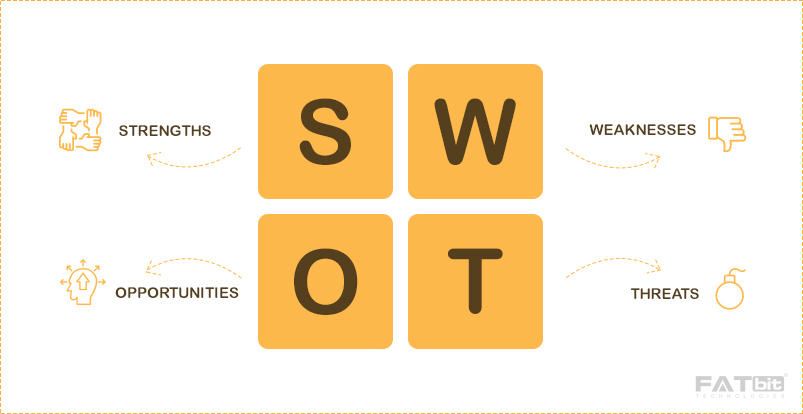 Strength, Weakness, Opportunities, Threat (SWOT) analysis is a perfect way to kickstart your business planning.
Strength
When entering any market, you have to know the core strength that you will be counting on from time to time to tackle new challenges or establish your identity. In a bike-taxi market, it could be your innovative mindset or simply the location of your business.
Weakness 
It's better to know from the outset what might be the drawback of your service. For most startups, effecting change remains the biggest challenge. For instance, in your area, people might be overly reluctant to switch to bike-taxis. Another weakness could be a lack of trust and confidence if you're new to the scene. Whatever the challenge might be, look for innovative ways to find solutions and move to the next step.
Opportunities
You might have seen an idea blast its way to success in a foreign market. Now you're confident that with little tweaks and adjustments it can be successfully applied in your target market. In a bike-taxi market, much like any other sphere of business, it's better to act quickly before you lose the first-mover advantage to an unknown competitor.
Threat
It's crucial to take stock of the unfavorable government policies, economic downturn, and the competitive business scenario. Threats are inherent in any business activity but that shouldn't deter you from creating more opportunities for your success and popularity.
2. Analyzing Market Trends
Understanding market trends is crucial to successfully launch your bike-taxi business. For instance, currently, we're seeing the taxi industry grappling to regulate ridesharing services. But sound business knowledge would suggest that's a bad idea since more competition leads to deregulation.
The way prices are calculated is also quite important. At present riders input their current location and destination to receive a customized fare, which takes into account the profitability derived from long distances (discounted prices for longer trips).
Finally, it should be quite clear that people enjoy their smartphones and if you can't offer them convenience, then you may well lose their goodwill. Uber is a perfect example of how to win customer trust through innovation, flawless execution, and rapid response.
3. Determining the Target market
Identifying who your target audience is and then proving the various benefits your service offerings would bring to them is vital to establish a successful business. You may find that in your target market, most families own cars; but your job would be to explain why cars may not always fulfill the mobility needs of every family member all at the same time. It may also be a good idea to distribute questionnaires to find out how many adults and teenagers with cars in their houses have actually boarded taxis in their lifetime to get from one place to another. Furthermore, it's better to categorize the target audience across the following profiles:
Households
Tourists
Students
Commuters
Once market analysis has been conducted, you will have the data to proceed with the next step in bike-taxi app development. An outline of key features necessary in the app can be drawn. Some popular features are mentioned below, that can assist this process.
Key Features to be Considered in Bike Taxi App Development
Bike taxi apps work much like their forerunners i.e. taxi booking apps. Everything is geared towards helping the rider get an affordable and convenient experience at the tap of a button using the mobile app. To make that possible following features can be considered during the bike-taxi app development.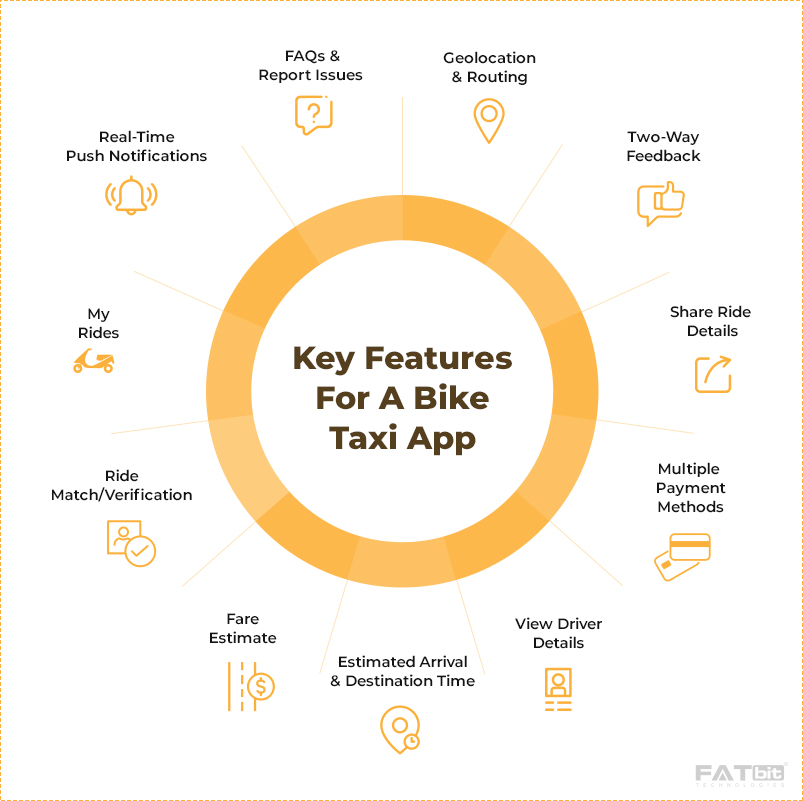 1. Geolocation & Routing
Geolocation is the basis to operate all on-demand ride-booking services. It works exactly the same way in bike-taxi apps as it does in the taxi-booking apps. The riders turn on the GPS on their smartphones and enter their destination. The app finds the nearby drivers, after which the rider can book a ride.
2. Two-way Feedback
Both the rider and driver should be allowed to share each other's feedback. This is vital to maintain a safe platform, gather crucial user insights, and understand users' pain points.
3. Share Ride Details
Ride details sharing is seen as a standard feature in all on-demand bike taxi apps. Using this feature, the riders can share their ride details with friends and family. The details are usually shared via many of the IM apps already installed on the user's smartphone.
4. Multiple Payment Methods
Along with cash payments, a bike-taxi app should offer online payment options using internet banking, debit/credit cards, or e-wallets. Since these payment methods transmit vast amounts of financial data, they should meet the PCI compliance guidelines.
5. View Driver Details
For safety purposes, the rider should be able to view the basic information such as name, address, photo, driving license, and details of the motorbike. This proves useful to perform an identity-check, driving experience, and also to have some background information about the driver so as he/she doesn't strike as an altogether total stranger at the start of the ride.
6. Estimated Arrival & Destination Time
Thanks to the GPS technology, it's now possible to get minute details about someone's exact location, and based on the traffic conditions they're in, how long it will take them to reach a certain point. This has been a highly popular feature in taxi-booking apps. Usually, riders require an estimated arrival time before booking a ride, so they can be sure of how long they'll have to wait before their driver arrives. The 'reach destination' time proves useful to know beforehand, how long the ride would take to reach the destination. Since if the time estimate is unfavorable to the rider, he/she may decide against booking a ride.
7. Fare Estimate
Very similar to the estimated arrival time, riders like to know the approximate fare before booking a ride. The fare is usually calculated using a different set of algorithms that take a lot of factors such as locality, distance, timing into consideration. Prices can also go up during peak hours when there's a sudden increase in demand for bike-taxis.
8. Ride Match/Verification
Ride match or verification acts as an additional safety check for both the rider and the driver before starting a ride. After booking a ride, both rider and driver receive an OTP on their apps. Once the driver reaches the rider's location, both are required to verify the ride using that same OTP.
9. My Rides
My ride feature is useful for drives to keep tabs on all their completed and upcoming rides. They can quickly browse through their past rides to gain insights about their earnings and ride experience. The upcoming rides menu can help them plan their schedule effectively.
10. Real-time Push Notifications
To keep the rider updated about the whole process, bike-taxi apps send out real-time push notifications at every major event. Major ride notifications include booking confirmation, driver's name, vehicle & estimated arrival update, driver's actual arrival update, and ride completion update, and so on.
11. FAQs & Report Issues
A dedicated FAQ section for most common queries related to the bike-taxi service is provided within the app. This answers most of the concerns/issues that users might have related to the service without the assistance of help & support staff. In case the users have to report something, they can be directed to a Report Issues screen to describe their concerns in detail and submit them for a review.
Bike Taxi App Development – The Process
Once, the planning stage provides a draft of what the bike-taxi app would be like, the next step would be to identify the development process. While there is more than one way to approach app development, Agile development has gained traction for some time as a preferred development practice. 
Agile follows iterative and incremental development, prioritizing a constant feedback loop bringing multiple benefits to the table. Some of these are listed below: 
Dynamism and Versatility:

Each iteration is a milestone, making navigating the complexities in bike-taxi app development easier. 

 

Faster and Cost-effective:

With the sight of clear priorities and agility in the development process, Agile helps filter the essentials from the redundant. Sprints further, fasten the process.  

Option to Pivot:

Each iteration within the development process provides the option to pivot. 

Collaboration and Transparency

further facilitate robust development and encourage innovation by maximizing individual capabilities. 
Considering the distinct advantages, Agile development can power your project with a competitive advantage towards accomplishing the identified objectives from the planning stage. 
Timing the Launch
"The goal of every startup is to discover how to build a sustainable vision around that vision" – Eric Ries, author of The Lean Startup. 
The benefits of Agile development extend beyond just developing the bike-taxi app and can help you time the launch of the business with a well-planned strategy. 
One can consider launching a minimum viable product or MVP version of the app. Iterative development will help in launching the business with minimum requisite features and test the waters. 
The business has the capability to pivot 一  if required. This gives greater control over timing the launch. 
Introducing the product that fits customer requirements and at the right time to tap the market opportunity, will help in gaining early market traction.
Get a Price Estimate for your Bike-taxi App
Wrap Up
Bike taxi apps have a huge potential in the on-demand mobility services, particularly in the densely populated regions around the world such as Asia and Africa. The fact that these countries already have enormous two-wheeler markets and a population highly attuned to the ways of traveling on such vehicles makes them ideal for business undertakings.
If you're planning to launch a bike-taxi startup, FATbit experts can provide the necessary technical guidance and further help build a custom bike-taxi app for your business.