Last Updated: April 20, 2023
In the past decade, various economically viable rental models emerged in global industries, inducing a change in the traditional product ownership behavior. With consumers now grown to trust these rental businesses, the scope for entrepreneurship in the rental or sharing economy is more than ever. To put it statistically, the equipment rental industry alone was valued at $187.46 billion in 2022 and is expected to grow at a compound annual growth rate of 6.12% in the next seven years. Not to mention, businesses in the sharing economy are also estimated to witness a growth of 2133% in the next 12 years.
To put in context, United Rentals, Herc Rentals, Cort, Nuuly and Rent The Runway are some rental businesses that are leading the rental economy with their unique rental models. But what they all have in common is the online approach required in today's digitally enabled world.
To bring your offline rental business online, using a rental website builder is a more advanced method than the traditional custom development approach. In this blog, we will help you understand how you can build a rental website and launch your online rental store with both custom development and online rental store software. But before that, we need to take a look at the rental business model, revenue streams and top businesses.
Table of Contents
Business Model of an Online Rental Store
On a single vendor rental website, there are two key entities facilitating the rental operations. These entities are:
In more technical terms, we can address the business owner as the admin who will be managing the entire rental platform, including product listings, setting up web pages, payment methods and more. Once, all the prerequisites are set up, the customer would be able to place a rental order in the following workflow:
The customer browses the listings on the store

After selecting a product, the customer selects the rental dates to place an order

After selecting the dates, the website takes the customer to a payment portal

Through this payment portal, the customer makes  the rental payment  to the admin, which includes rental security

The admin dispatches/delivers the product via the selected delivery method

On return, the admin inspects the product for any damages and deducts reimbursement from the customer's rental security, in case damage is found.

In case of no damages, the entire rental security is refunded to the customer in full
Note that the aforementioned workflow is only for representational purposes, the actual business model and workflow can differ from business to business.
Revenue Model of an Online Rental Store
Being an eCommerce website, an online rental store comes with several revenue generation channels. All these channels are easy to set up and help the business owner earn more (in readymade rental ecommerce solutions, many of these revenue channels are already set up or pre-integrated.
Increase your Revenue Channels with Yo!Rent Rental store software
Top Online Rental Businesses in 2023
Below are some renowned players in the online rental industry. They serve different niches and have proven the viability of the online rental business models in their respective niches:
| | | | |
| --- | --- | --- | --- |
| Name | Country | Founded In | Rental Niche |
| United Rentals | USA | 1997 | Heavy Equipment Rental |
| Ashtead Group | UK | 1947 | Heavy Equipment Rental |
| Momondo | Denmark | 2006 | Car Rental |
| Thrifty Car Rental | USA | 1958 | Car Rental |
| Budget Truck Rental | USA | 1998 | Truck Rental |
| Junkit | Canada | 2002 | Dumpster Rental |
| Renta.no | Norway | 2002 | Heavy Equipment Rental |
| LensPimp | UK | 2014 | Camera Rental |
| Ocean Premium | France | 2010 | Watersports Rental |
| Sailo | USA | 2014 | Boat Rental |
| Packlist | Canada | – | Outdoor Gear Rental |
| DrexCode | Italy | 2014 | Dress Rental |
| Rent The Runway | USA | 2009 | Dress Rental |
| Cort | USA | 1972 | Furniture Rental |
Key Features of A Single Vendor Rental Website
Regular eCommerce sites and rental websites share different business models. For this reason, the features present on an eCommerce store are not enough to cater various key processes of a standard rental business. To support those operations, make sure to ask for the following rent-centric features while building your rental website:
1. Advanced Booking Calendar
Customers need to select their rental dates on the basis of which their invoice is generated on a rental website. To support this operation, rental websites need an advanced booking calendar functionality, with the help of which, customers can easily set their rental dates and also check the availability of the product for the selected dates.
2. Renting And Selling
Rental businesses can also generate revenue by selling their equipment at a genuine rate. The selling option comes in handy when the business owner has plans to clear the stock or simply serve a specific customer demand for product purchase. Another use case for the selling feature on an online rental store is when a product completes its lifecycle and cannot be rented out anymore because of wear and tear from previous bookings. In such a situation, rental businesses opt to sell all such equipment. 
3. Smart Recommendation
Smart recommendations assist customers in finding similar products and thus can help your rental business in increasing conversion and upselling. This feature is important on a rental website as the majority of inventory includes re-used or second-hand products. Thus, raising doubts about performance and quality. With the help of smart recommendations, customers can browse similar products and find the one they think is perfect for their job. 
4. Real-time Inventory Management
Keeping tabs on the stock availability is vital to efficiently meet the customer-demands. To facilitate this, single vendor rental websites need a real-time inventory management feature that allows the business owner to view real-time stock details, set product availability and define buffer days for products that have been rented out to different customers.
5. Order Management
Order management features keep track of each and every order placed under one tab. They also come with push notifications to update the admin of any new orders. From the order management module, the admin can check the status of all orders and mark them fulfilled. He can also process return requests and keep tabs on cancelled orders, refunds and transactions.
6. Content Management
With the help of a content management system (CMS), the admin can add new web pages, blogs, and edit existing ones. Advanced CMSs also allow for rearranging content blocks, adding banner images, custom categories, shipping labels, language labels, FAQs and more.
7. Sales and Analytics
To help rental businesses grow with data driven insights, rental websites need sales analytics and data visualization. On the admin dashboard, the business owner should be able to access all data for generated sales, rentals, buyer signups, affiliate signups and product performance. Weekly, monthly and quarterly business performances will also help the rental business owner in preparing business strategies.
8. SEO and Marketing
For business promotions, SEO and marketing features such as meta description editing, slug editing, PPC advertisements, discount coupons and social media sharing button integrations are important.
Approaches to Build a Rental Website
There are two popular approaches to develop an online rental store. These approaches are:
Scratch Development
As the name suggests, this approach requires entrepreneurs to conduct market research and build the store from scratch. 
First, the entrepreneur conducts a market research to find all required features

He/she reaches out to a web development company and prepares a Software Requirements Specification (SRS) sheet, which defines all required features

Both the entrepreneur and the development firm agree upon a time frame and technology

Features logic and UI designing for the rental website takes place. This prepares a basic blueprint for the online rental store

The web development company develops and tests the online store as per the definitions stated in the SRS document

On the entrepreneur's approval, the software or online store is deployed on the entrepreneur's servers
Estimated development time frame: 6 months to 1 year
Payment method: Payment is either done on per project basis or on the hourly development rates.
Reasons to select scratch development: The only logical reason to go for scratch development in 2023 is when you need your online rental store to be developed in a very specific technology that you cannot find in a readymade solution. In all other scenarios, scratch development is not only time consuming but also very costly, particularly for startups and small businesses. 
Readymade Rental Store Software
Readymade rental solutions are developed after conducting a thorough research of the industry and are inclusive of all important features required to operate a rental website. These solutions are different from regular eCommerce solutions and are inclusive of the key features that we discussed above. The process to launch your rental store with a readymade rental store software is as follows:
Conduct a thorough research and handpick some solutions

Check online reviews on authority websites like G2, Capterra, Software Suggest and many more to narrow down your list

Reach out to the sales teams to find out how their solutions can help your business. Get personalized one on one demos if possible

Request for any customizations if required (optional)

Let the company deploy the software on your server (in case of SaaS based solutions, the solution will be deployed on the solution provider's servers)
Estimated development time frame: In case of no customizations, the solution can be immediately deployed on the servers. If some customizations are required then the development plus deployment can take anytime between 2 weeks to 3 months.
Payment method: Fixed recurring payment in case of SaaS solutions and a fixed one-time payment in case of self-hosted solution. 
Reasons to go for readymade solutions: There are many reasons to opt for readymade solutions over scratch development:
Inclusive of a lot of helpful features. Saving your time in research

Faster to deploy and quick customizations

Less costly than scratch development

Assure the development of a quality and reliable rental store

Have proper resources in ca

se if you ever need help
Introducing Yo!Rent
Yo!Rent is a feature-packed rental store software that is developed after thousands of hours into research and development. As a rental website builder, it caters to the needs of online rental businesses and helps them overcome daily rental challenges such as complex pricing, late returns, and managing rental security. With the help of Yo!Rent, entrepreneurs can launch various types of online rental startups and existing businesses can take the digital route to market, connecting with thousands of internet users.
To streamline online rental operations, Yo!Rent comes with an intuitive user interface and enhanced workflows to simplify navigation. In case of startups, Yo!Rent's designs allow businesses to provide a more tailored experience for their niche. Also, by using themes built on color psychology, Yo!Rent ensures the development of most professional looking rental stores and websites.
Some key features of Yo!Rent are:
See How Yo!Rent Can Help you Grow your Business Button
How To Get Started with Yo!Rent?
With Yo!Rent, building an online rental store is quite easy. Following is a 4 steps simple process to get started with Yo!Rent: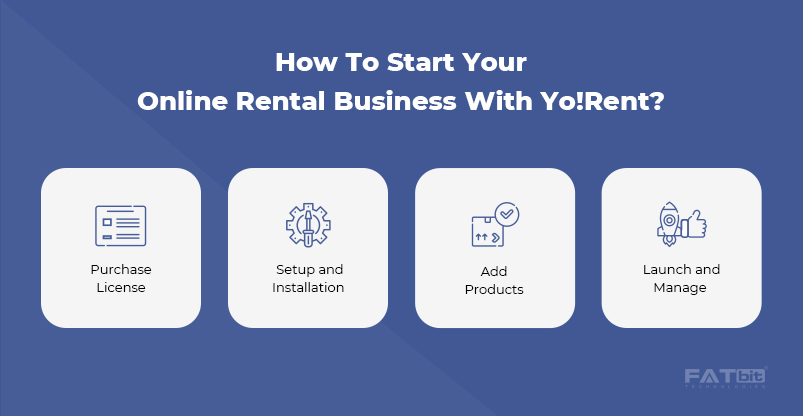 Final Thoughts
The demand for rental across different markets is constantly increasing. Part of that is due to the millennial inclination for a stress-free life that prioritizes demand-based usage and is aware of the maintenance troubles of ownership. Then there is the environmental argument going for rental that it inculcates the value of sharing, which contributes to lower the burden on natural resources and reduces carbon footprints.
On the whole, the rental economy is poised to experience exponential growth in the coming years. Thus, the right time to step in the rental economy is at the earliest. With Yo!Rent readymade online rental store software, entrepreneurs can build their online rental stores and manage business operations at utmost ease. Get in touch with our experts to book a free one-on-one demo session for you today.