FATbit Technologies has responded to what's been a volume of requests from entrepreneurs in the rental economy for a single-vendor platform. FATbit's flagship product, Yo!Rent, will now be catering to businesses with requirements for a single vendor eCommerce rental website. This variant retains the core functionality of Yo!Rent's original multi-vendor platform with its extensive set of features and will offer the same performance and stability associated with all FATbit products. 
With this release, the company will enter a new target market and look to maximize Yo!Rent's untapped potential. Mr. Manish Bhalla, Founder and CEO of FATbit says,
"Yo!Rent introduced us to clients with unique and innovative business ideas from the whole spectrum of the rental industry. As our product matured and we learned more about our target audience, the need for a Yo!Rent single vendor variant became crystal clear to us."
Explore Yo!Rent single vendor here. 
Business Model Of Single Vendor Rental Store
As the name implies, a single vendor rental store only has one vendor offering his/her products to numerous customers. As such, the rental process involves only two parties i.e. vendors, also Admin in this case, and customers, interacting directly with each other. Product listing is managed solely by the vendor. 
Customers select their choice of products and place a rental request by making payment for them. As soon as the vendor receives the money, he/she dispatches the ordered product to the customer's address. A certain security deposit is kept in the admin account, which is released to the customer's source of payment upon a safe product return. 
Revenue Generation Channel
A single vendor rental store offers a couple of revenue generation channels. Primarily, the rental income makes up the maximum share of the revenue.
The other major source of revenue can be Pay Per Click(PPC) advertising. Here, the store owner invites businesses to display their adverts on his/her platform. The store owner then bills the advertiser on every click received on their ad copy. 
Finally, there's affiliate marketing, in which website owners can earn commission by promoting another business' products and services. 
Yo!Rent Single Vendor Features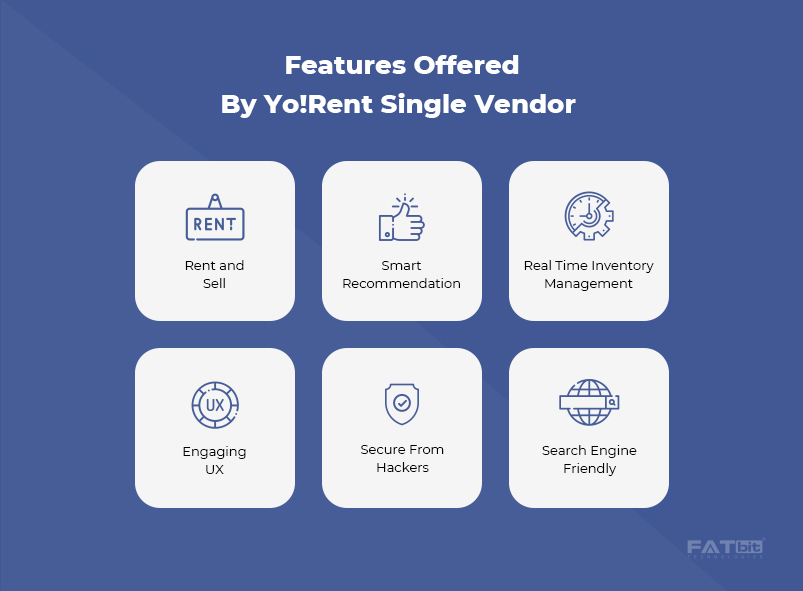 Yo!Rent single vendor offers an impressive suite of features for the easy management of an online rental store. Every feature is developed on the back of comprehensive market analysis to help vendors tackle different use cases with absolute ease and also give them a technological edge in their niche. The key features are as follows: 
1. Renting And Selling
While Yo!Rent is first popular as a rental eCommerce platform, it certainly transcends its scope in terms of its functionality. A simple toggle allows vendors to enable/disable the rent/sell option of different listings. The selling option comes in handy when the vendor might have plans to clear their stock or simply serve a specific customer demand for product purchase. 
2. Smart Recommendation
Smart recommendation is a vital feature in any eCommerce store to increase engagement and conversion. Instead of making it premium, Yo!Rent's single vendor offers it as a standard feature. As well as facilitating product discovery for customers, smart recommendation benefits vendors by generating orders for products that might otherwise go unnoticed. 
3. Real-Time Inventory Management 
Keeping tabs on the stock availability is vital to efficiently meet the customer-demands. To facilitate this, Yo!Rent single vendor offers real-time inventory management feature that allows vendors to view real-time stock details, set product availability and define buffer days for products that have been rented out to different customers. 
4. User Experience 
In Yo!Rent single vendor, the user-experience reflects a deep understanding of online user behavior; how they like to browse, select and place orders for different products. Navigation is further simplified with quick access buttons and search has never been simpler with an array of filter options. The user-experience is perfectly geared to drive ease of use for customers and increased conversions for the rental business. 
5. Search Engine Friendly 
Search engine friendliness plays a key role in improving a website's visibility in the SERPs(Search engine results pages). With that view, Yo!Rent is built as a search engine friendly platform. All the different settings to edit meta tags, descriptions and titles can be easily accessed from the Admin panel.
Access Demo Or Book a Free Personalized Session 
Followed by the release of Yo!Rent Single Vendor, the platform's online demo is now publicly available. Interested prospects can easily access the demo to explore the front end, Admin panel, buyer interface and their various features and functionalities. The demos offer a real glimpse of how the platform works and the various settings available in the system to manage an online rental website. Moreover, there's an option to book a free personalized live demo session with Yo!Rent experts to get a better understanding of the platform. 
Why Choose Yo!Rent?
Yo!Rent is a complete solution to launch a rental eCommerce website. It offers a wide range of features at affordable pricing. The platform is fully customizable, which allows entrepreneurs to build a website that meets their business requirements while reflecting their unique identity. But that's not all. Here are some more benefits offered by Yo!Rent single vendor that easily make it the go-to platform to build an eCommerce rental website. 
Free Technical Support
Yo!Rent comes with a 1-year free technical support for bugs or glitches encountered in the system. 
Free Installation
Unlike some other popular eCommerce platforms, Yo!Rent doesn't request for any separate installation charges; it's absolutely free of cost. 
One Time Cost, Lifetime License
Forget about the hassle of renewing your license every quarter, six months or annually. Once you buy a Yo!Rent license, it's yours for a lifetime. 
Flexi Payment Option
Yo!Rent single vendor comes with a flexi payment option, wherein you can pay partial payment upfront and the rest after 6 months or on milestones basis. 
Full Source Code
Yo!Rent team will share the full source code with you upon the purchase of a license. The source code is customizable, however, your developers will have to familiarize themselves with FATbit's framework before proceeding with any customization. 
Resources Worth Exploring
The team behind Yo!Rent has done a fair amount of industry research across numerous rental niches. Following resources are a culmination of that research:
1. Yo!Rent Multi-Vendor
The predecessor of Yo!Rent single vendor. Yo!Rent multi-vendor is already a leading platform to build online rental marketplaces. Yo!Rent multi-vendor has catered to a wide range of rental niches over the years such as:
–Dress Rental
–Heavy Equipment Rental
–Textbook Rental
–P2P Car Rental
–Gym & Fitness Equipment Rental
–Furniture Rental
2. Case Studies
-Find Rent Wear
 Read how Yo!Rent helped this UK-based fashion entrepreneur set up a clothing rental website. 
-Gearflow
 Read how Yo!Rent helped this US-based startup build an online heavy equipment rental marketplace. 
3. Rental Industry Report 
Learn about the current trends, upcoming niches and future forecasts of the rental industry in this expertly curated industry report. 
4. FAQs
Got more unanswered questions? Head over to the FAQ section that provides additional information related to Yo!Rent's features, pricing, license, source code, and much more. 
How To Get Started?

With Yo!Rent, starting an online rental website is quite easy. The platform is developed through experts' insights and careful analysis of prevailing trends in the rental industry. Following is a 4 steps simple process to get started with Yo!Rent. 
1. Purchase License 
In the initial step, you'd have to get in touch with Yo!Rent experts to discuss your business requirements and the scope of a website you wish to build. Based on that, the experts would provide you a time and cost estimate to get your website ready. To get things started, you'd have to purchase a Yo!Rent license. Purchase can be made through a one-time payment by availing the flexi-payment method. 
2. Setup & Installation 
Yo!Rent single vendor is a self-hosted platform. As such, you'll only require to have a domain name and server space from a hosting service of your choice. A Yo!Rent dedicated expert will coordinate with your technical team to discuss server specifications. Once a pre-installation testing of the system is complete, Yo!Rent can be deployed on the selected server. 
3. Add Products 
With installation complete and configuration settings taken care of, you can start adding listings on your rental website. Yo!Rent's catalog management system comes in really handy to simplify this process. As previously highlighted, products can be listed for both rent/sell. 
4. Launch & Manage 
At last, the rental website is ready for launch. Yo!Rent offers some useful marketing features and social sharing options to spread the word on the internet. All the different platform settings are just a click away in the Admin section. With in-built reports and analytics, owners can keep a close check on the performance and growth of their website. If anything doesn't look right, Yo!Rent support is just a call away to help resolve your issues. 
Find out the cost estimate of your single vendor rental website.
Final Thoughts 
The demand for rental across different markets is constantly increasing. Part of that is due to the millennial inclination for a stress-free life that prioritizes demand-based usage and frowns upon the big costs of ownership. Then there is the environmental argument going for rental that it inculcates the value of sharing, which contributes to lower the burden on natural resources. 
On the whole, the rental economy is poised to experience exponential growth in the coming years. Businesses in the rental industry will have to make sure they have all the tools and technology to serve their target audience in the best way possible. Initially, with Yo!Rent multi-vendor, and now single-vendor platform, FATbit Technologies has sent a clear message that it's ready to help entrepreneurs realize their online rental business ideas.