The way we fund innovation and creative projects is changing. Crowdfunding websites are obviously the biggest disruptors in the market. While helping entrepreneurs collect funds for their projects, they earn huge revenue as a facilitator. The unique concept of platforms like Kickstarter, Indiegogo and CircleUp has motivated entrepreneurs to launch similar crowdfunding websites.
Business analysts at FATbit Technologies created this extensive post covering business model and unique features of popular crowdfunding platforms to help beginners better understand the market. Let's go through the business model first and learn how these platforms makes money.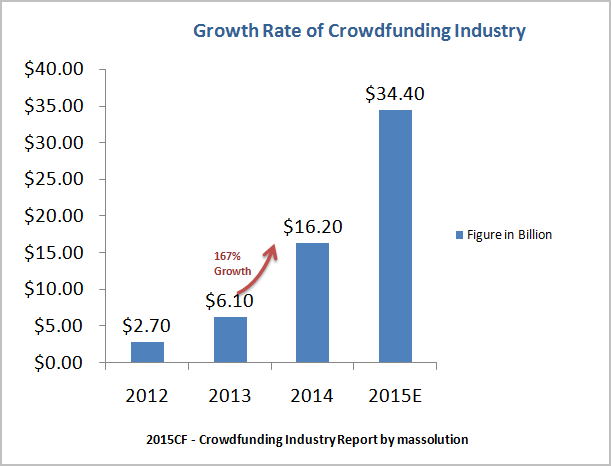 Business Model of Crowdfunding Platforms
Being a crowdfunding portal, your site must act as a platform for creatives who need money to work on their projects and those who are ready to support a project in exchange of reward.
Anyone with a idea should be able to list his project on the website complying with the site's terms and conditions. Those who find the project interesting can contribute. The funding amount is decided by the creator of the project.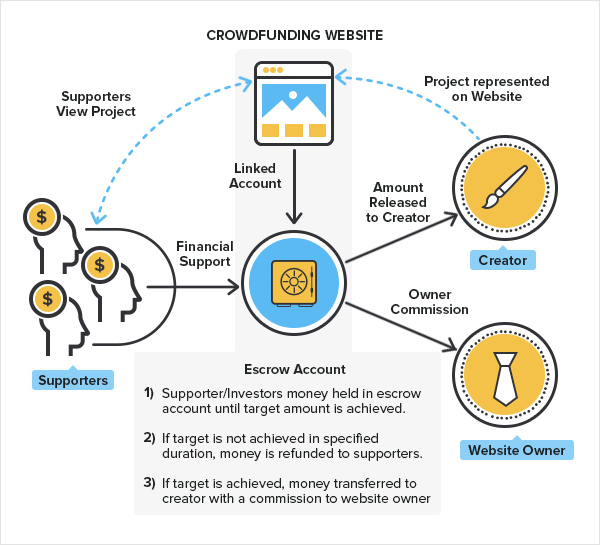 Revenue Model
As crowdfunding platforms connect entrepreneurs with investors, all monetary transactions for funding a project should be done through the website's own interface. Keep a small percentage from the total amount funded for every project after it reaches the funding goal. Listing a project on your platform should be free of cost.
Website Overview
The site must have an excellent interface with a good overall layout. Let us see what a first look on the website should reveal and what are the most critical site areas to focus on:
Website Homepage
The homepage of the website should be beautifully designed to attract more entrepreneurs and investors. Homepage must contain the following sections:
Top banner with Search button and option to Signup/Login
Project of the day & project category
Popular projects
Option to connect with social media and curated pages area
Site stats
We would recommend you to go for a simple and short top navigation with only the most important links of your crowdfunding clone.
Features for Project Creators
The entire model of a crowdfunding website depends upon the presentation of the project.
High Level Flow Process for Creators
The website must pack some unique features for project creators using which they can create an impressive showcase. These features can include:
Creator Handbook
To help entrepreneurs create a successful project, make various handbooks that help users understand the process. This feature acts as a guide with all the important information and should definitely be added to your crowdfunding clone site.
Creating a New Project
New projects are critical from business as well as monetization point of view. Let's see what can be sought from the makers to list on the site.
The first step should be about choosing a category. There must be various pre-defined categories for users to choose from. However, we would recommend you to add a miscellaneous category to the pre-defined list if needed.
Allow the user to enter a country and give a title to the project.
Add fields to submit project image, blurb, sub-category, funding duration and funding goal.
Entrepreneurs can enter rewards they will give to backers.
Add a video, description, risk & challenges.
Make way for project creators to list their profile along with the project. Biography, website etc. can also be added.
Email id and phone number verification.
Project preview
Help Section
Apart from all the above-listed features, a Help section is a must on the page. This section should include links to guides explaining how to make an awesome project. Keep an open mind while evolving a Help section. Consider going for FAQs and placing Chat button as well.
List a Project
Add a feature that enables entrepreneurs to list their successfully funded projects. A special page can be created with a complete story about the project.
This feature will help entrepreneurs showcase their successful projects and will also motivate others to start a project on crowdfunding platform.
Features for Investors
High Level Flow Process for Supporter/Investor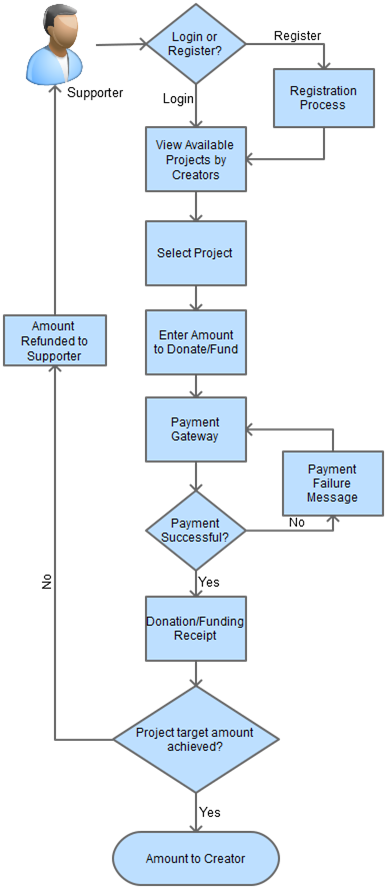 As a crowdfunding platform is for both entrepreneurs and backers, the site must have some unique features for investors as well.
Video on Project page
Every project page must have a video which will quite helpful for investors to know the potential of a project and to see the actual work being done on a project.
We strongly recommend you to dedicate video space on project pages of your crowdfunding clone.
Get in Touch Feature
Before making a pledge for investment, investors should be able to directly get in touch with the entrepreneur/project creator. This will help him in clearing doubts and resolve any other issues pertaining to the project.
Report a Project
Empower all to report a listed project for intellectual property violations, breaking community guidelines or rules.
Such a feature makes sure that all projects listed on your platform are genuine and trustworthy.
Do not forget to include this feature in your crowdfunding portal.
Adding Reminders
Another great feature for investors can be enabling them to add reminders in the form of emails for projects that they wish to invest. Reminders will not require much effort from developers but will be a great value addition. If building on a script, confirm this feature or ensure that you have picked a flexible solution.
Back a project
The main feature that will make the crowd funding website profitable is backing a project. A streamlined payment process must be made for investors to complete the transaction.
Some highlights include:
FAQ Section
The FAQ section can be categorized as:
Funder Questions (For Investors)
Maker Questions (For Entrepreneurs who create projects)
Basics
Categorize FAQs into different categories in your crowdfunding platform so that users are able to jump to the question of their interest quickly.
Crowdfunding Forum
Create a forum for members where they can ask & answer questions and participate in discussions with others. Basic highlights of the forum:
Feature to search for questions and topics.
Topics can be categorized as Popular, Unanswered, Most Recent, and Subscribed.
An option to Like the answers.
This is not something fundamental. Your funding site can totally do without it but users will certainly thank you for this.
Sponsored Projects
The website can choose to boost some projects that stand apart for unique concept or innovative approach. These projects can be featured on the homepage, and given other unique benefits. This will introduce funders to unique ventures worth investing in and also improve authority of the site.
Shortlist Projects
An option to shortlist a project with a heart or star icon must be added so that people can mark impressive ones as favorites. This will also help users see if their favorite projects even reached its funding goal or not.
Blog
A blog is essential for a website to reach more people. Adding a refreshing blog page along with social media links helps engage more viewers and leads to more user interaction as well. Blogging will also give search engine mileage to your crowdfunding website.
Mobile App
Develop an app for iOS and Android devices that can be accessed by users on the go. This will help innovators track performance of their projects and keep the investors updated.
We highly recommend you to develop a mobile app for your crowdfunding clone. In case you cannot afford one in the beginning, get a mobile website to connect with tablet and smartphone users.
Some Focus Areas for Extra Mileage
Verify your Creators. Fake creators bring negative publicity.
Approve campaigns yourself. Carefully analyze listings for funding.
Share success stories. Tell artists and supporters about people who achieved success due to funding from your portal.
The Concluding Lines
The concept of crowdfunding might not be new, but it is still in the nascent stage in many countries. This is one reason why people are searching for the best crowdfunding clone script.
If you plan to start a crowdfunding website like Kickstarter and CircleUp, then, you need a sleek and secure website with cutting edge features.
Got any crowdfunding website queries? Get in touch with our team of designers and developers.