Internet is the place for every idea. This is proved by online peer-to-peer home-cooked meal sharing websites like EatWith, Feastly, Cooking and Kitchensurfing that provide people the option to dine at other people's homes instead of restaurants while traveling in a new city.
This yet another peer-to-peer marketplace has become a crucial player of the sharing economy within a couple of years of its launch. And the success of all the existing platforms has proven the opportunities this booming marketplace has for startups.
Always keen to explore new marketplace ideas, FATbit's team initiated an in-depth analysis of this marketplace to gather features for an advanced home-cooked meal sharing website script.
Business & Revenue Model
These websites are basically online portals that connect diners with hosts in a very unique way. In contrast to multi-cuisine restaurants with waiters moving and in tuxedos, these platforms give diners a personalized and home-like dining environment with hosts. Here is how things work on a P2P meal sharing website: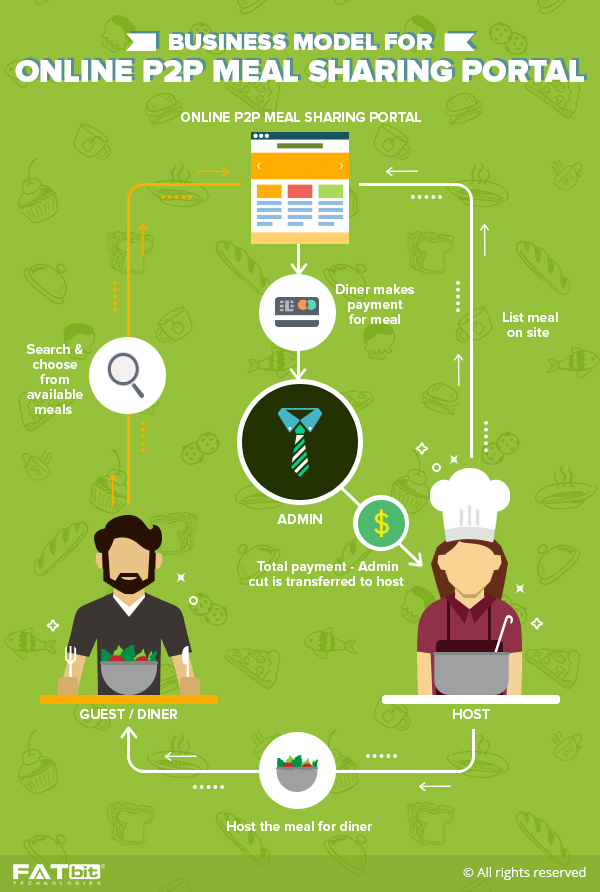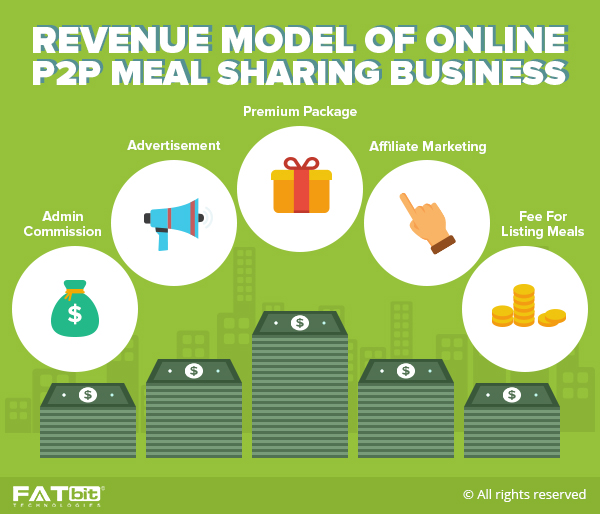 These websites have separate modules for diners & hosts. To ensure that diners always have a wonderful experience, web owners need to take painstaking measures in selecting the hosts.
Have a unique idea for a peer-to-peer ecommerce marketplace?
Launch it with experts
Website Features
Visually, your website must have the same appeal that you are promising through the home-cooked meal through your website. Effective use of beautiful images of mouthwatering delicacies and people dining at homes is essential on the landing page. Here are some worth noting insights for the homepage layout.
Homepage Layout
For peer-to-peer ecommerce businesses, it's important to give visitors a touch of personalization through the platform. Try to deliver it through the website message itself in the banner area. Below that section you can put some diner's feedback to build trust in your visitors' minds. Other than that, the top navigation bar should feature tabs to all your prime services and the footer area should have quick links to different content-based pages and additional services.
How It Works
It has become a common practice among ecommerce businesses to tell their visitors what their site is about. Your P2P home-cooked meal sharing website should also cover this part nicely with an effective use of graphics and catchy text punch lines. Take idea from EatWith and other similar portals.
Explore
It shouldn't be hard to comprehend that expanding such a P2P meal sharing business will take some time and initially you will be able to cater only a local market. Consequently, the search functionality on your website should let users know right away where exactly your business is present. This task can be accomplished by implementing a dropdown autocomplete feature in the search bar, so that user can come to know whether you are present in the location he is looking for.
On searching for the city where your business is present, the user should be provided a list of results for dining options available there. A thumbnail grid of results would be a great choice for the result page. The listings on the results page should have following details:
Price of the meal
Food type, style & cuisine
Host
Cuisines offered
Guest limit
In addition to that, there should be an adequate number of filter and sorting options.
Now, let's see how users get themselves invited to dine at homes through your website.
Booking a Meal
On clicking a listing on the result page, users should be taken to the event page, which should packed with following features and information:
Images of food and ambiance (from past events)
Host's information
Menu
Guest limit for an event
Booking options – select date, time and number of guest a user is bringing
Other people who are gathering for the event
Meal duration, group size, and hosting style
Location of the event in map view
Diners' reviews on host, meal and overall experience, as well as an option to add the review.
An option to book a private event for special occasions
Process Flow Diagram for Booking a Meal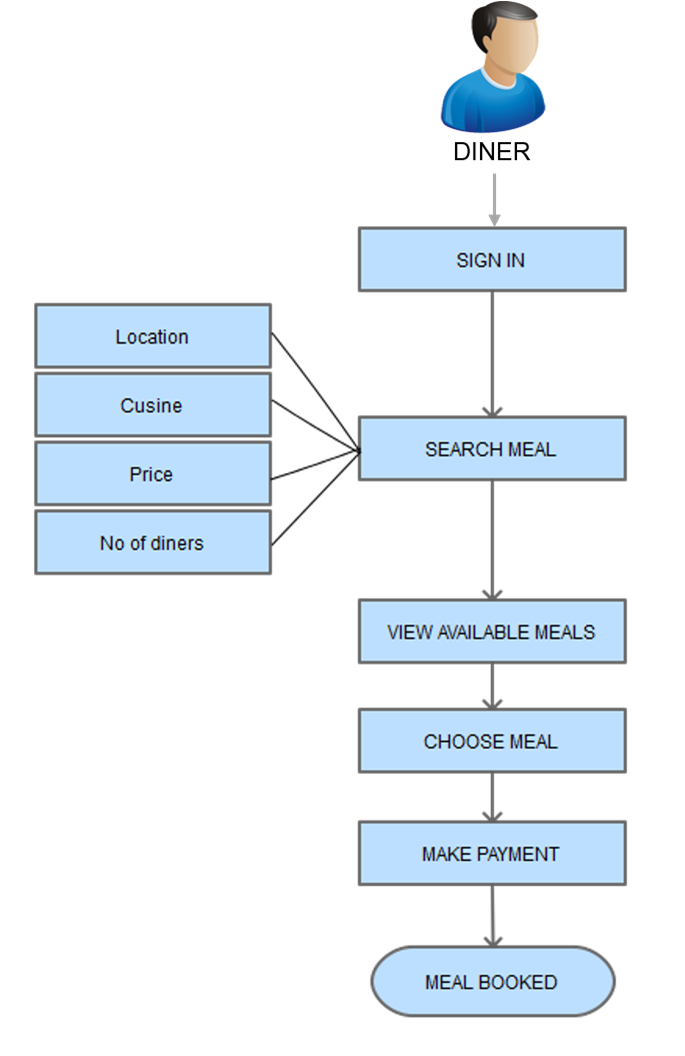 In addition to that, in case an event isn't already organized by a particular host, users should be able to suggest an even by mentioning date, timing, number of guests, and description about the food.
Now, let's overview how users can book a private event with a host on such websites.
Private Events
If someone wants to celebrate a family event, a business outing or a birthday party in a different way, then, your P2P meal sharing website should have a solution for that. People should be able to check out hosts near their location, contact them, brief them about the event, and make the bookings.
Here are some takeaways for entrepreneurs serious about building a peer-to-peer home-cooked meal sharing clone website.
There should be a dedicated page for private events
The landing page should feature some punch lines that portray how booking private events through your portal will be memorable
A catchy CTA that takes users to the next step
The next should be a form that asks users following details regarding booking a private event:
What's the occasion
City
Potential date
Estimate party size
Preferred location
Additional details, if any
After that users should be asked their contact information, so that you can contact them with a list of suggested hosts in their vicinity. Additionally, users should also be provided an option to book a private event with a particular host on their already organized events' pages.
Creating User Profile
Signup should be simple and users should be allowed to join your website using email or Facebook/Google+ account. But there are a few features that are worth considering while creating your P2P meal sharing clone script. Let's have a look.
Profile Personalization
The signup process should ask users about their food style and their favorite cuisine so that your website can suggest users better options when it comes to private events. Users should also be able to change these preferences later from their profile.
User Dashboard
Being a peer-to-peer marketplace, you need to keep some social media features in the user dashboard. Here are a few suggestions:
Messages – to share information with hosts
Notifications – to get important updates regarding upcoming events
List of requested and upcoming booked events
Apart from these social media options, the user dashboard should also feature:
Account setting and edit profile options
Option to edit food preferences
Tips for diners to become a good guest
Option to become a host on the website
Becoming a Host
Process Flow Diagram for Hosting a Meal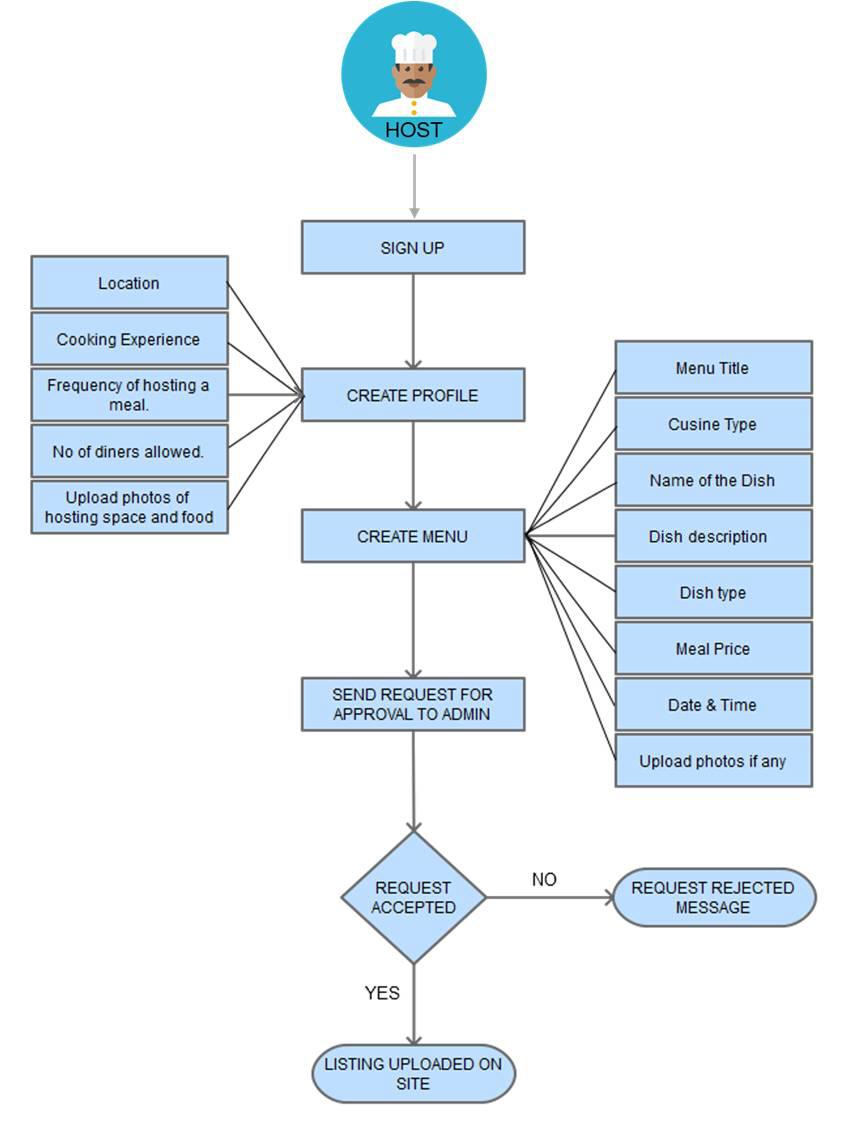 For cooking junkies, your website should provide a great way to earn some serious money, given that they are real good at it. You can create a dedicated landing page for the becoming a host section, where you can list all the benefits hosts will get with your website.
As users apply to become a host, they first should be asked their location. It is to make sure that they are in vicinity of a city where your business already provides its services or planning to expand to. If they from an area where you are not currently present, you should provide them an option to get notified when you will be available there.
Now, it is very important for a peer-to-peer ecommerce website to ensure that consumers get satisfactory services through them. This is one crucial area where entrepreneurs interesting in building P2P meal sharing clone website need to be a little more cautious.
Subsequently, your website must implement stringent measures while listing hosts. And these efforts are worth making since unsatisfied diners mean the site is no longer useful. Here are some suggestions regarding what steps you should include in the process of becoming a host:
How many guest can attend the event?
Venue
What type of guests the host can cater? (veg/ kosher/ celiac, etc)
Cuisine offered
Cooking style
Photographs & videos of the venue, dishes, and the cooking style
Blog
Your site should also have a nice blog that features posts on topics like recipes, city secrets, healthy food, etc. Also, use it to announce your latest & upcoming offerings.
Upcoming Cities Updates
You need to implement a plugin on your website to allow people explicitly know when you will be launching your services in their cities. Simply ask their email address & location and notify them when you are planning to launch in their area.
Friend Referral
Friend referral program is the backbone of an ecommerce business's user base expansion campaign. Plan your friend referral program mindfully, so that your customers invite more and more of their friends to join your platform. We suggest that you take some insights from the Kitchensurfing's referral program. Kitchensurfing offers its users a gift card of $25 for inviting a friend to a Kitchensurfing event, plus the eats for free.
Meet-Cook-Eat Feature
This is a cool value-added feature that you must implement in your business model. Besides connecting people as hosts and guests, also allow them to meet as two food-junkies, who prepare the meal together and enjoy it afterward. Adding such features in your P2P  meal sharing clone script will certainly make it stand apart.
Ending note
Success of existing P2P meal sharing websites proves that new potential business ideas are around us, and one just needs to keep eyes and ears open. However, in order to ensure success, right execution of that idea along with some innovative features is crucial. And that is where above listed features will help you greatly.
If you too are pondering over the idea of building an peer-to-peer meal sharing clone website or any other peer-to-peer ecommerce website, then FATbit's team of web developers and internet marketers can help you with every detail.
Build your peer-to-peer ecommerce portal
Consult FATbit