The global consulting market has witnessed phenomenal growth over the past couple of decades owing to the increasing need for assistance across such diverse niches as healthcare, business operations, financial services, and many more. North America which accounts for nearly half (44.5%) of the global consulting market, generated around $78.7 billion in 2019 followed by Europe which accounted for $45 billion.
Table of Contents
The COVID-19 Spectre – How Global Consulting Industry Fared During The Pandemic?
The COVID-19 outbreak brought the global economy to a standstill and had far-reaching consequences that were felt across all industries. The consulting industry is no exception to that. While hard to estimate, researchers did try to come up with a number for the knock-on effect on the consulting industry and predicted that the industry could lose up to $30 billion in revenue in 2020. The magnitude of the disaster looked almost certain to cause a recession in the near future. 
Trends That Will Shape The Future of Global Online Consulting Industry 
The pandemic shaped the consulting industry trends moving into 2021 with an expectation of a dynamic shift towards virtualization, digital disruption, and flexible & personalized offering to businesses. Let's discuss the key trends that are set to shape the consulting industry post-pandemic.
Greater Emphasis On Tangible Outcomes:

The businesses seeking consultation in the post-pandemic era will anticipate quantifiable results. There will be an expectation from business consultants to eliminate the expensive diagnosis and implement cost-effective solutions. They will also be required to make sure that their strategies are aligned with the operational realities and are easily measurable.
Personalized Consulting For Unique Business Challenges:

Since all businesses have different requirements, they are no more looking for off-the-shelf solutions, which are not specific to their business's needs. Business consultants are now expected to eliminate the one size fits all model and know the operational insights of the business. This will facilitate them to bring adapted services to the table that meet the industry, functional, and client context.
Remote Consultation Over In-Person Consultation Visits:

Working with businesses via remote consulting became the modus operandi in the post-pandemic world. This led to the widespread usage of virtual consulting platforms. Fast-tracking virtual consulting platforms can deliver the same outcomes as traditional consulting and are going to remain strong in this new era.

Long-Term And Deeper Involvement In Business Operations:

Consultants in the past would leave once they'd offered their services and seen them implemented in a business. However, clients now expect consultants to be fully involved and get deeper insights as well as share the risk of implemented solutions. Consultants are required to build value-oriented business models instead of gearing towards quick wins and chasing new opportunities.
Consulting Firms Jump On The Digital Bandwagon
In response to the pandemic, online consultation was rapidly adopted as the means to reinvent the industry one more time. It allowed the consulting firms to continue offering their services while quarantining at their homes. Surprising everyone with the speed and success of the transformation, digital consultation leapfrogged several years of progress in a matter of a few months. Consumers turned to digital channels and businesses made sure to best meet their shifting demands. 
Consulting Niches Where Digitalization Became the Norm Amid The Pandemic
Pandemic has changed the dynamics of the consulting industry. While some consulting firms went out of operations, many particularly in the Telemedics market witnessed a surge in demand. Also, there was a silver lining in the Healthcare, Management, Interior Design, Beauty and Finance sectors where many existing players and startups adopted digital solutions to combat the challenges of COVID-19. Let's take a look at how these niches have been transformed in the aftermath of the pandemic. 
Health & Nutrition Consulting
Online Healthcare Consultation witnessed a sharp growth during the pandemic as COVID-induced restrictions prompted customers to move online. The market size is expected to reach $298.9 billion by 2028 growing at a CAGR of 22.4%. Apart from the increasing chronic conditions and rising demand for self-care, the key drivers of this online shift include increasing internet accessibility and cost-effectiveness for doctors as well as patients.
Practo Technologies, an E-health platform tracked a 600% growth in online medical consultations since the lockdown started. The platform also found out that 70% of all users were first-time telemedicine users and 45% from smaller cities. Another on-demand online healthcare service Mfine has grown 3-4 times in recent months. The platform has over 500 hospitals with more than 3000 doctors out of which nearly 250 hospitals were added between April and June 2020.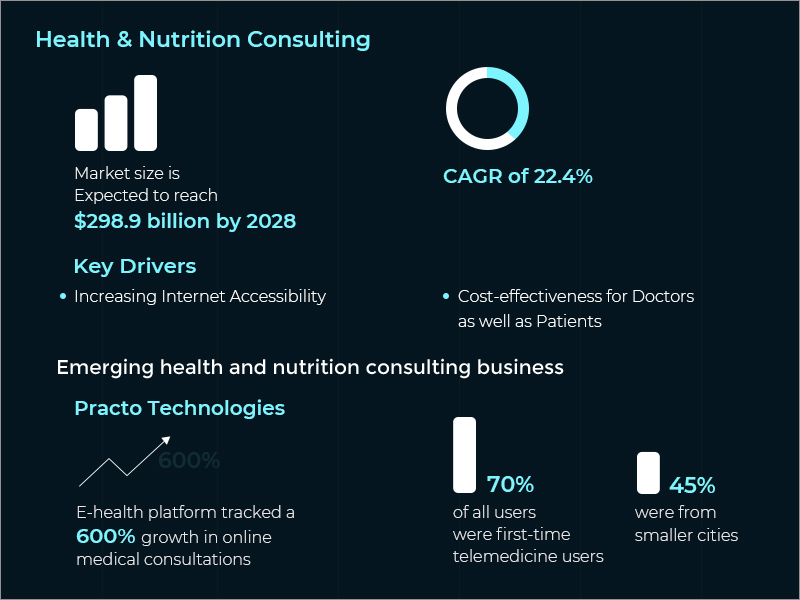 Join the Digital Healthcare Consultation Industry with a Robust Consulting Software/Solution
Management Consulting Services
The global market of management consulting services which was estimated at $146 billion in 2020, is expected to reach $179 billion by 2027. As people were confined to their homes during the pandemic, clients, as well as consultants, switched to online consulting platforms to keep their work moving. Moreover, post-COVID, businesses also need the guidance and expertise of consultants to map out future strategies and business scenarios. They need to restructure their operations, ensure business continuity, and build resilience for any future disruptions.
Centri Business Consulting LLC launched Centri Virtual in September 2020 to accommodate the growing demands of the industry. Having physical offices in New York City, Denver, Colorado, the company launched its online platform(Centri Virtual) to support its vast client base. The scope in the industry also prompted Amazon to acquire Selz, a startup that helps and assists entrepreneurs to sell products online.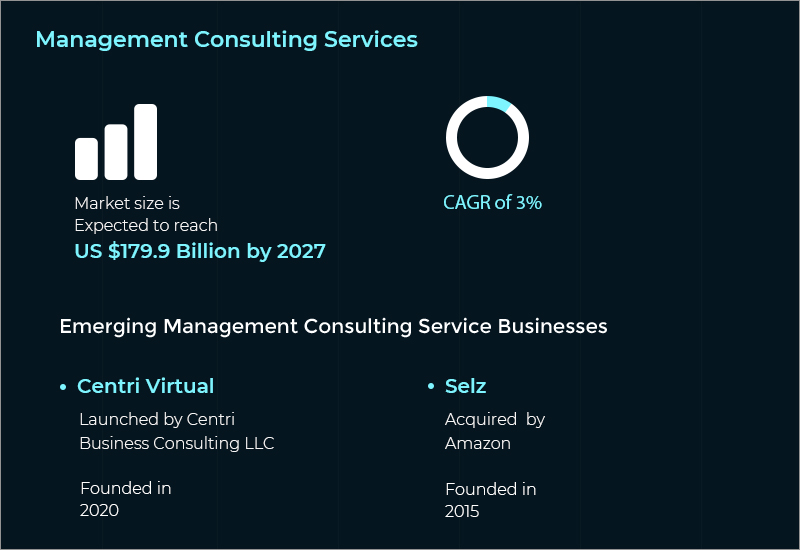 Virtual Interior Design Consulting
This is another industry that significantly transformed because of the pandemic. People started to look for renovating their homes as soon as stay-at-home orders were passed. They required some additional space for the office and for the kids to play. However, many of them did not have the know-how to bring these projects to life. This is where virtual interior design consulting came into play.
Porch, an online marketplace connecting homeowners to contractors, tracked 330 million US Google searches for home improvement work between June to August 2020 which is almost 50% up from the last year. The chief economist at Porch, Max Anderson also says that 2020 saw the highest levels of home improvement spending in the US.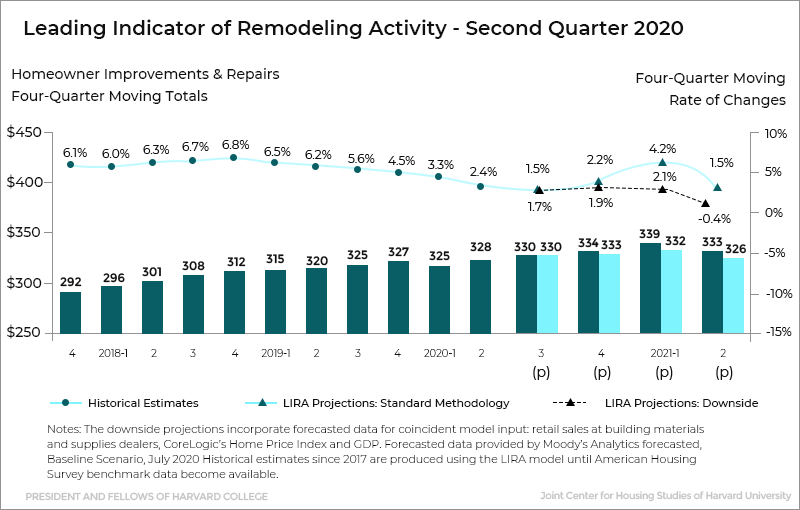 Virtual Beauty Consulting & Retailing
Amid the ongoing pandemic, when the retail sales of beauty products slowed down to just 1.1%, beauty brands focused on delivering customer services online. Brands like Cos Bar, Laline, and Innersense worked to reinforce their digital presence, which became vital to keep the customers engaged with the brand. Offering personalized beauty advice with a virtual skincare consultation and an online shopping experience from the comfort of their home became the permanent fixture while everyone was practicing social distancing.
The beauty brand Credo Beauty partnered with the live chat platform Hero, to facilitate virtual appointments for customers. Using CredoLive, the company can maintain business continuity and drive customer connection exponentially for a sales boost. The online platform now drives around 15% of the brands' digital business. 
Financial Consulting
The coronavirus crisis pushed many financial advisors and their clients to embrace technology and new practices to communicate. Although the shift brought many complications, the transformation created the potential for faster and flexible communications which resulted in improved services and reduced costs. Moreover, the hardships experienced by the businesses throughout the pandemic made virtual financial consulting more imperative to keep the businesses afloat.
McKinsey estimates that approximately 42 million households worldwide, representing $66 billion in annual revenues across banking, borrowing, and investing, are already prime candidates for virtual financial consulting services.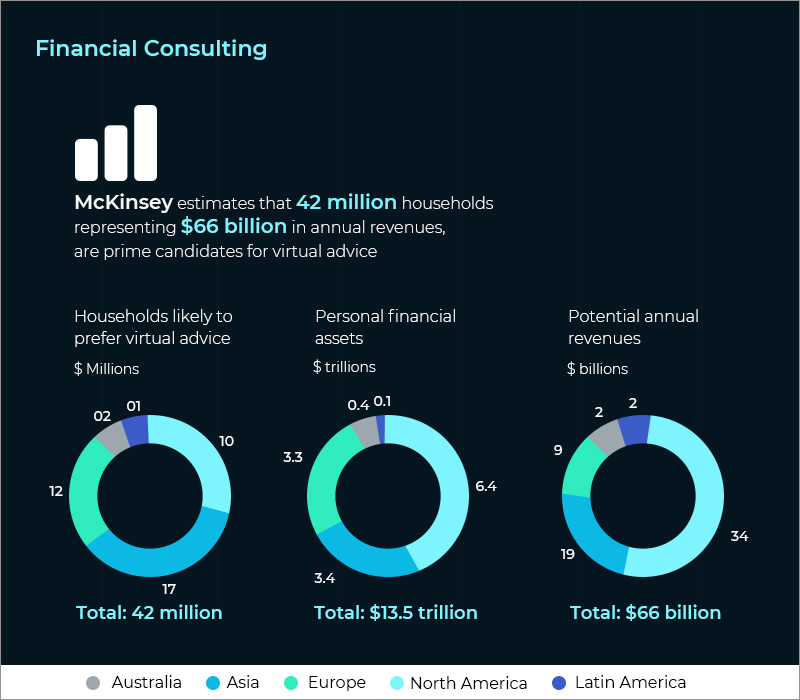 Best Meet the Shifting Demands with an Online Consulting Platform
Starting an Online Consulting Business
Starting any business is challenging, and starting a business where your goal is to help other businesses is even more challenging. Given below is a cursory guide that can help you kickstart your online consulting business and reap maximum dividends for your expertise.
Select Your Niche:

Starting with your online consulting business begins with the inspection of your skills and knowledge. Instead of adopting the new trends in the market, make sure to stick to the industry and niche of which you have a profound understanding.

Choose a Business Model: Entrepreneurs make a lot of mistakes when choosing the business model for their consulting marketplace. Having a proper business model crystallizes your idea and negates many errors. The efforts that go into preparing the business model prove out to be invaluable at the later stages. Online consulting has 3 core types of business models:
1) Marketplace Consulting Model:

This model connects consultants with clients as per their requirements and acts as a mediator between them. Usually, consulting firms go for this business model when moving towards digital solutions.

Expert360

and

UpCounsel are popular marketplaces following the marketplace consulting business model.
2) Machine-Driven Expert Network:

This business model uses machine learning for matching consultants with clients. After the algorithm has picked the suitable consultants, the list has to be checked to select the best consultant for the job. This business model reduces the time for searching and finds more relevant consultants.

Techspert

and

CleverX are online consulting marketplaces facilitating expert consultation using an AI searching system.
3) Crowd-Funded Expert Calls:

This business model shares the experience of an expert. As this model only works with clients who are comfortable sharing their insights with others, this is not suitable for every consulting marketplace. Nonetheless, there are marketplaces that follow this business model and

Slingshot Insights

is one of them.

Launch Your Online Consulting Marketplace:

Starting an online consulting business requires an online platform to engage potential clients and consultants. One of the many ways to launch an online consulting marketplace is to purchase readymade white-label software. It allows you to get into the market in no time and without much of a hassle. With a much lower cost than custom development, white-label software does not lack anywhere in technical functionality for creating an online marketplace.
Apart from being a great way to save time and money on starting an online consulting business from scratch, it also offers you the core functionalities and the ability to add more advanced features to your marketplace. One such readymade solution is Yo!Coach– an ideal solution to launch an online consulting marketplace.
Advertise Your Platform: Now when you are all set with your platform for providing online consultation, having a proper marketing plan in place is imperative to find new clients. Here are some of the most popular advertising solutions to promote your online consulting marketplace.
1) Have an SEO strategy
2) Generate an email marketing campaign
3) Use promotions to attract customers
4) Conduct social media marketing
5) Get your marketplace reviewed
6) Run paid advertisement
Make sure you have all these approaches in your mind when you begin to advertise your platform. And, with time you can figure out which ones are turning out to be effective for your marketplace.
Looking For A Ready-Made Solution To Launch Your Online Consulting Platform?
Final Thoughts
All in all, the consulting industry is one of the last few to embrace digital transformation. Even though digital disruption in consulting has been going on for some time and isn't a newsflash, 2021 is definitely going to be the year when it shines the brightest given the current situation with the pandemic.