Starting an online tutoring business is a lucrative venture in today's scenario. In order to provide a quality learning experience to users, entrepreneurs are looking for reliable software solutions to launch their online tutoring platforms. Common software solutions available in the industry include SaaS-based and self-hosted software.
Software as a Service (SaaS-based) works on a subscription basis offering services till you pay monthly or annual charges for using the platform. Whereas, self-hosted software offers complete ownership of the software for a lifetime with a one-time payment.
Now that you are aware of the popular software options, let's explore the SaaS-based software and the potential drawbacks of choosing it for launching your online tutoring business.
Why You Should Not Choose SaaS-Based Software?
There are several reasons that prove choosing SaaS-based software for launching your online tutoring business could be a wrong choice. Let's delve into the list of reasons why SaaS-based software should not be preferred by entrepreneurs.
Dependency on Software Provider
When you choose a SaaS-based software, you are basically renting the services which means you will have less control over your platform. For all your needs, you will be highly dependent on SaaS service providers. In the worst-case scenario, a SaaS provider may simply shut down and go out of business without warning. This could be a very insecure situation for an entrepreneur who has put so much effort, investment, and time into his business idea.
Less Scope of Customization
With SaaS-based software, limited or no customization facilities are provided. As the software can only fulfill the requirements that are generic, implementing customizations is a cumbersome and complex process. Therefore, tutoring businesses with specific needs or unique workflows may find it challenging to tailor SaaS software to their exact requirements.
Hidden Costs
SaaS-based software is continuously climbing to unaffordable levels. In addition to the monthly charges, you have to bear several other hidden costs such as:
Tiered Licensing Costs

Add-ons Premiums

Abandoned Licenses

Freemium Offers

Automatic Renewals
These costs may even increase depending on your SaaS-based tutoring software provider.
Long-Term Costs
Initially, SaaS software is available at lower upfront costs, however, with passing time the subscription fee may add up. In the long run, these monthly charges may even surpass by approximately three times or more than the total cost associated with a self-hosted software solution.
Monthly or Annual Recurring Charges
Saas-based software is only available at monthly or annual subscription basis. This may become a burden for entrepreneurs over time. The continuous nature of this payment becomes strenuous for business owners. Whereas, with self-hosted software, you purchase the platform for a lifetime without worrying about any further investment.
Looking for a Reliable & Scalable Tutoring Software with One-Time Payment Option?
Limited Features Access
Many SaaS providers often offer tiered pricing where only basic features are provided with the software which may not cover all your business needs. To avail of more features and functionality you are required to pay more and upgrade to the next higher tier. The cost of the topmost package offering complete features may cost you 15 times more than a basic package.
Data Security and Privacy Concerns
Data security is one of the biggest concerns when starting an online tutoring business. According to a survey conducted, 58% of the world's technology leaders say many SaaS vendors don't meet security requirements. Security risks in SaaS are some of the most lucrative opportunities for cybercriminals. With SaaS software, the sensitive data is stored offsite by the service providers which may result in data breaching and easy access of data to cybercriminals.
Limited User Access
The monthly packages offered by SaaS-based software allow only a limited number of users on the platform. As your business expands and the number of users on your platform increases, the price to accommodate such a number of users will also increase. Whereas, with self-hosted software, there is no restriction on the number of users that can be added to the platform.
Downtime and Reliability
Though SaaS providers strive for high uptime, but due to several hindrances such as server issues, maintenance, and others, they still experience downtime. Downtime associated with SaaS-based software can have a negative impact on your business, including lost revenue, decreased productivity, and damaged reputation.
System Performance Concerns
When it comes to satisfactory user experience, speed matters. Slow platform speed can cause businesses to lose clients and miss out on potential revenue. The performance of the SaaS-based software depends majorly on the provider's infrastructure. It may not meet your expectations and experience sluggish performance, especially during peak usage times.
No Source Code Ownership
Business owners will not get the source code incase of SaaS-based software, as the full source code resides with the software provider. However, owning the source code establishes your full control over the software, which is possible incase of license based software such as Yo!Coach. Other advantages of owning source code are the flexibility and customizability it offers, enabling customizations as per your requirements in the future.
Looking For Software Solution Offering Source Code Ownership?
Challenges with Regulation Compliance
Many regions have strict regulatory requirements for data storage and processing in the tutoring industry. A startup must implement these regulations before expecting prospective users on the platform. However, complying with industry-specific regulations and data protection laws can become challenging when using SaaS-based software, as the full control over data storage and processing is with the software provider.
Alternatively, you can opt for a reliable self-hosted software that is already compliant with such regulations.
Ownership Control
Lack of control is one of the most significant drawbacks of SaaS-based software. Unlike self-hosted software, where you own the platform for a lifetime and avail full control over it, the control of the SaaS-based software does not remain with business owners. Businesses are massively dependent on software provider for their needs and critical business implementations.
Limited Backup and Recovery Control
Unfortunately, SaaS-based software often falls short of the comprehensive capabilities a business needs. While SaaS providers may offer backup and recovery options, you might have limited control over them. As a result, it becomes difficult to restore data in case of accidental deletion, data corruption, natural disaster, or a security breach. It may also result in permanent loss of sensitive data that often triggers serious financial, legal, and reputational losses.
Vendor Lock-In Risk
With SaaS-based software, entrepreneurs are highly at risk of vendor lock-in. 'Vendor lock-in' is a situation where you are dependent on your software provider for your specific business needs. Vendor lock-in causes many problems for entrepreneurs including difficulty in switching or migrating to other software providers, potential service disruptions, high price changes, technical incompatibilities, quality issues, and more.
Unnecessary System Upgrades
While you are using SaaS-based software, upgrades may be offered by the software providers that are not necessarily required by the business. There is no way to turn off or defer these automatic updates at the business's discretion. This may also result in damaging the business as the mandatory upgrades may not go well with the users and they may even consider leaving the platform for the inconvenience caused.
Transaction Fee Charges
Another big drawback of SaaS-based software is that transaction fee is not always transparent. Many software providers can charge a transaction fee between 3-4% per transaction, and this can even increase depending on the number of users and the payment methods. Some payment options may require setup fees and other hidden charges resulting in far more expenditure on the SaaS payment processing than necessary.
The above-mentioned list of reasons testifies that SaaS-based software does come with a lot of challenges and drawbacks. In a nutshell, if you aspire to grow your business by leaps and bounds in the coming years then opting for a SaaS-based software may prove to be a failed strategy. Sooner or later you may have to move to an alternative software offering complete control over your platform.
Additionally, the cost of managing a successful business with a high number of users over a SaaS-based software will increase tremendously, harming your revenue and profits. Read further to know what can be then, the best alternative choice for you.
The Way Forward
We are already aware that there are many unavoidable challenges that come along with SaaS-based software. A popular alternative to SaaS-based software is to go for self-hosted software. Self-hosted software outweighs all the above-mentioned challenges and comes with a lifetime license offering complete ownership of the platform. It costs you a one-time fixed payment without any hidden or recurring charges.
Yo!Coach is one such popular self-hosted software that can help you launch your online tutoring business without hassle. Its versatile functionality makes it a perfect fit for entrepreneurs with diverse tutoring business needs. Moreover, it's a fully customizable, and feature-packed software that comes pre-integrated with all essential APIs for smoothly running your business.
Launch A Successful Online Tutoring Business with Yo!Coach
Why Yo!Coach is a Better Choice Over SaaS-based Software? – Insights From Our Valued Clients
Yo!Coach has already helped several entrepreneurs successfully launch their online tutoring platforms. All the clients speak highly about the software's capabilities. Let's understand through client reviews how Yo!Coach helped them in their journey and why it proved to be a better choice over Saas-based software.
Best Alternative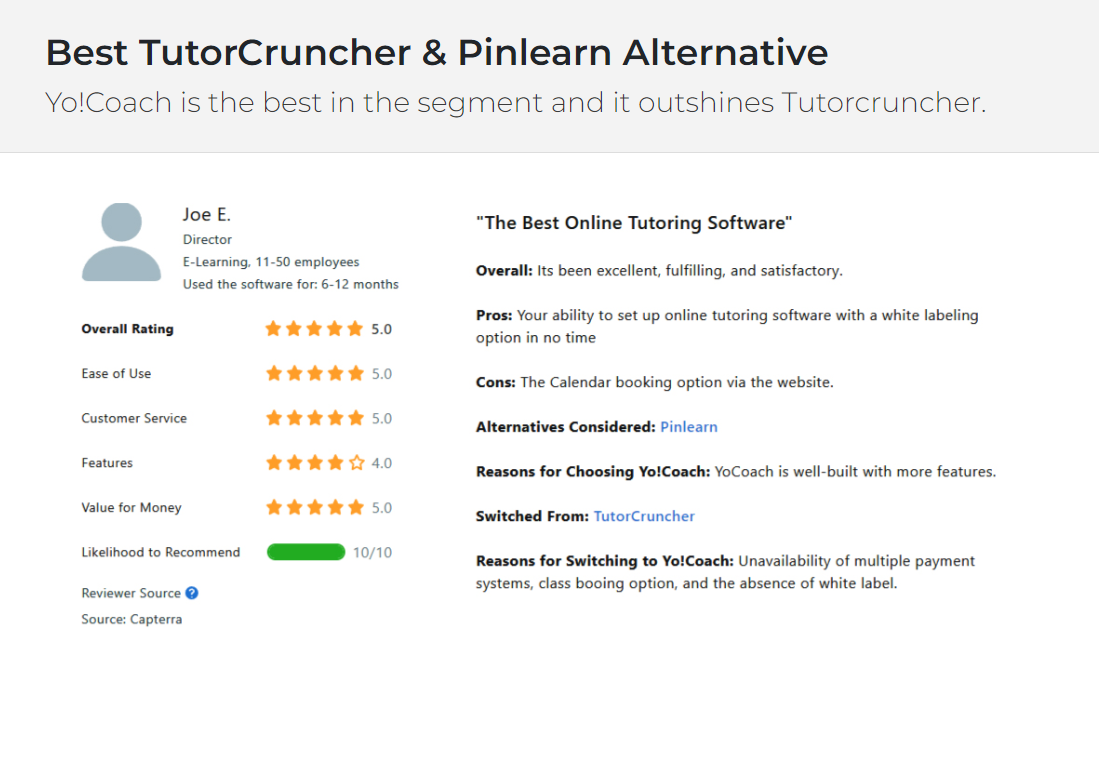 Fits All Business Sizes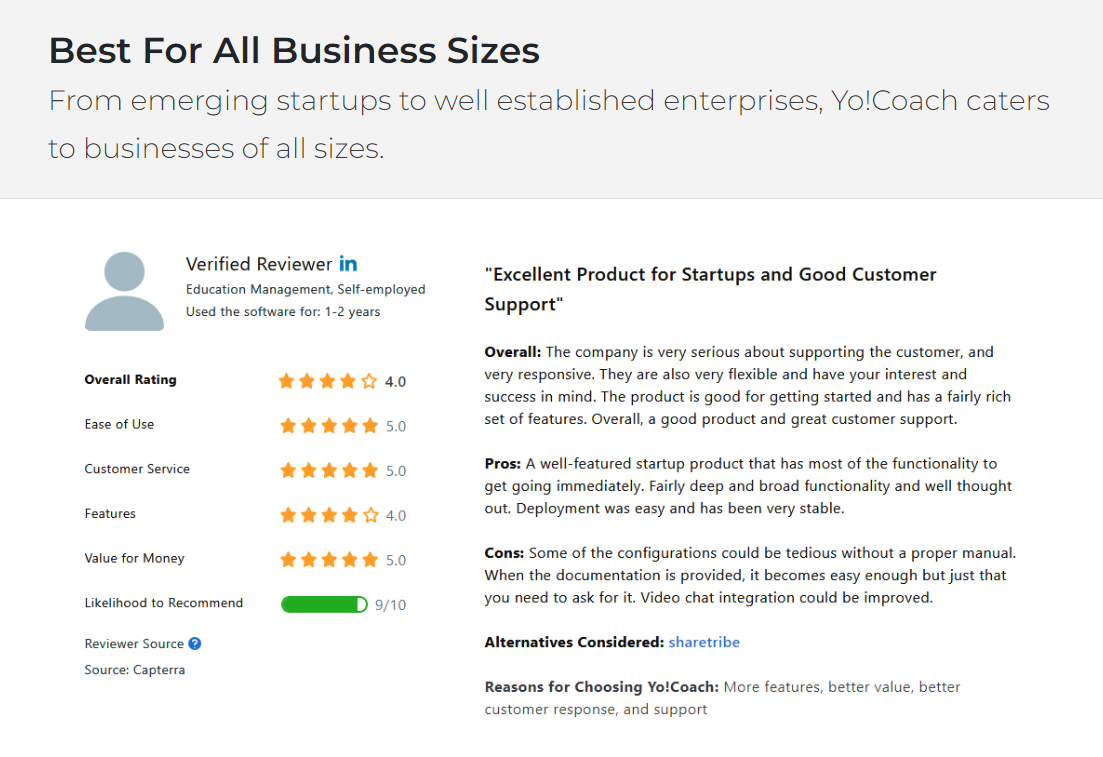 Competitive Pricing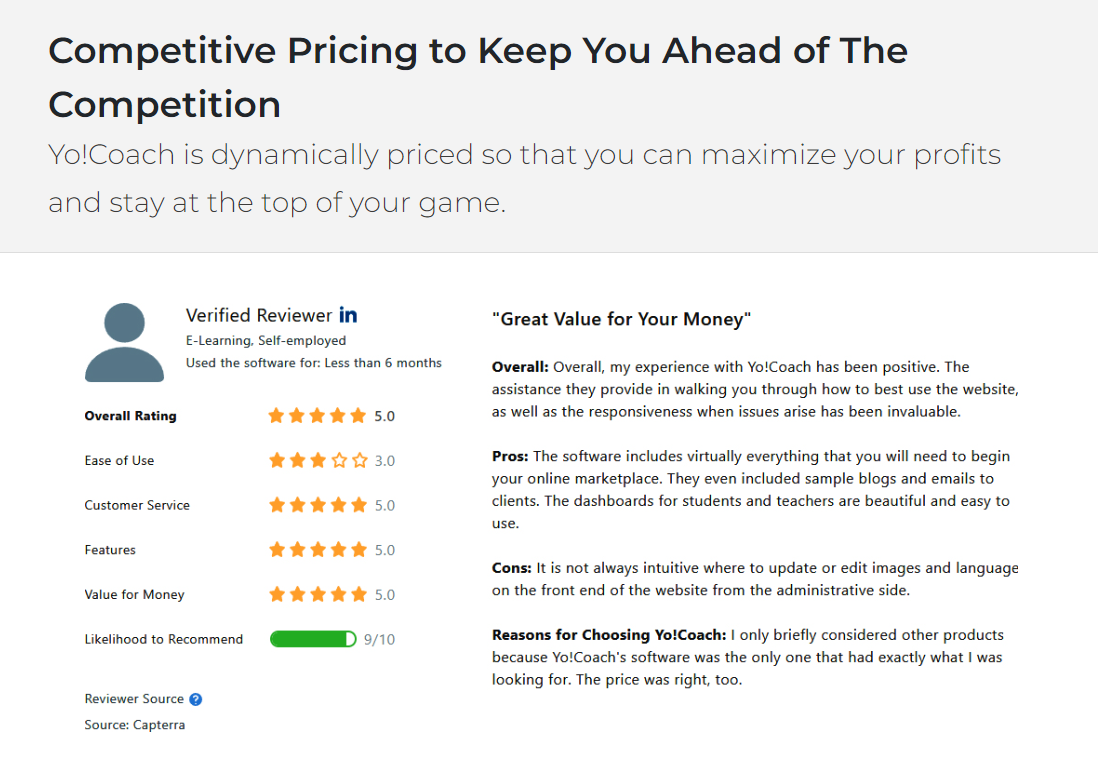 Rich-Featured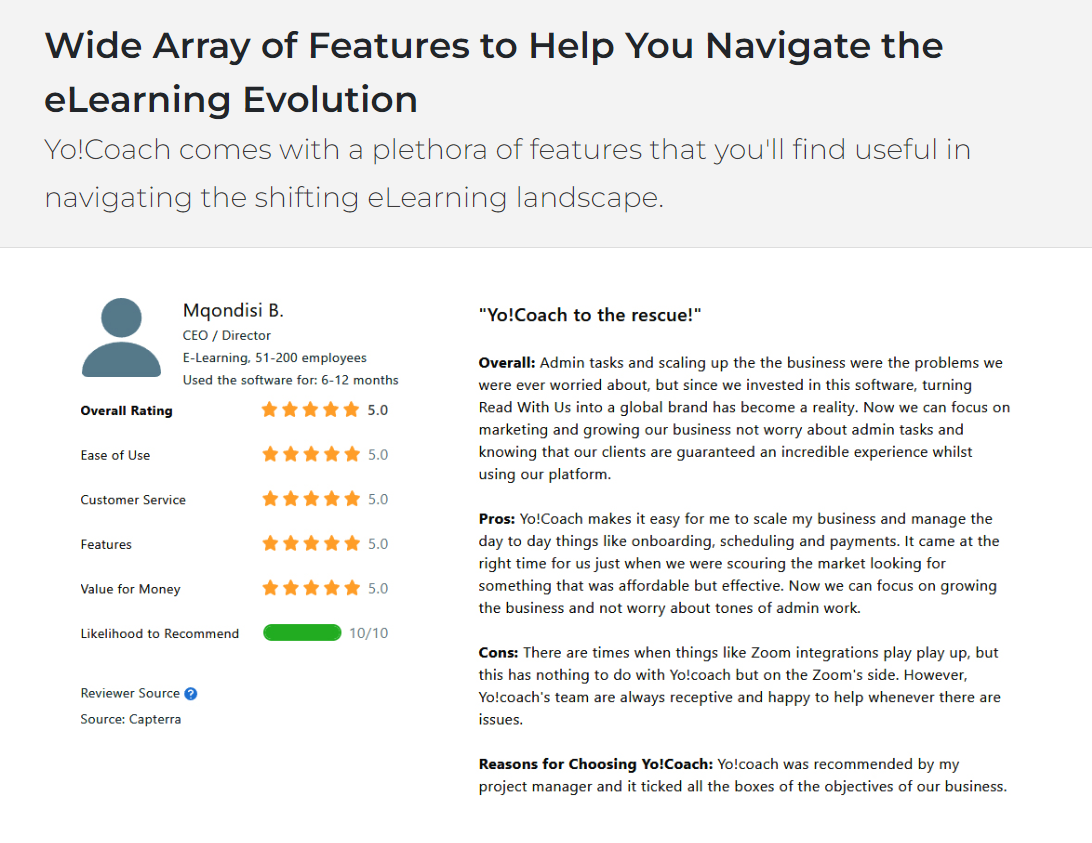 After Sales Support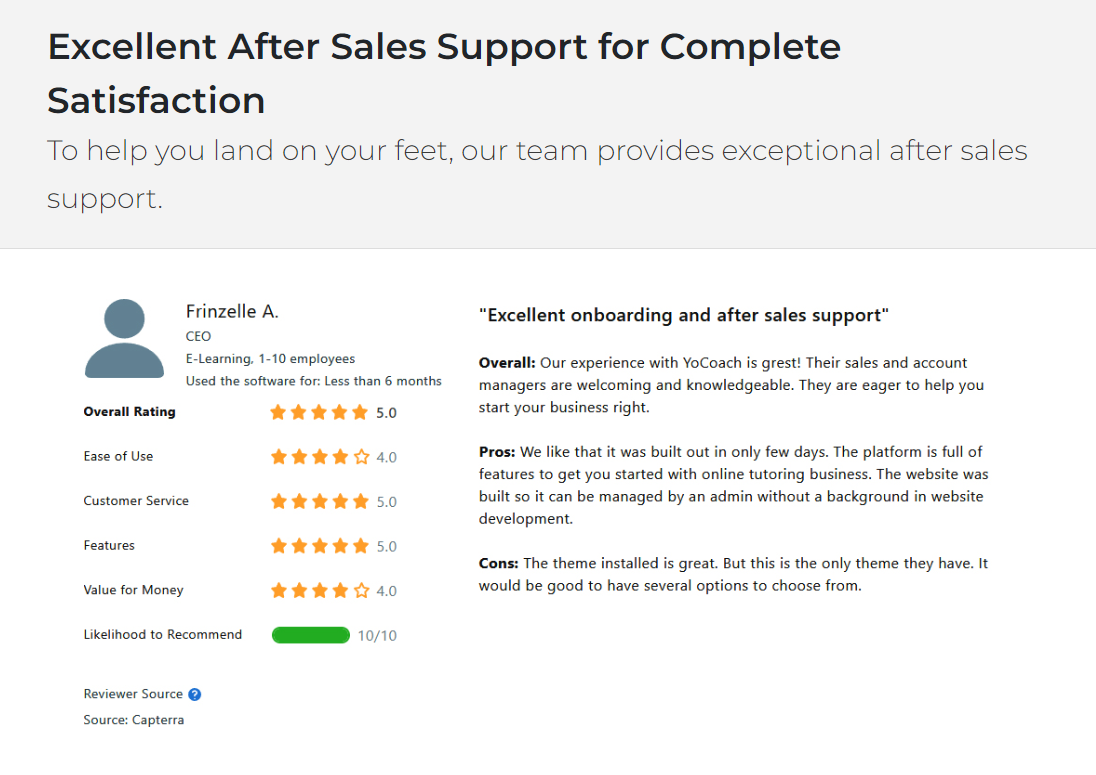 Highly Customizable & Scalable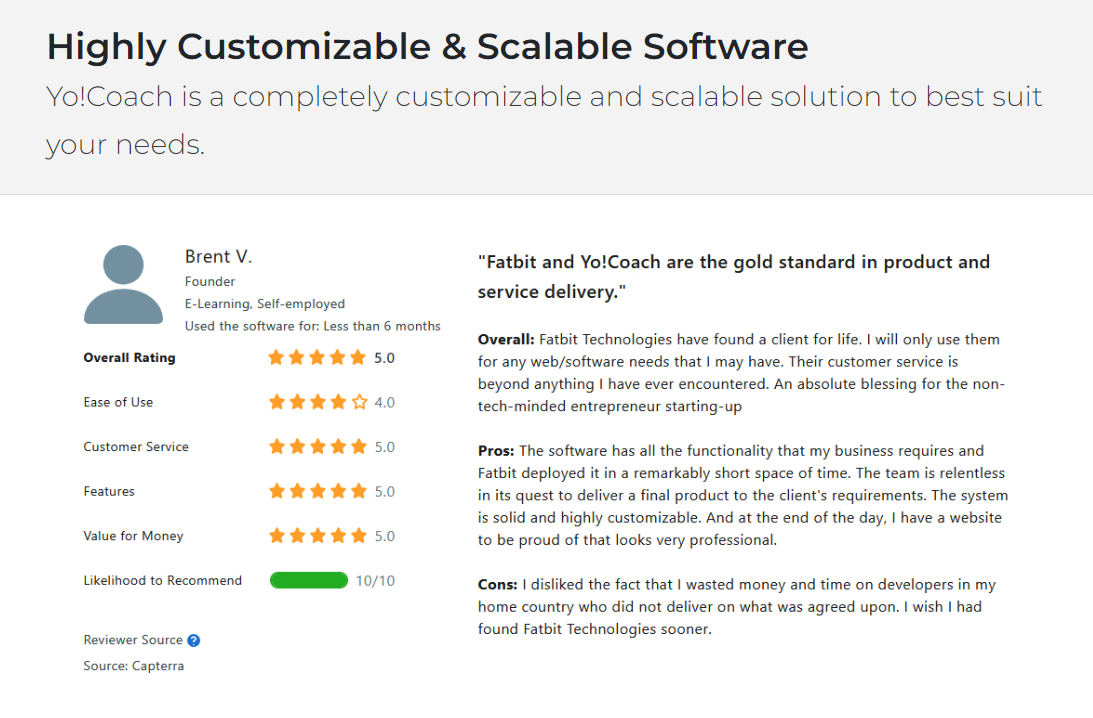 Proactive Customer Support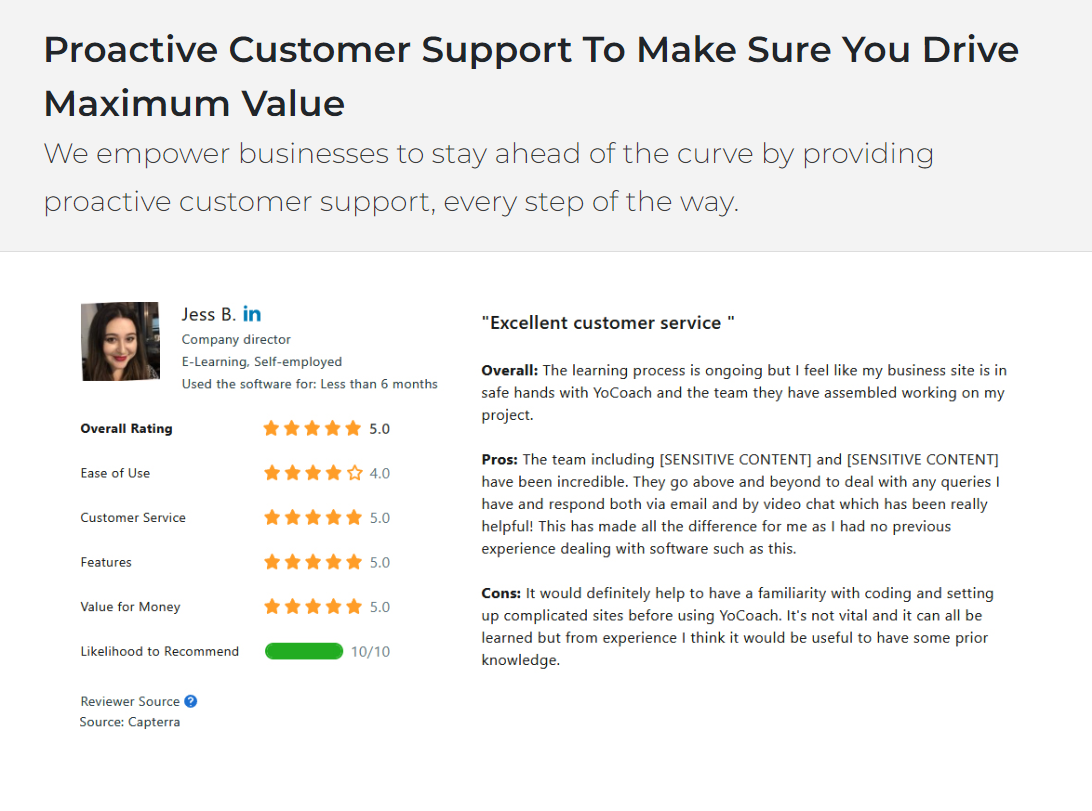 Best In the Industry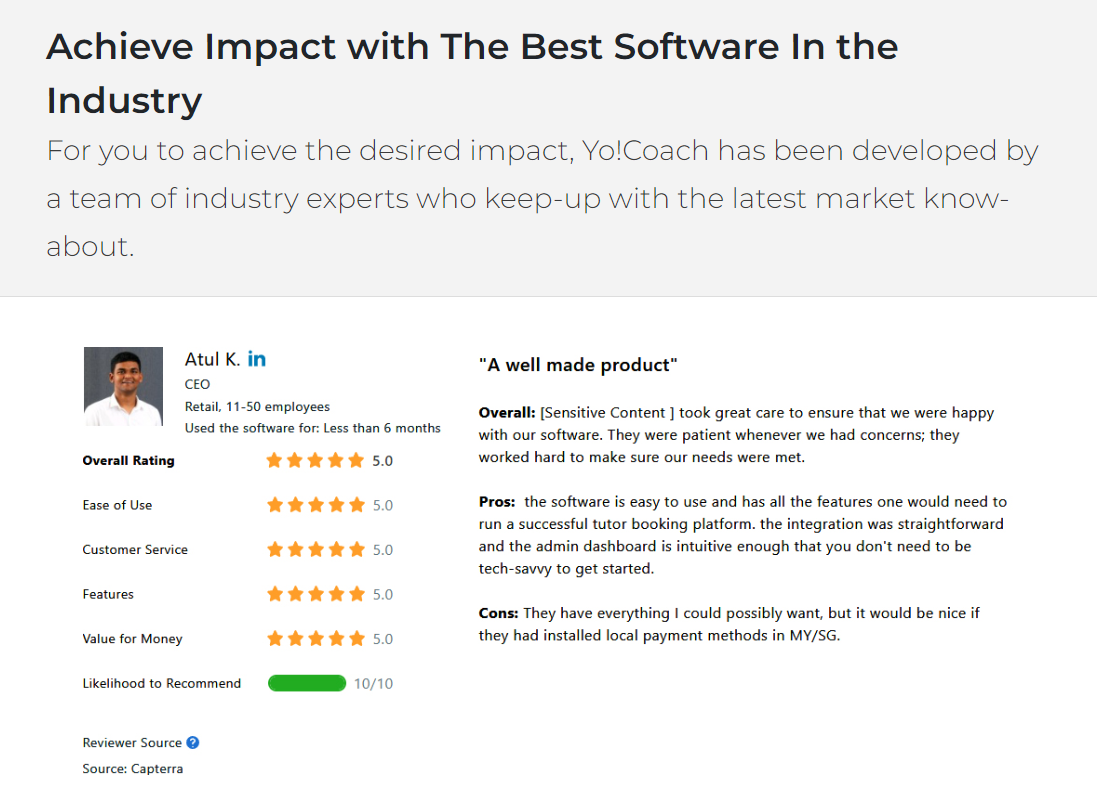 These reviews are genuine feedback from the clients. Their words testify that this software is best for any tutoring business needs.
Final Thoughts
Choosing the right software for your tutoring business can be a difficult task to begin with. Focusing on what you need for your business can be a good starting point to help winnow down your choices. Consider the above-mentioned reasons while making your final decision. Remember, the key is to understand what are your exact needs and if the software you are choosing can meet them.