Travel sector has been one of the most growth-oriented sectors globally with total sales crossing $629.8 billion in 2017, growing at a rate of 11.5%. This number is expected to cross $800 billion by 2020. In the digital arena, online travel marketplaces are becoming one of the most lucrative business models for aspiring entrepreneurs. There are several strategies to increase revenues being used by online travel startups. Although there has been a certain decline in digital travel sales across the globe over the past couple of years, Asia Pacific is the only region that is showing a promising increase with online sales going from 34% in 2017 to 40% by 2020. India in that aspect is turning out to be one of the best places to start an online travel booking startup.
A recent study done by Google India-BCG has projected that the overall Indian travel market will reach $48 billion by 2020, growing in sync with the global growth rate of 11%-11.5%. Another report by IBEF states that by 2020, almost half of the travel bookings in the country would be done online.
Additionally, Air travel in India will reach $30 billion by 2020 growing at 15%, while hotels bookings will rise to $13 billion and railways to $5 billion. By 2020, one in three hotel rooms will be booked online – which clearly shows that how online travel startups will become prominent in the coming years.
Suggested Read – 5 Statistical Graphs Every Online Travel Booking Business Must Be Aware of
Key reasons behind such a growth in travel sector
There are many reasons behind such a growth in the Indian online travel sector, including faster internet connections, rise in ecommerce and smartphone penetration, increase in household incomes, better travel options available etc.
Although there are several players in the market, the whole startup arena in India is open to new entrants. Given the growth projections in the market and its openness to new startups, there has never been a better time to launch an online startup.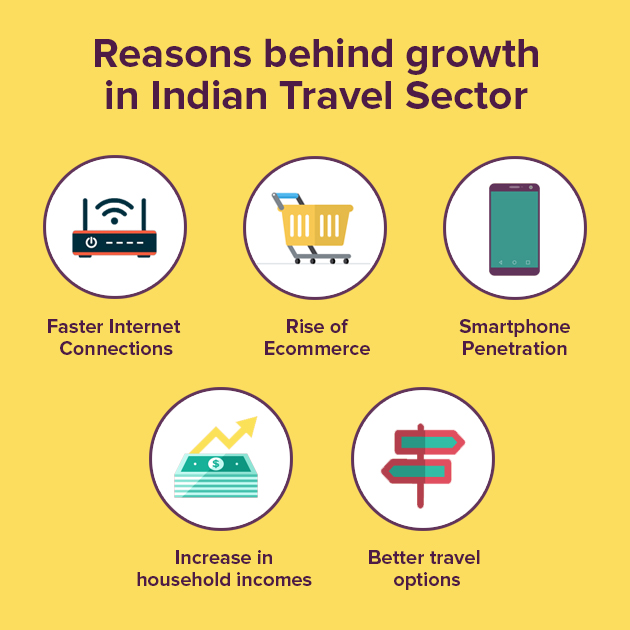 Suggested Read – Market Analysis & Travelers' Booking Behavior
The online journey of traveler while making a booking
The bottom line is that a typical journey of online travelers encompasses a combination of several sectors including ticket reservation, booking hotels, hiring tour guides and transportation services.
However online travel startup offers one thing to the travelers – i.e. convenience by offering all the services under a single room. The best part is that these services can be accessed and booked from anywhere and time.
For the majority of consumers, a vacation involves weeks if not months of planning. On average travel consumers spend 49 minutes spread over 46 days, visiting as many as 17 different online touch points to plan, research, and make a booking.
These touch points include online travel aggregators, search engines for reviews, testimonials, and maps. More than two-thirds of the travelers take inspiration from friends and family, while reviews/ratings come as the single most important criteria for making the final decision.
Looking for a software solution for an online travel activity marketplace?
Key areas to keep in mind for online travel startups In India
Types of travelers to target
There are in fact three generations of travelers that an online travel startup must target. This includes Millennials born between the 1980s and early 2000 (17-35 yrs), generation X born between the mid-1960s and early 1980s (35-52 yrs) and baby boomers born between the mid-1940s and mid-1960s (52-72 yrs). Millennials are the ones that are one of the biggest contributors to this growth followed by Baby boomers and Generation X respectively.
A number of travelers
Often overlooked, it is one of the key points to keep in mind for online travel startups. It revolves around how many people they are planning to travel with. This includes: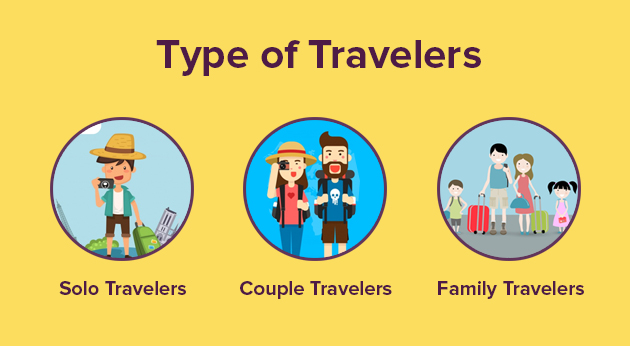 Single travelers – Ones who travel alone
Couples – Ones who plan on traveling along with another person usually (honeymoon or married couples.)
Family – Ones who plan on traveling with a larger group of more than 2 travelers.
Exposure to Technology
This is another aspect that online travel marketplaces must keep in mind. Exposure to technology has played a critical part in the growth of online travel startups in India. Targeting the group of consumers that has the least exposure to technology is basically wastage of resources and online travel startups in India must keep this mind while designing their marketing strategy.
Social Media
In the current market dynamics, social media plays a key part in connecting businesses with consumers. Online travel startups must keep this aspect in mind. With over two billion Facebook users, 700 million Instagram users and 300 million Twitter users, social media becomes one of the major channels for online businesses to target consumers. As targeted ads become a norm on social media, travel startups are using social media to their benefit to capture prospective clients.
Payment Options
Although ecommerce has taken the Indian consumers by storm, still there is huge ambiguity when it comes to payment options. The fact remains that credit/debits card are still not prominent in the country and most of the people still rely on other options for making payment. An online travel startup must ensure that they offer as many options to the travelers making it easy to make the payment.
Seasons
Consumers in India do not travel around the year. The influx of tourists is scattered across seasons, and the bulk of the booking is done over a short period of time. Online travel startups in India must time their marketing strategy around the seasons, and push offers accordingly for maximum results. This usually ranges from October to March when the weather is on the cooler side compared to rest of the year.
Destinations
Although India is a big and diverse country, the bulk of the travel is limited to a handful of destinations. There are two factors behind this. One being lack of awareness among consumers and other being facilities being offered. There are some new travel startups in the country that have created a niche for themselves for offering travel solutions to offbeat places.
Conclusion
The next few years are highly crucial for online travel sector in India. The fact of the matter is that aspiring entrepreneurs just need to keep certain things in mind pertaining to the local customers as mentioned in this post. With more and more people going online for planning and booking their vacation, it has never been a better time for anyone to launch their online business.
Planning to launch an online travel booking website?