Let's say you own a car that you wish to sell. You have two options: you can either sell it to a dealer or directly to a buyer. Both these processes usually happen offline or through crowded vehicle classifieds. To reduce the time it takes to make a car sale, many online car trading websites have come up.
Cars.com, AutoTrader.com, EasyAutoSales.com, Web2Carz.com and Carwale.com are some of the most popular online car selling and auto trading websites. Such platforms connect a wider user base, increase price transparency, and assure a better deal to both sellers and buyers.

FATbit Technologies is presently working on designing and developing a similar car buying and selling portal on PHP technology for a client and would like to share some of its distinguishing features.
Streamlined search, car review and buying process
Simplistic search process is the most important aspect of an automobile buy-sell website. There must be enough content filters to help visitors easily narrow down the search results. Whether the vehicle classified site deals in cars, bikes or boats, the bidding or buying process must be quick for better conversions. FATbit design and UX planning team made the following provisions for this project;
Homepage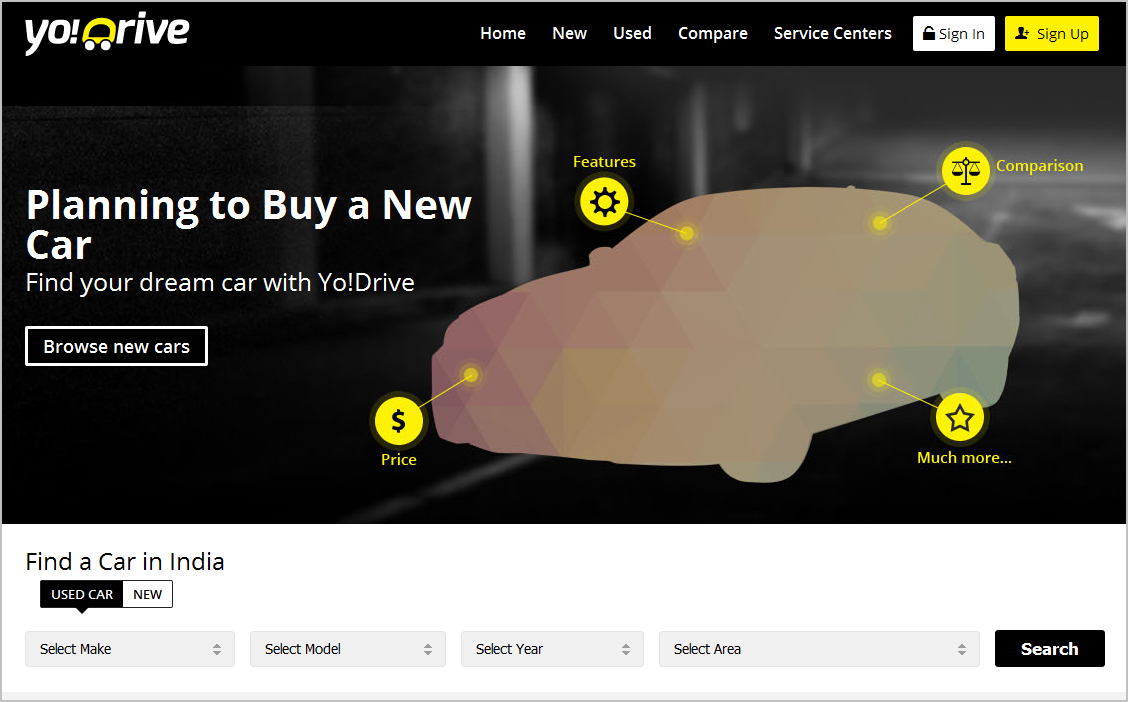 Advanced Search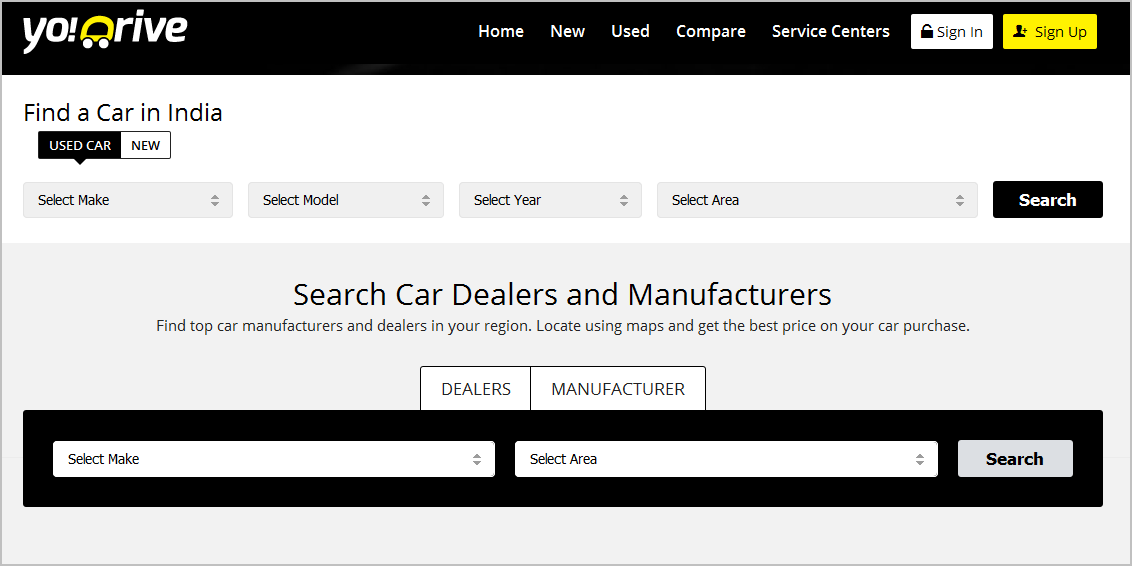 Search a Car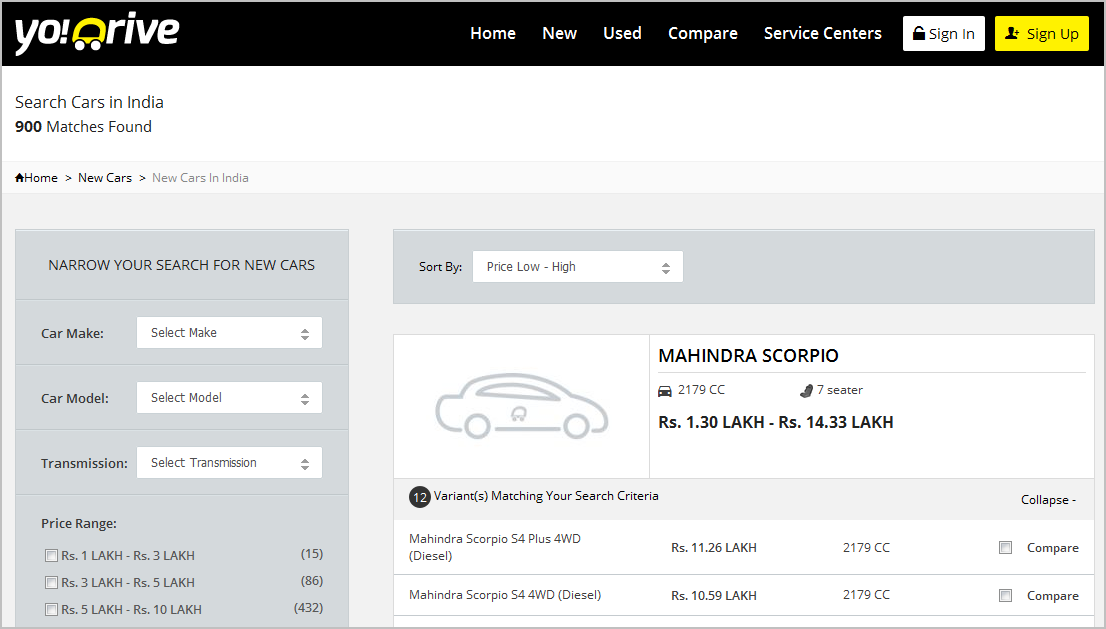 Listed Car Description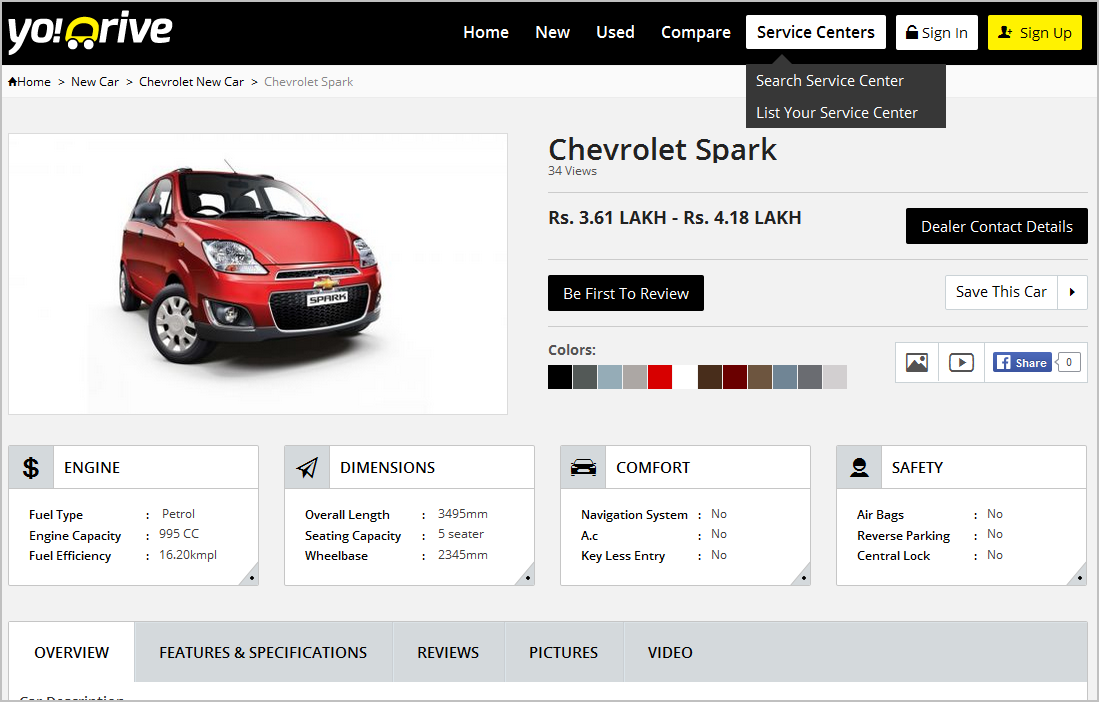 Signup Process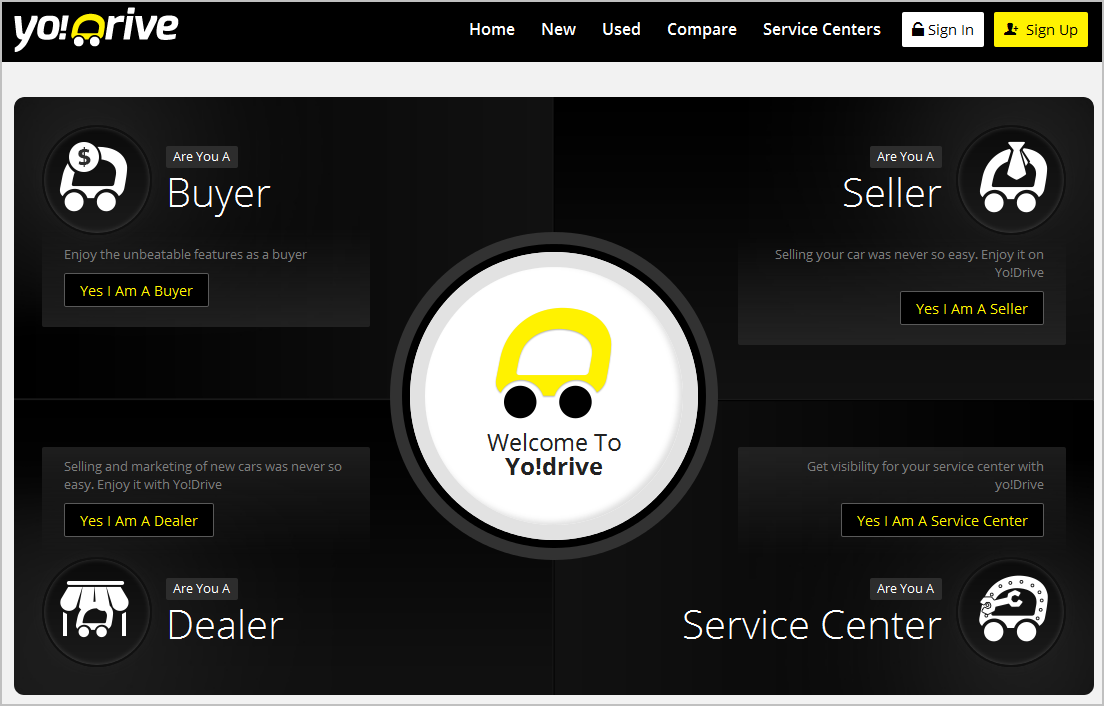 Dealer Admin Area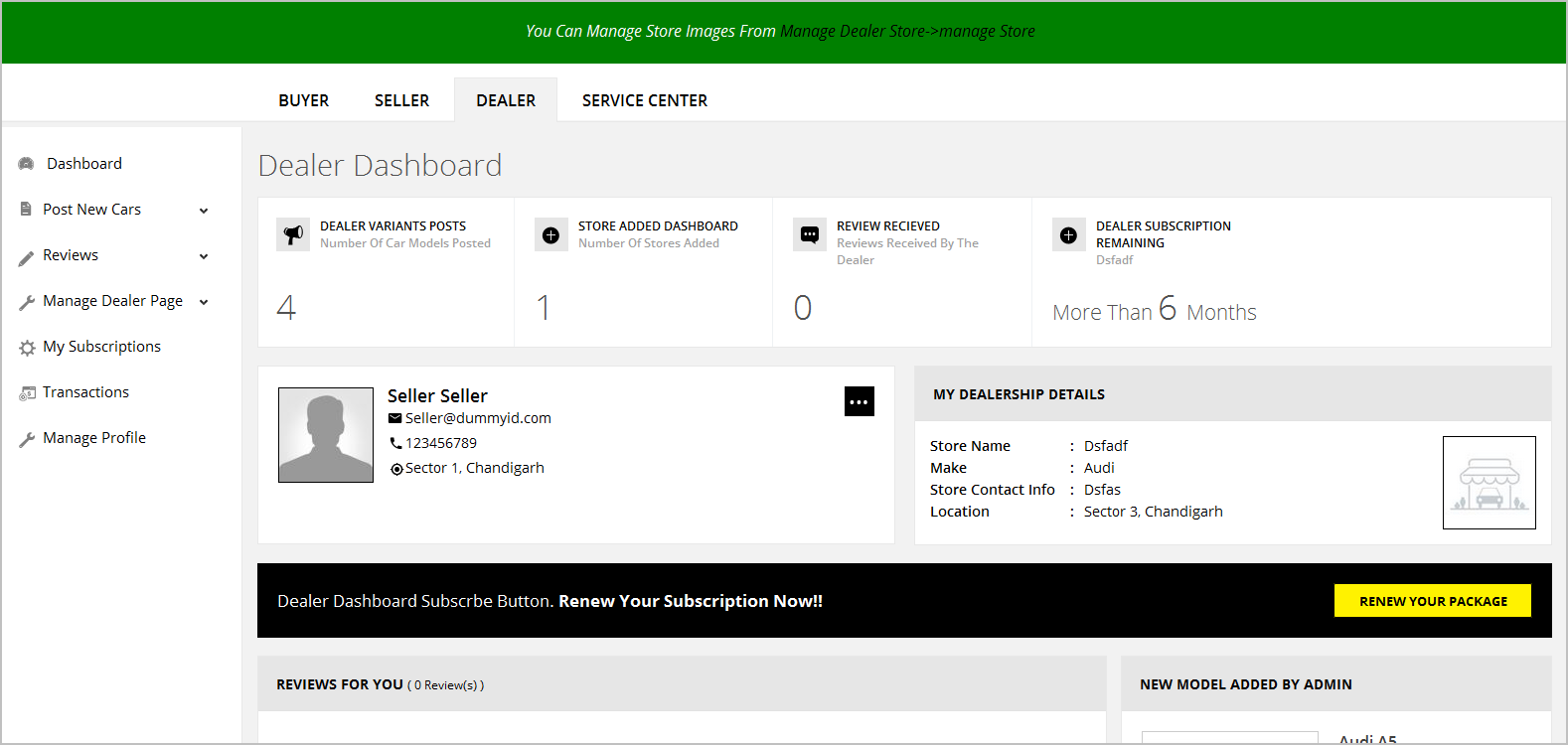 Seller Dashboard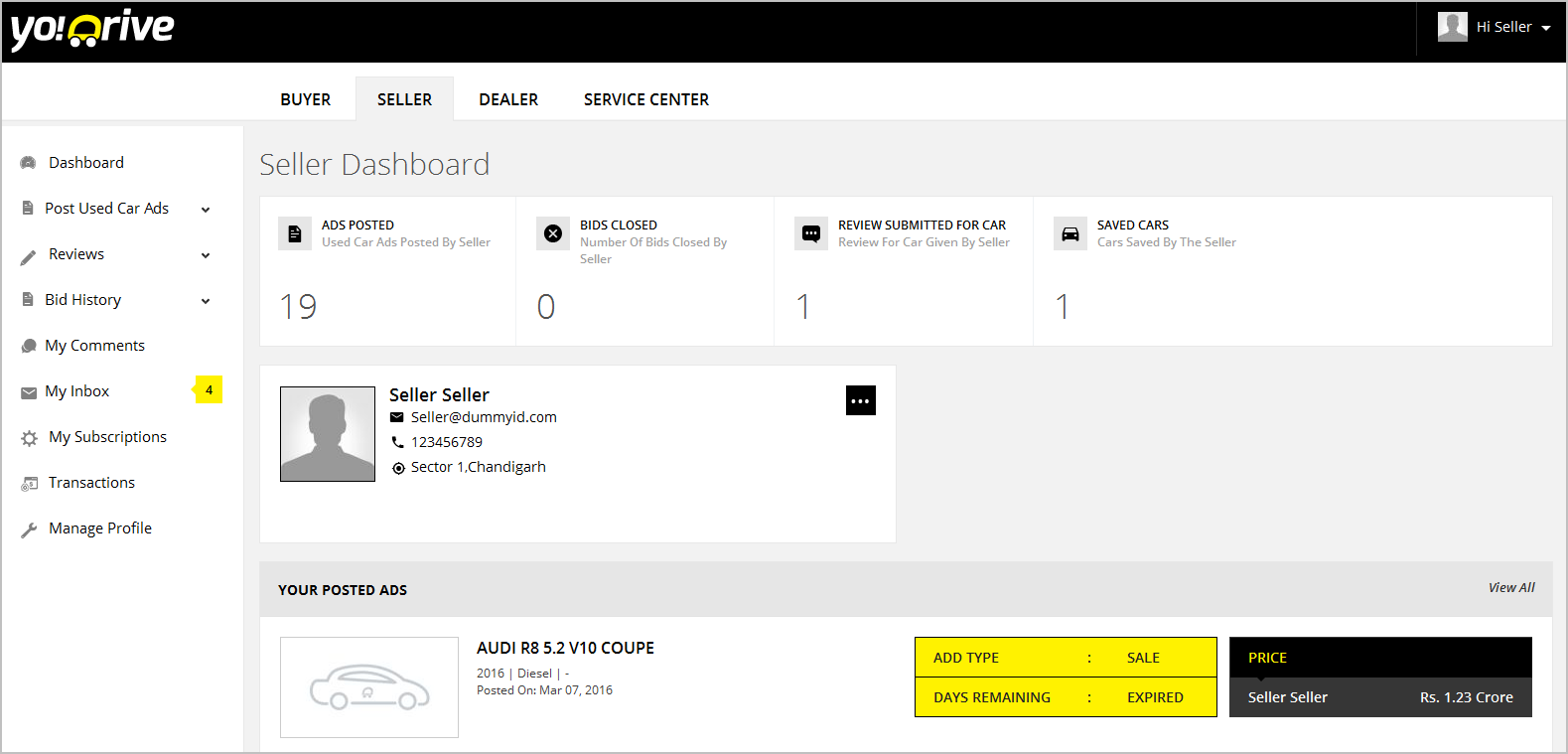 Seller Subscription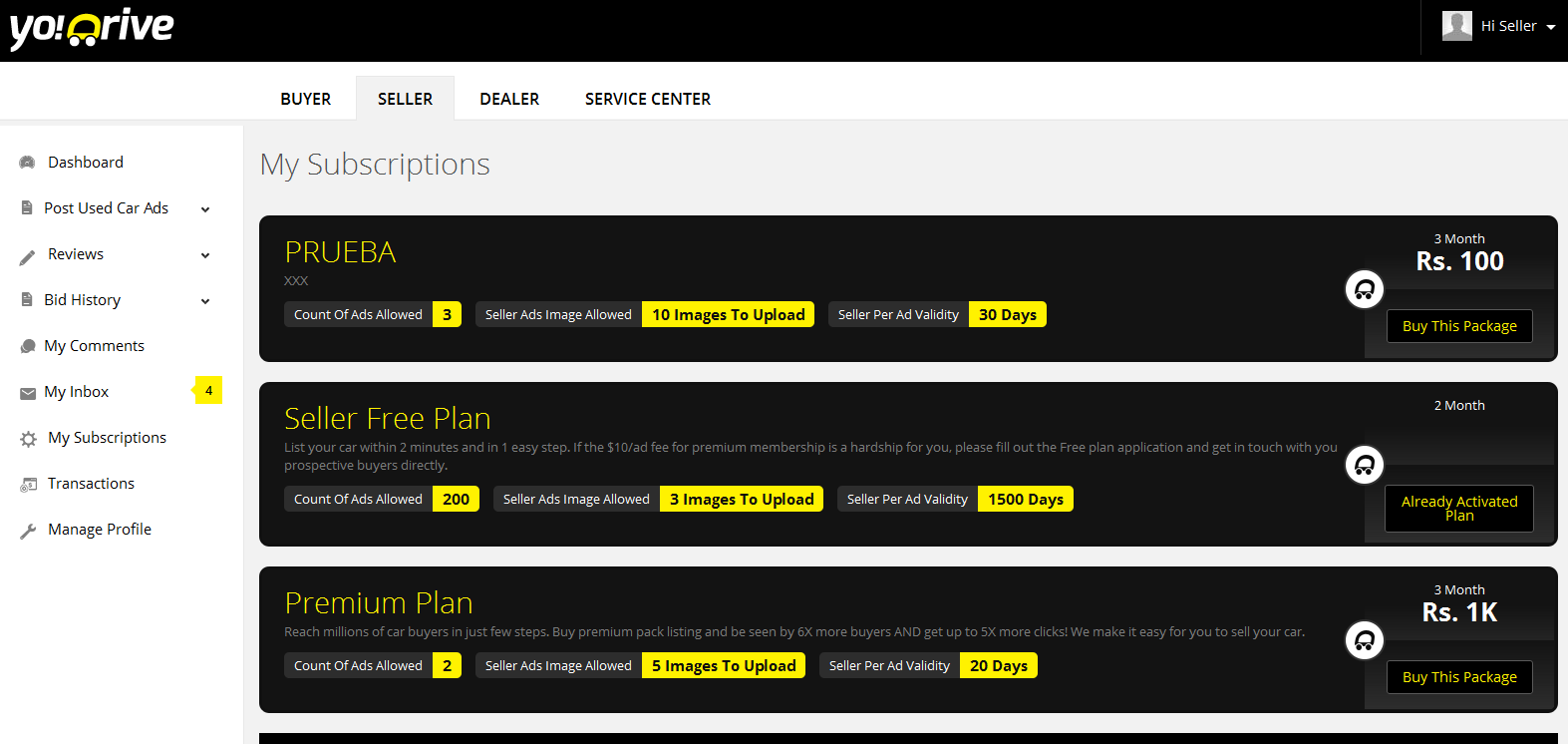 Admin Area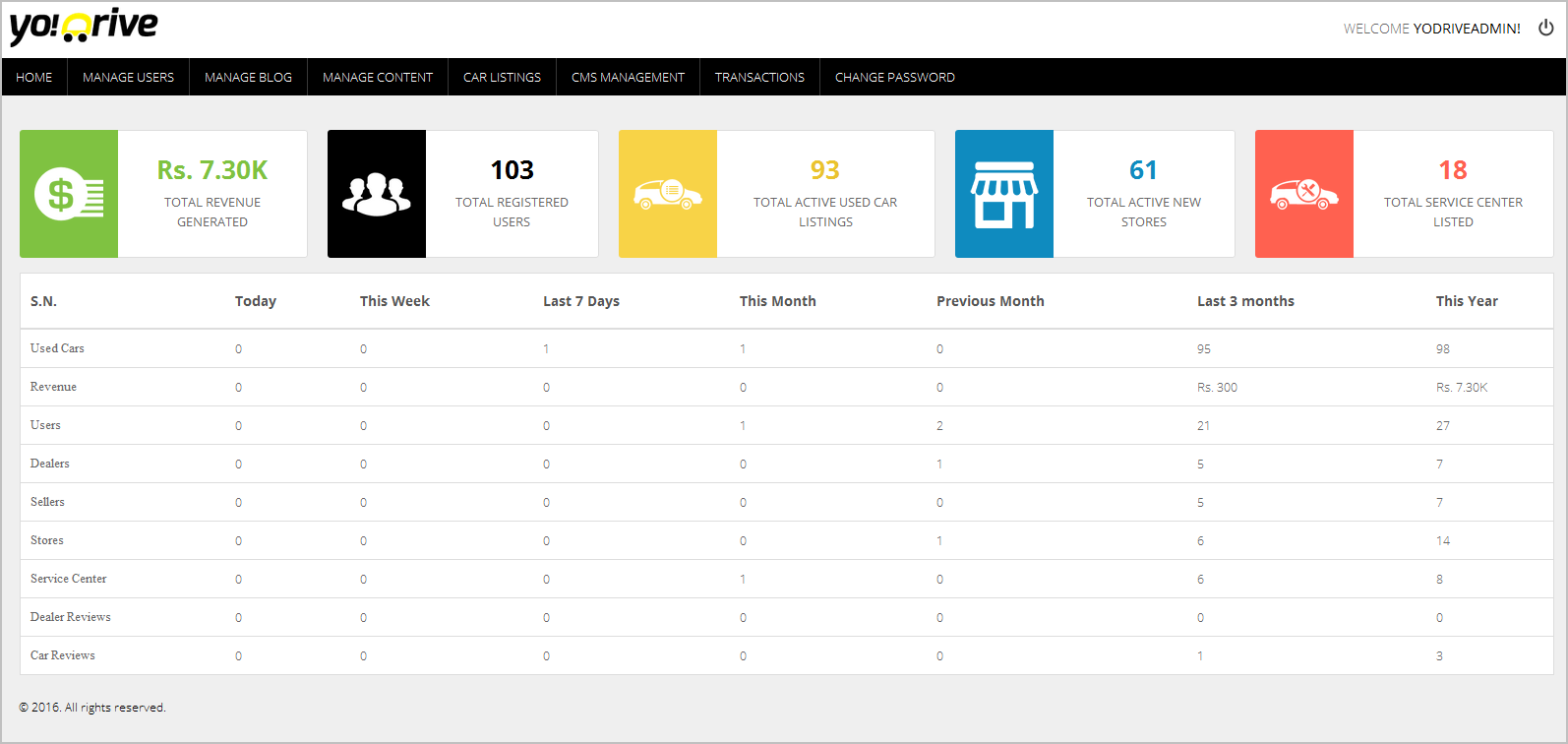 Car Listing Management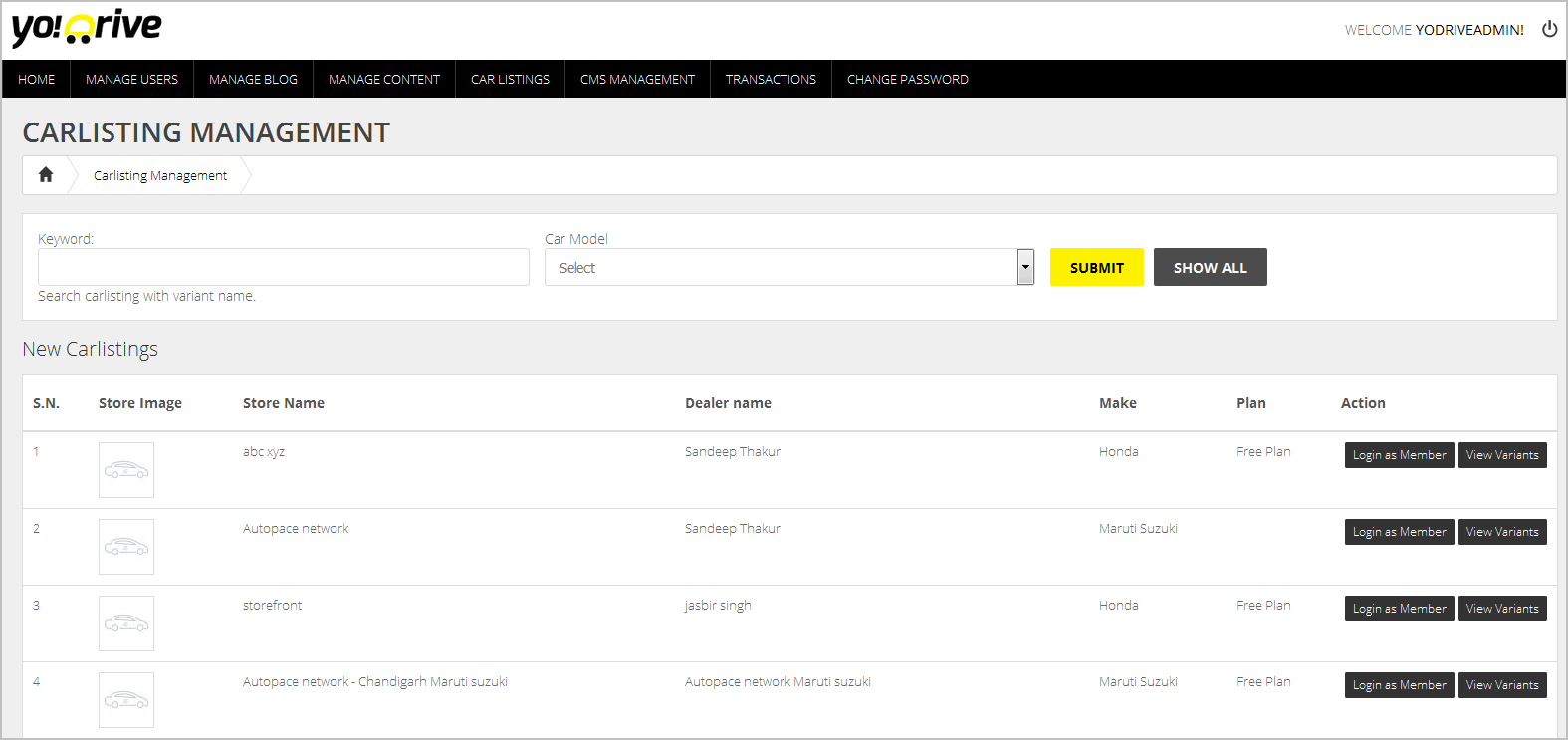 Search Process:
The website's homepage has simple used/new car search options on the first fold. A new user does not have to go looking on inner pages for the most elemental feature.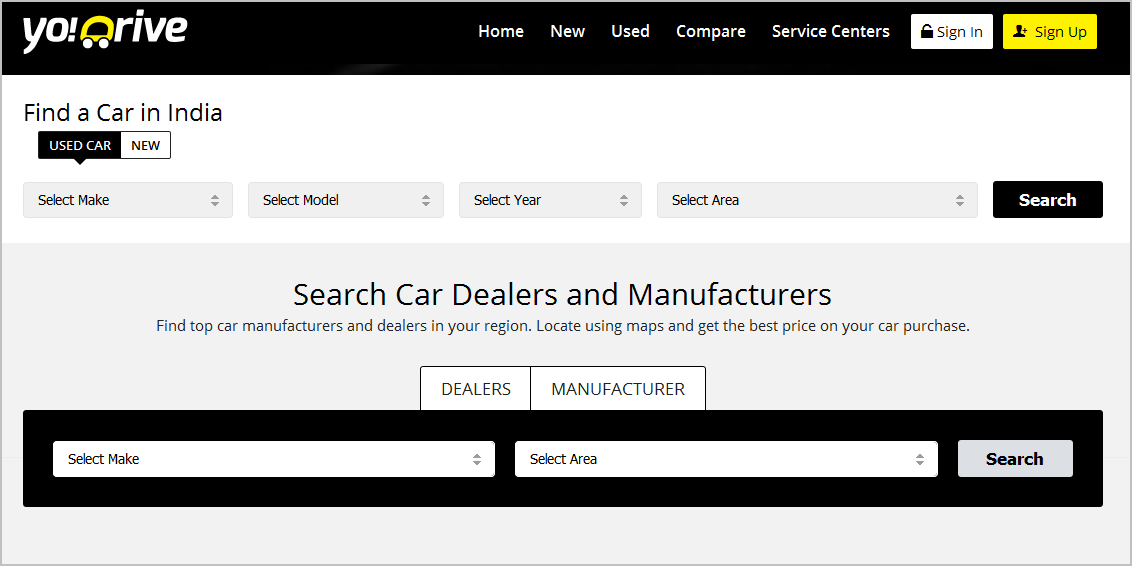 This is followed by an advanced search option asking for further details. It asks for optional details about the car's make, model, year, city of seller, body style (SUV, MUV, sedan , hatchback, convertible), price range, kilometers, color, fuel type (petrol/ diesel), transmission type (manual/automatic) etc.
The cars can also be searched based on location of the dealer/seller selling the car or the manufacturing company of the car, recently added cars, etc.
Top online car trading sites have powerful search options that make it easy to find the vehicle of your choice. So, if you are planning to launch your car sale site with autotrader clone script, make sure search features are perfect.
Launch a custom built automobile classified website instantly.
Consult team FATbit
Review Process:
A buyer can view image gallery and go through car details before making purchase decision. All the product specifications are stated in full detail.
Visitors can also view car's price and contact seller/dealer.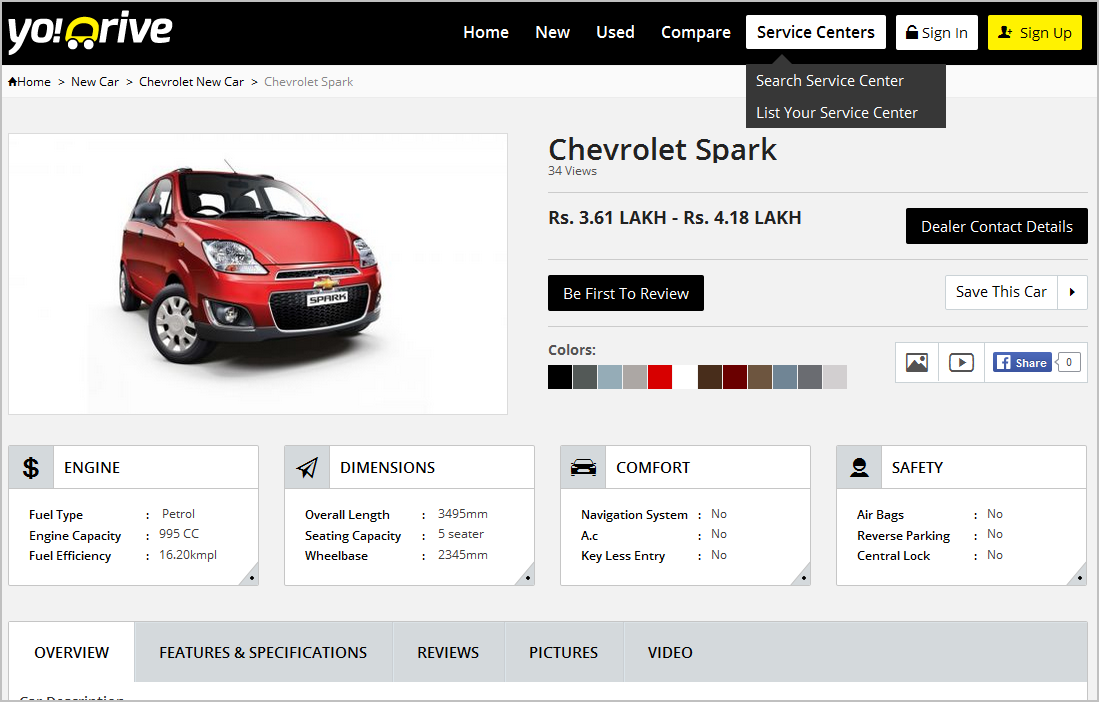 This page is also connected with the 'model details' page in case a user wishes to read general information about the car posted by the car dealer website.
During the research phase, the buyer can save a car he wishes to revisit. This saved list of cars can then be viewed from the user's dashboard.
Such features are important for online auto trader sites to build a registered user base.
Buying Process:
If car is posted for sale, then car price will be shown. In that case a user has to contact to the car owner.
If car is posted under bid section, the user has to bid a suitable price. User has to post a higher bid as compared to listed bid price or previous posted bid.
A seller and Dealer friendly platform:
A logged-in seller has the option to post a new/used car ad to sell. The number of days for which the ad will be visible on this car buy sell portal is dependent on the subscription plan.
The seller can add all product details to be made visible in the listing/ ad from their 'my account' area. This is like a CMS (content management system) where the seller just needs to fill an online form. He can also manage, edit and renew the expired ads from this admin area.

Seller or dealer can also communicate with the potential buyers from the admin area based on the received messages and bids received.
A dealer has all the facilities available to a seller. In addition to that, he can create multiple stores depending on the number of physical stores he wishes to promote through this portal. This is a unique feature of our car classified/autodealer website.
The virtual stores have complete location & address of physical store. It will also share details about the cars available at the store.
A dealer can be contacted by both sellers and normal users. He also receives reviews for the service he offers. If he feels that a review received is inappropriate, he can report the same to the admin. This feature is usually missing in reviews systems of most autodealer clone scripts.
Only best auto dealer software offers such features, and fewer are flexible enough for modification and enhancements. This PHP powered car buy-sell site has been built to scale as per client needs.
FATbit's has 9+ years of experience in launching complex portals.
View our portfolio and packages
Easy on-site communication:
Communication features are necessary as most sales are dependent on one-to-one conversations between seller and buyer. FATbit conversion optimization team planned multiple options of website interaction so that a buyer can easily deal with seller. Look for following features while getting car-dealership website or investing in a car classified clone script.
Once a subscribed user has viewed various cars and is interested in buying a car from a seller/dealer, he has the option to contact the seller. A mail will be sent to seller and the user's message will be shown in the seller's 'my account' area, in the inbox.
Users may also post comments on the car he is interested in.
He can also leave reviews for any car whose information is shared by the admin. These reviews are not for any particular used car.
A buyer can also leave reviews for the dealer after buying a car from him. This review is helpful for future buyers.
Pro tip – If you are going to create an Autotrader like site from scratch, go for open source technology like PHP. It will save you a lot of money.
A user-engaging website
The website's design and user experience have been planned from scratch by FATbit's design experts. We started the actual design work after detailed wireframes were approved by client. While discussing design of your automobile trader website, do invest enough time in planning its user experience and usability.
The website's home page has been planned in such a way that a visitor instantly knows that he is visiting a cars classified website. From image slider to search filters, all indicate the same.
Website's navigation is easy to use for any first time user.
We have strategically placed distinct CTAs to improve chances of conversion.
All the pages are well connected to each other. Every car listing page has suggestions for related listings that encourage a user to browse further.
The signup process is simple and intuitive for all 3 types of users: buyers, sellers and dealers.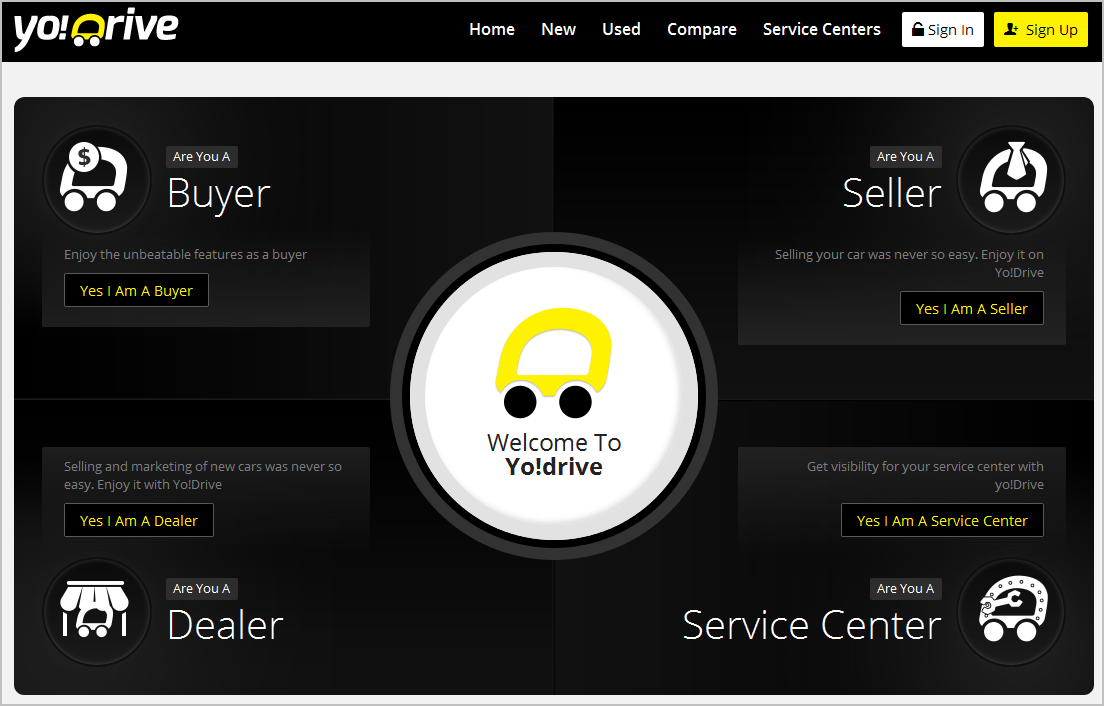 User reviews section for the dealers makes this auto-dealers website more credible to potential buyers.
Information shared about various cars models makes the website more engaging and widens its target audience. Its reach is now extended to all those who are interested in following latest news about the automobile sector and reading car reviews from buyers and experts.
Add distinct features to your portal so that it becomes user engaging and interactive
Hire our experienced programmers
How do Car Buy & Sell websites make money?
During initial planning phase of this car buying and selling website, we tried to include enough sources of revenue generation. Make sure your cars.com clone script makes space for all of them:
Multiple membership options: The portal earns a membership fee based on the membership plan chosen by a seller/dealer. This fee is charged at the time of registration. Once a seller becomes a paid member, his car listing becomes visible to the buyers. The registration fee collection process is through the website's secure payment gateway.
Featured cars: There is an option for the dealer or seller to feature his car on the home page. This gives him instant visibility and increases the probability of making a sale in less time. In return, the seller or dealer has to buy a premium package from the website's admin area.
3rd party advertising: There is a provision to display banner ads on every page of this car selling web portal. The space can be sold to car dealers, related businesses or can be linked with Google Display Ads. The banner ads can be easily managed by the website admin from the admin area.
Pro tip – Go for a car classified clone script that offers scope of new feature additions and enhancements so that you can add more money making integration in future.
Other worth-adding features
Most car dealer websites come with the basic features such as dealer & seller profiles, product description pages, easy search options, reviews system, etc. These features are also present in websites meant for selling motorcycles, boats and RVs (recreational vehicles).
If you wish to add truly unique features to your autotrader website that will widen its user base and attract more visitors, you can include;
Financing and insurance options within your website. These are commonly required services when buying a car. You can include EMI and insurance premium calculators and earn by acting as an affiliate from financing and insurance companies.
Additional user friendly search filters to simplify search. An option to search for used cars in a radius around any given zip code can prove very helpful for your users. A single filter for the city is sometimes not enough.
When a website visitor is looking to buy an old car, bike or boat, he would prefer to see listings based on past ownership records of the automobile. Filters like: Cars with no accidents, 1-Owner Cars, Cars with service records, Personal use (similar to those used by carfax.com) can help make a quicker buying decision.
Ballpark figure for a used car sale for individual sellers. The admin can suggest suitable selling price with the help of a pricing algorithm based on local data from dealerships and past sales records. Carlypso.com has implemented this successfully and is now preferred by individual sellers.
A special section for car reviews from professionals can give you an edge over the popular car buy-sell website clones. You can also include Latest Launches, Auto News and Car videos to make the website more engaging.
The car dealership website will very soon be ready to compete with the likes of autotrader.com and cars.com. Competition amongst online automobile dealer websites is already brutal and thus building your platform on a feature-scarce Autotrader clone script will not benefit.
If you really want to bite into the market share of established companies, then, discuss your website plans with experienced development professionals. Only then you will be able to come up with an auto buy-sell website that will make revenues for you.
FATbit's web experts can help you setup a professional and interactive car classified portal.
Consult our team