Imagine you bought a pair of shoe which you absolutely love, wore it for a year or so and the sole of the shoes start ripping off. Painful situation, isn't it? You are sure you will not get similar pair anywhere in the market and you just wish those pair of shoes could come back to life.
For most people, taking it to the local cobbler means ruining the quality of the shoe. Although the cobbler does repair the shoe but the look and feel of the shoe is taken for granted by them.
The problem is resolved with the advent of online shoe repairing platforms. Besides the quality assurance, these platforms also make the process quite convenient for customers; as is the case with every online business.
In the times when aspiring entrepreneurs are running out of new business ideas, shoe repairing websites come up as a potential one. Here is a detailed analysis of the business model, which also includes revenue streams & key website features.
Business Model
The business model of an online shoe repairing website is similar to an offline shoe repairing. When your shoes start to wear off, you pack your shoes to give it to the cobbler, tell him what needs to be repaired. Once it is repaired, you get it back, pay the money, and done!
In the virtual world, things happen pretty much in the same fashion:
Step 1: Customers visits a shoes repairing website and selects the style of shoe and the type of repair needed and place the order with payment.
Step 2: The business team will send the shoe shipping kit to customers with their business address.
Step 3: Customer puts the shoe in the box and affix a prepaid return label to the box and drop it off at the local postal office.
Step 4: The shoe gets repaired by expert craftsmen and sent back to the customer as good as new.
Another noticeable thing about these businesses is that their scope is not limited to just shoes. Many of these websites have expanded into different verticals such as jacket repair, handbag/wallet repair, clothing repair, dry cleaning, and so on.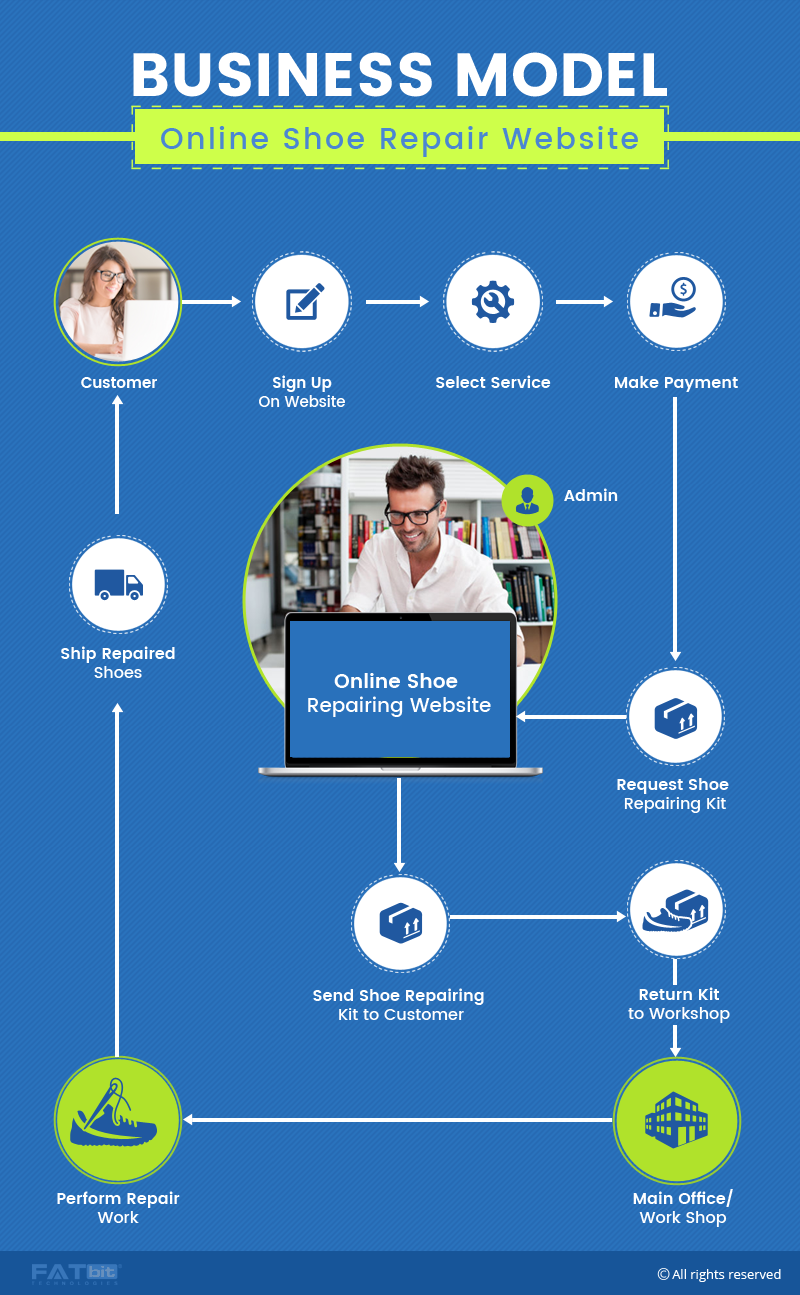 Major Market players
My shoe hospital
We do shoes
The shoe laundry
Nu shoe
The shoe men
Hakky 24 hours shoe repair
Revenue model
Primary Revenue channel
The primary revenue channel of shoe repairing website is the charge for the service they provide to the customer. The fixed amount for repairing the shoe also cover the man hours spent on shoe repair & delivery charges.
Secondary revenue streams
Advertising- There are two options for the website owners to make money from online display ads. They can either signup with PPC ad networks like Google AdWords,or they can publish their own banner ads on their website and charge advertisers based on the space & time for their ads.
Subscription- Most shoe repairing websites provide a subscription option to its loyal customers. Under the subscription model, users become premium members of the business and get extra privileges such as waive off some charges, additional discounts, express delivery or better service to customer over a period of time.
Additional services- Services such as expedite delivery, express repair, etc., need not to be available just for premium members. There should also be provision to allow non-members to avail these services on an individual order, simply by paying more for it.
Critical Website Features
Like any niche specific website, online shoe repairing portals must have certain features that help them run their business more effectively, as well as build trust in customers. Here is the list of features that a shoe repairing website must have:
Showcase past work- When a visitor visits the shoe repairing website, it very important that they get to see a sample of your work. It is rightly said "a picture is worth a thousand words".  When testimonial fails to convince customer regarding the quality of work, displaying past work will help.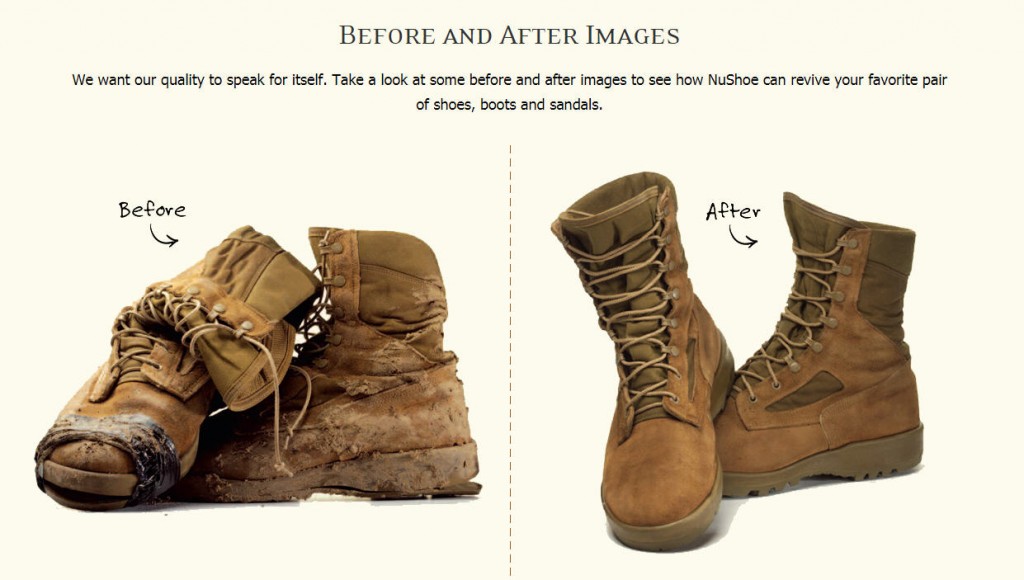 Source
: Nu Shoe
Price Guide–  As online shoe repairing is a relatively new concept in the market, customers might have very less knowledge of the cost & time it takes to get a shoe repaired. So before the whole process starts, an estimated price must be displayed on the website which would help the customer in the decision making.
Shoe Category- The shoe repairing website should have easy navigation. It should easily allow customers to select which type of shoe they want to get fixed. The shoe categories can be divided based on gender (male, female) and shoe type (leather, canvas, etc.)
Product Category- If you are planning to tap into product categories other than shoe repair (such as handbag repair, dry cleaning, etc.), then it is imperative that you mention them on your website clearly for customers to easily see them.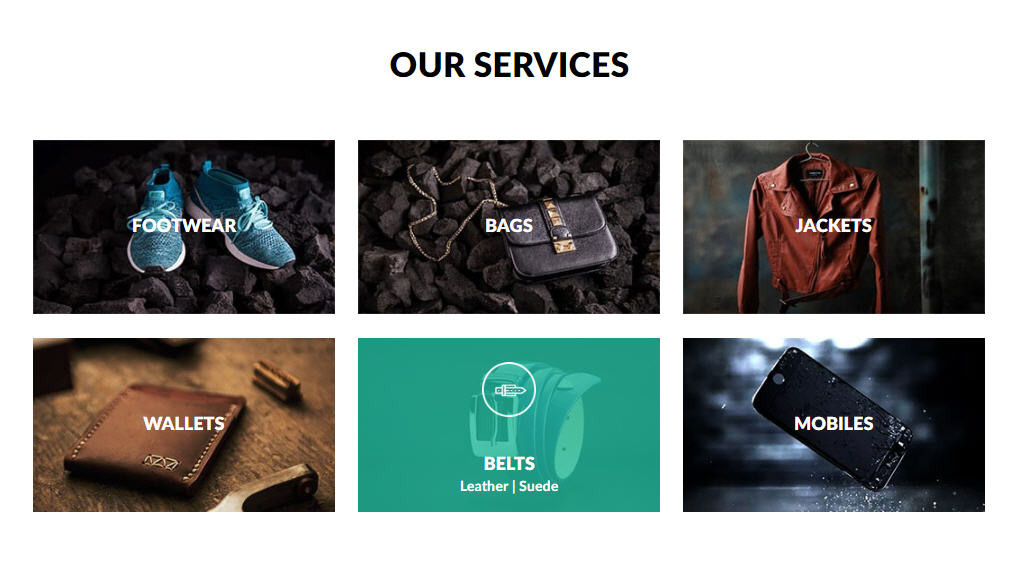 Source
: We Do Shoes
 Price estimator– This is one of the features that will make your shoe repairing website stand out. There can be different things which customers want to get repaired – from sole change, laces changes, dry cleaning etc. That is why it crucial that a shoe repair website has a price estimator in place so that the customer knows the estimated price of the repair in
Ask experts for website features that can be game changer for your business
Repair Specification- While placing order for shoe repair, customers often need to specify what repair work is required & how it should be done. Therefore, it is essential to add a section in checkout process where customers can add comment regarding the repair of the shoe. This helps in creating a sense of confidence in users as it depicts the website owner is taking efforts to understand the requirement of the customer.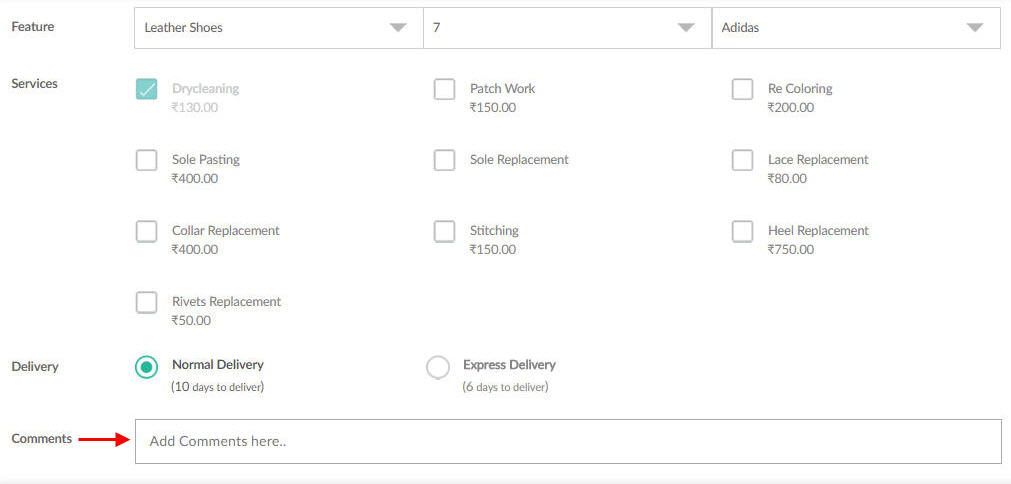 Source
: We Do Shoes
Testimonials- Testimonials are the most widely used assets to build trust in customers and are also one of the key commandments to achieve greatness in web service industry. So, it is important that you showcase your customer testimonials on the website homepage.
Mobile- Customer convenience is one of the most important factors for online business. Nowadays, people do not sit in front of desktop to get their online chores done. They get things done on mobile. This is why it is important that your website run seamlessly on the mobile devices.
Shipping Policies- As the shipping and delivery of shoe repairing website is a little complicated and differs from website to website. Every website should have a dedicated section where the shipping and delivery policies are mentioned.
How it works- To give a clear picture to visitors on how the website works, there should be a How It Works section on it, which features the basic working of the website.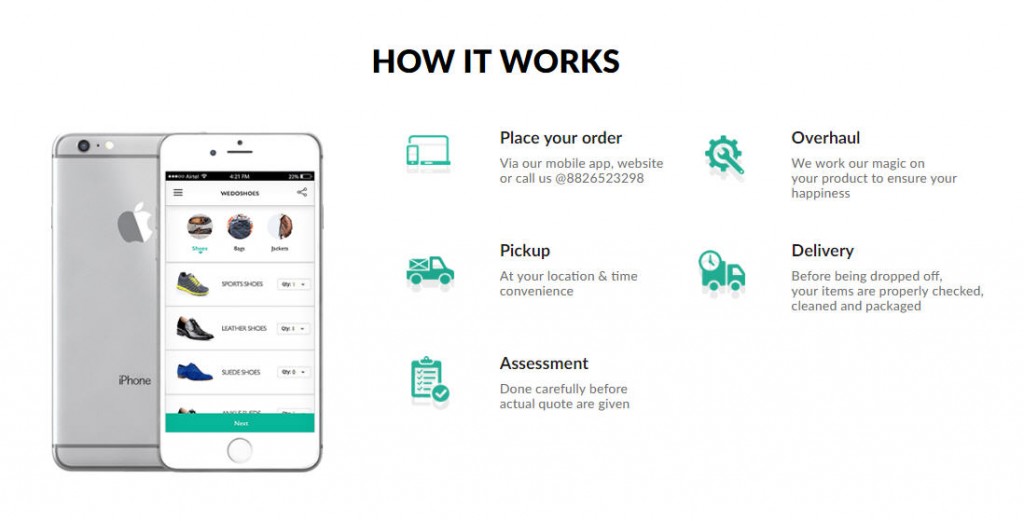 Source
: We Do Shoes
Chat & Help Section- There are lots of queries that consumers have when thinking of sending shoes for repair to an online shoe repair website. Allowing the customer to send instant messages to the professionals via a live chat feature makes an easy communication channel between them. Additionally, there should also be a Help (QA) section on your website, which offers solutions to frequently asked questions by customers.
Related read: Conversational commerce the new fad of online businesses
Blogs- For a website to be among top search results on any search engine, a blog section is a must. The blog must include keywords which are widely searched by consumers. Other than that, a blog section also imparts knowledge and showcases expertise of the website. Some consumer can understand the importance of shoe repair only when they go through some blogs.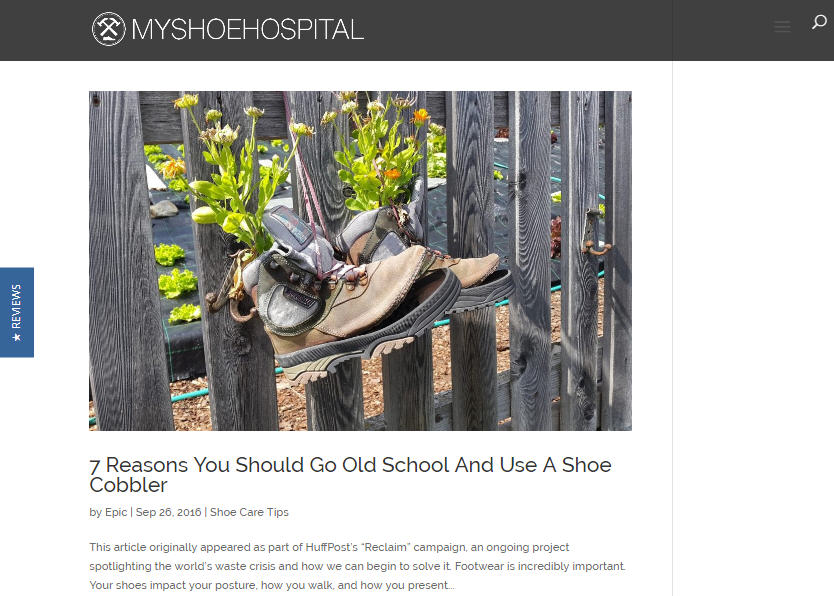 Source
: My Shoe Hospital
Improve your website's online visibility with FATbit's blog marketing services
Conclusion
Shoe repairing websites have reduced the hassle and efforts consumers had to make to get a shoe repaired from local market. Now just by a few clicks and without leaving the house, a person can get their favorite shoe repaired within a few days. Plus, the shoe will not just be repaired or dry-cleaned but will also look as good as new.
These reasons have significantly led to the huge demand of online shoe repairing, which also means there is a huge opportunity for startups in this sector. Implementing all the key & value added features discussed in this post can help new players immensely in making their mark in the industry.