Diamond and Jewelry industry in the online space has tremendous potential and growth opportunities. From Tiffany's diamond earrings to Zales jewelry design, retailers worldwide are prospering online with their luxury product line-up. Tree Hut, for instance, with an annual growth rate of around 67% became the fastest growing online jewelry retailer in 2018 closely followed by GemSelect.com at 52%.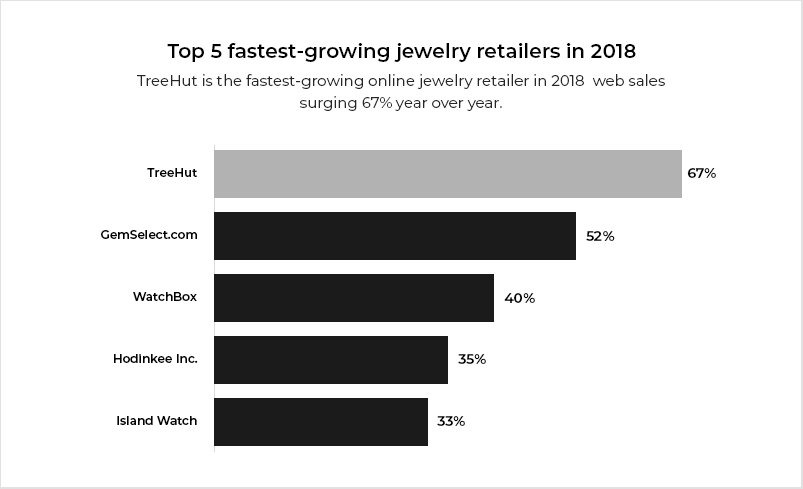 Source: DigitalCommerce360
As the majority of jewelry and diamond retailers realize the importance of an eCommerce store, it is the perfect time to invest and cash-in.
Industry Segments
Business-to-Business (B2B)
From lab-grown diamonds to certified jewelry items, trading luxury products require a structured and holistic approach. As manufacturers, distributors, and vendors look for a transparent and trusted trading environment, an online B2B marketplace with niche-specific features is a perfect platform to connect. It leverages trade logistics cost delivering a secure environment with maximum growth opportunities. A recent survey by DigitalCommerce360 suggested that nearly 75% of B2B sellers have planned to launch an eCommerce marketplace by 2020. As sellers are keen on investing online, it is the perfect time to start a B2B marketplace for the jewelry and diamond industry.
Business-to-Consumer (B2C)
Like B2B, online B2C marketplace for the diamond and jewelry industry also offers significant growth opportunities. For instance, Amazon – the retail giant claims nearly half of overall online jewelry sales in the US. As retailers look for growth opportunities, starting a B2C marketplace can be a great investment idea.
Scaling Options
Diamond and Jewelry industry is huge with tremendous scaling options available for everyone. Below we've highlighted the five prominent scaling options:
1. Marketplace

A unique and dedicated multi-vendor marketplace for the diamond and jewelry industry is a rare entity with a handful of marketplaces currently existing. UNI Diamonds (Powered by FATbit Technologies) for instance, is a niche-specific B2B diamond trading marketplace for polished diamonds with a complete logistical solution. Such marketplaces seamlessly connect manufacturers, buyers, and vendors to digitally search, compare, and buy polished diamonds after verifying the essential information.
Developed by FATbit Technologies, JTC – Jewelers Trade Center is another unique yet dedicated online marketplace for the jewelry industry. It enables retailers, wholesalers, manufacturers, and even small jewelry business to list their inventory and get attention from the buyers. The marketplace has a 5-star feedback system – a first in the jewelry industry.
Kick-start your online diamond and jewelry marketplace with FATbit Technologies
2. Ecommerce store
From Tiffany & Co to Zales, there are several exclusive jewelry and diamond retail chains witnessing growth with their eCommerce stores. Zales, for instance, aims to increase its jewelry sales with a mobile-optimized eCommerce store. The team recognizes the eCommerce site as a potential platform to address consumer needs on the go.
Another fine example is Forevermark – a popular diamond firm and a subsidiary of De Beers Group currently operating in 32 international markets. With a consumer-centric website, the brand offers an exquisite range of diamond collection and custom ring design options.  As more jewelry brands and local retail stores look for means to grow, starting a B2C eCommerce store like Forevermark (with attention given to details) is the perfect platform to invest.
3. Mobile app
Smartphone applications are convenient, highly productive, and a potential scaling option for a diamond and jewelry industry if developed right. Launching a mobile app will help you reinvent the diamond business and here's how:
Manage day-to-day operations – Imagine a B2B diamond business with separate offices for manufacturing, mining, sales, and other processes in different parts of the world. A dedicated mobile app can help connect teams at different locations with real-time communication.
Personalize jewelry – A mobile app with a customization feature enables customers to personalize jewelry items while at home. This improves consumer engagement and communicates in-demand designs to the business for future references.
Improve efficiency – Make diamond cataloging seamless with a dedicated mobile app. From details like how the diamond was cut/polished to grading and selling, the mobile app introduces better processes to eliminate any inconvenience and improve efficiency.

For instance, Malca-Amit – a dedicated mobile app offering B2B logistics and secure delivery solutions for jewelry, diamond, and other valuable assets on the go. The team at FATbit Technologies worked extensively on restructuring the existing mobile app architecture using the latest Java 1.8, Xcode 10.2 along with the JSON API approach. The result was a seamless mobile app with an improved user-interface/user-experience.
Looking for a custom mobile application for diamond and jewelry business
4. Retail Chain
Having retail stores for diamond & jewelry items in different geographical locations can be a bit challenging to manage especially without a reliable centralized platform. From managing peer-to-peer communication to handling inventory, a dedicated solution is required that is easily accessible. Consider having a user-friendly web platform and a customized mobile app to connect different retail stores and manage inventory levels with ease. It is a perfect option to invest and scale your network without delay.
We, at FATbit Technologies, will help you provide a dedicated web platform and mobile app solution to manage the entire retail chain.
5. Marketing Website
Start a business website like De Beers Group to market the products/services to a wider audience. Try to include a complete overview of the company's history, group structure, leadership, and stories created. Information like this builds trust and credibility for a company while improving exposure and visibility. A good business website enables consumers to interact more with the business, presenting new growth opportunities.
Starting a marketing website for jewelry and diamond business will help you:
Build trust and credibility

Promote your business

Increase local exposure

Expand your business reach and more
According to a recent survey by Statista, nearly 1/3rd of consumers in the US searched online for local businesses on a daily basis while 16% of them did so multiple times per week. With the increasing frequency of online local business search, it is high-time to invest in a business website, if you haven't already.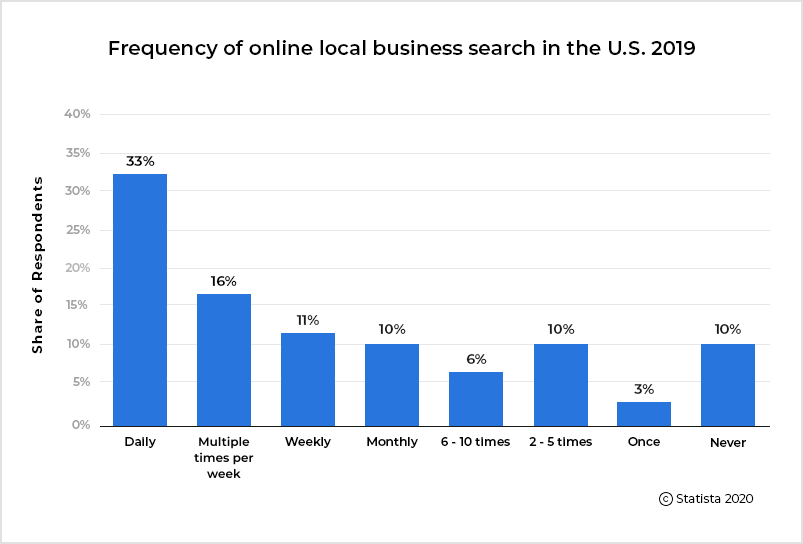 Source: Statista
Software Integrations and other necessary solutions
To start an online web store, trading platform, or even an eCommerce marketplace in the diamond and jewelry industry, few integrations and solutions are essentials.
1. ERP Software and Other Integrations
Empower digital transformation in the diamond industry with an omnichannel retail ERP (Enterprise Resource Planning) solution. A fully integrated ERP platform offers purchasing/supply management, manufacturing management, jewelry sales tool, real-time reporting, and many more features. Suntech's Jewelry ERP software, for instance, is a prime example of diamond inventory management software that automates business operations for sales, purchase, karat-based price management, and more.
Software integrations like these are necessary for a diamond and jewelry business to thrive and gain consumer trust. Online diamond and jewelry business relies upon a number of key integrations as discussed below:
Certifications – GIA certification, IGI certification, and AGS grading are often key criteria to identify and classify a particular stone. Integrating certifications like these are a mandate for each online jewelry and diamond business to build consumer trust while buying/selling jewelry items such as polished and lab-grown diamonds.
Imaging (V360) – The most advanced diamond and jewelry photography system, Vision 360 enables retailers to scan polished diamonds or jewelry and provides a 360° real image. The imaging system is a must-have integration at the front end of the online store or marketplace.
Inventory – Another key integration for an online diamond and jewelry store, inventory management enables businesses to track the current stock level of jewelry items and re-stock when necessary. Fantasy ERP system by Rubinstein Software is a fine example of a multi-platform ERP solution that allows users to easily customize their inventory needs enhancing the efficiency of inventory management.
Database – Integrating APIs from Rapnet, Idex, and other popular diamond/jewelry trading networks into your website enables access to accurate pricing information or diamond listing information. These are highly useful integrations for a diamond trading network/marketplace.
2. Management Solution
Implementing a fully-automated ERP management solution enables efficient business operations and integrations with several in-house and third-party certifications. From order approval to inventory and access control management, there are different ERP solutions necessary for a business to gain more customers. Real-time management solutions keep track of all manufacturing, mining, polishing, logistics, and sale processes for a diamond and jewelry business making life much easier.
3. Solutions for Shipments & Logistic Firm
Shipment and logistic firms play an important role in the diamond and jewelry industry. By offering a truly remarkable and secure logistic solution (including overnight delivery), they streamline delivery operations more effectively. Shipment & logistic partners (with local or worldwide operations) require a dedicated and reliable interface to manage their logistic solutions, offer live tracking feature, and securely handle shipment, insurance, and other logistic costs associated.
Consult the experts at FATbit Technologies to build a robust website and mobile app to carefully manage day-to-day shipment & logistic operations and scale up the business potential. By utilizing our expertise in building similar solutions for clients like Malca-Amit, we can help maximize your business reach.
4. Analytics solution
The analytics is another critical component in the jewelry and diamond industry with key involvement at different levels. Analytics solution is required at several areas of growth such as defining the key performance indicators (KPI), customer profiling, inventory optimization, sales analysis, product analysis, and more.
The use of advanced analytics enables the jewelry organization to predict consumer buying behavior and future events. Integrating such solutions in one place can help jewelry retailers make fact-based decisions with ease. The team at FATbit Technologies can help you devise a software solution to implement such key solutions for predictive, descriptive, or prescriptive analysis hassle-free.
5. Marketing solution
An online jewelry and diamond business needs targeted traffic to grow and expand. This is possible only with an SEO-optimized online store and realistic digital marketing strategy. With services like online reputation management (ORM), content marketing & distribution, search engine optimization (SEO), and other digital marketing techniques a jewelry store can quickly grow and improve rankings effectively.
Moreover, the business may opt for expert consultation for business analysis, competition analysis, and more. FATbit team is adept at providing such expert consultation for business empowerment.
Consult the experts for choosing the right scaling option
Conclusion
From an online trading network to a business website, there are several potential scaling options for a diamond and jewelry business. Consult the experts at FATbit Technologies to invest/choose the right scaling option. With our in-depth knowledge and expertise in the diamond/jewelry industry, we help deliver robust marketplace solutions to scale/expand your business network.