A gig is referred to as a temporary job with an uncertain future. Some say the "gig-trend" emerged as a direct consequence of the global financial crisis, while others agree that it's a clear manifestation of the millennial psychology that values a flexible work schedule over the security and perks of a full-time job.
So in a broader sense, the gig economy describes a workforce environment where organizations with temporary positions contract independent workers for short term engagements. We're seeing gig economy utilized in a range of roles from junior admins, concierge, to highly skilled jobs such as website designers and developers.
It's also visible at the executive level. Executive positions such as CFOs and CTOs are now being filled in on gig basis. These interim executive solutions work best where organizations are handicapped in certain areas that can be remedied with an injection of intellectual property (IP).
How is Gig Economy Changing The Industry?
The financial software company, Intuit, reported that the gig economy comprised around 34% of the workforce and will grow up to 43% by 2020. To provide a better picture, Harvard Business Review reported that approximately 150 million people in the US and Western Europe are working as independent contractors.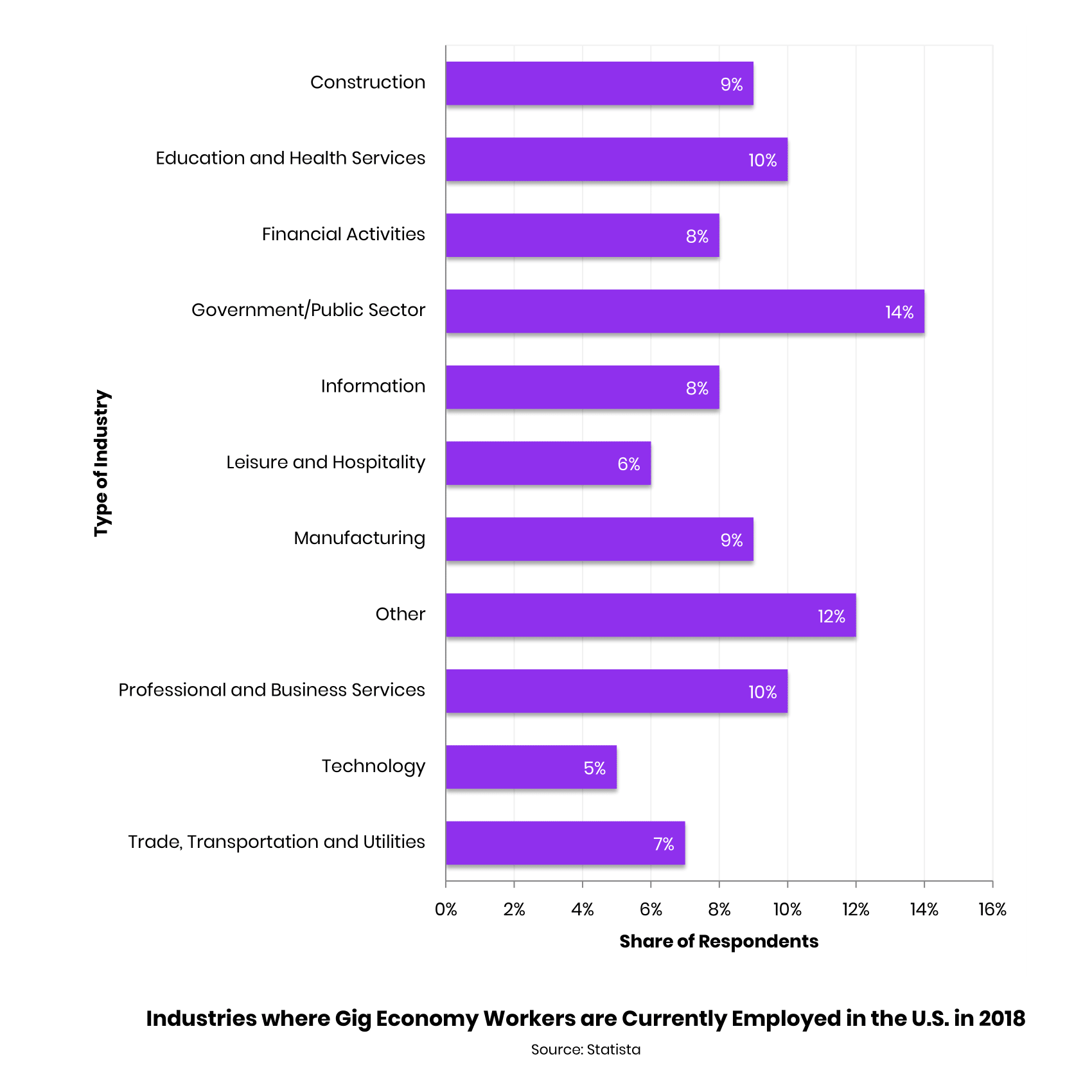 The gig economy is finding a voice in all the major industries, but it's with the government and business services, where project-based work is the modus operandi, that Gig economy has found the greatest success.
It's worth noting that in the gig economy, much of the risk associated with an organization is transferred to the freelancer. This goes against the conventional 9-5, secure arrangement that corporate employees had hitherto enjoyed for a long time now.
The priorities are certainly shifting now. Keen on improving their bottom line, organizations are turning to such measures as cost-cutting, salary pruning, and offshoring that threaten to take away the economic security of the average person. This scenario definitely strengthens one's belief that it's worthwhile to 'build one's own brand' as we move into the future.
An underlying cause for the growing interest in the gig economy can be attributed to the modern workforce's desire to work without bosses. People are much happier working for apps. Take for instance ride-hailing and home delivery services. They've created a whole new market and an affluent one at that.
On the face of it, technology looks like the life-force of the gig economy, but there's more to it. If we look at the history of labor, we find that social change can occur without the aid of technology. Social change is primarily influenced by our decisions to organize the world. Technology only comes into the mix at a later stage which is relevant in this digital era.
How to Succeed in the Gig Economy with Right Strategy?
Succeeding in the gig economy depends a lot on the owners' understanding of the current market situation and the major pain points of the freelance community. Following are a few crucial ways businesses can look to satiate the demands of the growing gig economy.
Embrace Continuous Improvement
One of the best ways to grow your business in the gig economy is to embrace the concept of continuous improvement. It immediately adds diversity and opens up the market. But true innovation isn't without challenges.
You'd have to make plans to counter the difficulties of dealing with global partners and implement a strong operational process that simplifies onboarding, communication, payments, and more.
Consider the timeline (shown below) of Fiverr, an online marketplace for on-demand freelance services and observe how they improved their value proposition over the years.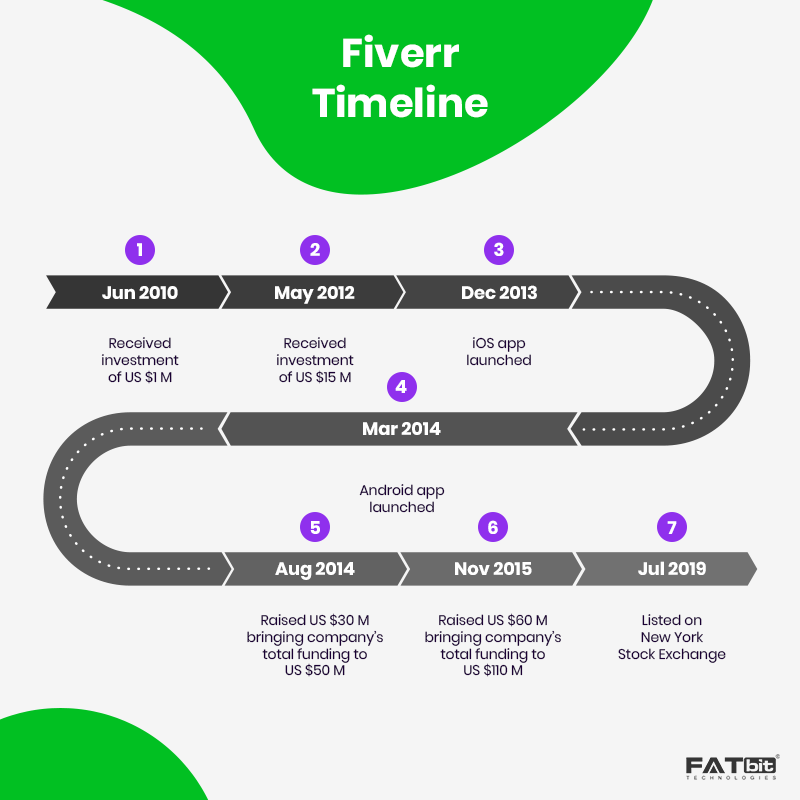 Fiverr Timeline
Information Source – Wikipedia, Graphic Credit – FATbit
Community Building
Many of the benefits that come from working in a team environment are absent in the gig economy. Freelancers are on their own to conjure up their creative genius. That's where the owner of a gig economy business can swoop in and look to create a sense of community by connecting freelancers with each other.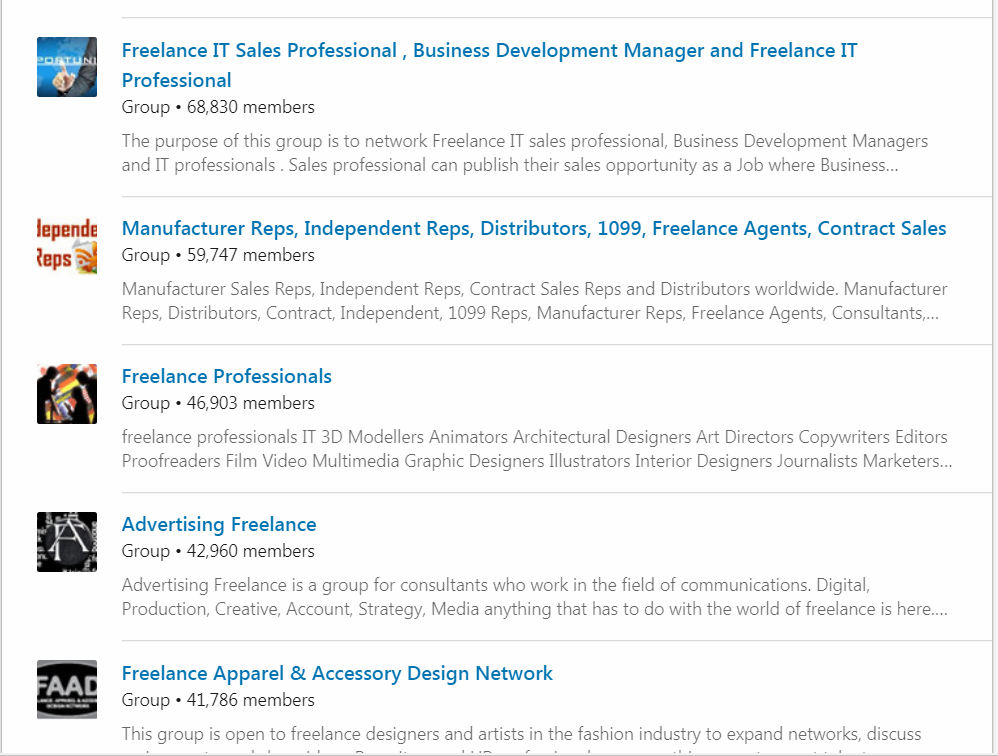 LinkedIn Groups for Freelance Professionals
Setting up a LinkedIn group or organizing global meetups could strengthen the community. A content and appreciated group of freelancers will recommend you to their peers and help popularize your business in the industry.
Keep Things Simple
Freelancers are a busy and self-sufficient lot. They're often juggling multiple things at a time from marketing and customer support to financial planning and more. As such, they have little room to cram more activities into an already busy schedule. It's a good idea to avoid sharing lengthy version of terms and conditions.
An attempt should be to make it easy for freelancers to work with you. A marketplace for freelance professionals that's self-intuitive and easily manageable is often the most successful. For example, Uber allows its drivers to set their availability, interact with passengers, and manage their account all with ease.
On-Time Payments
For most people, gigs are a way to earn quick income by doing something they love without expending all their energies. That's considering they're paid on time. The last thing a freelancer wants is a payment delay for the services offered.
It's crucial therefore that you transfer payments on time, especially to global partners to keep your goodwill intact. A great way to enable quick and reliable payments is to invest in a global automated payment system such as Stripe Connect or Paypal Adaptive.
Note: Stripe Connect and Paypal Adaptive are the recommended payment gateways for marketplace models where automatic split-payment is essential.
Opportunity to Start your Own Online Venture in Gig Economy – The Marketplace Model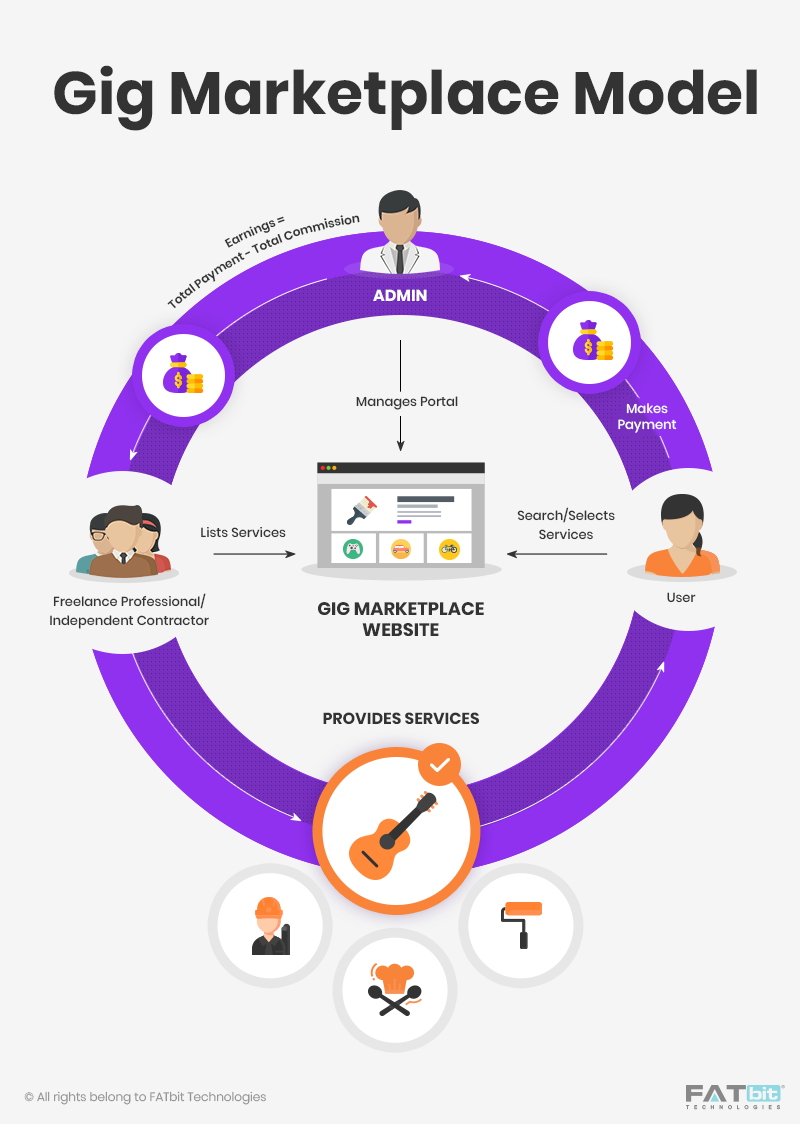 An on-demand business marketplace within gig economy revolves around 4 main entities. The admin, gig marketplace website, service provider, and the freelance professional / independent contractors. An admin controls the website to bridge the gap between service providers and freelance professionals. For that service, an admin earns a percentage for every successful transaction in the form of commission.
A freelance gig marketplace is where all the magic happens. Service providers set up their account on the website to advertise their services/products along with helpful information. Independent contractors are central to the success of a portal. They visit the website, look up the products and place the order as per their requirement.
The more independent contractors a portal has the more likelihood of transactions and eventually greater chances of growth and success. Payment for the gig is transferred to the service provider after subtracting the admin's share of the commission.
How to Get Started with Marketplace Solutions in Gig Economy?
If you've decided to get your feet wet in the gig economy, then here are a few market-ready solutions worth looking at: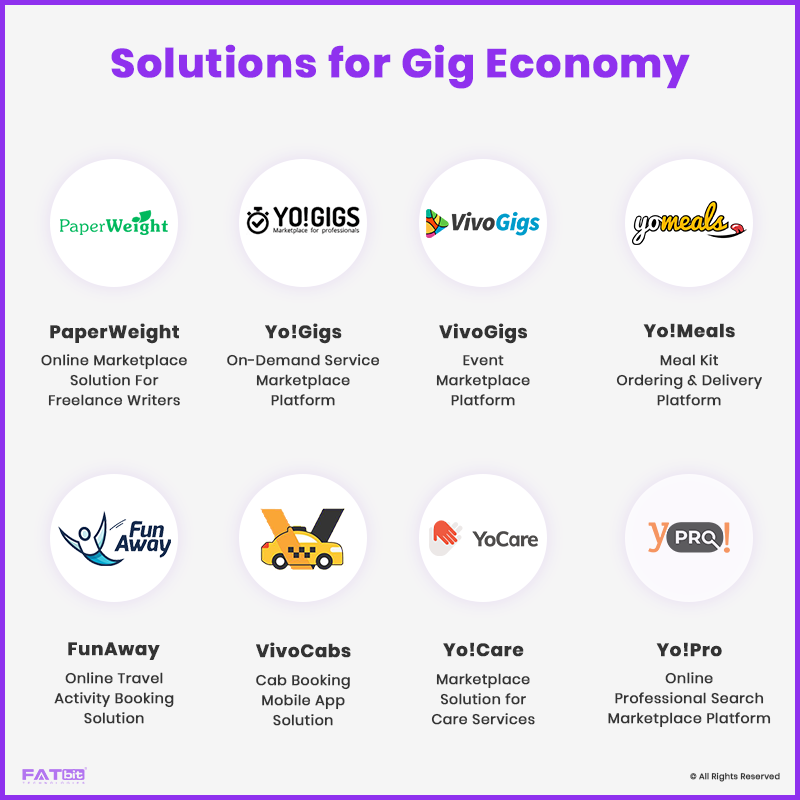 PaperWeight – Online Marketplace Solution For Freelance Writers
Comparison of freelance writers on experience, skills, & ratings.

Easy payments with eWallet.

Monetization options like banner ads and sponsored writers.
Yo!Gigs – On-demand Service Marketplace Platform
Earn profit by bridging the gap between service-seekers and freelance professionals.

Turnkey solution to build a service marketplace like Fiverr.

Benefit from market-readiness, scalability, quick-setup, and multiple revenue generation options.
VivoGigs – Event Marketplace Platform
An ideal solution to build a Marketplace for event organizers and performers.

Customizable as per business model and other strategic goals.

Highlight features include reviews and rating system, gig posting, and social media integration.
Yo!Meals – Meal Kit Ordering & Delivery Platform
An off-the-shelf solution to launch an online meal ordering and delivery portal like Blue Apron, Hello Fresh, and more.

Offers robust features to enable entrepreneurs manage the website with ease.

Responsive design, meal catalog management, location-based search, e-wallet, rating & review system, social media sharing and more.
FunAway – Online Travel Activity Booking Solution
A readymade solution to launch a travel activity booking marketplace. 

Brings travel enthusiasts and local vendors close to each other. 

Responsive design, multiple revenue streams, user-friendly booking management, social media integration, and much more.
VivoCabs – Cab Booking Mobile App Solution
Packs feature backed by market-analysis.

Engaging user-experiencing to make the app a joy to explore.

Offers live-ride tracking, fare estimate, review & rating system, push notifications and more.
Yo!Care – Marketplace Solution for Care Services
Kickstart marketplace for care services like senior care, pet care, and more. 

Economical investment solution with hi-performance features.

Completely customizable and mobile-friendly design. 
Yo!Pro  – Online Professional Search Marketplace Platform
A feature-rich solution to enable maximum growth. 

Built using open source technologies and scalable.

Offers a simplified content management system (CMS), responsive design, and more.

What is your Online Marketplace Idea?
Final Thoughts 
In the gig economy, the key to success lies in companies' ability to understand the immediate needs of freelancers and finding ways to nurture long-term relationships with them. The role of technology to surmount common obstacles be they payment-related or to facilitate the workflow will remain crucial as ever.