Last Updated: 14th Sep, 2022
There is no dearth of peer-to-peer marketplaces, however, when it comes to music equipment and instrument renting portal, there are not many names to list. But that will all change quickly given the rising demand for this service-driven largely by the success of the sharing economy.
One of the leading players in this booming market, SparkPlug claims to have increased its business presence in 70 US cities and 8 other countries within one year of its launch. That speaks volumes not just about SparkPlug but the demand for P2P Music Instrument Rental Marketplace
After noticing the growth of different businesses in this segment, FATbit team set about analyzing the business model and the website features essential to run a P2P music instrument rental marketplace.
Read on to learn our findings and insights into this increasingly popular niche of the sharing economy.
Music Gear & Equipment Rental Business Model
P2P marketplaces are a product of the sharing economy where consumers can rent products and services instead of buying them. The concept has been applied across different verticles and, as a result, we have Airbnb for renting homes, Spinlister for renting bikes, sites for renting computer games and more.
Amid a growing trend of renting overselling, a platform for renting expensive music equipment makes perfect sense. It works on the pretext of helping musicians and artists make money off their idle musical instruments and equipment, while letting other musicians use the same instruments for gigs, practice, and recording.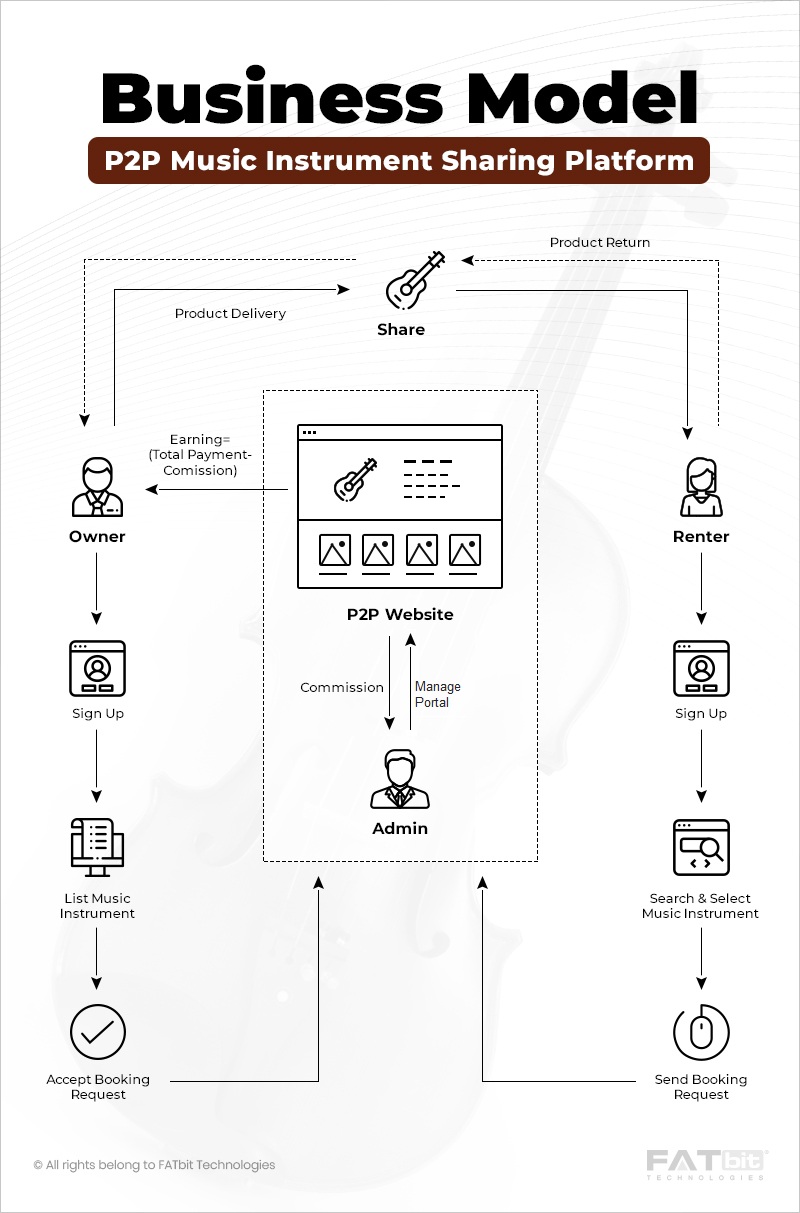 Revenue Generation Model
So, how does a peer to peer Music Instrument Rental Portal work and make money?
The website serves as a common platform for renters and lenders. Anyone can list an instrument on the portal, and anyone can rent a listed instrument, gear or space. Here is how things will work on your P2P music instrument rental marketplace:
Musicians browse instruments/gear/space listed on the site with their hourly/weekly/monthly rental rates.
They select the equipment for rent and specify the booking duration.
The owner receives and approves the equipment rental request.
After 24 hours of booking, the owner receives the money adjusted by commission deduction through the website.
The renter returns the equipment to the owner at the end of the booking period.
Marketplace owners could include a premium 'Featured/Popular Instruments' section and invite vendors to have their products listed for maximum views.
Another channel to create a revenue stream can be through subscription plans designed by factoring the different needs of vendors and renters.
This is basically how the business model of a Music Instrument Rental Marketplace works. Now, let's take a look at the essential website features and how to implement them to attract more users.
Looking to start a music instrument rental marketplace? Launch it with Yo!Rent
Marketplace Features
Before we dive into the critical features and functionalities of the site, let's first quickly take an overview of the basic features for building a peer-to-peer eCommerce portal.
How it works section to help new website visitors understand how to use the platform. (Create separate 'How It Works' sections for renting and listing instruments)
A search tool box with appropriate filtering and sorting options
'How It Works' section, since the marketplace is relatively new and unknown to a good part of internet audience (Create separate 'How It Works' sections for renting and listing instruments)
A common login/sign up channel for all users since anyone can rent or list instruments
Blog and other content based pages – About, Terms, Privacy Policy, etc.
Secure payment gateway, with a plugin that can handle different currencies, especially if you are planning to launch your business in more than one country.
Admin controls:
– Manage instrument listing, images, and reviews
– Manage user accounts
– Verify instrument listing
– Update website – content, blog, and basic navigation management
– Manage payment gateway for different currencies
– Site management for specific locations (cities/countries)
– Restore and reset database
Now, let's explore the website to learn about the crucial features that your P2P music equipment rental marketplace cannot do without.
Instrument Search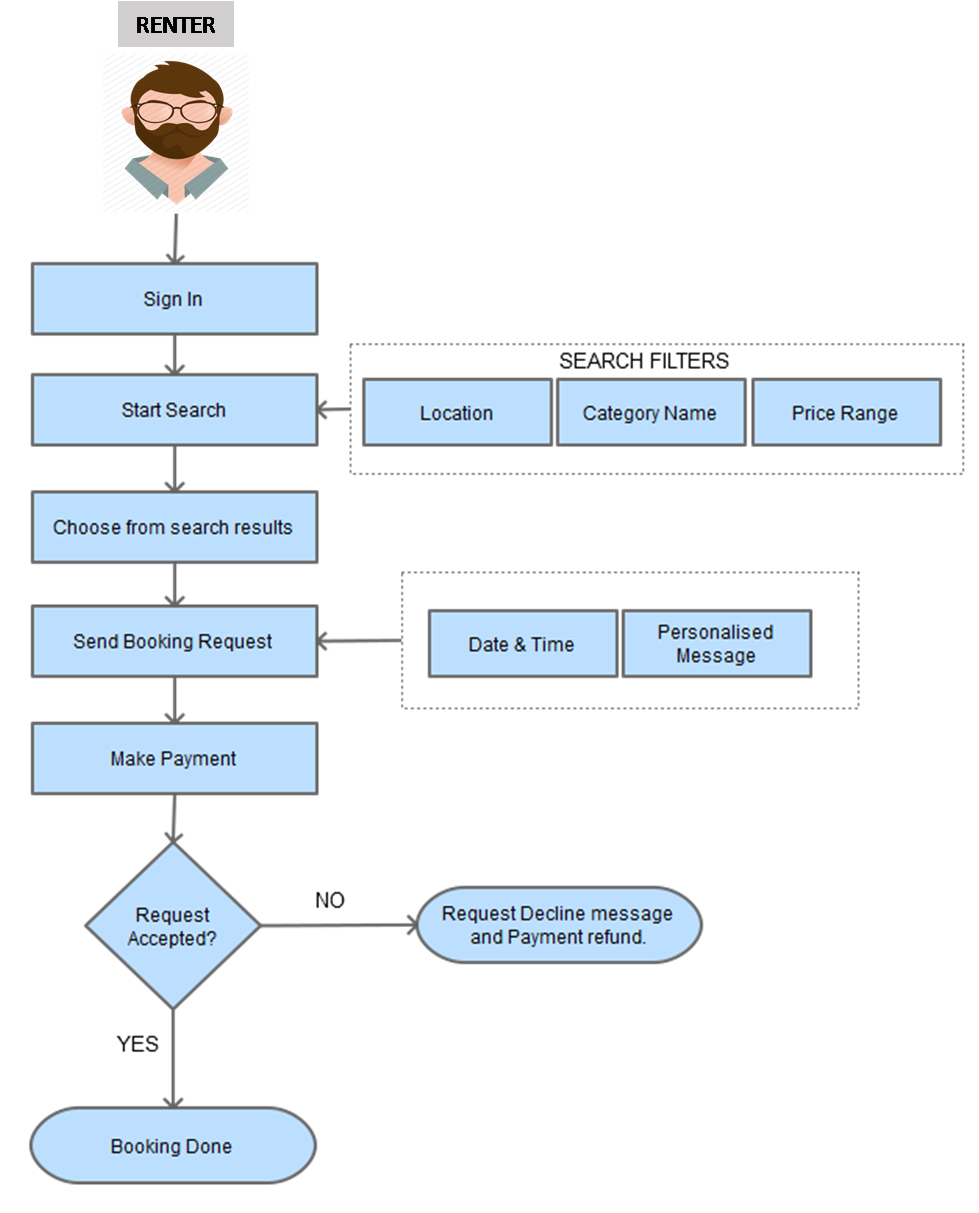 The website should have a search tool box in the banner of the homepage and on the top navigation bar of other pages. The search tool box should have following input fields:
Dropdown field to select instrument/gear category
Music gear, equipment, or space name
location
Showing results in thumbnail grid fashion would be a good choice. Within the search result listing, you can offer following features to deliver a rich experience to users:
Filters based on price
Wish-list to view or book at a later date
Social media sharing
Instrument description, its condition, serial number/brand (if applicable)
Booking an Instrument
Users can rent an instrument by visiting the instrument page. Apart from the renting option, users should be provided following options on the instrument page:
Pricing options
Availability, delivery/pickup options
Owner's details and option to connect to him through the website
Detailed instrument description, availability in calendar view, and location in map view
On clicking the rent button, users should be taken to the checkout page, which should ask them the payment details. To bring transparency to your platform, you can show how much commission you would be earning from the rental.
Listing a Music Instrument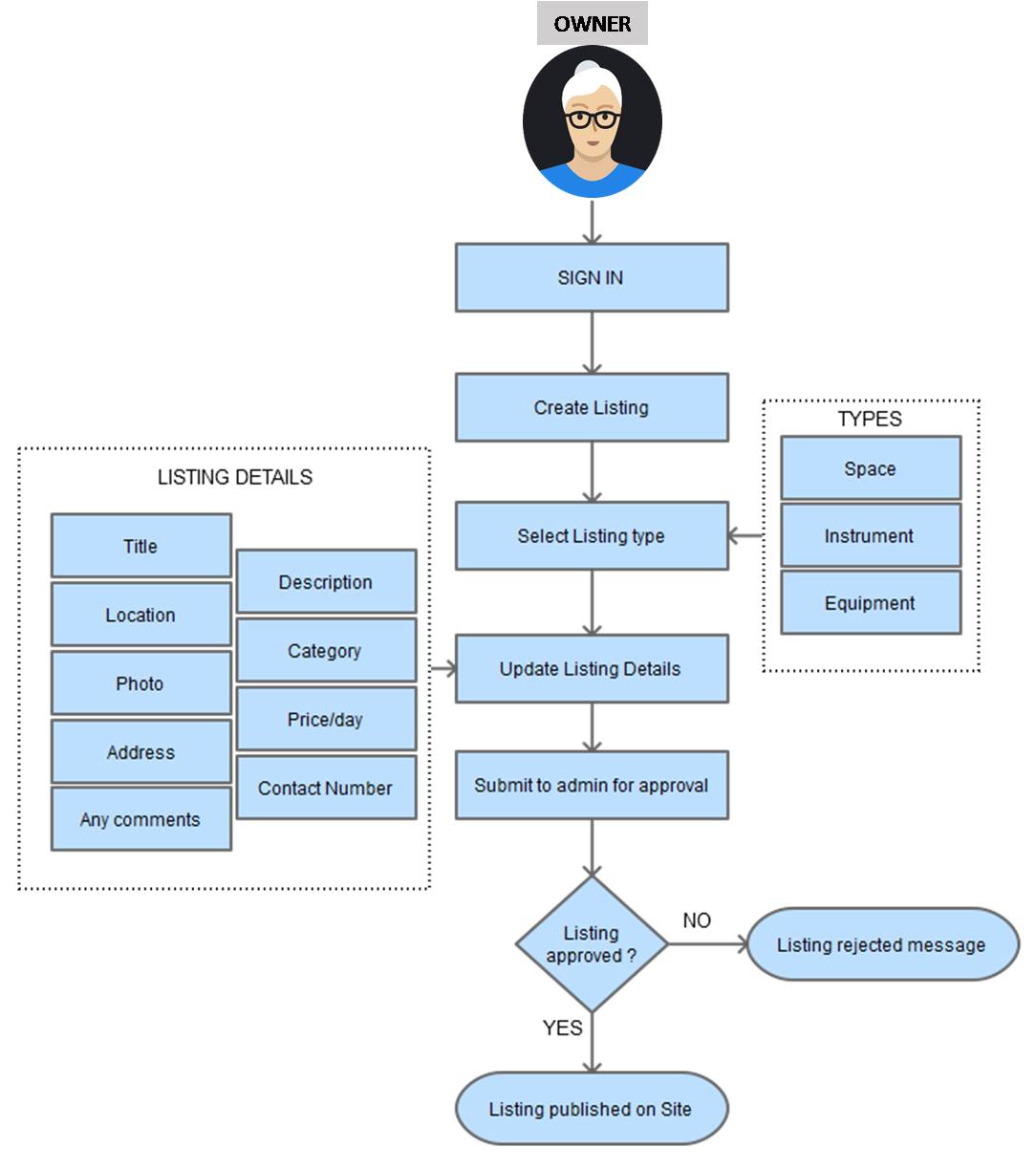 Only registered users should be able to list their instruments, equipment and spaces on the rental marketplace. The option should be provided on the homepage, as well as inside the user profile. The listing process should also be simple. Here are the steps you need to include in the listing process:
Choose whether the listed item is an instrument, gear or space
Select a category & subcategory related to the item (for instance, for an electric guitar, user will first choose the instrument, then guitar, then electric guitar)
Instrument description, it's condition, serial number/brand (if applicable)
Pricing details (hourly/weekly/monthly), as well as details regarding availability/pickup options
Picture of instrument/equipment
Location
Verification by verifying email address and phone number
In order to ensure the reliability of your peer-to-peer music instrument platform, you must include the verification step in the marketplace while building it.
Safe Rental Guarantee
Much can be done to create a safe rental environment on your website besides including the verification step in the listing process. Here are some insights that we gathered by studying other P2P music instrument rental platforms:
As the site owner, you should hold a certain percent of the equipment value from renters' account to compensate the damages to the instrument (in case any). The remaining amount should be credited back to the renters on the completion of the rental. If the damage is severe, under your site policies, the renter should be liable to pay the amount. Additionally, your peer-to-peer music gear sharing platform should also have a refund policy in case of the cancellation of the reservation.
User Profile Options
User dashboard should be nicely packed with all the necessary options. From within the dashboard, users should be able to:
View reservations, messages, and wishlist
Check & manage instrument listing
Connect website account with Facebook account
Do account & profile settings
Music Instrument Store Listing
By inviting offline instrument stores to list their instruments on the marketplace, you will not only be able to expand your listing, but will also open up new revenue channels for your website. Music stores can list their inventory or selected instruments and gears under a subscription program.
The site can also put a limit to the number of instruments an individual can list without needing to apply for the subscription. This way, it can keep its P2P marketplace separate from music store listing, as currently there are many music store owners who list their instruments just as other individuals.
Final Remarks
The demand for P2P Music Instrument Rental Marketplace is bound to go up. Considering there aren't many platforms serving this demand, aspiring entrepreneurs can have a successful startup if they choose to build a marketplace with above-mentioned features and recommendations.
Yo!Rent is a rental software to build a peer-to-peer rental marketplace or storefront for music equipment and more. To get more details, visit Yo!Rent or send your queries here.