The food industry is transforming with each passing day and the introduction of the online ordering system in this domain has worked for the convenience and benefit for both customers and food businesses. More than 50% of US customers prefer ordering food at home every week. 93% of Gen Zers and 87% of Millennials are satiated with the contemporary online food ordering system.
An online food ordering system allows food businesses to accept and manage food orders that are placed online by customers. Customers can check the menu of the restaurant, select the food, and make payments without any contact with the staff of the restaurant.
A highlight to notice in this whole system is that, despite the lack of interaction between the customers and staff, the food orders can be placed more efficiently and quickly without any errors. An online food ordering system also creates more sales opportunities by easing the food ordering process for customers.
Hence, we can say that an online food delivery system is the right solution for many startup restaurants and budding entrepreneurs to expand their businesses. Many restaurant businesses are widely investing in online food delivery systems as it lets them serve the current market demands. This article explains detailed insights into the working and benefits of a multi vendor food ordering system.
Table of Contents:
Multi Vendor Food Ordering System
A multi vendor food ordering system allows business owners to bring together multiple restaurants on a single platform expanding their reach and providing wider food options for customers. This system comprises a dedicated admin panel to help business owners manage their marketplace activities conveniently. This system comes with ready-made apps and web portals for buyers, customers, restaurants, and delivery agents.
Let's see the importance of a multi vendor food ordering system for all the stakeholders in a food business. 
Importance of a Multi Vendor Food Ordering System
The multi vendor food ordering system has gained popularity among food businesses as it provides ease and brings convenience in managing and organizing food orders and delivery. There are numerous benefits of using a multi vendor food ordering system for business owners, restaurants, and customers. Let's explore a few of them:
For Admins
A multi vendor food ordering system allows the admin to easily manage and streamline the operations of a food business.

With a multi vendor food ordering system, admins can earn money through different revenue channels like commission on orders from restaurants, premium listings for restaurants, delivery service charges, etc. Moreover, admins have the flexibility to decide their own commission fee they want to charge.

Admins can provide seasonal offers and discount prices to restaurants and customers registering on the platform to boost their brand visibility.

Multi vendor food ordering systems let admins retrieve customer data such as their order preferences, restaurant preferences, etc. This data helps admins make strategic decisions for their businesses.

An efficient food ordering system lets the admin send automated notifications to customers, restaurant vendors, and food delivery partners related to order placement, payments, etc. 
Get a Powerful Admin Panel in Your Online Food Ordering System
For Restaurants
Restaurants get a dedicated merchant dashboard to monitor their restaurant operations in one place. 

Security & Online Payment Gateways integration make transactions easy.

Restaurants can easily build a menu and list their cuisines on a multi vendor food ordering and delivery platform. 

Because of the online platform, restaurants can deal with a lot of customers in less time. 

Restaurants can advertise their services and brands worldwide and can grow their business. 

Restaurants can provide their customers with lots of discounts, deals, and vouchers to gain customer loyalty. 

A great food ordering system also lets restaurants track their sales, profits, and customer information.
For Customers
A multi vendor food ordering platform provides multiple food choices to customers. They can compare prices, ratings, and reviews for the food and make an informed purchasing decision. 

As many restaurants are offering their services on a single platform, customers get numerous deals and offers because of the competition. 

Customers can filter their search results based on their food and brand preferences.

Customers get multiple payment options for a seamless payment and checkout process. 

With GPS enabled in the food ordering system, customers can track their food and estimated time of arrival. 
For Delivery Drivers
Delivery personnel get instantly notified about assigned orders.

GPS integration in the online food ordering system lets delivery drivers reach the delivery location on time with the help of optimized route suggestions. 

Delivery drivers can also track their earnings on the food ordering system itself. 
Related post: Online Food Delivery Business Models- A Detailed Guide
Workflow of a Multi Vendor Food Ordering System
Now that we have explored the numerous advantages multi vendor food ordering systems offer to all the stakeholders of a food business, now let's understand the step-by-step workflow of a multi vendor food ordering system.
Step 1: Customer visits marketplace website or mobile application
When a customer wishes to order food, he/she simply visits the website or application of the marketplace. Several restaurants are listed on the portal along with their menus displayed in the catalog, giving the customer a large variety of options.
Step 2: Customer chooses his/her favorite dish from his/her favorite restaurant listed on the website
The customer can choose from a variety of listed options by categorizing restaurants or dishes. The advantage of a marketplace is that a customer can find almost all types of food he/she is looking for on a single portal. The customer can also re-order his favorite meals by visiting the history tag.
Step 3: Add food items to the cart
Adding food items to the cart is an important step in the workflow of the system. The customer adds the chosen dishes to the cart with just a click. The cart displays all the items to be ordered along with the quantity. The customers also get the option to add discount coupons provided by restaurants and admins.
The functioning of the portal allows ordering from only a single restaurant at a time.
Step 4: Making payment and placing the order
The next step is to make the payment using multiple payment methods available in the system. Secure transactions through third-party payment gateways or wallets are easy ways to transact money for food orders. The payment made by the customer is transferred to the admin. The admin then transfers the amount to the restaurant after deducting the commission.
Looking for a Software Pre-Integrated With Popular Payments Gateways?
Step 5: Processing of food
Once the payment is received by the restaurant, an acknowledgment notification is sent to the customer in the form of an email, message, or app notification. As the orders pile up at restaurants with every coming customer, a priority list is maintained to provide orders on a first come first serve basis.
The status of the food being prepared is updated to the customer on the application or the website. The delivery fleet assigned to the order can belong to either the merchant or the admin depending on the choice of the merchant.
Step 6: The delivery process
As soon as the food is prepared, it is picked up by the delivery rider and the customer is notified of the same. An add-on feature provided by some online food ordering systems is tracking orders through GPS. It gives the customer a sense of control to know the tentative time for delivery.
Customers can now keep check of their orders through the website or the mobile application.
Essential Features and Functionalities of an Online Food Ordering System
A feature-packed online food ordering system can help you stand out from the competition in the market. It is crucial to look for a food ordering system that can ease the food ordering and delivery process and offer a great customer experience. Below are the must-have features in a food ordering system for a better user experience on your platform.
Reliable, Safe, and Timely Delivery
Providing timely delivery is crucial for customer satisfaction and can be achieved by bringing orders to the customer's doorstep safe and hassle-free. In a multi vendor food ordering system, the delivery fleet is owned by the marketplace and it is optional for the restaurant to use its delivery service or rely on the marketplace to provide the same.
Both admin and restaurant owners are at liberty to use third-party services to manage delivery.
User-friendly Graphic User Interface(GUI) For Easy Navigation Through The App
A convenient ordering experience relies on the comfort of the customer. A user-friendly GUI helps the user to move around the application with ease. On the other hand, if the navigation is tricky or requires a certain amount of expertise while navigating on the app, most of the customers would exit the app even before looking at the USP your brand is offering.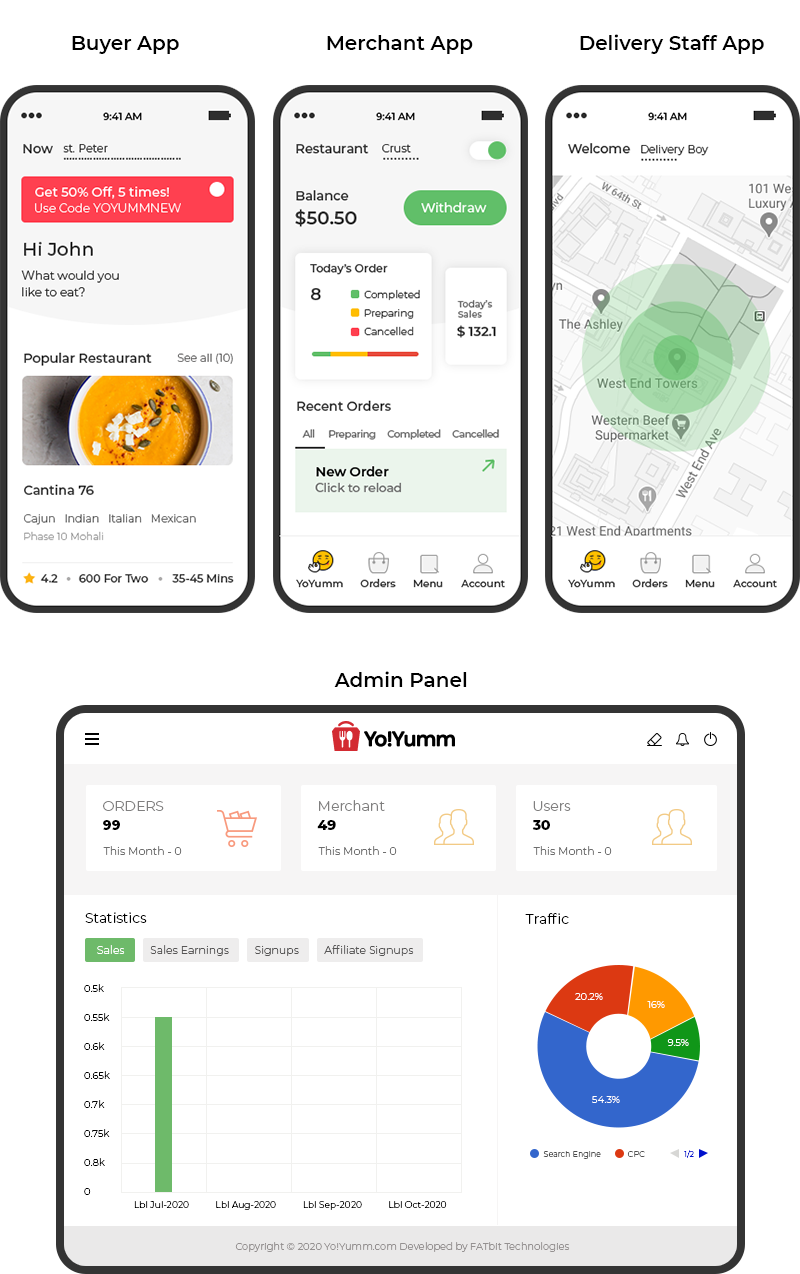 Well-Displayed Menu Catalog
The main aim of any online food ordering system is to sell the food items to the customers. Now, if the menu is not well displayed or synchronized, it will pose difficulties for the customer to find his/her required dish. Segregating the menu using tabs and filters aids in a smooth navigation and ordering experience for the customer.
Geo-Fencing
Geo-fencing helps the admin to define limits to the areas where the service of the online food ordering system can be availed. The delivery services remain unavailable outside the virtual fence. The limits of the fence can be redefined whenever required. This feature can be easily embedded into a system through customization.
Want to See How This Functionality Can be Integrated Into Your Food Ordering Business?
Easy Contact and Live Chat
There are times when a customer needs to connect with company personnel. It can be due to several reasons, for instance, refunds related to delayed delivery of food, unacceptable condition of food delivered, and many more. In such situations, a live chat is a very effective way for customers to contact.
Live Tracking Of Order
Live tracking brings a sense of control to the customer. They can easily track their orders and know about the estimated time of arrival of their food. Tracking also helps the delivery fleet to manage their orders and improve the turnaround time of the order.
Reviews and Ratings
A customer can have numerous issues when dealing with your business. As a business owner, you should always welcome criticism and be ready for improvement. Reviews and rating features allow the business owner to pave his path to satiate his/her customer.
Discount Coupons
Customers are very attracted to discounted meals, especially short-term ones. It inculcates an exhilarating feeling in the customer to grab the discount before it ends, increasing online traffic. In a multi vendor food ordering system, discounts can be offered by restaurants and admins.
Payment Methods
Your website or application should support various payment methods. It can be through a wallet, credit card, third-party APIs, cash on delivery, and so on. Having a variety of payment methods makes it comfortable for the customer to pay.
Apart from knowing about the important features and functionality of a food ordering system, another important thing to consider is to know whether your food ordering system is pre-integrated with some of the popular APIs or not. Let's know more about APIs. 
Third-Party Integration Via API
API integration to the system provides seamless communication between the main system and the third-party software. Let's know more about some of the popular APIs that are essential for a reliable multi vendor food ordering system.
Payment Gateway
A payment gateway API enables your system to make secure payments. It incorporates into your existing digital system and connects the customer with a payment-acquiring network, as soon as the customer checks out in the system to make payment for the items in his/her cart. Some of the popular payment gateways are Stripe, PayPal, Authorise.Net, and many more.
Delivery API
Delivery is a very important feature of an online food delivery system. One of the most common and popular APIs for this is Google Maps. It's an extensive service that helps the customer track the location of the rider and get an estimated time duration required for delivery.
Marketing API
The API used for marketing is an HTTP-based API, used to create and manage advertisements, and perform various other tasks. Some of the popular marketing apps are Facebook, Firebase, Google, and many more.
Looking to Obtain Benefits That Come With Marketing APIs?
Mailing API
An Email API allows the website to have access to an email platform to send and receive emails. It also enables template manipulations and gives access to email metrics. The most popular mailing API is Mailchimp.
SMS API
An SMS API is a software integration interface that allows you to send personal and broadcast messages through a personalized SMS channel. A very popular API for sending and receiving messages is Clickatell.
Accounting API
Some of the common APIs used to integrate the system with the accounting software are Xero Payroll API, Concur API, Twinfield API, and the list goes on.
We have covered almost all aspects of a multi vendor food ordering system above and by now, you must be feeling motivated enough to go for a multi vendor food ordering system for your food business. Further, let us guide you in choosing a reliable solution for your business. 
Why Choose A Ready-Made Multi Vendor Food Ordering System?
Considering the major advancement and technological revolution in the food industry, online food delivery and ordering have crossed leaps when it comes to economic growth. And, a multi vendor food ordering system is capable of generating high profits for restaurants and online business owners in this current scenario.
The success of a multi vendor food ordering system depends on the way it is developed. There are numerous ways to develop a multi vendor food ordering marketplace but opting for a ready-made solution is the best option. A ready-made solution provides quick implementation and launching of your multi vendor marketplace.
This solution is indeed less expensive as compared to a custom-built solution. In addition to that, it comes with all the essential features to cater to the needs of a food business. These solutions are also highly scalable and help you manage your business efficiently as it grows. 
The Best For You!
Yo!Yumm is one such popular ready-made food delivery software that helps in building a multi vendor food ordering platform without much hassle. It is a fully customizable solution where you can add your logo and branding, and launch your online food business in no time. The order management provided by this solution lets you manage your multi vendor marketplace conveniently.
Yo!Yumm provides intuitively-designed dashboards for admins, customers, restaurants, and delivery staff for the smooth functioning of the operations of a food business. The solution also comes pre-integrated with all popular payment APIs like PayPal, Authorize.net, Stripe, etc. for seamless transactions on a multi vendor marketplace. Additionally, Yo!Yumm provides 1-year of technical support for timely troubleshooting of errors and bugs.
Yo!Yumm has already helped so many entrepreneurs establish their online food businesses like Bulldog Delivery, Afritastes, OYO cater, Biterider.my, and Petabhari, and is eager to help many more. 
Positive client testimonials and reviews on Yo!Yumm's official website shows their transparency and helps you in making an informed decision. The solution comes at an affordable price range and provides maximum customization options.
Ready To Start An Online Multi Vendor Food Ordering Business?