M-Commerce, a term coined by Kevin Duffey in 1997, now MD at Cyber Rescue Alliance;  stands for mobile commerce and has been the rising star of e-commerce for the past decade. M-commerce allows retailers and consumers to interact and trade using wireless technology on mobile devices.
Thanks to our smartphones and of course the internet, we don't need cash or even a debit/credit card when trading online these days. According to a recent survey by Deloitte, people check their phones for an average of 47 times in a day. This suggests how religiously the masses are hooked onto their phones and how big an impact does mobile and wireless technology have on them. Being able to have the retailer in their pocket gives customers the freedom to avail services anytime and from anywhere.
With over two billion people estimated to do an online purchase by the end of 2017, this technology has given retailers an advantage over their competitors. Mobile SEO has also gotten a huge boost in the recent years as more and more consumers are using mobile devices to research, find and buy stuff.
Mobile commerce allows ubiquitous access to required information irrespective of time and place. These context sensitive and location-based services include online purchases, promotion, mobile advertising, relationship building activities and customer support. Retailers can now personalize the interactions between the consumer and their smartphones, thereby increasing the opportunity for individual marketing.
What do the statistics say?
Statistics by Invesp reveal that 56% of smartphone and tablet users are looking forward to making an online purchase during the holiday season. The holiday season accounts for 19% of sales made using a mobile device, and this is expected to rise to a minimum of 27%. One big reason behind this rise is the popularity of mobile apps. With the popularity of lean methodology among mobile app developers, there is a vast significance of maximizing customer value and incorporating customer validation.
Such a rapid increase is indicative that m-commerce with the aid of the internet has changed the way we live, by giving people new and better ways to communicate, congregate and spread information online.
Studies also reveals that 89% of people check their phones moments after waking up and 81% users will use it before bedtime. This shows us how mobile addiction is slowly moving towards mobile etiquette. It is also very interesting to note that we mostly use our phones while watching TV and ironically when out shopping.
Want your online business to have an edge over the competition?
Setting New Standards for Personalization
Because mobiles are so personal, M-Commerce provides marketers with the opportunity to design tools and information in a way that can be targeted towards a particular age group or other unique users. The growing number of smartphones is the sole foundation for M-Commerce consolidation.
The increase in the sale of mobile devices is directly proportional to an increase in the online purchasing power of the consumers using the very same devices. For e.g. Mobile sales grew from $18.49b in 2014 to a whopping $30.19b in 2017 in the United States. Eventually, the online mobile shopping percentages also rose from an 8% to a 15% in the same time.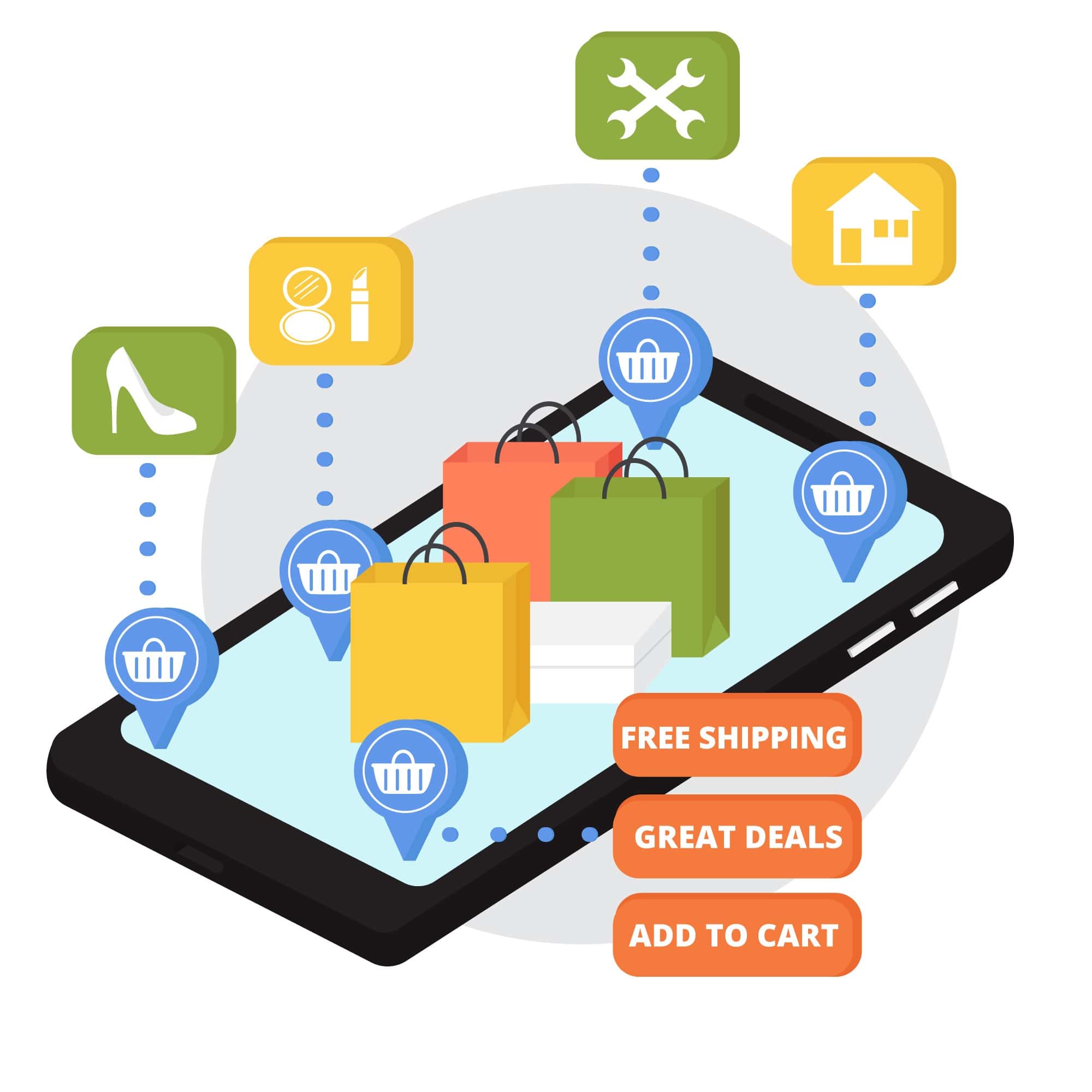 M-Commerce has reconfigured the consumer behaviors' and also the retail sector completely. The focus of retailers now lies with loyalty cards, discount schemes, shopping lists and scannable barcodes. On the retailer's side ubiquity would mean being able to reach out to your audience anytime and anywhere and by keeping them in the retail environment constantly.
As for the users, they get more control, both in terms of access and use of the information and this also empowers them to perform tasks in an efficient manner. It gives them an option to search among a large number of products and also find the best price for a commodity in the market instead of hedonic spending, which directly influences their attitude and behavior in the retail environment.
Location-centric Benefits
In this era of virtual reality, retailers have bought localized apps to our everyday lives. The Global Positioning System (GPS) allows a retailer to know the exact location of their customers. Such technology gives them a better understanding of the needs of their target audience.
Verizon has very aptly quoted that 'The key to succeed in the future is to meet shoppers where they are and no one wants to be left behind.' Keeping this in mind, it is fairly easy to describe mobile apps as being more than just catalogues. In addition to that PWA and responsive web design is also gaining traction.
We can see a good amalgamation of integration and sophistication in mobile applications that are being of much help to the consumers. Moreover, entrepreneurs are majorly focusing on the current app trends nowadays. Below given are a few technologies that mobile-commerce can benefit from:
NFC (Near field communication)
RFID (Radio Frequency Identification Technology)
Bluetooth and Infrared
AR Augmented Reality and camera-based applications
Smart objects, light beams and sensors
GPS (Global Positioning System)
WI-Fi and UWB (Ultra Wideband)
Magnetic field and beacon mapping
Want to ride on the mobile commerce wave and achieve success?
Convenience is King
M-Commerce has now equipped millions of people to become comfortable with the concept of browsing and shopping over their smartphones. This has helped M-Commerce become an integral part of every business's marketing strategy. With the help of bots, retailers can now access and reply to customers in real time. It also helps them know more about their users and eventually provide them with a more personalized experience.
Smartphones are also the future of single payments and with this, the retailer has the option to remove any barriers that may turn away impulsive buyers from your mobile application. People can now approach device terminals for mobile payments using NFC. Apple Pay and Google Wallet reconfigure their retail sectors depending on the latest consumer behaviors'.
M-Commerce and retail sectors: Examples
We have already established that in the near future, mobile commerce will have a strong impact on almost every industry in the market. Smartphones have given us the freedom to do anything from anywhere. Here are a few examples that demonstrate the impact of M-Commerce on different online retail sectors currently:
E-Commerce: With the introduction of ecommerce, people usually browse online for better prices and discounts. Their mobile allows them to search for the best value of their commodity while being in store so they can decide where to make their purchase from.
Online Food Delivery: Mobile applications like Grubhub, Seamless and UberEats provide menus from various joints around your area. You don't even have to worry about knowing your location as the GPS does it for you and filters out restaurants that will deliver food.
Daily Deals: Most E-Commerce retailers provide daily deals to their customers like a 70% discount or buy 2 for the price of 1. They give huge discounts valid just for 24 hours or even less sometimes. Such deals are also filtered given your previous browsing history thereby giving you the deal you most likely cannot refuse.
Travel: The online travel marketplaces have become one of the most lucrative concepts, both for retailers and the consumers. You can book your entire holiday including travel, hotel and car rentals. Many travel aggregators provide affordable adventurous experiences and sightseeing tours that are filtered according to your GPS location and you can book them in a jiffy. M-Commerce has enabled travellers and travel agents to interact without having to physically contact each other.
Grocery Shopping: Consumption oriented virtual supermarkets are the most preferred choice of consumers these days. There are many smartphone apps that allow you to locate products and compare their prices , create shopping lists, look for special offers, promotions, deals and make payments in a 'contactless way' eventually. Supermarket giant, Tesco HomeStore in South Korea has launched virtual supermarkets in subway stations all across the main cities. Users can scan QR codes of products using their smartphones and order online while going to work. The groceries are then delivered to their doorstep within the same day.
On-Demand Services: Because these days there is a mobile app for everything, hiring a plumber or sending your friend flowers across the country is just a few clicks away. On-demand services are available across a variety of platforms like home, care, health and beauty services. These key providers have bought a new dimension by allowing users to enjoy services and products they love without any hassles.
Cab Booking: One of the first sectors to be influenced by M-Commerce, apps like Uber are already a big part of our daily lifestyle. GPS location mapping and contactless payments have made it very convenient for people to find cabs around any area, while providing an equal ease to the cab driver when trying to locate their customers.
What can we conclude?
All figures and statistics point out to the fact that M-Commerce is slowly becoming the preferred choice of communication and shopping for both retailers and consumers. It provides a lot of convenience along with various other features that make decision making much easier.
M-Commerce will significantly have an impact on the financial, transport and retail loyalty areas in the coming future. We have come to live in an age where mobile phones are being used not only for browsing, online purchases and social media, but they are also being used as digital wallets these days.
M-Commerce continues to preserve its uniqueness by using different interaction styles, value chains and usage patterns. Yes, it does feel like the future is here, but the M-Commerce industry is surely full of fresh and new ideas that keep surprising us every day.
Looking to launch a mobile centric online business?