There was a time, when you just used to walk down to the nearest salon, wait for your turn to get your haircut. Often you would see a substantial rush, especially on weekends and the wait times will increase further. Same is the case with doctors – you go to the market, wait for your turn and get treated. However, things have changed over the years. There are a couple of issues that consumers often face.
Firstly, finding the right professional has become highly cumbersome and secondly, consumers have much less time and patience to wait for the service to be delivered. The service industry has become highly demanding with consumers wanting exclusive access to service providers.
However, there is a silver lining to this. With internet coming to the forefront, these issues have become more or less redundant. Today, you can buy a movie ticket, flight or train ticket online. But what about your Salon, Spa, Doctor, Dentist, Lawyer, or even your Pet Groomer? On-demand professional search marketplace clubbed with online appointment scheduling system has made it easy for consumers to find relevant service providers as well as fix preferred appointments.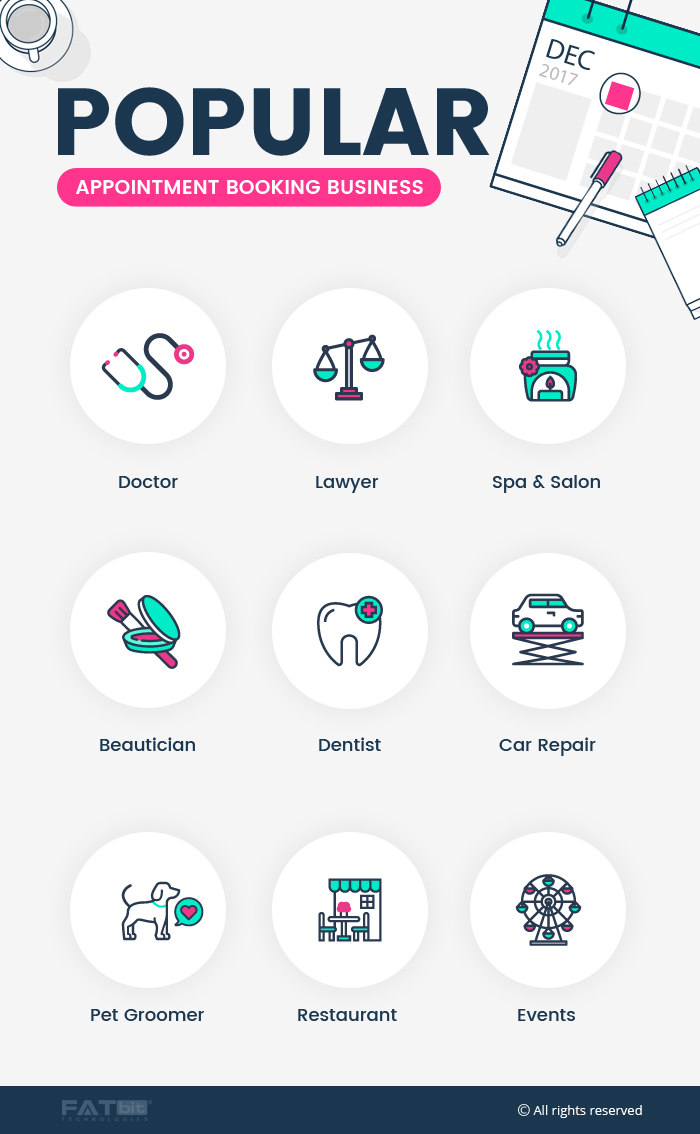 Chalk it up to the convenience factor, along with the popularity of online businesses among consumers, launching an online professional marketplace offering appointment scheduling services becomes a lucrative idea.
So if a consumer is looking for an ophthalmologist, they just search for them on an online professional marketplace, go through the reviews of other consumers and select an ideal one suited to them. The consumers can then just book an appointment for a given day and time to ensure least waiting time and get the service they require.
Growing online appointment scheduling market
Studies have shown that global online appointment scheduling market is expected to grow at an annual growth rate of 9.80% in the next five years. What is interesting to note is that Global doctor professional search and appointment market will see a staggering growth of 16.56% during the same period, while that of online legal practice professional market is expected to see a CAGR of 13.71%.
It is clear that online doctor and lawyer search marketplaces are two most lucrative categories when it comes to online professional search marketplace.
Looking to add an appointment booking system?
Disrupting the online service sector
The fact of the matter is that technology is disrupting the service sector. Rather than availing a service, consumers are now getting inclined towards buying the service before using it.
This is no way different than someone buying a laptop on Amazon. Rather than selling the product, vendors (service professionals) are selling their service. It is a win-win for both service providers and service seekers. While the former is able to connect with clients, the waiting time for the latter is reduced immensely.
Key aspects of an online professional search as well as appointment booking marketplace
While launching an online professional search marketplace, the first and the foremost thing to keep in mind is to target a particular niche. This will help you stand out from the competition and target consumers properly. Also, you need to understand how these marketplaces work. Other key aspects include:
Social media integration – Incorporating social media into your core online business has become crucial for any type of online business. This not only helps your marketplace to grow but also allows users to connect with their friends and family.
Have a mapping system in place – An online professional search marketplace basically revolves around the hyperlocal model, making it crucial to have a mapping system in place, where consumers can easily geo-locate the desired professional on a map.
Search engine friendly – Not only your online professional search marketplace can act as an appointment booking service, but it also acts as a directory of local professionals. Since most of the consumers these days use a search engine to find out about local businesses, a search engine friendly marketplace will boost your traffic immensely.
Review and rating are a must – An online professional search marketplace is incomplete without a reviews and rating system. Consumers often look out for reviews before finalizing a business. Having a rating system in place will make it easy for consumers to make an informed decision.
Easy appointment booking – Appointment scheduling system is the core of an online professional search marketplace. Without it, the marketplace is basically an online directory. Having a booking system that is not only easy to navigate but also books an appointment is essential.
These are just some of the key aspects of an online professional search marketplace. There are several other features are equally important to mobile friendly, secure, user-friendly etc. Yo-Pro is one such turnkey solution to build an online professional search marketplace. It has all the above-mentioned features baked right into it, making it a complete and powerful package.
Looking for a turnkey solution for an online professional search marketplace