Technology has surely become a core part of our social lives. Social networks have made it easy for users to stay connected seamlessly. However, with the passage of time, a completely new business model has emerged revolving around weddings. People creating a wedding-website-invite is not new but lately we came across requirements of a fully functional websites that not only serve as an invitation but also encompass everything else related to the wedding and couple.
Nowadays the demand to create a personalized wedding websites/apps marking the occasion of their marriage has gone up. People are treating it as their personal profile that can do more than reaching out to friends and family and acts as a special place to pin wedding memories, to accept wishes, to share their love/engagement story, to make all guests a part of wedding and make gifts, happiness, blessings, etc. available  at one place. Not just this, they want to keep their wedding website for life to interact with people even after the marriage ceremony so it becomes a wedding scrapbook that have varied feature requirements.
The market for such websites is huge and offers immense opportunities to aspiring entrepreneurs. FATbit did an in-depth survey of platforms that soon-to-wed couples choose to make a wedding website for them. We drafted an in-depth analysis how those platforms work, make money and what are the essential features required in a script to launch a wedding website platform similar to them. Let us take a closer look.
Business Model
On such platforms, users can create personalized wedding websites and mobile apps. The users can choose from various ready made themes to create their website and mobile app. The website account remains active as long as the user does not request the website to delete his/her account from the backend. In addition to creating website, these platforms also offers complete wedding planning guide that makes the overall process of planning a wedding seamless.
Possible Revenue Streams
If you are ever keen to build a wedding website platform, charge onetime fee to launch a website. It is b2c model where the platform is selling website themes to the users who wish to create a personalized wedding website for themselves. The major revenue streams include:
–  Pre-developed themes which can be bought by the clients
–  Exclusive customized website can be designed at an additional cost
–  Sell personalized domains at additional cost
Now that we have looked at the revenue streams, let us take a look at the key features of such platforms.
Also Read: Launch Event Discovery and Marketing Platform with Smart Website Features
Features
Rather than focusing on the website itself, the analysis will focus on the website editor, which will be used by the customers to build their own website. The fact of the matter is that the website editor must be easy to use as most of the times the end users will not be technically proficient. Following features are a must for wedding-website building platforms.
Website Editor:
Website Design– The design of the theme should be easy to manage. From placing images to changing the color, each aspect of the website editor ought to be user friendly.
Content – Another key aspect to be kept in mind is that the clients mostly want to draft the content of the website themselves so the content management system should not be confusing. There should be dummy content already present on the theme so that users can easily view before hand how the content would look.
Privacy settings – Special care must be taken as far as privacy of the information is concerned. Options like privacy protection, and password authentication must be provided to the client so that only authorized users can access the information.
Guest list – As the website corresponds to weddings, there ought to be an option of including guest list making it easy to send invitations.
RSVP – As with the guest lists for sending invitations, there should also be an option of RSVP, so that the invitees can reply to organizers and the latter can know which people would be coming to the wedding and which will not be able to make it. Each event planning software has this option and we believe that no wedding website can be termed complete without RSVP option.
Email Notification – In order to check the responses from the guest list, there ought to be an email notification service, which would help the organizers remain on top of latest updates.
App Integration – In this age of mobility, the platform must also offer an option of a mobile application. This will make it easy for the organizers to access the information on the website via native mobile application on their smartphones.
Mobile Website – Other than the native mobile application, the website should also be mobile friendly or responsive so that it is easily accessible on the browser of a mobile device.
Manageable SEO settings – SEO has become a core part of every website, which is why the platform must also have dedicated setting to optimize a website for search engines. This will help friends, relatives of a couple find the website in the search results far easily.
Search Feature- users/guest can search other weddings
Real time alerts (For RSVP) – When it comes to RSVP responses, it is quite beneficial if there are real time alerts for the organizers. This makes it easy for them to stay updated without any delay.
Add/edit photos using filter – Filters have become a part of our social lives. Most of the users do not upload photos without adding any filters. Therefore, the website and mobile application should also have an option of adding filters to the photos uploaded by the organizers to make them more appealing.
Add YouTube or Vimeo videos – Other than photos, there should also be an option to add videos from websites like YouTube or Vimeo.
Social media sharing– What's the fun if one cannot share photos uploaded on a wedding website over social networks. This is why it is imperative to have social media sharing option baked into the website or mobile app so that the users can easily share photos on social media.
Accessibility –In order to ensure that there are special privacy checks in place, an accessibility option should be incorporated where organizers can mark event as private/semi-private/public. This would ensure that only authorized visitors would be able to access photos, guest list, videos related to the event.
Chat feature- Communication has become an integral part of every online website. Moreover, when it comes to a wedding website having a chat feature becomes highly important. There can be an option of private message, group chat, broadcast list where people on guest list can send their wishes and chat with each other.
Wedding Planning To-Do list Page: This is one of the crucial sections in the wedding website focusing mainly on the organizers of the wedding. It highlights the to-do list so that the organizers are always in loop of all the things that are needed to be done. This makes things simpler in the wedding planning phase.
The fact of the matter is that such platforms cater to an untapped sector and to create an identity in this niche market you will require to build a solid platform. By solid we mean a platform that incorporates all the necessary features and offers ease to soon-to-wed couples to create a wedding website.
Have a look at the Business Model Canvas below to know the various components involved in setting up an online wedding website builder.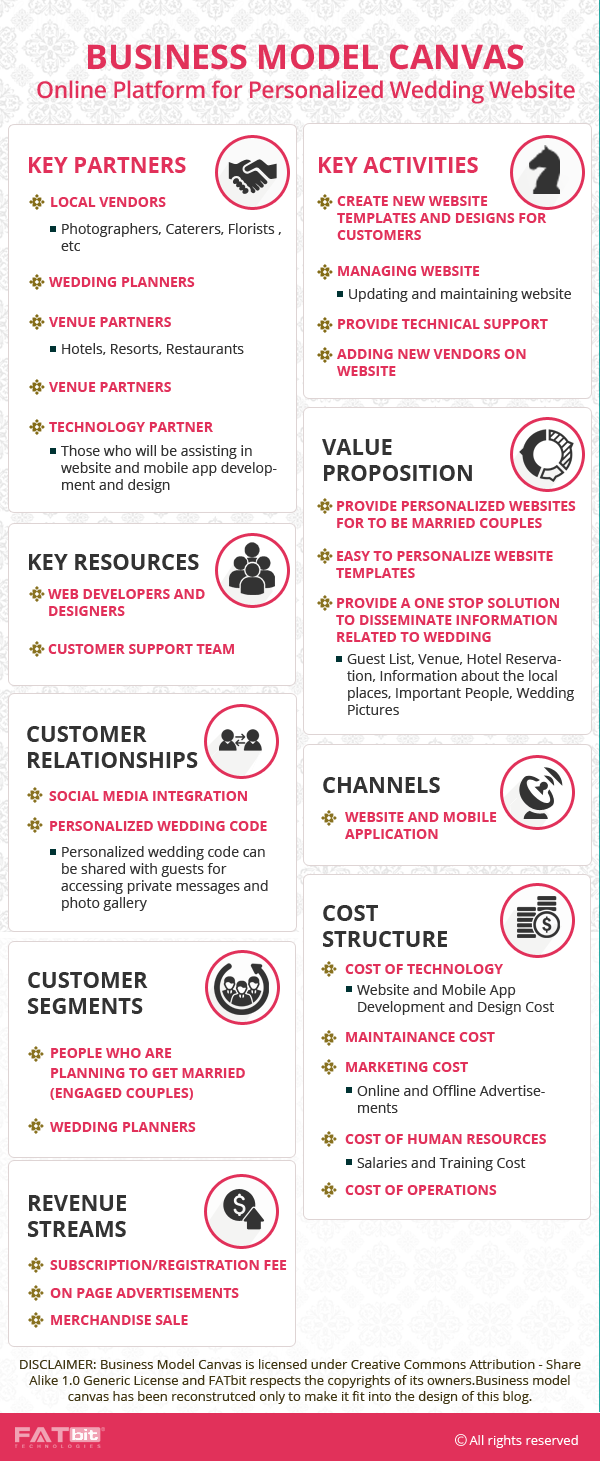 For a new startup, features along with the business model mentioned above are highly vital. The combination of both will surely lead to an advanced wedding website builder platform. If you have any additional requirements or doubts, discuss with our website design team.