In past few years, online music streaming portals like Spotify, SoundCloud, Gaana.com, Saavn etc. have outdated the trend of keeping huge music database on computers and mobile devices. These music streaming websites give music-lovers instant access to millions of songs anytime, anywhere, on any device.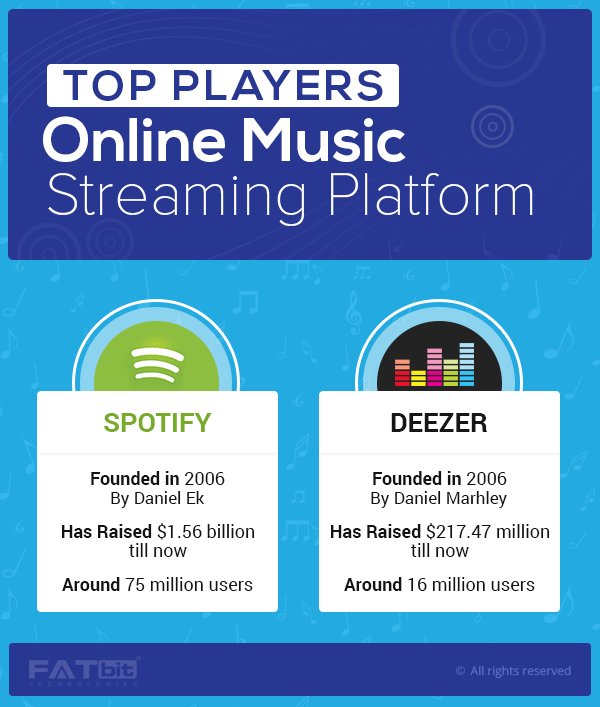 After studying online music streaming industry, FATbit team found that most of the platforms offer a unique set of features besides online music streaming. So, we gathered all these unique features to design a script that will help aspiring entrepreneurs in launching an advanced music streaming clone website.
Let's discuss our findings by covering the business model first.
Business and Revenue Generation Model
The business model of online music streaming platform is simple. These websites maintain a database of millions of songs partnering with artists, composers, & radio channels and provide its instant access to millions of listeners. Users can listen to songs on these music streaming websites for free. But if they want to download music files for offline listening, then they would have to buy a membership plan.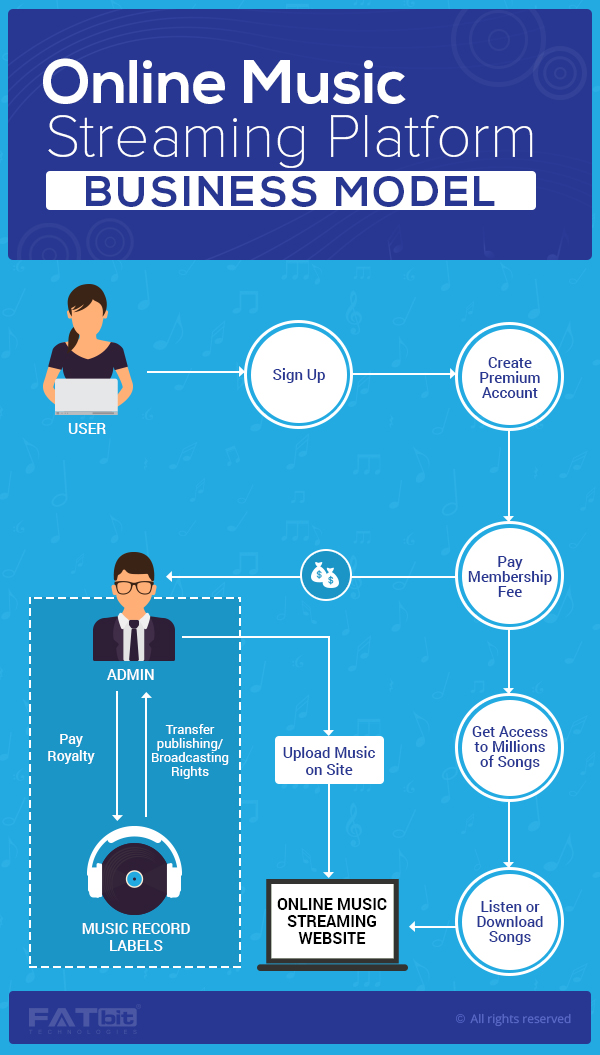 Revenue Generation Mediums
There are three ways to earn money through an online music streaming platform:
Ads: Displaying ads from Google and independent advertisers will be the primary revenue channel for your music streaming website (because of its huge database)
Membership: Offer premium membership plans to allow users to access different services offered by you besides music streaming; for example, downloading, playlist suggestions, etc.
Onsite promotion to new artists: Make your platform a launch pad for the new artist and offer them on-site promotion and for featuring their music on the website
Here we have seen different ways how music streaming websites can make money from the different type of audience – through ads from advertisers, through membership from users, through onsite promotion from new artists. Now, let's move on to the website features that you must include in your music streaming clone website.
Essential Music Streaming Website Features
You need to make sure users should be able to unlock your multimillion song library as soon as they land on the website's homepage. Here is what you should do to make it happen:
Homepage Layout
The first fold area should feature a catchy banner image that may be a collage of different album arts, artists' photographs, or simply an image of a trending artist/album. Within the banner area, there also should be a search tool that lets users search for what they want to listen to by entering the song name, album, artist, genre, radio or a playlist name.
The top navigation bar should feature a few important tabs such as Browse (for browsing music library), Sign Up/Login, and Membership plans.
The below-the-fold section should be used to feature trending artists, albums and songs in different sections. Make sure to display them in picture thumbnail manner. Make sure these listing are also playable on click. This will be a huge plus point from UX point of view.
Further below the homepage, you can feature different music genres, to give users instant access to the type of music they want to listen. Here you can also provide quick links to popular radio channels, as well as playlists for different emotional moods.
If you succeed to implement all these homepage features, users will definitely stay on your website and would want to explore the rest of it.
Make an everlasting impression with an effective landing page design
Learn more
Browse: Discovering Music
The dedicated Browse landing page should feature popular artists and albums by default. The page should have paginated tabs for albums, artists, and genres. Clicking any of these tabs should produce most popular results. Plus, for each set of results, there should be sorting options like by name and year.
You can also add tabs for playlists and radio stations, which produce results in the similar fashion as artists and albums tabs. Additionally, besides genre, you might also want to add a language filter on the Browse page depending on the target market.
Artist Page
The artist page should be designed by keeping in mind both type of listeners – regular and new ones. The page can be divided into three paginated tabs namely, Overview, Albums, and Songs.
The Overview tab will feature a description to the artist, his most popular songs, albums, and achievements. The Albums tab will feature all the albums written by that artist with the options to play it or visit the album page. The Songs tab will feature all songs by that artist listed based on their popularity.
Each listed result song/album should feature following options:
Play/Pause button
Share with friends
Mark as favorite
See lyrics
Add to playlist
Download (for premium members)
As a value-added feature, also mention how popular a song or album is with the listed result. In addition to that, also list a few suggested similar artists at the bottom of the artist page.
Album Page
The album page will simply list all the songs with all the options listed in the previous section. In addition to that, also implement a comment feature so that users can express what they think about an album or song except for marking it as favorite.
Listening to Songs: Music Player
Of course, you would need a music player plugin for your online music streaming website. Things worth discussing in this regard are the placement of music player and options featured with it. As for the placement, ideally it should be implemented as a sticky header or sticky footer. You may use a different orientation if you like or find suitable for your website. As for the options given with the music player, the list goes:
Play/pause, stop, next, & previous buttons
A play bar with volume up/down, repeat and shuffle buttons
Option to download, favorite, & share the playing song
Create Playlist
Your online music streaming portal should also allow users to create playlists like all standard music players. We have already discussed that the add to playlist option should be listed with all songs as it will make the playlist creation process quite seamless.
Upload a Song
Users should also be provided a feature that allows them to upload songs on the website. This will give them a chance to show their creativity whether by writing an original song or by editing any popular song. This will make your music streaming website all the more engaging for users.
Suggested Playlist
To give users an exceptional website usage experience, implement a feature that gathers a user's listening taste and suggests him playlists in accordance. You can even make it a charged service.
User Profile Options
This is where you need to work on the social media part of your website. Firstly, users should be allowed to register through social media accounts besides email. As users log in, they should be provided with following features and tabs:
Manage playlists (created & liked)
View and manage favorited items (artists, albums, songs and playlist)
Artist, song, album and playlist suggestions in the dashboard area
Option to view and like other users' playlists, save and comment on them
Connect with other website users in social media fashion
In addition to that, there should also be an option within the user profile that enables users to buy or renew their website membership.
FAQ and Support
You need to have an exhaustive FAQ section to help users with anything that they want to know. The Q&A database should be well-arranged into categories and should also have a custom search feature. Additionally, registered users should also be able to ask a new question in case they couldn't find  the answer they were looking for.
Mobile App
Creating a mobile app for your online music streaming service is as important as including all the above-listed clone script features. Make sure all the basic features are offered in the mobile app, since a major part of your target audience will be accessing your services through mobile devices.
Rule the market by acquiring the mobile users
Learn app-building essentials
Other Recommendations
 Add features like Music Awards where users can vote for their favorite songs, artists, and albums
Have a list of upcoming movies and songs
Add a 24×7 non-stop music channel playing random songs on the home page
Admin Controls
Before wrapping up things, let's overview the basic admin controls you need to pay attention to while building your online music streaming platform clone script.
Manage Users
Manage Transactions
Manage Content-based pages
Manage Images/Banners advert./videos
Manage Top actors, artist list
Manage featured playlist list
Manage my favorite list
Manage application list
Final Words
The success of various online music streaming websites shows us the potential in this music industry marketplace. And the best thing about these websites, they work pretty good while serving a local market. For instance, Gaana.com and Saavn are major hits in India. Their rapid success further assures that launching a music streaming website is a good business idea.
If you are already planning to launch a music streaming website, then you definitely need an advanced clone script that can be built using the features mentioned in the post. Additionally, it goes without saying that you need an advanced clone created by experienced developers to compete in the growing market.
But that's not all you need.
Pick a team with professional UX designers, developers, and business analysts to improve success chances of your clone.
Learn how much building music streaming clone website will cost
Get in Touch