Have you ever wished for a home-like place awaiting you while planning a trip abroad or somewhere far in your own country?  Well, peer-to-peer (P2P) home exchange platforms like GuestToGuest, HomeExchange, LoveHomeSwap, and Knok make this very wish come true.
Basically, these websites allow people to swap homes during vacations with homes of people traveling to their city around the same time. The concept of home exchange isn't new, but these emerging marketplaces have added quite a flavor to it.
FATbit team conducted an in-depth analysis of  this unique marketplace – the business model and essential website features – to prepare this post for entrepreneurs planning to build a P2P home exchange clone website.
Business Model
Basically these websites are social network built by like-minded people who couldn't digest the idea of spending thousands of dollars on accommodation during vacations while a home stay lies vacant in the vicinity as the owner too is out on vacations (probably facing the same situation and thinking the same thing).
For the solution, these websites act as a common portal where people can list their homes, check out homes of other members, and do the home swap during vacations as per their travel plans.
Another major highlight of this marketplace is non-reciprocal home exchanges. By letting other members stay at their homes, owners earn some points which can be used towards non-reciprocal home exchanges. (discussed later)
Revenue Model for a Home Exchange Model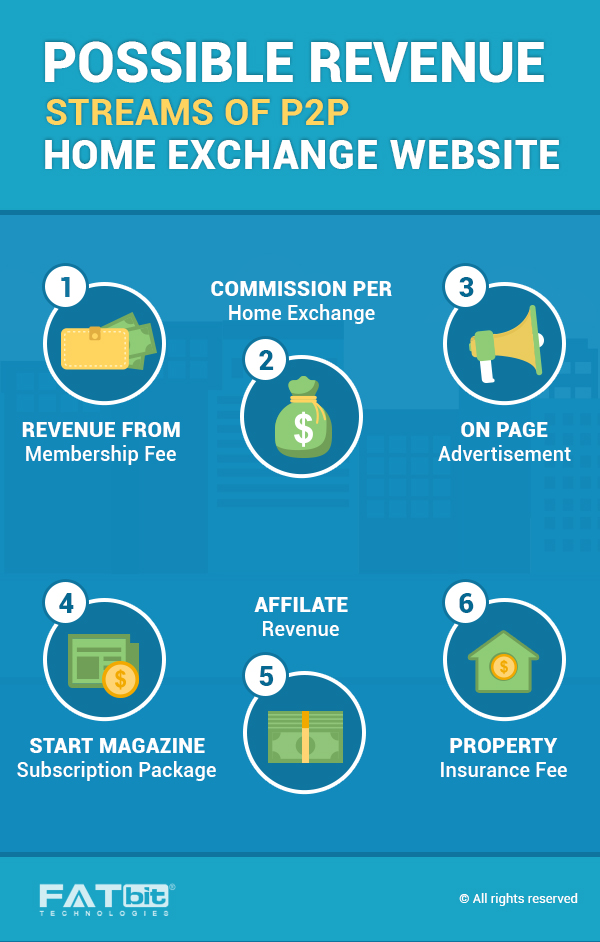 Below are a few revenue generation channels that you can include in your P2P home exchange website:
Membership fee: A monthly or yearly subscription for listing homes on the website
On-site promotion: To help members get their homes highlighted in top search results and get more exchange requests.
Security Deposit: Allow hosts to ask guests to deposit a security amount while they stay at their homes in their absence. Cut a commission from that amount for providing the service.
Now, let's explore the world of home exchange more closely and check out what unique website features this unique marketplace should possess.
Top Website Features
It's not hard to comprehend that a person would leave his home in care of another person only if he trusts him. And the reason why a person wants someone else to live in his place in his absence is only when he gets something in return.
Homepage Highlights
Your website should be built in a way that assures visitors that you are addressing both of the above-mentioned concerns for them. Here are some suggestions for the homepage in this context:
First of all, given the uniqueness of your platform, the homepage should be informative
List benefits in the banner section – for instance how your service is safe, flexible, and provide convenience
Use a slider in the banner with beautiful home photographs to engage visitors
'How It Works' & Sign Up/Login tabs at the top of the page
Additionally, the below-the-fold area can be used to accommodate following features:
Quick links for home-exchange to several top destinations (in thumbnail view)
Testimonials
A section that describes how things work on the website (a video for the same, if possible)
The footer area can be used to provide quick links to content based pages like blog, about us, terms, policies, etc. and other prominent services offered by you.
Quick Suggestion: If you are planning to build your P2P home-exchange platform for a wider audience, then it would be a great idea to make your website in multiple languages.
Give your target audience a rich experience by going the extra mile
Take Experts' Help
Now let's check out how users can actually do a house exchange on the site and explore features that your home-exchange website script cannot afford to miss.
Home Search for Home-Exchange
Placing the home search tool box in the banner or top navigation bar is of course kind of a no-brainer feature. The home search feature can do just with one input field i.e. location. Results can be shown in grid view or list view, and should offer users following features and options:
Basic property details highlighted along with the host name and an option to contact them
Number of results user's home search met
Filter results based on the arrival and departure dates, as well as an option to save the search results for future viewing
Map-view results in a side panel that updates as user select or hover over a listing
Option to view the complete home profile
In addition to that, you also need to introduce an extensive list of filtering options such as pet-friendly, availability of Wifi, garden, pool, personal cook, other such facilities.
Home Profile Page
The home profile page should provide users complete information about the home. Here are the essential features that you need to ensure in your home-exchange clone script for the home profile page:
Home description provided by the homeowners
Details regarding various facilities and amenities available in the home
Availability of the house in calendar view
Complete address & owner's details
Option to save the house for later viewing
Detail about the neighborhood
Map-view location with the Street-view feature, if possible
Home etiquettes, as described by the homeowners
Option to contact the owner for the home swap
Owner Profile
The contact owner option should take users to the host's profile, where following details & options should be mentioned:
Owners personal details
Complete contact information
Other properties listed by the owner
Option to connect with the owner for future home exchange (for which the user must be logged in)
Creating a House Profile
The sign-up process itself should embed the creating house profile process because your target audience includes only those who have a house that they want to exchange. Since the process would require homeowners to provide a lot of information, you can divide it into following sections:
Personal details: Name, email address & home address
Basic House Details: House type, area, number of bedrooms/bathrooms, guest limit, put-up beds
Amenities: Equipment, appliances, and other facilities (preferably laid out in Checkbox fashion)
Location: Location in the map view with distance from the nearest popular tourist spot
Photographs: Upload different photographs of the interior and the exterior of the house
Next Destinations: Where the user is planning to travel next (in order to offer relevant home-exchange recommendations)

User Profile Options
Once a member is logged in, he should be provided with several options to make the process of home exchange easier. There should be dedicated sections for listing:
Homes the user has saved for later viewing
Homes the user has listed with the site
Members the user is connected with on the website with typical social media options
Past & upcoming home exchanges
In addition to these listings, following features should be provided to the users:
General account settings
Update profile information
Message option to communicate with other members
Notification tab to notify about new messages, home-exchange request approvals, and website updates
Option to create a new listing
A tab that features how many points a user has earned for non-reciprocal home exchange
Non-Reciprocal Home Exchange & the Point System
This is the much-needed service that these emerging marketplaces have brought to the peer-to-peer home exchange industry. Through this service, members will be able to find accommodation in the place they are travelling to, even when they can't find an exact reciprocal home exchange on the website.
Whether a member is able to leverage this service will depend upon how many points he has earned on the website. The primary way to earn points is to let guests stay at your home. How much points a home should be awarded will depend on factors such as house location, size, number of beds, and other facilities & equipment available. Other ways to earn points will include:
Completing profile on website
Completing house profile
Inviting friends to the website (under a referral program)
Buying points from the site (for supplementary purposes)
Safety Deposit
Through this service, you will ensure that guests pay respect while they stay at a host's house. The site should let members (hosts) decide a deposit amount for their houses that the guests have to submit temporarily as safety deposit. After the guests' stay, if the host is okay with his house condition and agrees on that there has been no harm to his property, the guest is paid back the deposit amount with a commission cut for you.
Insurance
You also need to offer members an insurance plan to cover cancellation or interruption of stay for guest at a host's house. This is another value-added feature that will ensure that your customers make the home exchange with complete peace of mind.
Blog
You also need to maintain a blog on the site to offer your target audience a better service. Posts could be about tour destinations, travel experiences, and related tips. You can also divide the blog in different categories to deliver a richer experience.
Partners
You can also partner with other tour and travel businesses that can benefit from your home exchange platform. For instance, selling products that people need while travelling. You can charge a commission on the sales they made on your website and add another revenue channel to your business model.
FAQ
The website should also have a comprehensive FAQ section which should be divided into suitable categories and subcategories to provide members convenience in finding the answers they are looking for.
House for renting
You can also turn your website into a platform where people can also do the tenant search. If you want to add this feature, certainly you will have to make tweaks in the business model of your home exchange clone script. But on the other hand, it will help homeowners in earning some valuable points. So by and large, it will be a welcoming change.
Final Remarks
GuestToGuest, HomeExchange, Knok and HomeSwap have introduced the concept of home exchange in quite a unique way. And by including the suggestion we have made in the post, you can refine your P2P home-exchange script further. It is also important that when building a P2P home exchange website, you take additional insights from top home exchange portals that we have mentioned in our post.
Since FATbit team has already done an in-depth analysis of peer-to-peer home exchange marketplace, we can help you come up with a superior home exchange clone website. Plus, our marketing and UX design experts can add real value to your portal.
Start your P2P home exchange portal at best price
Get in touch