Economic crises are an inevitable outcome of war and when two industrialized countries decide to take arms against each other, global industries fear disruption and instability. The same can be said about the eCommerce industry that is facing massive-scale disruptions due to the Russia-Ukraine conflict. These disruptions are having a crippling effect in all stages of the eCommerce business process, i.e, from sourcing to delivery and even consumption patterns and mindset.
Foreign policy experts claim that the Russia-Ukraine conflict will setback 30 years of Russia's economic progress. Thirty years ago, the eCommerce industry did not exist in Russia. What are the chances that the eCommerce industry may become lifeless again? Or let's ask a bigger question. More than 300,000 American companies rely on Russia or Ukraine for their supply chain. With a discontinuation in this supply chain, what will be the impact of the Russia-Ukraine conflict on the global eCommerce industry?
In this blog, we will cover the overall impact of the conflict, including the eCommerce sectors that may decline, how consumer behavior and trends will be redefined, and what will be Russia's strategy to tackle all sanctions imposed against it.
Table Of Contents
Evaluating the Impact
The economic recession that came along with the pandemic bankrupted thousands of businesses and brought highly-reputed incumbents to the brink of collapse. The global economy, which adapted digital transformation to recover from the recession, suffered a major blow when the Russia-Ukraine conflict began.
Many global eCommerce and related brands like Amazon, Ikea, Nike, UPS, and FedEx suspended their operations in Russia and also suffered repercussions in terms of capital, manufacturing and logistics costs.
In contrast, some brands are still in dilemma about suspending their operations in Russia such as Alibaba and French retailer Auchan. However, these eCommerce brands face the risk of being boycotted by masses all over the world. And along with these brands, their customers, manufacturers and logistic partners are also going to suffer because of the conflict.
Thus, in addition to measuring the impact in the various sectors of the eCommerce industry, a more holistic approach is to also measure the impact in terms of how the situation is escalating for both buyers and businesses.
Before we begin with the sectors, below are all major organizations who have suspended their business operations with Russia: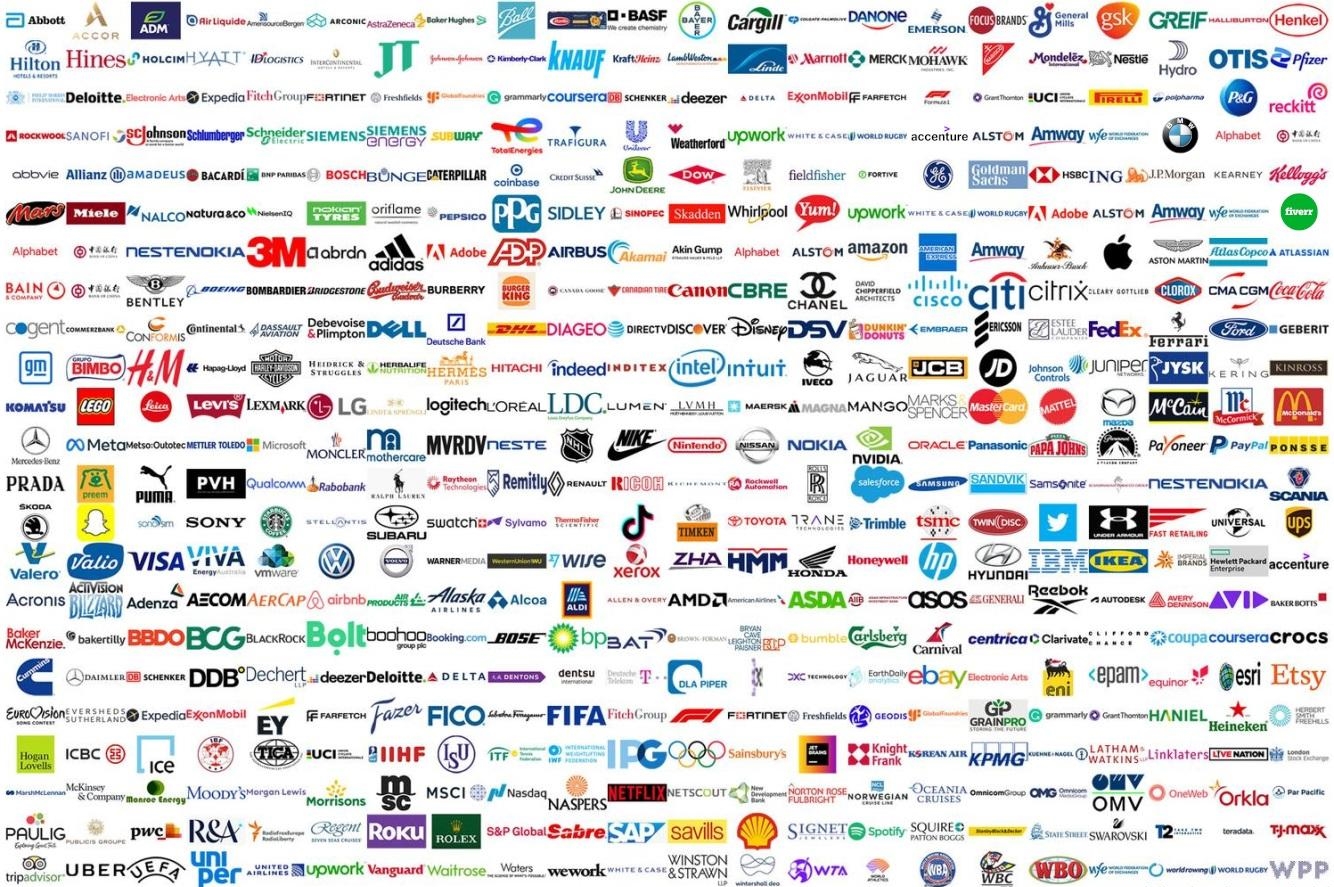 Source: Yale School of Management
And here is the chart of how much this conflict is costing Russia per day in different currencies:
• 22.09 Billion US Dollars
• 27.60 Billion Canadian Dollars
• 29.30 Billion Australian Dollars
• 20 Billion Euros
• 16.80 Billion Global Pound Sterling
• 82.80 Billion Saudi Riyal
• 81.10 Billion UAE Dirham
• 1668 Billion or 1.6 Lakh Crore Indian Rupees
Impact on The Various Sectors of the eCommerce Industry and Key Analysis
Food and Agriculture
In the food and agriculture sector, eCommerce consumers can primarily witness an increase in food and grocery bills. Businesses might also fail to provide customers with desirable discounts. This is because Russia is a major wheat supplier of the world and even outmatches the export quantity of the United States of America. Along with this, Russia and Ukraine together are known as the 'BreadBasket' of Europe, supplying around 30% of wheat and 20% of maize to the entire continent.
Not only Europe, but countries such as Egypt and Turkey also rely on Russia and Ukraine for 70% percent of their food grains and even China, the undeclared superpower, relies on Russia for maize imports. In the case of China, maize is required as fodder for pigs (China is the world's largest pork producer and also one of the top exporters). Now with a halt on its maize import, China's pork export can suffer indirectly because of the Russia-Ukraine conflict and lead to meat shortages, price hikes, quality issues and more.
Although the United Kingdom does not rely primarily on Russia or Ukraine for its food supplies, it might witness inflation in terms of associated costs such as the costs of tinned cans, food packaging and logistics.
To sum it up, along with grains, meat products, particularly pork, are expected to be in a global shortage and become expensive to procure. The price of sunflower oil, an essential commodity that is majorly produced by Russia-Ukraine together, has already reached a 14-year high. The increased cost of food packaging material will further bloat prices in the food and agricultural sector.
Construction and Heavy Equipment
The gulf region, Saudi Arabia particularly comes to mind when thinking of top crude oil exporters. However, Russia, exporting approximately 4,653,500 barrels of oil per day makes it an equally important exporter.
Now, the inability of Russia to export crude oil has crippled the entire global oil supply chain. Not only is it resulting in expensive gas and fuel prices for customers but also hindering the on-going construction projects, slowing down plant hire operations and resulting in inflated tar, asphalt and lubricant production costs.
Construction companies and general contractors are squeezed to redefine their pre-established parameters, resulting in a fluctuated demand for heavy equipment. Online plant hire businesses and equipment rental organizations are also likely to witness a drop in daily transactions. Check out our existing guide to know more about the online heavy equipment rental business model and recent innovations.
The Zeppelin Group, a globally renowned German equipment rental organization faced a significant decline in operations due to the Russia-Ukraine conflict and has shared its interest in exiting both these nations. Apart from Zeppelin, construction company Strabag has terminated all its agreements with Russia and building material manufacturer Holcim has announced its exit. Generac, a US-based engine manufacturer, has also suspended all its operations with Russia. 
Russia is a leading exporter of industrial metals like aluminum, copper, nickel, steel and platinum. The shortage of these industrial metals along with a price hike affects the eCommerce industry in various indirect ways. For example, shortage in semiconductor for computers, increase in rate of copper wiring and aluminum packaging. These repercussions hinder the capacity of eCommerce businesses to fulfill consumer demand and lead to major fluctuations in backend management, sales and profit.
Also, with Russia's metal industry on a decline due to the sanctions, the country has decided to sell its production to China. This means while some industrial metals may get cheaper in the eastern world, the west might witness an increase in prices.
In terms of figures, Russia exported a total of 33.7 million megatonnes of finished and semi-finished steel in the year 2021. The top countries who imported Russian steel were Mexico, Poland, Belgium, Turkey and Taiwan. Now with the suspension of Russia from the steel trade market, these countries are bound to look forward towards reliable sourcing alternatives, which are highly unlikely to be as cost-effective as Russian sources.

Similar is the case with other stated metals, whose restriction in Russian exports have now led to huge price hikes in various countries. Aluminum, whose Russia is the fourth-largest exporter, received a record-breaking price hike in London. Nickel, another important industrial material, reached its highest recorded price of the decade.
Cosmetics
Personal care items were expected to make a total of 7.61% of all eCommerce sales in the year 2020 before the pandemic hit global channels like a storm. The entire cosmetics industry took a hit, and being a non-essential category, winded up in a seemingly everlasting period of sales drop. However, the cosmetics e-retail industry did start to recover from the pandemic-led economic recession and made $53.7 billion in the US alone when the shockwaves of the Russia-Ukraine conflict shattered the industry's recovery like thin glass.
Due to the inflation in crude oil prices and shortage of petrochemicals, the manufacturing and sales of personal care items and other cosmetics suffered a huge blow. Adding on the spiked packaging material costs, it is highly possible for renowned cosmetic brands to even discontinue their entire product lines and remove offers and discounts.
Ensuring quality and timely global shipping for cosmetics would be a challenge for both eCommerce firms and independent vendors. However, even after the re-establishment of the supply chain in the cosmetics sector, the scale of production might remain low due to shortage of petrochemicals.

Apart from this, global cosmetic brands such as Johnson & Johnson, L'oreal, Unilever, Sephora and Estée Lauder have announced temporary suspension of their services in Russia. 
eLearning
During the pandemic, the traditional classroom learning model changed into various eLearning models as industries and universities adapted digital channels of teaching. The most plausible benefit of this change was the opportunity to attract more international students via online courses. As a result, Russia welcomed hundreds of thousands of international students (both online and in-classroom,) every year and its educational industry witnessed a constant improvement.
As per the statistics, the Russian eLearning industry was forecasted to grow by 56 percent during the existing pandemic period (2019-2022). It was also expected to reach 82 million U.S. dollars in 2025. But now with the conflict, all forecasted digits appear to be unattainable. Does this mean the eLearning industry may witness its end in Russia?
We can assume the three following outcomes:
Due to the various sanctions, even the most interested international students won't be able to enroll in Russia's online courses and educational programs. Thus, causing huge losses summing up to millions of dollars.

Russian students, instead of traveling abroad for education, can prefer to opt for online international courses instead.
Learn More About eLearning Industry Trends, Types, & Advancements
Fashion
The uncertainty in the fashion industry due to the Russia-Ukraine conflict is going to remain for a long while. Directly from the production to retail prices, there will be inflation in the overall costs of two important textiles, which are nylon and polyester. Both of these are highly-used in the manufacturing of sports and gym wear clothing but due to shortages and inflation in crude oil and petro-chemical costs, the production of both nylon and polyester is disrupted.
The increase in retail prices of clothing could mean higher churn rate for several online fashion businesses. There may also be a decline in the production rate of apparel, which will gradually gain momentum as supply chains recover. It is also highly possible for the demand and prices of man-made natural fiber to increase as a way to rebound from the losses incurred due to petrochemicals shortage.
Regarding Russia, many fashion manufacturers relied on foreign imports to meet the consumer requirements. Due to the SWIFT network ban, Russian textile manufacturers won't be able to import textile from major sourcing countries like India, Bangladesh and Vietnam. As a result, the textile and apparel industry of these countries may suffer because of lack of demand from Russia.
Russia imported approx. $650-700 million of textile from Asian countries, but now will mostly have to rely on internal sources and channels. On the other hand, the losses that the fashion industries of Asian countries may incur can sum up to billions of dollars. All because of the three primary reasons:
Increase in petrochemical costs, hindering the manufacturing processes of polyester and nylon.
Failure to fulfill foreign demands for polyester and nylon apparels.
Temporary exclusion of a major market of Asian textiles and apparels, i.e. Russia
Electronics
Post conflict, there is a high probability that a wide majority of electronic goods on online marketplaces would be sold by Russian vendors. Soon after the conflict started, Russian citizens started investing in electronic items. As per a Reuters report, the increase in demand for electronic goods increased by up to 40% in Russia. Then came a wave of citizens panic-buying electronic items and stock piling them for reselling purposes.
A simple explanation behind this unexpected change in behavior is the non-susceptibility of electronic items against depreciation. Where everything from Russian currency to land assets depreciated, electronic goods seemed to be more profitable as packed and unused goods could be resold nearly at the same price the owners bought them for.
For the rest of the world, electronic goods may see a price hike because of the increasing shortage of semiconductors. Russia exports over 40% of the world's entire palladium supplies, whereas Ukraine provides 70% neon. Both these materials are required in the manufacturing of semiconductors. With such statistics, the prices of electronic goods are bound to increase significantly. This means that the new Apple and Samsung flagship models that you've been waiting for would be more expensive. Similarly, items such as personal computers, LED TVs, and refrigerators would also see a price hike.
Impact on Buyers and Businesses
On Buyers
Inflation
The first and foremost impact on the buyers is inflation. The production of goods and services were halted even during the pandemic but still the world did not face such inflation that it is going to face now because of the conflict. First, there is a hike in the prices of capital resources such as crude oil, metals, and food crops. Second, the repercussions of these hikes resulting in inflation of common commodities such as oil, wheat, gold, aluminum, nickel, and packaging material.
Longer Deliveries
An estimated 300,000 US companies relied on Russian supply chains. With those supply chains out of operation, these companies will have to tie up with new firms and re-establish their connections to stay in business. Furthermore, aggregators with thousands of pending orders are also likely to fail to provide timely deliveries. Another reason behind the delay would be closed sea routes and air spaces.
Product Shortages
With a halt in the production of many products, not only in Russia but all over the world, product shortages may occur. An example of a large-scale product shortage that has now turned into a global crisis is the shortage of semiconductors, which are used everywhere from your mobile phones, laptops and televisions to automobiles, refrigerators and even LED light bulbs.
No Cash in Russia
At the time of publishing of this article, many Russian banks and ATMs would have probably run out of cash resources. The ban from the SWIFT network meant a decline of all Russian debit cards, credit cards and mobile banking transactions. This left consumers with no other option but to withdraw cash from wherever possible, resulting in a severe cash insufficiency in Russia.
Panic Buying and Stockpiling
Crises are often followed by a state of panic buying where masses of consumers lash out on essential products and begin stockpiling them for months. A similar case happened in Russia as the population started panic buying and reserved up groceries. Along with groceries, people also panic-bought clothing, shoes, and medicines. Although such unprecedented times often witness a decline in demand for essential products, in Russia the demand for even non-essential electronics increased.
On Businesses
Exodus of Russian Businesses
Since the beginning of the conflict, there has been a massive exodus of businesses from Russia. US businesses already made their exit, ending the MNC culture. Now, as per reports, Russian tech companies and many other companies are moving to third world countries like Armenia and Kazakhstan. 
"About a dozen companies have already effectively relocated, while several others are on their way," – Armenia's Economy Minister Vahan Kerobin.
Loss in Order Processing Costs
There were millions of orders under processing when the Russia-Ukraine conflict began. The conflict flat lined the global supply chain, leading to a halt in those orders. Neither the customers received those orders, nor the companies are able to recover their order processing costs.
Supply Chain Re-establishment
All the disrupted supply chains required re-establishment after the beginning of the conflict. This re-establishment was needed to be done at all government, industry and business levels so that affected industries could work like normal. However, re-establishing global supply chains and thousands of them is a task even more challenging than establishing original supply chains. As a result, we expect this to be a slow and gradual process.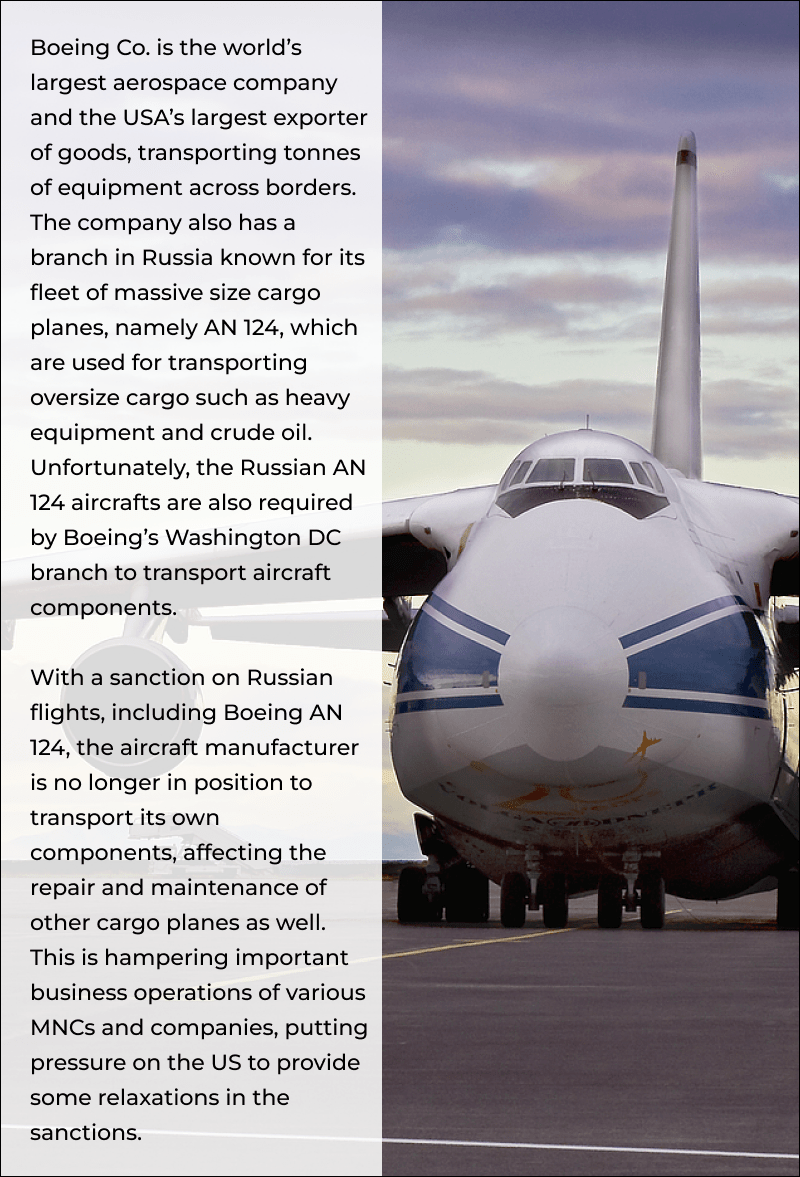 Image Source – cargo-partner
Exodus from Global Social Media Platforms
Due to the various sanctions, all globally popular social media platforms like Facebook, Twitter and Instagram are inaccessible in Russia. This means that the social media handles of all Russian businesses cannot promote their products outside Russia. The country does have its own prominent social media platforms like VKontakte (VK) and OdnoKlassniki (OK) for local and national level social media marketing, but unless these platforms scale up to Western spheres, it's not possible for Russian companies to conduct cross border social media promotions.
Decline in Marketplace Commissions
Another way to cope up with inflation and product shortages for small businesses is to receive some leniency and support from global marketplace platforms. This could mean decline in rates of marketplace commissions. Not to mention, after the increase in raw material costs, procurement costs and price inflation, multiple vendors on global marketplaces aren't in a capacity to sustain with the existing commission charges. Regarding Russia, we cannot say even if Russian vendors would be allowed to sell their products on Amazon.
Inability to Provide Offers and Discounts
Amongst all the roadblocks, providing offers and discounts is not an option for businesses. This would be more problematic for those businesses who want to clear out their stock or entire product lines. Giving discounts and offers is an important value creation method for many SMBs, who now won't be able to tap into its potential due to inflated sourcing, procuring and delivery costs.
More Drawbacks for Software Tech Companies
An estimated 2 million people worked in the IT sector of Russia. This population worked on thousands of international IT and software development projects. With the ban on SWIFT Network, all on-going software development projects are put on a hiatus, resulting in loss for both software development companies and their clients. Some Russian companies also fear a ban from operating in foreign countries. Furthermore, the Ukrainian and Russian teams of many renowned eCommerce solution providers, such as BigCommerce and Wix are also caught up in the conflict.
This is what Brent Bellm, CEO of BigCommerce has to say about the company's 105 Ukrainian team members:
Wix, a world renowned CMS platform was successful at evacuating its 1000 Ukrainian employees to Turkey and Poland.
Similar to Wix and BigCommerce, there are many international and local IT and software development companies still stuck in Ukraine. Companies residing in Russia are no longer in capacity to do business with the outside world as well. This only means a downfall for the entire IT sector in both Russia and Ukraine. 
Newly Emerging Consumer Patterns
The various sanctions imposed during the conflict have given rise to the following changes in consumer behavior:
Heed for Cost-Effective Delivery
With the cost of global shipping witnessing an unprecedented surge, it has become somewhat more essential for customers to consider the delivery costs of products. Apart from global shipping charges, national delivery rates for certain imported products have also increased. Thus, customers are now preferring brands with free or cost effective shipping more than ever.
US MNC Culture Segregation in Russia
Due to the various sanctions imposed by countries all around the globe, numerous MNCs have exited Russia, particularly US MNCs that had become a part of Russian culture. After the conflict, it is highly possible for Russian consumers to boycott American MNCs and prefer native brands to show their support.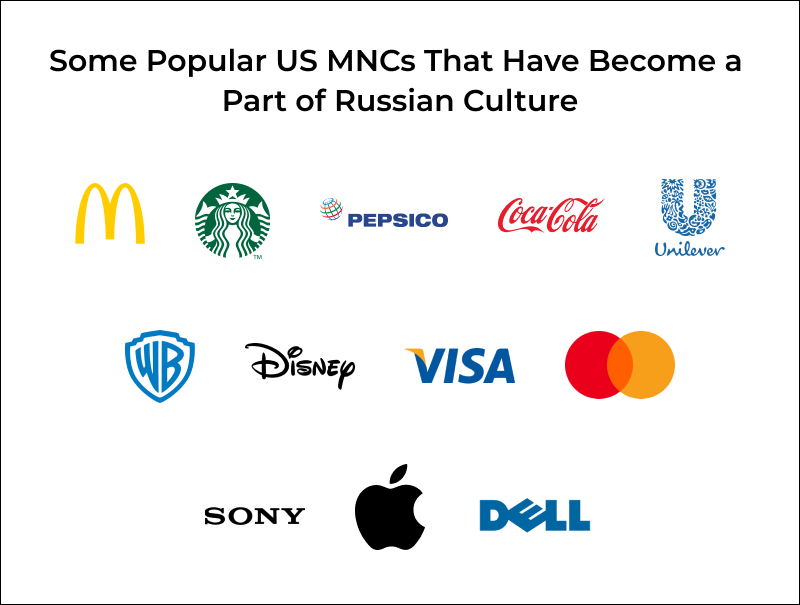 Global Isolation of Russian Tech Companies
In the US, state governors have already requested liquor stores to shelve out all Russian vodka. Apart from liquor brands, even Russian tech firms are receiving sanctions from all around the globe. These sanctions will especially affect small and startup-level tech businesses that work on remote off-shore projects. In terms of B2C brands, the breakdown of the entire supply chain and suspended operations of FedEx and DHL have already isolated Russian eCommerce businesses from the global audience.
Increase in the Usage of Chinese Products
With an exodus of American brands, Russian and Chinese relations are getting stronger. Many Chinese brands are still conducting operations in Russia, including the world's largest marketplace, Alibaba. This hints at an affiliation of Russians towards Chinese products in the near future, which will not only give Chinese brands a boost but can also make them a tough competitor of the existing global players. 
Russia's Strategy Against the Economic Sanctions
To prevent any further downfall in its economy, Russia is looking forward to take the following measures:
10 Year Ban from Re-entering into Russia
A promising strategy that Russia has proposed to outweigh sanctions is a decade long ban on foreign firms that do not resume their operations by May 1st, 2022. This strategy has been proposed by Russian State Duma Deputy Yevgeny Fedorov, who also reinstated the impact of the sanction on tens of thousands of Russian citizens whose careers have been overshadowed by huge uncertainty. 
Emergence of New Russian Payment Methods
As a reply to the sanctions imposed by various financial systems, such as Mastercard, Visa and SWIFT, Russia has started to rely on its own payment systems. It has created its own financial communication system, SPFS (Sistema peredachi finansovykh soobscheniy, translation: 'System for Transfer of Financial Messages), which is an alternative to SWIFT. Apart from this, Russia has found a way to continue Mastercard payments, i.e., by using the National Payment Card System (NSPK). Mastercard signed a deal with Russia back in 2015 that stated all its domestic transactions will take place in Russia through NSPK. Apart from this, Russian credit card company MIR received a huge boost post conflict. In response to the western sanctions, Russia has also asked for the assistance of BRICS (Brazil, Russia, India, China and South Africa) ministers for integration of new payment systems.
Emergence of Russia's Very Own Internet
Russia expressed its concern with the global internet back in 2019 when it passed the Sovereign Internet Law that required the web traffic to redirect from Russian servers as a way of information censoring. In 2021, it also labeled the global internet a national security threat. Post-conflict, when major sanctions were imposed on Russia, its Deputy Digital Minsiker Andrei Chemenko asked all Russian websites to switch to domestic DNS servers.
These actions of Russia are indicative of a gradual internet split where Russia can also create its own internet network that will act as a great firewall against the entire world. This will not only make Russia independent in terms of information communication but also enhance information security. Not to mention, to conduct any eCommerce operations, or to even promote their products, foreign companies would need to join this new network under Russian terms and conditions. 
What's Next
The various implications that arose as a result of the conflict have decapacitated the various sectors of the global eCommerce industry. And if the rest of the world assumes finding alternative sourcing options will bring back some levels of normalcy, those alternatives are highly unlikely to derive the same value businesses derived from pre-conflict connections. The inflation, sanctions, product shortages and the numerous unprecedented changes in the consumer behavior that the conflict created are undoubtedly going to close numerous growth opportunities in many parts of the world.
The only solution for eCommerce brands to cope with the implications is to aim for sustenance and resilience over profit and growth. Then only the brands in food, electronics, fashion, construction and eLearning sectors would be able to diminish the devastating economic impacts and expect what we can call a comparatively faster recovery rate. On the other hand, waiting for the conflict to settle down is not an option for any of the affected sectors.

What to expect if the conflict continues till next 4-5 years?
Such a situation can lead towards the creation of two economic blocs in the entire world, where Russia will be sided towards the east and the concept of globalization will diminish. While some business opportunities and trade may decline for eCommerce industries, new opportunities will also arrive. The latter is especially true for developing countries where various lucrative trade links will open up. The west, in contrast, may lose its grip on the eastern world considering a downfall in the influence of western brands and MNC culture.
What do you think the conflict will lead us to? Feel free to state your thoughts in the comment section below.
Resources:
https://www.bbc.com/news/business-60509453
https://www.cnbc.com/2022/03/14/putins-invasion-of-ukraine-will-knock-the-russian-economy-back-by-30-years.html
https://www.indiatoday.in/coronavirus-outbreak/story/why-russia-ukraine-war-is-bad-news-for-post-covid-recovery-of-world-economy-1925180-2022-03-14
https://edition.cnn.com/2022/03/14/politics/russia-economy-sanctions-ruble-what-matters/index.html
https://www.latimes.com/business/story/2022-02-24/russia-ukraine-attack-what-this-means-for-gas-oil-food-prices-california
https://www.digitalcommerce360.com/2022/03/04/russia-ecommerce-slows-retail-industry-looks-to-help-ukraine/
https://www.forbes.com/sites/harrybroadman/2022/02/28/what-it-takes-for-russias-sanctions-to-have-a-fighting-chance-to-work/?sh=77325e2157d8
https://www.latimes.com/world-nation/story/2022-02-25/russia-ukraine-sanctions-china
https://www.bbc.com/news/business-60480904
https://www.atlanticcouncil.org/in-depth-research-reports/report/the-impact-of-western-sanctions-on-russia/
https://www.webuildvalue.com/en/global-economy-sustainability/war-ukraine-construction-industry.html
https://www.jdsupra.com/legalnews/impact-of-the-russia-ukraine-conflict-2229663/
https://www.investopedia.com/articles/company-insights/082316/worlds-top-10-oil-exporters.asp
https://www.atlanticcouncil.org/blogs/new-atlanticist/economic-recovery-from-coronavirus-lessons-from-1918-1923/
https://www.zeppelin.com/de-en/products/construction-machines/
https://www.holcim.com/solutions-products
https://www.spglobal.com/commodity-insights/en/market-insights/latest-news/metals/030722-factbox-russian-metals-industrys-reliance-on-china-set-to-rise-as-sanctions-disrupt-supplies
https://www.bloomberg.com/news/articles/2022-02-28/russian-metal-exports-slide-as-sanctions-hit-commodity-financing
https://www.mining.com/web/aluminum-price-jumps-to-record-as-russian-attack-boosts-supply-risks/
https://www.statista.com/topics/2381/beauty-and-personal-care-ecommerce/
https://cosmeticsbusiness.com/news/article_page/A_show_of_support_How_has_the_cosmetics_industry_responded_to_the_Russia-Ukraine_conflict/199647
https://www.cosmeticsdesign-europe.com/Article/2022/03/22/Russia-Ukraine-war-impact-on-beauty-industry-with-brand-ceasing-operations-online-and-in-store
https://www.soluntech.com/blog/tech-and-conflict-how-the-war-in-ukraine-can-affect-the-it-sector
https://www.shrm.org/resourcesandtools/legal-and-compliance/employment-law/pages/the-impact-of-the-ukraine-conflict-and-related-sanctions-on-global-workforces.aspx
https://www.edweek.org/teaching-learning/why-the-russia-ukraine-crisis-is-relevant-to-teachers/2022/02
https://www.highereddive.com/news/how-us-higher-ed-is-reacting-to-russias-invasion-of-ukraine/619547/
https://www.drapersonline.com/insight/russia-ukraine
https://www.ft.com/content/a0beea33-cbc5-453b-a449-202ba605ee73.
https://www.brookings.edu/blog/future-development/2015/11/03/with-the-ruble-depreciation-made-in-russia-could-once-more-become-a-worldwide-trademark/
https://www.reuters.com/markets/europe/stockpiling-russians-buy-electronics-pharmacy-goods-crisis-deepens-psb-2022-03-14/
https://www.wired.com/story/ukraine-chip-shortage-neon/
https://indianexpress.com/article/explained/explained-russia-ukraine-crisis-shortage-semiconductors-7817545/
https://www.consultancy.eu/news/7433/research-ukraine-war-costs-russian-military-20-billion-per-day
https://eurasianet.org/russian-companies-eye-relocation-to-kazakhstan-amid-sanctions
https://www.azatutyun.am/a/31730405.html
https://www.trade.gov/country-commercial-guides/russia-information-communication-technology
https://www.cnbc.com/2022/03/05/ukraine-crisis-hits-home-for-bigcommerce-and-106-staffers-there.html
https://www.linkedin.com/posts/brent-bellm-3b305214_the-bigcommerce-team-includes-105-extraordinarily-activity-6904497320415555584-CvRp/
https://en.globes.co.il/en/article-wix-evacuates-nearly-1000-ukrainian-staff-and-families-1001402256
https://www.washingtonpost.com/technology/2022/03/02/ukraine-workers-wix/
https://www.forbes.com/sites/kenrapoza/2016/08/03/headline-halah-t/?sh=56384965f991
https://www.wilsoncenter.org/article/russias-influence-american-culture
https://hbr.org/2016/04/why-multinationals-are-doubling-down-on-russia
https://www.foxla.com/news/list-of-russian-goods-that-are-banned-boycotted-in-us
https://home.treasury.gov/news/press-releases/jy0707
https://www.cnbc.com/2022/03/26/with-russian-sanctions-small-companies-may-be-in-for-a-big-surprise.html
https://www.reuters.com/business/chinese-brands-stay-put-russia-now-despite-western-exodus-2022-03-04/
https://www.voanews.com/a/chinese-companies-in-dilemma-over-russia-/6498839.html
https://www.nbcnews.com/business/business-news/russia-debt-default-explained-selective-default-rcna23873
https://fortune.com/2022/04/01/russia-credit-card-transactions-nspk-mir/
https://www.reuters.com/business/finance/russia-calls-integrating-brics-payment-systems-2022-04-09/
https://www.thebanker.com/World/Central-Eastern-Europe/Russia/The-exponential-rise-of-Russia-s-Mir-payment-system?ct=true
https://www.statista.com/topics/7285/online-education-in-russia/
https://www.statista.com/statistics/1072423/online-education-market-volume-in-russia-by-type/
https://www.cosmeticsbusiness.com/news/article_page/LOreal_turns_off_operations_in_Russia/199348
https://www.usatoday.com/story/money/2020/04/10/businesses-closed-coronavirus/111526546/
https://finance.yahoo.com/news/10-big-companies-went-bankrupt-132709714.html
https://www.aarp.org/money/credit-loans-debt/info-2020/bankrupt-retail-chain-store-list-is-growing.html
https://www.statista.com/statistics/867549/top-active-social-media-platforms-in-russia/
https://www.linkfluence.com/blog/russian-social-media-landscape
https://www.wsj.com/articles/covid-19s-toll-on-u-s-business-200-000-extra-closures-in-pandemics-first-year-11618580619