The Covid-19 pandemic acted as a catalyst for making people more fluent in digital technology. This led to virtual healthcare becoming the model of not only a necessity but also a preference. Digital helped consultation leaders reach patients at lightning speed and technology filled the gap between patients and doctors efficiently.
The intersection of technology and healthcare rewired the patient journey, transforming the entire healthcare sector where innovative collaborators had a clear purpose focused on patients' needs. That said, in this blog, we cover all about starting an online healthcare consultation business. 
Table of Contents:
Healthcare Industry – Market Dynamics
The healthcare industry is riding the wave of growth. This is due to the growing adoption of smartphones, tablets and other digital devices. Further, with the rising awareness of health issues among the public and better income, the healthcare industry is said to grow dramatically. 
As per research, the global healthcare market is expected to reach $11.9 trillion by 2025 and is projected to grow by 15% by 2029. Moreover, North America is expected to dominate the market in the years to come. 
Trends on the Horizon of Online Healthcare Consultation Market and Future Outlook
The healthcare sector is moving from being provider driven to being consumer-driven where virtual healthcare is becoming a core component in helping consumers improve or maintain their health and well-being. Additionally, healthcare is moving toward a proactive "Predict and Prevent Model" where underlying causes of health problems are targeted by proactive early intervention. That said, in this section, we discuss the trends that are on the horizon of the online healthcare consultation market along with the future outlook. 
Mental Health Will No Longer Be Overlooked
As trauma-informed care, mental health has taken the spotlight over the last few years and it will only continue to grow. According to a study, 61% of adults have endured at least one traumatic event in their lives. This means that a lot of individuals among the population are suffering from the effects of trauma, thereby creating a significant need in the healthcare system. 
The Digital Transformation Will Continue
Virtual health care makes aspects of healthcare more convenient, accessible and cost-effective. It leverages and orchestrates a platform-mediated ecosystem to create and co-create value. As technology is accelerating it will continue to push the boundaries of healthcare and create breakthroughs through virtual engagement.
Personalized Medicine Will Pave the Way For a Brighter Healthcare Future
Healthcare has worked on the one-size-fits-all approach for years where the same treatments were applied to different patients. It failed to take into account genetics, environment and other factors. For instance, many patients were prescribed medicines that caused new problems at the onset. This was primarily due to genetic variations. For better healthcare outcomes and increased efficiency, healthcare providers are now providing tailored care with personalized medicine rather than giving the same blanket care. 
Have an Online Healthcare Consultation Business Idea?
Benefits of Starting an Online Healthcare Consultation Business
With a lot of new medical and technological advances, there is widespread interest in health and wellness too. These happen to be great incentives for entrepreneurs who are passionate about venturing into the healthcare consultation industry. In this section, we discuss the benefits of starting an online healthcare consultation business.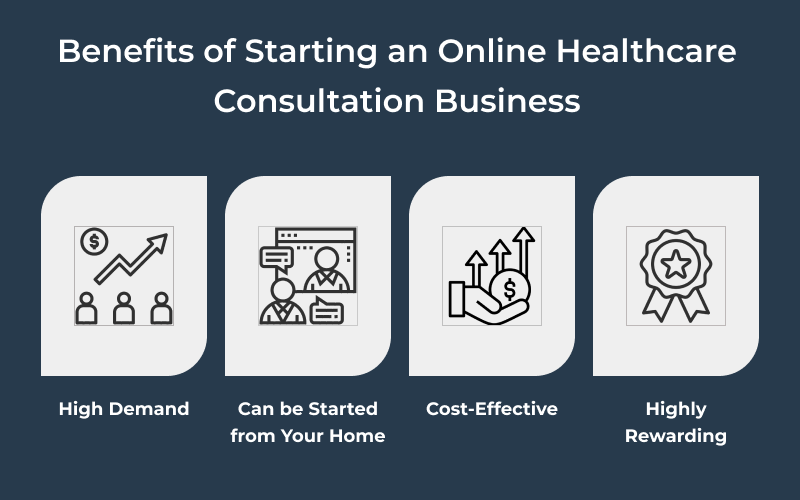 High Demand 
As we age and with changes in our lifestyle, we develop health issues that require treatment. So, for proper intervention, we require a healthcare professional. This suggests that the healthcare business is always going to be in heavy demand and is recession-proof. 
Can be Started from Your Home 
With several online consultation businesses coming into the picture these days, a healthcare consultation business can be started from the comfort of your home. Just a few permissions and licenses are required with an online consultation platform and you are all set. 
Cost-Effective 
As mentioned above, a healthcare consultation business can be started from your home and there are no transportation costs. Hence, starting a healthcare consultation business can be a profitable business as the setup costs are much lesser than a traditional business. 
Highly Rewarding 
Healthcare is a hands-on industry but not everyone can afford expensive treatment in big hospitals or clinics. Therefore, starting an online healthcare consultation business can be highly rewarding as you can provide individuals access to healthcare experts from all across the world at lower costs and in the proximity of their homes.  
Leverage New Possibilities by Starting an Online Healthcare Consultation Business
Steps to Start an Online Healthcare Business
There has been a pandemic profitability windfall for entrepreneurs looking to start an online healthcare consulting business. According to research, three out of four prospects do not wish to meet with a consultant face-to-face. This indicates that the market to start an online healthcare business is ripe as the demand for virtual healthcare is on the rise. In this section, we will take a look at the steps to start an online healthcare business. 
Step 1: Conduct Market Research & Feasibility Studies
The foremost step is to check the viability of the business idea through research. To do just that, you need to have a deep understanding of the healthcare industry and whether it is feasible to start an online healthcare consulting business. Information can be collected from the market with regard to population trends, age, expenditure and any other relevant demographic information that would impact the feasibility of the project. 
Further, demographics and psychographics are used by the healthcare system to define and identify patients and populations. Psychographics include emotional responses and motivations that drive consumer behaviors. 
Step 2: Know your Competitors
The competitive landscape in the healthcare consulting line is tough. Knowing your competitors and what they are offering, their strengths and their weaknesses can help improve the performance of your healthcare consultation business. 
This is where the information gathered during market research and feasibility studies comes to play. You will be able to make headway in the industry if you have the right information. Hence, doing your due diligence before venturing into the healthcare consulting business is a must. 
Step 3: Choose the Most Suitable Legal Entity 
In general, you can choose from a general partnership, or a limited liability company (commonly known as LLC). But setting up an LLC will protect you from personal liability if anything goes wrong in the business. It is not the same for general partnerships. 
Step 4: Choose A Business Name 
The next step is to choose a catchy business name. Usually, it is expected that the name you choose for your business should be creative as it will be the identity of your business and what it represents. So, put in a good amount of thought and then decide the name of your healthcare consulting business.  
Step 5: Choose the Business Model
An online healthcare business basically connects healthcare consultants with clients and so it can adopt several business models. 
Group Consulting –

This is another popular business model where you can deliver consultation sessions to a group, i.e. the healthcare consultant can provide consultation to several people in a group, in real-time.
Subscription Model – 

In a subscription model, you can allow your clients to access supporting materials such as pre-recorded videos for a monthly or yearly subscription. 
Moreover, you can have a healthcare consultation platform that incorporates all of the above-stated business models. 
Step 6: Choose the Possible Revenue Streams 
Online healthcare consultation is more popular than ever and an online healthcare consultation platform can be used to generate revenue. You just need to be cognizant of the multiple revenue streams available. For those who want to start an online healthcare business, mentioned below are a few revenue streams. 
Commission –

This is a really popular revenue generation method. The admin earns money by predefining the commission that is charged on each session. The commission percentage can be set in view of the market scenario. 

Subscription Fees –

Another popular revenue generation method is through subscription fees. The healthcare consultant or the client can be charged a subscription/membership fee to avail the services available on the platform.

Advertisements –

The admin can charge advertisers for displaying ads on the healthcare consultation platform. The revenue can vary on the type of advertisement, i.e., CPC (Cost per Click) or CPM (Cost per Mile).

Sponsored profiles for Healthcare Consultants –

A healthcare consultant can be charged by the admin to be featured on the platform. This ensures better visibility for the healthcare consultant. 
Step 7: Launch An Online Healthcare Consultation Platform for Online Presence
When we think of the new age lifestyle, the internet comes to mind. This is primarily because it is reshaping the way healthcare is delivered – addressing the costly issues of missed appointments and deferred care. Therefore, it becomes essential for healthcare professionals to bridge the gap by having a strong online presence to attract new patients, build a reputation and bend the cost curve. The best way to establish an online presence is by launching an online healthcare platform. This can be done via following two approaches of development:
Custom Development –

The approach of custom development can be followed if a business has tailored requirements. It is more time-consuming as the features are custom-built and the healthcare platform ends up being more expensive as it is built from scratch.



Opting for a Readymade Solution –

A readymade or a pre-built solution is time-tested. It consists of all the features needed in a healthcare consultation platform. It is cost and time effective as the development is not done from scratch. 
Kickstart your Online Healthcare Consultation Business with our technical expertise
Step 8: Market Your Healthcare Consultation Business 
Once the website is developed, embracing the marketing techniques for your online healthcare business in this networked world is pivotal. According to market research, approximately 88% of people search for information regarding healthcare online. 70% of them have reported that the information they find influences their decision about the treatment. 
So, as virtual health gains momentum, you need to market your healthcare consultation business because it paves a great way to make you stay connected with current and new patients whenever they are in need. Marketing can be done via the following techniques:
Pay Per Click Advertising –

PPC provides an excellent opportunity to procure quality traffic by advertising your healthcare services on search engines, social media channels and so on. You only need to pay when someone clicks on the ad, otherwise, there is no need. 
Content Marketing –

Unveil your expertise to the right audience through blogs, infographics, videos and so on. But make sure that the content provides value to the patients. It shouldn't be self-promotional.



How Can FATbit Technologies Help You in Starting Your Own Online Healthcare Consultation Business?
FATbit Technologies is a leading software development company that was founded in 2004. By embracing agile development practices, the company has developed an online consultation software, Yo!Coach that effectively and efficiently caters to the ever-evolving needs of clients across the globe. Further, Yo!Coach is a bespoke ready-made solution that encapsulates a myriad of features that help build a competitive advantage and accelerate growth. 
Key Highlights of Yo!Coach 
Fully Customizable

Multi-Lingual 

Multi-Currency 

GDPR Compliant 

Supports Multiple-Payment Gateways 

Pre-integrated with Video Conferencing APIs

Offers Apps for Clients (Android and iOS)

Highly Scalable
Start an Online Healthcare Consultation Business with Yo!Coach
Conclusion
The pandemic fundamentally altered and reimagined the roadmap to the healthcare industry. As digital ecosystems are the future of healthcare, now is the time for entrepreneurs to start their own online healthcare consultation business. For more information on how to start an online business in the healthcare space, you can contact us.