Last Updated: 23rd January 2023
What's better than a delicious dish that you don't have to cook yourself and comes at a reasonable price? Online food delivery platforms deliver delicacies prepared by local restaurants to customers at their doorsteps in major cities.
According to reports, the global online food delivery market size was valued at $189.70 billion in 2021 and is expected to expand at a compound annual growth rate (CAGR) of 10.8% from 2022 to 2028. Therefore, we can say the online food delivery industry is shining bright and will continue to do so in the near future. 
The market is mainly driven by the rising number of smartphone users, internet users, and people who are busy with their schedules and are not able to cook actively at home. The growing trend towards online food delivery apps and technical advancements in the food industry is also contributing to the growth of the market.
Considering the fact that this industry is growing tremendously and can provide immense lucrative opportunities to those who are inclined to step into it, we decided to unearth what it takes to start an online food delivery business. 
Table of Contents
Main 4 Stakeholders
The entire model of food ordering and delivery businesses usually revolves around 4 main groups of stakeholders:
Marketplace Owners
Marketplace owners list restaurants on the platform.

Manage profiles of restaurants and customers registering on the platform.

Implement various coupons, discounts/rewards, and loyalty programs.

Get reports and analytics.
Users
Users can choose a meal from the menu and order it.

Users pay online for the order.

Users have the provision to rate and review the ordered food items.

The ability to schedule orders in advance is also available.
Restaurants
Restaurants create their menus.

They maintain food quality and get recognition.
Delivery Partners
 Delivery persons deliver meals to their clients.
How does the Online Food Delivery Platform work?
Restaurants register themselves on the online platform. 

Restaurants share their menus and detailed information about the food they will serve. 

Users order food items and make payments.

Once successful order is placed

Partner restaurants prepare food.

Ordered food is then delivered to the specific users by delivery persons.

Once the order is completed, marketplace owners cut the commission and release order value to restaurants.
Revenue Model
Food industry giants sell food items to users through their online platforms or mobile apps. The business model of these platforms might appear to be simple but it involves a lot of technical and investment aspects. The owners of such profitable platforms generate revenue from regular operational activities like: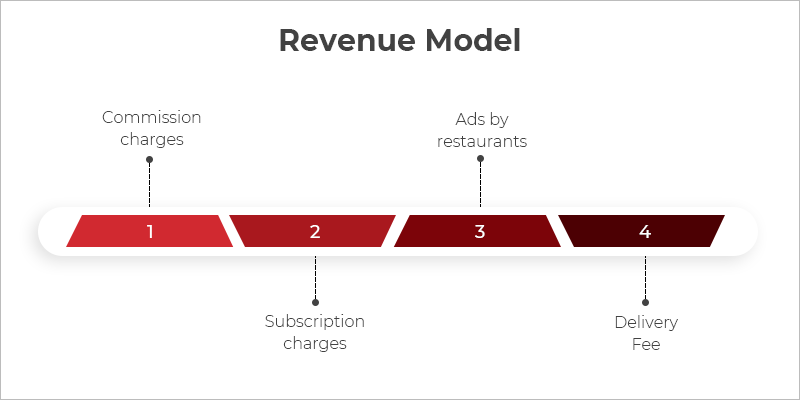 Commission charges

Subscription charges from the restaurants and hotels registered under the online food ordering app.

Ads by restaurants on the platform via sponsored listings.

Delivery fee
Want to Scale Up Your Food Delivery Business With Multiple Revenue Streams?
Step-By-Step Guide to Start An Online Food Delivery Business
Now that you are aware of the business model and the various revenue streams that a food delivery business can offer. Furthermore, let's see the step-by-step guide on how to start an online food delivery business.
Step 1 : Research About Your Niche And Target Audience
Before stepping into this industry, the foremost step is to define your niche and know about your target audience. Various surveys, reports, statistics, and government research documents should be referred to gain more knowledge about the industry and trends. Conducting a SWOT analysis can help you compare your business plan with that of your competitors. 
Take lessons from the mistakes of your competitors and learn from their success. Try figuring out the gaps in the market and make business strategies to overcome those challenges through your business. 
Also, a thorough analysis of your target audience like their age, gender, background, preference, etc. can help you understand your target audience better and help you develop a  platform aligned with their needs. 
Step 2 : Cover Your Legal And Financial Requirements
Once you have done an in-depth analysis and research of your niche and target audience, the next step is to check the legalities and formalities that should be done for your business. It is very crucial to handle all the administrative work and documentation beforehand so that you can focus on other important aspects of your online business later on. 
It is very important to know about the legal rules and regulations of your region so that you abide by the law and keep up with all the documentation from the beginning. Also, check with your local laws to make sure that you get all the permits and licenses required for starting a food delivery business in your country. 
Next important thing is to decide the structure of your business. A valid business structure will decide the tax and liability for your business. Below mentioned are the types of business structures that work best for food business owners:
Sole proprietorship

Limited liability company (LLC)

Corporation

Partnership
Apart from deciding proper business structure, business owners should also file proper taxes and keep records of their income, expenses, etc for the smooth running of their business.
Step 3 : Decide Features And Functionality
After deciding on the business structure and abiding by all the legal requirements, the next step is to decide the features and functionalities you want to offer to your users. Unique features can give you a competitive edge over your competitors. The features you include would ensure your platform stands out in this hypercompetitive online food delivery industry.
Below are the must-have features for a successful online food delivery business.
Push Notifications

Multi-lingual

Easy order placement

Easy registration

Profile management 

Order management

Analytic and reports

Geo-fencing

Search filters

Order history

Ratings and reviews

Real-time GPS tracking

Optimized routes

Easy multipayment options

Gift cards, coupons, discounts/reward, loyalty programs
Want to Discuss the Right Set of Features For Your Online Food Delivery Platform
Step 4 : Build Your Online Platform
After finalizing the features and functionalities of your online food delivery business, the next step is to build a reliable online platform. This platform should streamline your online food business operations and must help efficiently manage all the stakeholders. The two most popular ways to build an online platform are
In custom development the platform is built from scratch. You need to hire a skilled and experienced team of developers and designers to handle the development process. To custom-build your platform you need to make a huge investment and put in more effort and time. The major drawback of custom development is that it is a complicated and lengthy process, to begin with.
On the other hand, a ready-made software solution can help you launch your online business in less time and is more cost-effective as compared to custom development. This solution comes pre-integrated with numerous features to smoothly run an online food business. Ready-made solutions efficiently cater to the needs of all stakeholders in the online food delivery business.
The major advantage of the ready-made solution is that it is a simple and hassle-free option. Moreover, ready-made software solutions offer almost the same features as those offered by custom development, hence, making it a popular choice among entrepreneurs. 
What future holds for the online food delivery business in 2023?
For the past few years, the online food industry has seen rapid growth and it will continue to evolve at a fast rate. Good food will always entice food orders, stimulating the potential for perpetual growth in the industry. This is why the usage of mobile apps for ordering food will continue to increase, as these have eliminated the need to visit a food outlet to dine.
Mobile apps provide the convenience of ordering food at any time and ensure quick delivery too. Therefore, consumers are likely to become more dependent on online food ordering and delivery in the near future. This dependency of people on these online delivery platforms is creating a huge demand for such platforms that can efficiently solve the pain points of customers and provide the best services. 
With the ever-changing technology and trends in the food industry, companies will need to evolve and innovate continuously, whether it is in terms of adopting a drone delivery method or using 3D food images.  
If you want to start an online food delivery business and don't know where to begin, or you are facing difficulty in understanding the food delivery business model, our FATbit experts are here to help you.
Become the Market Leader of the Lucrative Online Food Delivery Industry
FAQs
Q1. Is food delivery a profitable business?
The consumer demand for online food delivery has steadily grown over the years. The market is expected to reach a value of $33.7 billion by 2026. The food delivery market is clearly driven by the convenience of having the food delivered to the doorstep, the prevalence of smartphones, increasing internet penetration, and the busy lifestyle of people. 
With the reduction in errors, labor expenses, waiting time and long queues, the usage of online food delivery apps is rising worldwide. Hence, we can anticipate this industry is going to flourish and provide lucrative business opportunities to budding entrepreneurs in the near future. 
Q2. How much does it cost to set up a food delivery business?
Setting up a food delivery business depends on various factors. Business owners should identify their requirements first, then start investing their money. The expenditure depends on the factor whether you are opting for custom development or a ready-made solution. In addition to that, the cost will also depend on the customization and functionality you want in your app. 
However, opting for a ready-made solution to set up your food delivery business is the best way to save money. It is more cost-effective and affordable. If you choose Yo!Yumm to set up your business, its packages are available at extremely affordable prices.