Last Updated: 20th September 2022
What's better than a delicious dish that you don't have to cook yourself and comes at a reasonable price? Online food delivery platforms deliver delicacies prepared by local restaurants to customers at their doorsteps in major cities. FATbit analysts took notice of such unique web-driven businesses and decided to unearth what it takes to start an online food delivery business.
Table of Contents
Detailed Business Model
Online food delivery platforms like GrubHub, UberEats, Deliveroo, Talabat, and Just Eat allow people to order food prepared by local restaurants of the city at a reasonable price. These restaurants have large menus, while some of them specialize in particular dishes. 
The business model mentioned below helps business owners start their online food delivery business.  Moreover, it also enables restaurants to expand their reach and allows customers to order food as well as customize their order on the basis of price, discounts, location, reviews and more. Users are also provided with the option to track order status and stay updated.
Main 3 Stakeholders
The entire model of food ordering and delivery businesses usually revolves around 3 main groups of stakeholders:
Users
Users can choose a meal from the menu and order it.

Users pay online for the order.

Users have the provision to rate and review the ordered food items.

The ability to schedule orders in advance is also available.
Restaurants
Restaurants create their menus.

They maintain food quality and get recognition.
Delivery Persons
How does the Online Food Delivery Platform work?
Partner restaurants prepare food.

Restaurants are listed on the online platform along with their menus and detailed information about the food.

Users order food items and pay online.

Ordered food is then delivered to the specific users by delivery persons.
Revenue Model 
Food industry giants sell food items to users through their online platforms or mobile apps. The business model of these platforms might appear to be simple but it involves a lot of technical and investment aspects. The owners of such profitable platforms generate revenue from regular operational activities like: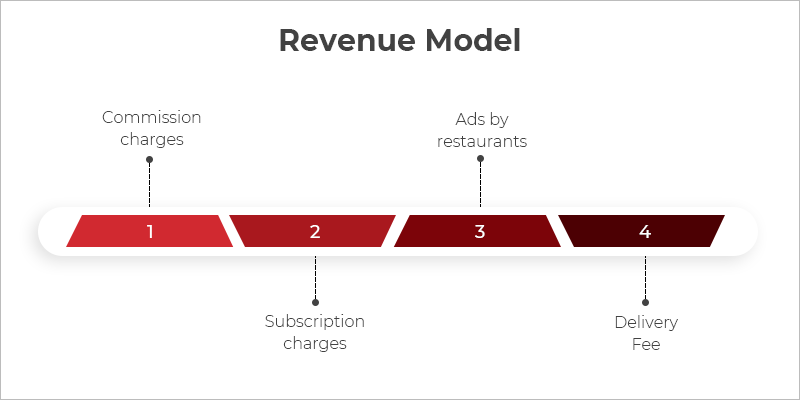 Commission charges

Subscription charges from the restaurants and hotels registered under the online food ordering app.

Ads by restaurants on the platform via sponsored listings.

Delivery fee
Maximize the Revenue of Your Food Ordering Business
Perks of Using Food Delivery Applications
The food delivery business model delivers a value proposition for all, including restaurants, app users and delivery persons.
For users
24*7 customer services

Customers can browse menus of multiple restaurants and order food online while saving their time and money.

Customers can track the status of the ordered food.

Option to track order progress.

The user can search for their favorite restaurant based on location, discount offers, ratings, and cuisines.

Users can choose from multiple payment options like credit/debit cards, digital wallets, and cash on delivery.

Notifications related to new offers and coupons can be received by the user on their registered mobile number.
For restaurants
Food delivery business model provides an extended customer base to the restaurants.

The ease of managing the orders with software installed on the system.

Altering menu options to keep the foodies hooked.

Availability of a delivery person from the registered food delivery business to deliver the ordered food at the customer's doorstep. 
For delivery persons:
Handsome salary

Good tips from customers
Want to Cater To The Needs Of All Stakeholders Efficiently
Salient Features of an Online Food Delivery Portal 
Appealing Homepage
Online food delivery platforms should carry master UX/UI to engage more viewers. The homepage needs to be perfectly designed with a subtle approach. The overall design of the homepage should be neat and throw light on the most important aspects of the website. An interactive homepage designs help to increase the entire business's value and enhance the UX of the website.
Sign Up
To place an order, sign up is necessary. The signup process needs to be straightforward and simple. It should not include a lot of tricky questions that divert the user's mind. Social media signup and login options can be used for quick registrations. Leading online food ordering and delivery platforms have perfected their registration process. So, your clone should get it right too.
User Profile
A user profile page must include basic features like:
Manage Address Book
Popular food delivery platforms empower users to manage their own address, edit it, add new addresses, and update them anytime. There must also be the provision to leave a message of how to contact for delivery.
Featured Dishes
Such platforms offer a wide deck of food options to its users. Foodies get access to all the featured dishes along with the cost. This quickens decision making and generates more meal orders for the stores. Again, something that a food ordering clone cannot miss.
Order Placement Process
When the user selects a particular dish, he must be provided complete details about the dish, its ingredients, the preparation process along with its price and user reviews. The order placement process should be smooth and quick. In case you are thinking of starting your online food delivery business by launching a website or a mobile app with a ready-made online food ordering solution, then you've to pay special attention to the order placement process. Reviews are highly important for such websites. Don't forget to add sturdy review management functionality for your online food ordering app.
Checkout Functionality
After the user has placed an order, the final checkout process involves some critical steps.
With the delivery window, one can choose the best time to make the delivery along with the quantity of dish he wants to order.

Mention the address where one wants to receive the order. Delivery instruction is a fascinating feature that allows the user to mention how he wants to receive the order.

An efficient payment method with all the necessary billing information is crucial and should run smoothly.
Order Summary
A brief order summary listing all the details along with the total price which includes the tax, delivery cost and the actual cost of the dish makes it easy for the user to proceed. Some sites also permit the user to add a gift card or promo code if he wants.
Powerful filters
Food discovery is crucial for every food-centered online venture. Development teams smartly add meal search functionality with powerful filters that help in refining results as per common food habits. This helps visitors in quickly finding the food that they are interested in. Online food ordering and delivery is one of the fastest growing industries right now. That's why platforms like Munchery, Zesty, and Sprig are flourishing.
Consult Our Experts to Start an Online Food Delivery Business
Features to Include in Your Food Delivery Portal to Curb the Spread of COVID-19 
Digital Payments
You can include this feature to your food delivery app to support cashless transactions. Customers can transact easily by selecting a digital payment method of their choice like credit cards or debit cards, net banking, e-wallets, etc.
Curbside Pickup 
Curbside pickup is another powerful feature that you must include in your app to limit in-person interaction. Customers can place their order online and collect it from the restaurant once the order is ready for pickup.
Geofencing 
This feature will allow restaurant owners to deliver food in their preferred delivery zone. They can set virtual boundaries and avoid delivering food in the containment zone to deter the spread of COVID-19. 
COVID-19 Awareness Notification
It is an important feature that would help you gain your customers' trust and loyalty. You can send push notifications to your customers to keep them aware of hygiene practices being followed by your restaurant.  
Schedule Deliveries
This feature will help customers to decide the delivery date and time of their order in advance. They can schedule the order delivery during the relaxation hours to avoid any inconvenience. 
Suggested Read :- COVID-19 Crisis: Online Food Delivery Challenges and Their Potential Solutions
Recommendations from Experts
While starting an online food delivery platform, entrepreneurs may face many challenges and issues in their business operations. For any platform to be successful, the emerging problems must be handled with the best possible approach.
Chat support: Imagine you are looking for a particular dish but cannot find it or you want to learn if your favorite restaurant offers food items through that particular platform. These questions can be easily answered with Chat or Help functionality. In the absence of this feature, new visitors might find themselves struggling for answers.
There are several benefits of live chats for customer services as well as business. Businesses should not hesitate to install live chats if they want to win over consumers in this digital landscape.
Smart restaurant pages: While foodies love to experiment, they like to know how good their food and food joints are. So adding smart restaurant intros along with social media buttons and previous experience can make a better impression on customers.
App and responsive advantage: Pick a responsive food ordering and delivery platform so that you can generate traffic from desktops as well as mobile devices. If you want more engagement and have funds, then, invest in a mobile app as well. 
What future holds for the online food delivery business in 2022?
For the past few years, the online food industry has seen rapid growth and it will continue to evolve at a fast rate. The pandemic has soared in the delivery sales. The growth rate is expected to fasten post-2022 with about 185 million people expected to avail online food delivery services by 2025.
Good food will always entice food orders, stimulating potential for perpetual growth in the industry. This is why the usage of mobile apps for ordering food will continue to increase, as these have eliminated the need to visit a food outlet to dine. Mobile apps provide the convenience of ordering food at any time and ensure quick delivery too. Therefore, consumers are likely to become more dependent on online food ordering and delivery in the near future. 
With the ever-changing technology and trends in the food industry, companies will need to evolve and innovate continuously, whether it is in terms of adopting a drone delivery method or using 3D food images.  
If you want to start an online food delivery business and don't know where to begin, or you are facing difficulty in understanding the food delivery business model, our FATbit experts are here to help you. Get in touch!
Your Online Food Ordering and Delivery business is Just a Click Away