With people following social distancing and not being able to visit their favourite restaurants due to the COVID-19 pandemic, there has come a surfeit of demand for online food delivery all over the world. People are becoming accustomed to ordering food from the comfort of their homes instead of dining out, as most of the restaurants around the globe are closed for dine-in. Restaurants that didn't offer online delivery services pre-pandemic have either already switched to the online mode of operation or are planning to do so.
The new normal demands restaurants to translate dine-in experiences to digital ones. Online food delivery biggies like Just Eat and Delivery Hero have made it possible for several restaurants around the world to meet customers' changing needs.
The current market extends a plethora of opportunities for entrepreneurs to start a food delivery business. If you are planning to launch a site like Delivery Hero, this is the right time as the online food delivery industry is expected to show an annual growth rate of 7.5% by 2024.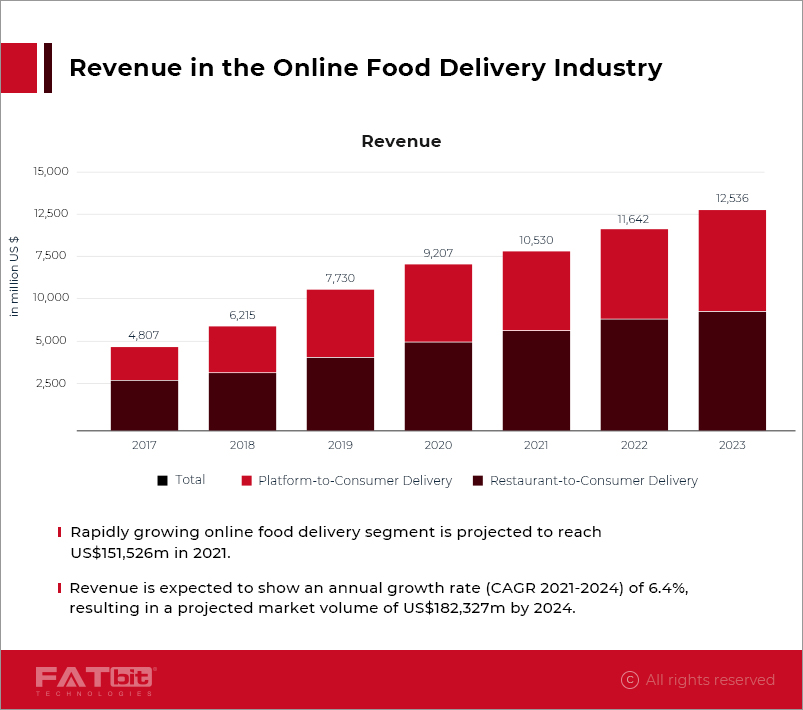 As Just Eat and Delivery Hero are the most popular food delivery marketplaces, the majority of entrepreneurs are preferring platforms based on similar business models. With these two as industry's most sought-after food delivery business models, we will discuss the various important elements constituting their operational infrastructure to help you build a site on similar grounds for a scaling food delivery business.
Performance Accelerators of Just Eat and Delivery Hero
Both, Just Eat and Delivery Hero have emerged as the leading food delivery platforms accounting for more than 50% of the total revenue generated by the online food delivery industry. If we look closely, both services have followed a technology-driven approach. 
Just Eat operates on a Matchmaking business model where it enables two major entities of the food delivery platform i.e, restaurants and customers looking for food delivery, to connect. Their online food delivery solution is technologically advanced as compared to competitors like Caviar, Eat24, and ChowNow. In times where food delivery platforms functioned through faxing orders and sending automated phone orders, Just Eat introduced the Just-Connect box to its client restaurants enabling them to directly connect with the Just Eat platform. The innovative approach adopted to streamline their work processes became a crucial element that helped in paving the path of success for Just Eat.  
Delivery Hero on the other hand is a value-driven business functioning on a platform integrated with powerful analytical tools. Drawing insights from the reports generated by its food delivery system, the company keeps track of the market and drives further growth. Having an outstanding global support service, Delivery Hero facilitates knowledge sharing among different regions of their operation and provides its partner merchants with valuable insights into the data, analytics, and market to help them improve their online sales.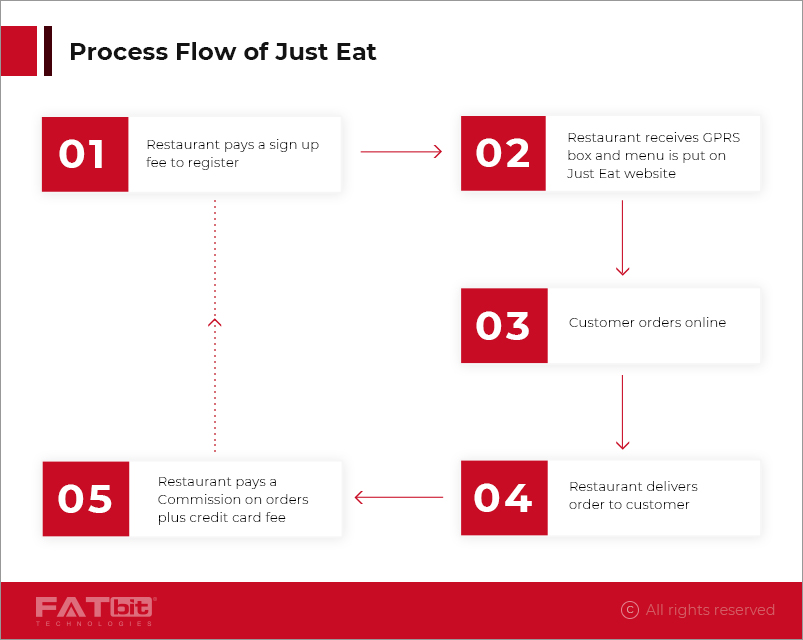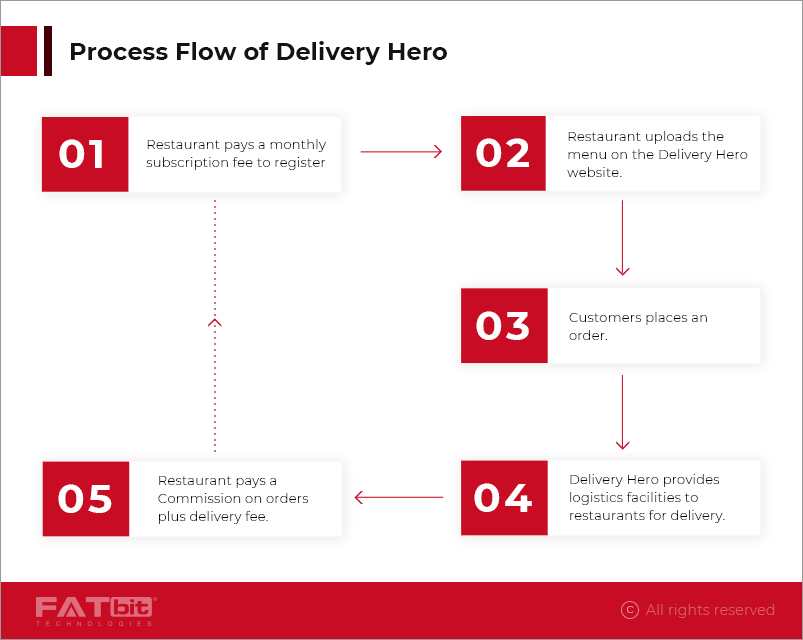 Why Go For A Ready-Made Food Delivery Solution?
Intensive competition, massive advancements in technology, and the evolving consumer needs have reshaped the eCommerce industry. When it comes to starting an online food ordering and delivery marketplace, one must apply an advanced approach in order to excel in the market. 
Building a food delivery website from scratch will require hiring a team of developers and invest a good amount of time in strategizing the website infrastructure. Not only will this be excessively time-consuming but also cost-inefficient. 
Opting for a turnkey, ready to market food delivery solution can help you overcome above-mentioned challenges. The solution enables you to launch your food delivery marketplace in no time, helping you accelerate the time-to-value.
A value-based food delivery solution will offer you:
A website where the customers can search for their favourite restaurants, cuisines, and place orders.

Mobile Apps for Merchants, Customers, and Delivery Staff to enable better connectivity and enhance user engagement.

An admin panel where the admin can manage various marketplace operations and keep track of user activities. The admin dashboard is one of the most important components of the food delivery system as it helps the platform owner to track sales and manage various verticals like users, restaurants, advertisements, and content.

Restaurant Dashboard where merchants can manage their accounts and keep track of the sales.

A separate module for affiliate marketers to manage their account and payment activities.  
Capture the market with a ready-to-launch online food delivery solution
Business Model of Online Food Delivery Businesses Like Just Eat & Delivery Hero
To build a website like Delivery Hero, you must be familiar with various business models present in the industry on which online food delivery platforms work. Choosing the most appropriate business model that meets the requirements of your food delivery business is the first step towards launching a successful marketplace. 
The standard and most popular business model of an online food ordering and delivery system can be explained considering the four main entities of any such platform:  
The Admin
In most of the food delivery business models, admin is the business owner who has complete ownership of the marketplace and is in charge of validating account creation requests from various users. 
Some of the main roles of the admin are to monitor business operations and manage transactions. Using the admin panel, the platform owner can also manage the content to be published on the food delivery website/app i.e, blogs, FAQ section, and homepage banner content. The admin can keep track of orders and their status, sales, profits, and customer reviews using the dashboard.  
Merchants
The merchants register to list their restaurants on the marketplace by sending a registration request. The merchants can list single or multiple restaurants depending upon the subscription package availed by them. 
To deliver an exceptional user-experience and enhance convenience, make sure that the solution you choose provides ease of management to the merchants as well. The merchants should be able to customize the menu, mark the best-seller food item on the menu, manage multiple restaurants on the platform, reply to the reviews posted by the customers, display discounts or offers to engage more customers, and track payments with ease.
Customers 
The customers must have the option to create accounts on the platform or place orders as guest users on the food delivery website or app. The order placed by the customer is received by the restaurant directly. The customers can choose to pay via any of the available payment options offered by the platform. The entire cash-flow, as to when the payments should be transferred to merchant's accounts must be under the admin's control. 
Delivery Agents
Delivery agents register on the food delivery platform by creating their accounts on the website or mobile app. The order delivery is managed either by the admin or restaurant. In most of the food delivery business models, the orders once accepted by the restaurants, are broadcasted to the delivery agents near the restaurant location via the delivery staff app. The delivery agents accept or reject the order as per their availability. Your food delivery solution should have the option for the admin to assign an order to the particular delivery staff in case the order is not accepted by any delivery agent. 
Also, the delivery agent should receive a notification on the delivery staff app when the admin assigns a delivery order to him/her.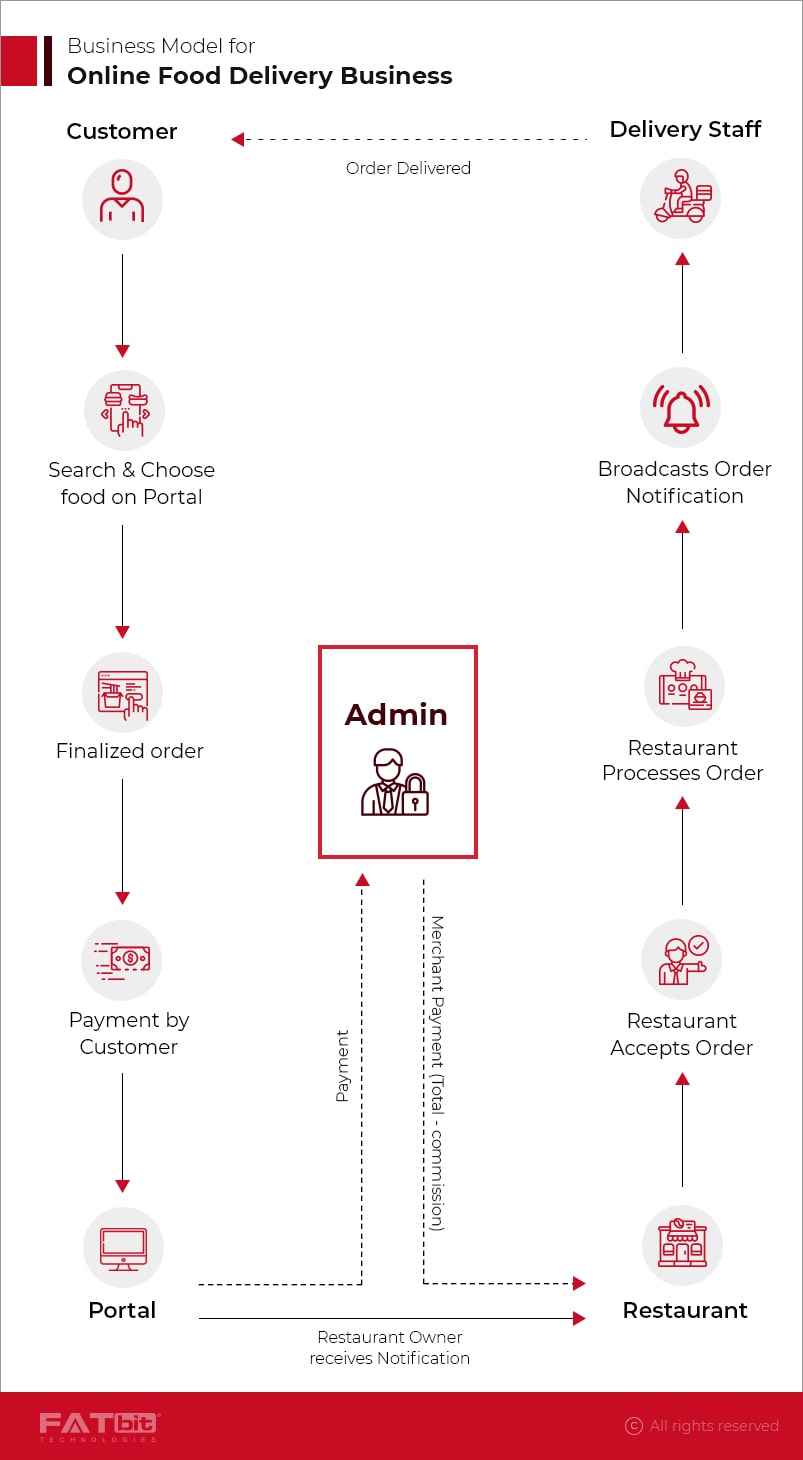 Points To Consider Before Choosing A Market-Ready multi-restaurant Food Delivery Solution
Selecting an online food delivery solution that meets your business requirements and helps you launch an ideal food delivery marketplace is of utmost importance.
"We can say that the success of any food delivery platform is based on its ability to deliver 3Cs to the customers: Choice, Convenience, and Comfort."
We are discussing a few points that you must pay attention to while choosing your food ordering and delivery software.
Technology Stack
In order to choose which technology stack your food delivery solution should be supported by, you must have answers to the following questions.
What will be the geographical expanse of your marketplace launch – local, national, or global?

Are you a startup or an established business switching to the online mode of operation?

Are there any specific functionalities that you want your food delivery platform to be integrated with?
You should pick a solution backed by a technology stack that caters to your business needs. Although as a business owner, you don't need to know too much about the back support of the solution, you must, however, be aware that the base on which a solution is developed harbours future customizations and allows the scale to business operations and features.
One of the preferred stacks backing such powerful solutions that will face a high number of users simultaneously is the LAMP stack. The LAMP architecture offers immense flexibility and easy configuration options compared to other operating systems.

The Apache web server in the LAMP stack offers a secure ecosystem for the development and enables the deployment of the multi-layered security system.
The programming language used to build the solution must be the one which is the developer's choice globally. PHP is often the language of choice for building highly flexible solutions as the support extended is exceptional. Platforms built with PHP are highly scalable and allow you to expand features and functionalities as per your business requirements. 
The front-end development must support enough scope to play around with the platform's UX-UI.  As per the target business audience, in-house tech support must be able to modify the process flows and user journeys. HTML, CSS, and jQuery usually allow such customizations conveniently. 
Technology Partner
Your technology partner or the solution provider plays a significant role in streamlining your business operations. Your partner company must offer you long term technical support and help you resolve any technical issues encountered during the launch of your food delivery marketplace. It is advisable to select the solution provider that offers technical training to help you understand all the functionalities of the online food delivery solution.
Agile Processes
If you require a custom made platform with specific features and functionalities, you should prefer choosing a technology partner that follows agile practices. You can choose an MVP and customize it by integrating various modules in it. 
App Deployment 
With an increasing tendency of customers to use mobile applications for food ordering, the food delivery market is becoming more and more mobile-focused. For you to gain a leading edge in the food delivery industry, your solution must include mobile apps for different users of the platform. Look for a food delivery solution that offers mobile apps compatible with both iOS and Android operating systems. Also, it is recommended to choose a solution provider that extends complete support and helps you deploy the food delivery apps on the Play Store and App Store.
Data Security
Data security is one of the most crucial points to consider while selecting a food delivery solution. You must ensure that the solution is built with a multi-layered security architecture with secure access to user login. The food delivery solution you choose should enable secure data migration of data to store it safely without any threat of loss or corruption. 
Partner with us to start a value-creating food ordering & delivery business
Revenue Model of Online Food Ordering and Delivery Businesses
Once you strategize the business model of your food delivery marketplace, you must look out for possible revenue streams for your business. Incorporating efficient revenue channels into your food delivery system will help you grow along with the other stakeholders involved, in turn building a successful site like Just Eat. 
The revenue model of the most popular food delivery marketplaces like Just Eat and Delivery Hero consists of four major revenue-generating channels – Commission, Ad Campaigns, Promotions, Subscription Plans.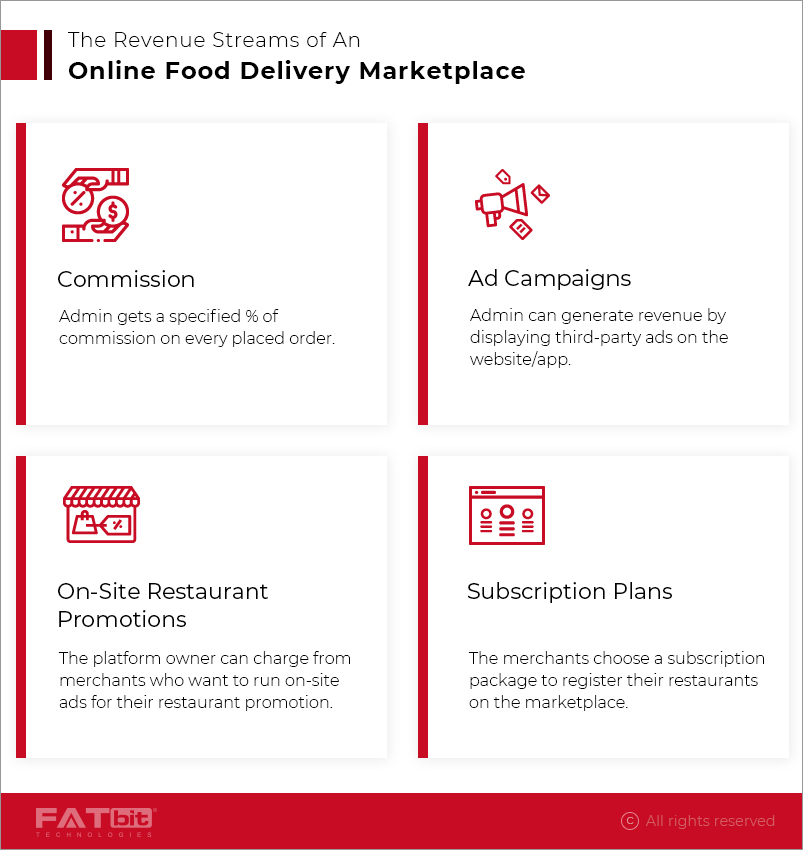 Must-Have Features of a Value-Creating Food Delivery Platform 
Your online food delivery solution should be integrated with user-centric features to provide an elevated customer experience. You should choose a solution that offers different sets of features for the admin, merchants, customers and the delivery staff as it elevates the value proposition of the platform.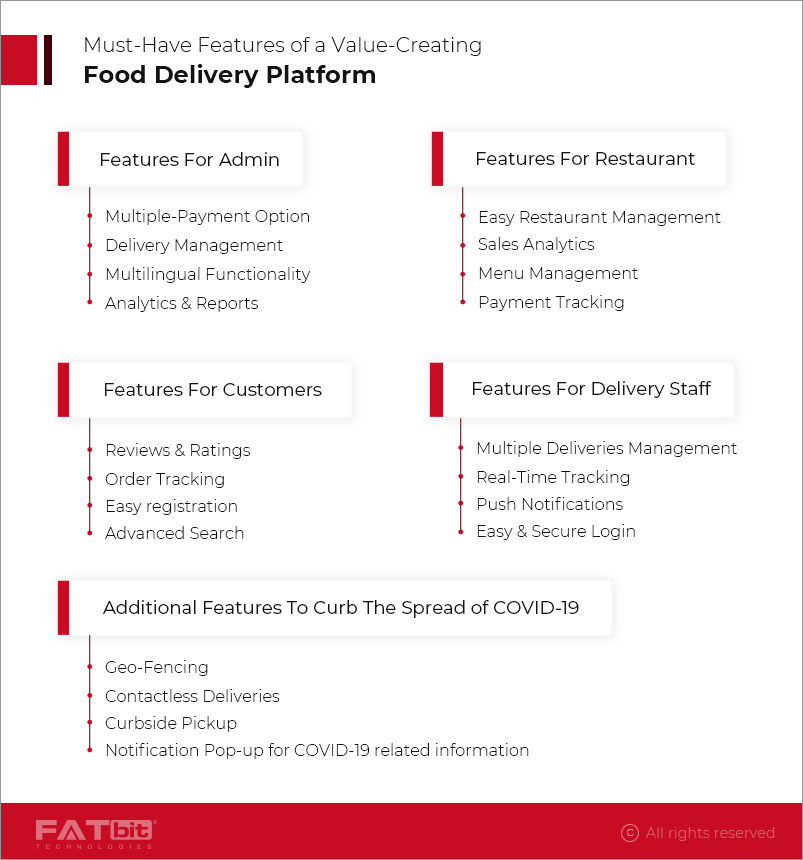 Summing Up
Changing customer preferences and rising demand for convenience has been the driving force for the evolution of the online food delivery industry. Businesses need to make strategic shifts pivoted around technology and innovation to pursue opportunities extended by the emerging online food delivery market. 
Entrepreneurs who want to set up an online food delivery marketplace or build a site like Just Eat must have in-depth knowledge of the changing market trends. The online food delivery solution you choose for launching your marketplace should be designed with a user-centric approach and help you deliver a comprehensive mobile commerce experience. It is highly advisable to have a technology-driven approach while discussing the requirements of your food delivery solution with the partner company to build a progressive and futuristic marketplace.
By leveraging the power of data, technologies, and design, you can drive an everlasting growth for your food delivery marketplace and scale your business.
Start your online food ordering and delivery marketplace with YoYumm.