The 21st century has brought a tectonic shift in the world of coaching, evolving significantly over the previous decade (due to the rising internet penetration). And, with the unexpected outbreak of Covid 19, where social distancing, staying at home, and no physical contact have been the need of the hour, students and learners have transitioned from in-person and telephonic offerings to those more appropriately segmented and distinguished as digital coaching or remote coaching.
In this post, we discuss online coaching in detail – the market scope of the online coaching industry, leading players, popular trends, niches, and the benefits of online coaching marketplaces. Then we'll move on to understand the business model of an online coaching marketplace with its essential features. Lastly, if as an entrepreneur you are looking to launch an online coaching marketplace, we bring you insights on how to kickstart and scale your online coaching business.
Table of Contents:
Global Market Overview
In today's digital era, online coaching businesses are on an upward trajectory. The growth of the market can be attributed to the growing prominence of digital education and eLearning post Covid-19 pandemic.
According to a report by Verified Market Research, the online coaching platforms market size was valued at USD 1938.39 Million in 2020 and is projected to reach USD 4567.42 Million by 2028, growing at a 13.03% CAGR from 2021 to 2028.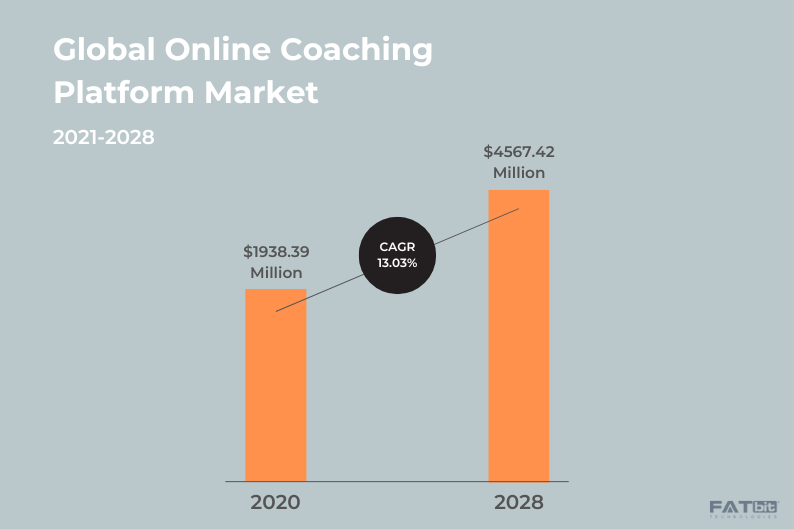 Online Coaching Platforms Market – By Geography
On the basis of regional analysis, the Global Online Coaching Market is classified into – North America, Europe, Asia Pacific, Rest of the World. North America accounted for the largest market share in 2020 (base year) and is projected to grow at a CAGR of 11.92 % during the forecast period. This is mainly due to the rapid growth and increasing demand for online coaching platforms in the region.
Popular Trends Shaping the Future of Online Coaching Industry
Heraclitus once said, "Change is the only constant in life." As economic dynamics and generational change continue to influence the world, the coaching industry will continue to evolve. This section focuses on the major trends that will shape the future of the online coaching industry.
Great Coaching Opportunities in Niche Sectors
Coaches specializing in niche sectors will see more employment opportunities on average than coaches without any specialization. This trend will particularly benefit niche professionals as it reinforces the brand value, uniqueness, and brilliance of the coach. Having a specified niche allows the coaches to focus on a client with specific requirements, understand their pain points and connect with them effectively.
Gamification is Here
Many coaches and organizations will use gamification to keep their students/clients more engaged. Gamification introduces games and playful quizzes that reward points or badges for leaderboards or unlock new features in the course of successful completion. This feature is observed to increase information retention, learner motivation, and course completion rate. Creating highly interactive and engaging programs and incorporating small games into the course can reduce dropout rates and increase repeat buying.
Ready to Start Your Online Coaching Business?
Lucrative Niches to Start an Online Coaching Business
Generally, online coaching has either been used for corporate growth or educational purposes. But the trend for personal growth has created a demand for online career coaching, life skills coaching, relationship coaching, wellness coaching, health coaching, and others. In this section, we discuss a few of the lucrative private coaching niches in detail.
Life Coaching 
Life coaching entails a life coach who is dedicated to helping clients overcome their everyday challenges. For example, a client might want to control their anger or be more composed during a stressful situation; then a professional life coach who is adept at helping tackle such situations is connected through the coaching platform.
Health and Wellness Coaching 
Online health and wellness coaches empower their clients by helping them discover a unique path toward personal well-being. The action plan includes step-by-step progress towards achieving goals for a healthy and fulfilling life. Nutrition, diet plans, personal training, and more are usually handled by a health and wellness coach.
Relationship Coaching 
Online relationship coaches are experienced specialists in a broad range of relationship dynamics. They help people find greater gratification in their personal relationships (platonic or romantic) and provide clients with the tools they need – to communicate better, find deeper connections with others, and healthily resolve conflicts.
Career Coaching
Career coaching aids in getting the guidance and support needed by an individual to reach their career goals. As resumes need to showcase the right skills and capabilities to do the job at the level being advertised, a career coach can help individuals position their skills in the context of the potential role, especially the transferable ones that don't match up with what is in the job description. Individuals can also gain assistance in getting a raise or a promotion by seeking guidance from an online career coach.
Financial Coaching 
A financial coach serves in a motivational capacity and provides needed input about managing personal finances. They can assist with behavioral and emotional components of managing money and can help an individual unearth what drives their financial decisions. They may also help with planning a household budget, the execution of savings strategies, and so on.
Benefits of Launching an Online Coaching Business
For Coaches
Time and Cost Efficiency –  The commute time and the cost of the coaching center are eliminated making online coaching lighter on resources.
Diversity – There are no geographical barriers while working online. Hence, as a coach, you will be able to work with potential clients from all over the world.
Flexibility and Freedom –  Physical location and rush hour are no longer limiting. Coaches can conveniently conduct online coaching sessions from anywhere and utilize available time slots more productively.
Easier Content Delivery –  With an online coaching platform, content delivery gets easier as there are a lot of methods to deliver the content. This includes video calls, audio calls, messages, and more.
For Business Owners
Global Presence –  In the age of digitalization where most individuals have smartphones, business owners can widen their reach and expand their client base by having an online presence.
Better Profit Margins – Having an online marketplace makes it possible to connect with coaches/learners from anywhere in the world. The low cost of setting up an online coaching marketplace also plays a big role in helping business owners achieve better profit margins.
Automation- From customer relationship management to online billing and payment, everything is done automatically. For example, the primary source of revenue for admin is the commission received from coaching. This can be done via automation as then there will be no need to do any paperwork, everything will be done automatically through the platform.
Want to learn how Yo!Coach can work for your coaching business?
Business Model – Online Coaching Marketplace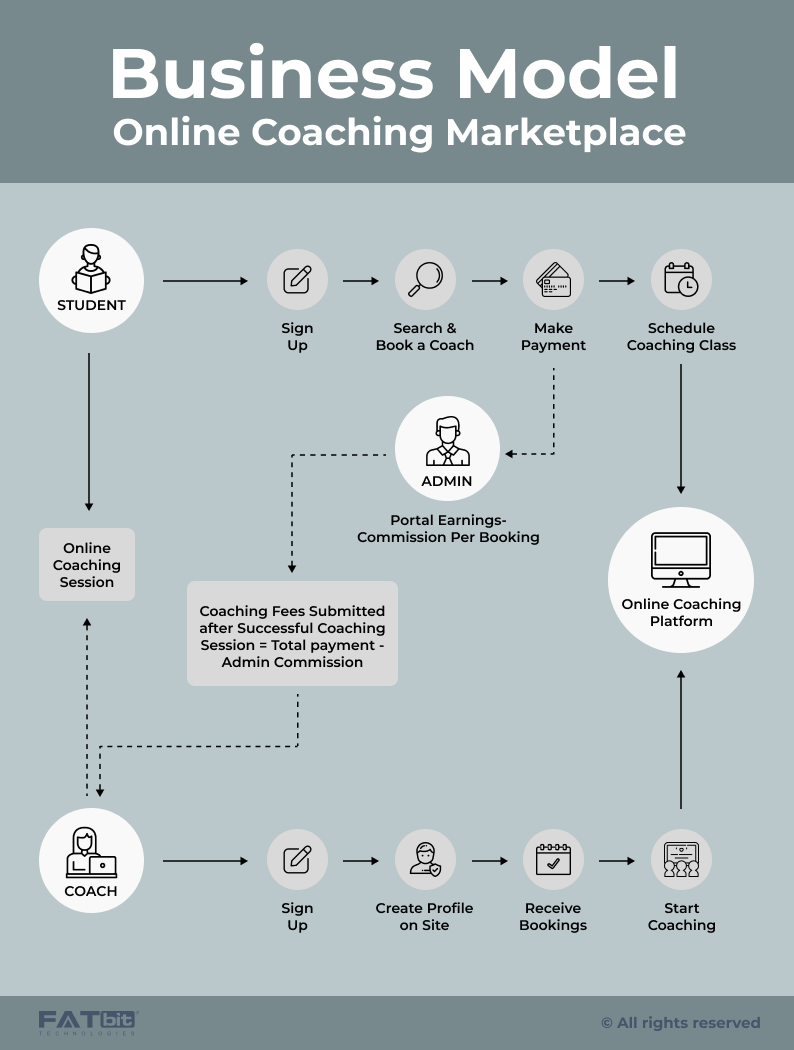 An online coaching marketplace acts as an intermediary between potential coaches and clients. Its working is fairly simple where coaches can enroll themselves with the online coaching marketplace, coach as per their availability, and add a solid revenue stream to their income. On the other hand, a client can select a coach as per their requirements and check their availability for booking a session.
Next, the client makes the payment and books the session with the coach (group session or one-to-one session). Upon the successful completion of the session, the client can provide feedback to the coach. Once the session is marked as completed, the admin releases the coach's earnings after deducting the commission.
Top Dominant Players – Online Coaching Industry
The online coaching market is witnessing increased competition as several platforms have been introduced globally and are providing various types of coaching services with just one click. Below we mention the top players who are dominating the online coaching market.
Leland
CoachList
Coaching.com
CoachTheWorld
Essential Features to Have in an Online Coaching Platform
To reach potential clients it is important to have an online coaching platform with all the required features. Listed below are the most crucial ones:
Video Conferencing
Productive meetings require crystal clarity for participants to feel like they're in the room with each other though being geographically distant. Hence, the video conferencing feature creates a realistic and collaborative virtual environment, which is pivotal for learning and retaining information. Also, a study has shown that 90% of people find it easier to get their point across when they are seen. Other interactive tools during video conferencing include text chat, whiteboard, file/screen sharing, and so on.
Multilingual
Online coaching platforms with multiple language support become highly engaging as they help in optimizing the user experience by localizing the process and putting an end to linguistic barriers. This feature also enables users from all over the world to achieve their eLearning goals.
Multicurrency
Like multilingual support, multicurrency support also makes it convenient for users from different regions across the globe to make or receive payments. This also aids in higher conversion rates and sales.
Secure Payment Option
Safe and secure payment option is a must-have feature for your online coaching marketplace. It must be powered by the most secure payment gateways such as Stripe, PayPal, Authorize.net, Paystack, and PayGate. Other payment options include debit/credit card payments and digital wallets.
Review/Rating
Review/rating is a systematic feedback system that allows clients to get a sense of what to expect before selecting a coach. It is an effective way to build trust and transparency in the online coaching platform and is one of the prerequisites.
Availability Calendar
An availability calendar lets the coaches list their availability dates and time, i.e. the clients will be able to view what dates your accommodation as a coach is still available and what is already booked. This feature must also include functions such as canceling a class on a particular date and the reason for cancellation.
Push Notifications
An online coaching marketplace should be able to send notification alerts to both coaches and clients. These notifications act as a reminder so that neither the client nor the coach forgets anything from the schedule.
Starting an Online Coaching Business
Setting up an online coaching business requires the involvement of various experts and professionals from different backgrounds like business experts, marketing analysts, design specialists, and developers. All of these specialists get involved at different stages to launch an online coaching marketplace.
On the other hand, there is a hassle-free method of launching an online coaching marketplace, i.e. opting for a pre-built online coaching software like Yo!Coach. It is rich in features and can be customized as per your business needs. No development is required, so the time to market is way too less than the online coaching platform that will be built from scratch.
Learn more about online coaching software – Yo!Coach
Approaches to Scale an Online Coaching Business
When it comes to sustaining your business, scaling is pivotal. It allows you to keep up with the momentum toward continued growth. In this section, we discuss the approaches to scaling an online coaching business.
Create a Group Program
Creating a group program allows coaches to teach and impact exponentially more people at once than can be done through one-on-one coaching.
Digitalize Products and Services
Adding digital products like video courses or e-books to your offering can help scale your online coaching marketplace.
Scale Your Brand's Online Presence
Since your coaching business depends on the internet (as a medium) to deliver your services, having a strong online presence will enable you to reach potential clients.
Build a Marketing Collateral
Once you have an initial client base, use their stories and experience to attract new clients and drive more conversions. This can be done via testimonials, case studies, interviews, and more.
Final Words
In the modern era, online coaching is acting as one of the mediums to disseminate education to individuals who are looking to enhance their skills. This presents an opportunity full of potential, which if properly harnessed, can open avenues for entrepreneurs who are looking to enter the online coaching industry.
So, as an entrepreneur, if you are looking to launch an online coaching marketplace, get in touch with us at FATbit Technologies. Our team of multidisciplinary experts will help you to kickstart your online coaching business in less time.
FAQs
Q1. What is the market size of the online coaching industry?
According to a report by Verified Market Research, the online coaching industry was valued at USD 1938.39 Million in 2020 and is projected to reach USD 4567.42 Million by 2028, growing at a 13.03% CAGR from 2021 to 2028.
Q2. What are the benefits of starting an online coaching business?
An online coaching business has numerous benefits.
For Coaches:
Time and Cost Efficiency
Diversity
Flexibility and Freedom
Easier Content Delivery
For Business Owners:
Global Presence
Better Profit Margins
Automation
Q3. How does an online coaching platform work?
An online coaching marketplace acts as a bridge between clients and potential coaches. The working of the platform is simple where coaches can list themselves on the marketplace and coach from geographically diverse locations.
On the other hand, a client can select a coach and check their availability. Post selection, the client makes the payment and books the session with the coach. Once the session is marked as completed, the admin deducts the commission and releases the coach's earnings.
Q4. What are the essential features of an online coaching platform?
A few features that can make an online coaching platform more accessible and trusted among users include:
Video conferencing
Multilingual content
Secure payment gateways
Review/Rating
Availability Calendar
Push notifications