From e-textbooks to online courses, digital education has transformed and prospered over the years. According to Statista, the global market for e-learning platform is expected to reach over $243 billion in 2022. Amid COVID-19 pandemic, as schools and institutes are shut worldwide, authorities are quickly moving towards e-learning as a possible alternative.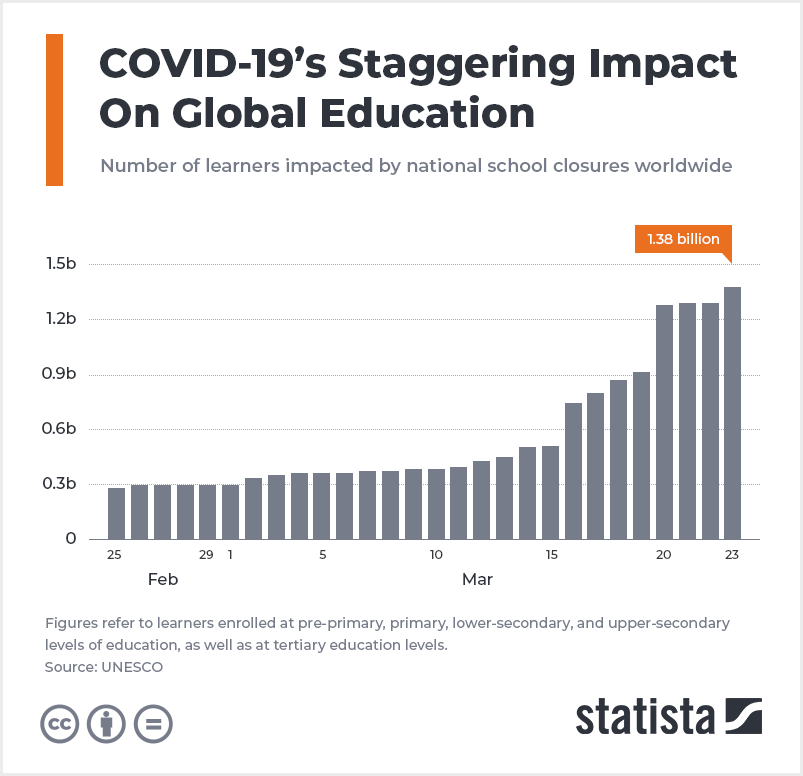 As the world fights pandemic, educational institutes or tutors are quickly turning to e-learning solutions to teach students at home. An online learning platform ensures a safe and continuous learning environment for students anywhere in the world.
But, before we learn about e-learning challenges there are a few traditional learning challenges that must be discussed first.
Traditional Learning Challenges
1. Geographical Challenge
For people living in remote areas or working professionals striving to enroll and learn something new, traditional learning (inside the classrooms) isn't a feasible choice. They may have to travel far from a remote location to study or teach every day. And, while location-based challenges were hard enough for teachers and students, with the ongoing COVID-19 pandemic, traditional learning methods are no longer safe. Schools and educational institutes have been shut in a bid to maintain social distancing norms.
2. Continuity of Teaching and Maintaining Quality and Standards
Amid the challenges faced due to new rules on social distancing, face-to-face teaching is deemed impossible. In order to fulfill teachers' obligation to students, educational institutes and authorities are looking for reliable methods to teach remotely. However, there are still issues persisting like access to the latest technology and compatible devices, no physical contact, and other disciplines (like access to laboratories) that must be dealt with. Maintaining quality and standards while teaching during the pandemic has been tough for both the authorities and tutors. As per Statista, nearly 24% of online students in the US had concerns about the teaching quality, instructions, and academic support from the educational institutes in 2019. These numbers are likely to grow amid the pandemic.
3. Assessments, Exams, and Degree Classifications
2020 has been a stressful year for educational authorities as final exams and student assessments are either postponed or canceled indefinitely amid the COVID-19 pandemic. While some universities have canceled all exams for non-final-year students, others are keen on taking exams (remotely or online) maintaining social distancing norms. The universities are even offering a safety net i.e. as long as students pass their final exams, they will not receive a degree classification lower than the previous year exams.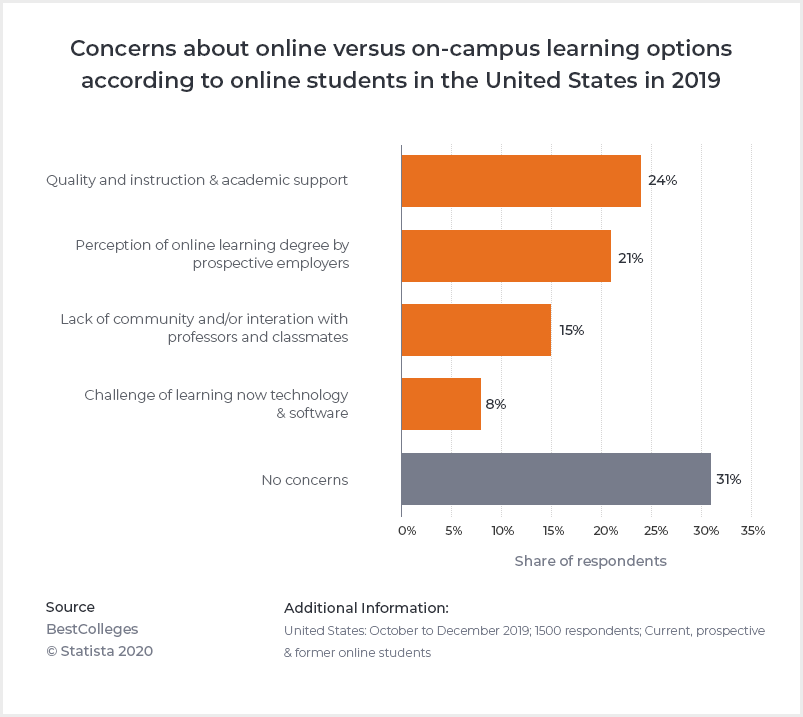 As the virus threat looms larger, educational institutes are doing their best to safeguard the university's reputation and ensure students receive grades necessary to get a job.
E-Learning Challenges
While online learning portal may seem the right choice for schools, institutes or private coach/trainer to invest not just during the pandemic but beyond, there are some obvious challenges that must be addressed first:
1. Not User-Friendly Environment (Software)
Online learning solutions are equally new for students as they are for teachers. And, regardless of whether they believe that e-portals are a productive way to learn or not, teachers across the globe must adapt to the new challenges like using software that they are unfamiliar with. Amid the pandemic, tutors are striving hard to utilize technology and deliver timely lessons to students even if the environment/tools aren't user-friendly for either of them.
2. Improper Class Scheduling

Neil Kapadia, LSA freshman (University of Michigan) moved back to his home in Mumbai as universities in the US were shut amid pandemic. Since his return, he faces difficulties attending the live learning sessions as EST (Eastern Standard Time) is 10 hours and 30 minutes behind the IST (Indian Standard Time) in Mumbai. Another university student and LSA sophomore Sydney Lum who moved back to Kailua, Hawaii faces similar challenges as her time zone is 6 hours behind EST in Michigan. While Neil has to be up at midnight to join live sessions, Lum's class starts as early as 4 am in the morning. Improper class scheduling due to varied time zones has been a real concern for students and faculties alike. And, private teaching sessions – a viable (albeit paid) solution for scheduling concerns has been plagued with improper payment/fee management structure at several e-learning portals.
Yo!Coach with its multiple payment integrations and private lessons feature allows educational institutes to offer seamless one-to-one paid teaching sessions to students (with or without timezone difference) at their convenient time.
3. Lack of Security
Several video conferencing apps extensively used by schools and educational institutes for remote learning were recently forbidden from use in city schools by New York City, citing privacy and security concerns. Lack of security during session delivery or file-sharing online has been a headache for several educational institutes and organizations, especially during the crisis. And to overcome this challenge, robust e-learning software is necessary that allows secure file-sharing and uninterrupted live sessions.
4. Lack of Interactive Environment to Practice Online
Lastly, there's a challenge for students to practice online while learning. Mostly live sessions are either through video-conferencing apps or video chats which unfortunately do not offer tools and environment to practice while learning. Several online classes overlook this lack of environment and focus solely on theoretical content. Fortunately, Yo!Coach offers whiteboard, text pad, text chat, and several interactive features for students to practice and clear doubts during live sessions itself.
How to Overcome Online and Traditional Learning Challenges?
As per the CNBC report, remote learning could be here to stay even post-pandemic. And, e-learning challenges would persist until we switch to a reliable platform that makes online learning fun and interesting. Yo!Coach is a feature-rich and completely customizable platform that can help launch an e-learning solution like LessonFace or Verbling with ease. To illustrate our point, let's take a look at its key features:
1. Video Chat
Yo!Coach enables teachers to efficiently deliver lessons online using a reliable video chat feature. By integrating third-party API integration CometChat Go, the e-learning platform empowers tutors and students with a real-life learning environment to quantify educational skills. From screen sharing, collaborative document to audio/video notes, the remote learning portal offers extensive features to users.
2. WorkSpace/ File Sharing
Our e-learning platform presents a common workspace for teachers and learners to interact and share. Tutors get the option to upload files (in .doc or .pdf format) related to the course with the secure file sharing feature and students can download these files anytime they want, building a constructive learning environment.
3. Text Pad
A simple-yet-effective delivery tool, Text Pad enables teachers/learners to create documents in real-time during live sessions. It allows both tutors and students to write, share, and collaborate one-to-one. Using a Text pad, one can easily write text, change font type/size, undo, save, download, and do much more. Also termed as a collaborative document, text pad is a handy tool for online learning.
4. Multilingual & Multi-Currency
While English is a global language, there are several regional languages widely spoken around the world. And often students are comfortable interacting in their own regional language. For educational institutes offering e-courses to students worldwide (during and beyond COVID-19), multilingual and multi-currency are two essential features.
Yo!Coach with its multi-linguistic feature empowers users to manually select their preferred language with a dropdown. Here, except for the user-added content like profile creation, reviews & ratings everything else will be translated instantly.
Moreover, we even have a multi-currency feature that allows users to manually change currency just like language. Although the prices are displayed in the user's preferred currency, the tutor or the teacher receives payment as per his/her selected currency. Plus, the exchange rates are solely managed by the administrator.
5. Reviews and Ratings
Reviews and ratings are an integral part of e-learning platforms like Yo!Coach that allows students to share feedback about the teacher and course package after its completion. Although learners may post reviews/ratings immediately after the course completion, the feedback will only reflect in the respective profiles once the admin approves.
For a complete list of Yo!Coach features, click here.
Why Starting an e-Learning Platform is A Good Business Idea during COVID-19?
While most businesses are struggling to survive during the pandemic, e-learning solutions are prospering.  From educational institutes to edupreneurs, online learning offers something for everyone. It is a great business idea to invest during COVID-19 and here's why:
Online Learning is Gaining Popularity over Traditional Methods
Online learning platforms offer a significant opportunity for both teachers and students alike. For instance, students can learn at their own pace, get a one-on-one personalized learning experience, and schedule lectures according to their availability. Similarly, teachers benefit from freedom and flexibility of time and space. As the pandemic threat looms larger, online learning is quickly gaining popularity over traditional learning. For detailed analysis, click here.
Opportunities for Edupreneurs
According to UNESCO, nearly 1.3 billion learners have been impacted due to school closures worldwide as of March 23, 2020. Considering the current situation and other crucial factors like rising college tuition fees or changing expectations; the e-learning industry is expected to blossom. For professionals or entrepreneurs looking for an investment opportunity to grow amid the crisis, online learning is the perfect foil for them. It offers several Opportunities for EduPreneurs.
Conclusion
As e-learning becomes a standard for each school and institute worldwide, teachers and students must utilize the right tools that enhance their online learning experience. Trust Yo!Coach to create a reliable and robust e-learning platform to overcome challenges amid the pandemic.
Want to Build a Feature-Rich Readymade Online Learning Platform?