With the rapid expansion of technology and the global impact of Covid 19, mentoring has taken on a whole new dimension. Several online mentoring platforms have emerged, using which people can connect with mentors worldwide and hone their skills. But before we talk about them, let's take a look at the contents of this post. 
Table of Contents:
General Statistics of the Mentoring Industry
For years, mentoring has been advocated as a tool for personal and career development. It typically involves coaching, consulting, and even psychological support and is no longer "nice to have," but a must-have. So, with the demand for mentoring rapidly increasing, in this section, we have covered the general mentoring statistics.
– 97% of individuals feel they are more valuable with a mentor than without one.
– Almost 89% of mentees will also mentor others.
– 79% of millennials see mentoring as a pivotal factor in their career development.
– Due to mentoring almost 67% of businesses have reported an increase in productivity.
– 38% of employees believe they will make it to senior positions themselves as they have exposure to senior mentors.
Online Mentoring Platforms – Market Players
Learning and growth require exposure to different perspectives. This is why it is important to have mentors who can share their expertise in various domains. That being said, here's a round-up of major players in the online mentoring industry.
Major Players in The
Online Mentoring Market  
Platforms
Revenue
Founding Year
Clarity.fm
$17.5 Million
2012
GrowthMentor
$5 Million
2018
PushFar
$1.7 Million
2018
Together
$1.1 Million
2018
Mentorpass
$1 Million
2020
Trends Shaping the Global Mentoring Market
The global mentoring market is constantly evolving with more and more online mentoring platforms springing up and adapting to the changing needs and expectations of individuals. Here are some trends that are shaping the market.
Rise in Online Learning
As technology is improving by the day, eLearning is growing tremendously. It provides people with the opportunity to learn new skills from the comfort of their houses, so the mentorship industry is growing parallelly. Growth in demand for new skills also creates demand for people who can impart their knowledge.
Also, people opt for eLearning as it takes 35% to 55% less time than traditional learning methods and connects people from across geographical boundaries.
Surge in Employment Turnover
The result of Covid 19 has been a surge in turnover intention among employees. Many studies have revealed that work-related stress, emotional exhaustion, and job insecurity have all been major causes for employees to quit their jobs. Therefore, to keep employees motivated, many organizations have turned to online mentoring programs. Also, people are increasingly looking to upgrade their skills to navigate the unknown environment.
Growing Demand for Emotional Intelligence
In the current times, there is a growing need for individuals with high emotional intelligence, virtues of self-awareness and the ability to motivate and influence others. Mentors with these skills are further driving the rise of the global mentoring market.
Start your entrepreneurship journey by launching an online mentoring platform
Impressive Benefits of an Online Mentoring Platform
Online mentoring platforms have made mentorship more accessible, convenient, and inclusive for individuals who seek personal development and professional growth. They also provide access to mentors from diverse backgrounds and industries. In this section, we cover the benefits of an online mentoring platform.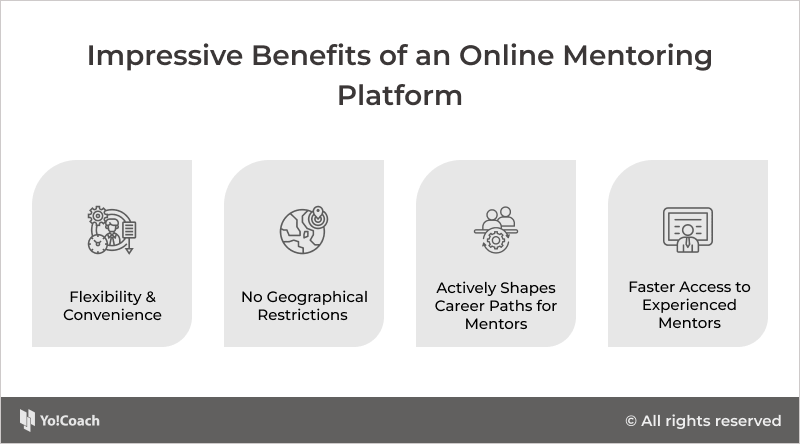 Flexibility & Convenience
Traditional mentoring platforms vs virtual mentoring platforms have a main key difference, i.e., the flexibility and convenience the latter provides. Virtual mentoring platforms are far more convenient and flexible as there is no commute needed. Moreover, users can access the platform as per their availability.
No Geographical Restrictions
An online mentoring platform bypasses location barriers, i.e., having no geographical restrictions allows mentors and mentees to connect seamlessly irrespective of the time zone or location.
Actively Shapes Career Paths for Mentors
Mentors can polish their leadership skills and fast-track their careers through a successful online mentoring platform. This means that if a mentor is listed on a successful mentoring platform, and has good ratings and reviews, then they can use it on their CV and shape a career path for themself.
As effective communication, periodic checkpoints and efficient planning are inclusive of mentoring, an online mentoring platform becomes the first step to leadership development.
Faster Access to Experienced Mentors
When people face obstacles, they need assistance in finding resolutions to their problems. Virtual mentoring offers 24×7 access to a broader range of experienced mentors from across the globe who with different backgrounds, perspectives, and areas of expertise can offer guidance that might not be available locally.
Launch an online mentoring platform to connect qualified mentors with seeking mentees
Types of Mentoring
Individual
Group
Collective
This is the most efficient way of mentoring as the mentor gives individual attention to the mentee.
A mentor interacts with a group of mentees who have the same goal.
As the name suggests, a group of mentors interact with a group of mentees.
Workflow of an Online Mentoring Platform
Online mentoring platforms have bypassed the traditional methods of mentoring. They consist of 3 main players:
In this section, we share the workflow of an online mentoring platform.
For A Mentee
The mentee will sign up on the platform. 

Search for mentors as per requirements.

Check availability and send a booking request to the mentor.

Make a payment. 

Receive booking confirmation.
For A Mentor
A mentor will sign up on the platform. 

Create a profile and send a request to the admin for approval.

Upon approval receive booking requests. 

Accept or reject booking requests as per availability.

Receive payments for every session from the admin.
Role of Admin
The admin manages the entire platform:
User management.

Management of booking requests. 

Payment to mentors after deducting commission.

Monitoring of reports for better decision-making and so on.
Possible Revenue Channels – Online Mentoring Platform
Once you have made up your mind to start an online mentoring platform, it is essential to decide upon the revenue channels. Some of the possible revenue channels are:
Commission
The admin charges a commission from the mentor and mentee on every booking.
Subscription Fees
The mentee can pay a fixed amount of money to get a subscription to the platform with advanced features.
Advertisements
This allows the admin to generate revenue via online advertising methods like ads, PPC, and more.
Sponsored Profiles of Mentors for Promotion
The admin can charge mentors for a featured listing.
Essential Features of an Online Mentoring Platform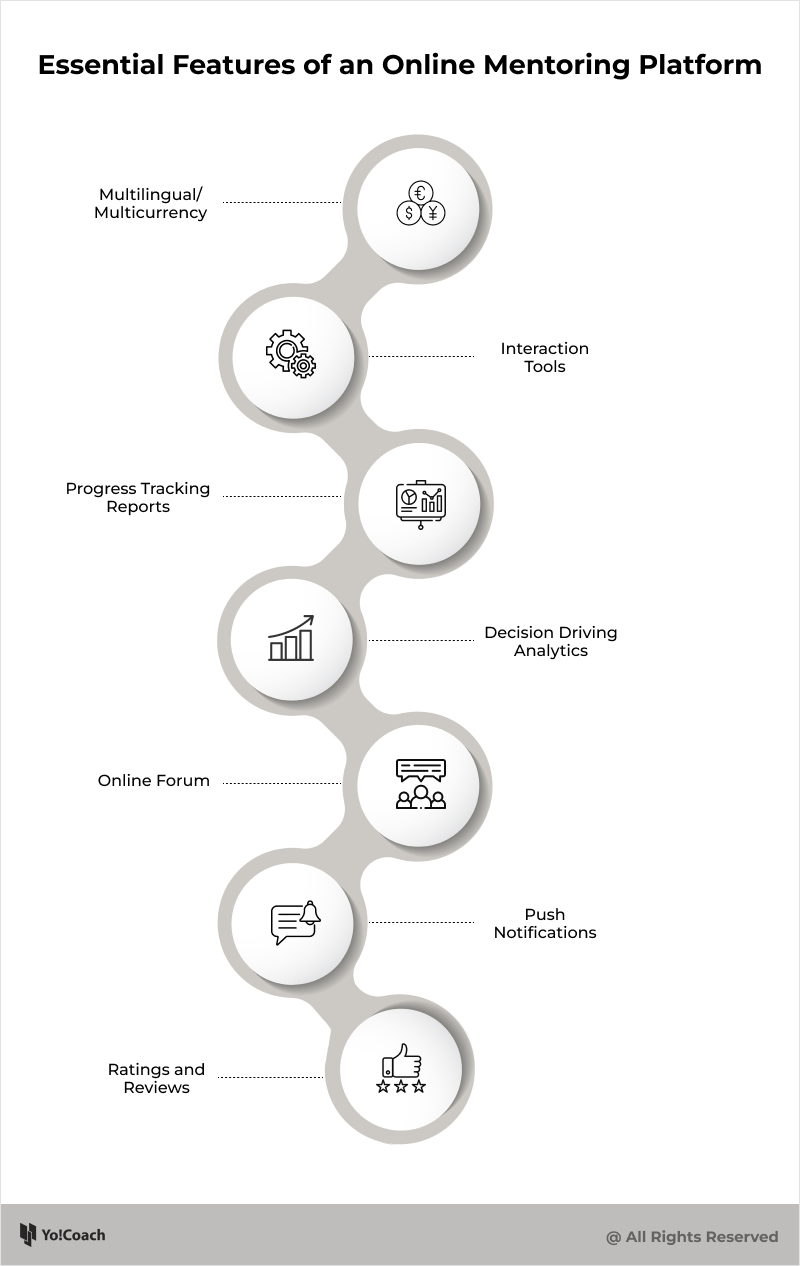 Ratings and Reviews
Ratings and Reviews allow mentees to make confident decisions about selecting a mentor.
Push Notifications
This is a pivotal feature as notifications allow mentors and mentees to not miss any session. It also allows them to get interesting updates.
Online Forum
An online forum allows all participants to discuss trending topics, share their opinion, say what they think about a mentor, or talk about what is needed in the solution.
Decision Driving Analytics
As mentioned above, the role of the admin is to measure tangible business results so an online mentoring platform should have access to pivotal data via the feature of analytics.
Progress Tracking Reports
Tracking progress is another important feature as it is important to keep track of the mentees' progress.
Interaction Tools
Both mentors and mentees need interaction tools to develop their own self-knowledge for the session and clearly express to inspire and be inspired. These tools include:
Screen Sharing

Screen Recording

Whiteboard

Audio/Video Chat

And more
Multilingual/Multicurrency
As a mentoring platform caters to a global audience, it is important for the platform to have multilingual and multicurrency functionalities.
Launch a feature-rich online mentoring platform
Online Mentoring Platform – Custom Vs Readymade
An online mentoring platform can be created using two approaches: Custom built & opting for a readymade solution. Custom-built mentoring platforms are built from scratch as per the tailored requirements and are costly and time-consuming. Therefore, readymade solutions are widely considered as they are time-tested and have features as per the set industry standards. Moreover, they are more affordable and their time to market is also less.
Choosing the Right Readymade Solution
To choose the right readymade solution for an online mentoring platform, we have made a checklist. Below mentioned are the essential points you should look for in a readymade solution.
Ease of Use
The platform should be easy to use, i.e., the interface should be user-friendly and intuitive. 
Cost Effectiveness
As mentioned above, a ready-made solution is less expensive than a customized solution. But still, you would want to consider the cost of the solution before making a choice.
Intuitive Features for Interaction
As already mentioned, the platform should have interactive features using which mentors and mentees can interact with each other.
Active Customer Support
If you need help with troubleshooting or just getting advice, active customer support is a must.
Ability to Scale
As your business grows, it is important to have a platform that accommodates more users. So choosing a scalable solution is another must-have.
What Experts Recommend – Choose Yo!Coach
Yo!Coach is a popular readymade online consultation solution that is perfectly suited to launch an online mentoring platform. It incorporates impeccable functionality that empowers the admin to run the platform seamlessly. Furthermore, mentors can take either one-on-one sessions with the mentees or group sessions in real-time using the platform. In addition, Yo!Coach comes with readymade apps that provide mentees to easily search, book, and schedule sessions.
Other Key Highlights of Yo!Coach
Fully Customizable

White-Label Readymade Solution

1 Year of Free Technical Support

One-Time Payment, Lifetime License

Multilingual 

Multiple Payment Gateways

Reports and Analytics

Progress Tracking

Mobile Apps for Mentees

Lessonspace Recording Functionality 
Build a scalable online mentoring platform with Yo!Coach
Conclusion
Online mentoring is reshaping the traditional ways of mentorship. As many players are vying for a piece of the online mentoring market (the magnitude of the market shift and the increasing competition they herald), it is recommended to use a ready-made solution like Yo!Coach to kickstart an online mentoring platform in a few days. For more information, get in touch with us. 
FAQs
Q1. Why mentoring?
Mentoring (online mentoring) provides a supportive, private environment where people from diverse backgrounds can mentor and seek mentorship.
Q2. What are the different types of mentoring?
Individual mentoring 

Group mentoring 

Collective mentoring 
Q3. What should you look for in an online mentoring platform?
Ease of use

Cost-effectiveness

Interaction feature

Active customer support

Ability to scale
Q4. How does an online mentoring platform work?
An online mentoring platform has three players: an admin, a mentee, and a mentor. After successful registration, a mentee can choose and book a session with a mentor. A mentor can accept or reject the booking request. If accepted, the mentor successfully conducts the session and receives payment for it from the admin. The admin manages the entire mentoring platform and pays the mentor after deducting the commission.
Q5. What are the essential features of an online mentoring platform?
Ratings and reviews

Push notifications

Online forum

Decision driving analytics

Progress tracking reports

Interaction tools