Last Updated: 20th January, 2022
The global pandemic has changed the trajectory of eCommerce and has brought online platforms to the center stage for grocers. During the peak of the pandemic, grocers saw a shift of their business to online by 20-30%. This was driven by a sudden surge in demand for contactless shopping. Now, the spread of another highly infectious variant Omicron is likely to fuel the demand for online grocery delivery. Simply because, customers want convenience, choice, and importantly the time that is saved without having to trudge around a grocery store. So, in this blog, we have covered various aspects of creating an online grocery store.

Table of Contents
How to Start an Online Grocery Store on Your Own?
An online grocery store facilitates the process of buying fresh groceries and making deliveries within a couple of hours. But, setting up a grocery store and making profits demands extraordinary levels of efficiency that are powered by the application of technology and automation. It can be daunting for traditional grocers to build an online grocery store on their own. This is why we have streamlined the steps needed to create an online grocery store. These are listed below:
Selecting a Business Model for Your Grocery Delivery Platform
An efficient business model involves multiple costs such as startup costs, manpower costs, operational costs, and overhead expenses. To cope up with these, you need huge returns on investment, which requires properly strategizing your business operations.  When creating your business model, you need to consider three major aspects, including:
Value to Customers
Make sure your business provides value to customers in terms of an efficient distribution system via retail, advanced features, and more benefits along with reduced prices. Partner with other companies who are willing to serve customers, outsource services, and make the most of the internet. A combination of these provides an edge over the competition.
Better Products to Gain Notable Margins
Though you may be investing in overseas manufacturing to outdo your competitors, leaving a significant margin is important. Focus on building enhanced versions of existing products to be able to leave the required margin.
Some of the best tips to gain a notable margin are providing fewer sales support, choosing top-notch manufacturing processes, selecting an effective distribution channel, and discovering multiple revenue streams without multiplying your costs.
Highly Targeted Audience
Define your target audience in a way that they are easy to reach out to, ready to try your product at a minimal marketing cost, help you meet your sales objectives, and don't mind paying a little higher price for the added benefits.
This unique business model has a huge scope for generating big profits.
By 2024, online grocery sales will likely amount to a whopping $187.7 billion.
But in order to ensure that, you have to pay attention to the implementation of two things:
Store Tie-Ups:
The partnership with top local grocery stores will play a crucial role in establishing such a business since you won't be maintaining an inventory of grocery items yourself. A minimum of 2-3 tie-ups per neighborhood can help you run your grocery delivery website quite easily.
Delivery Chain:
You would also need to establish a robust delivery system that is efficient enough to make the delivery within a couple of hours of the order.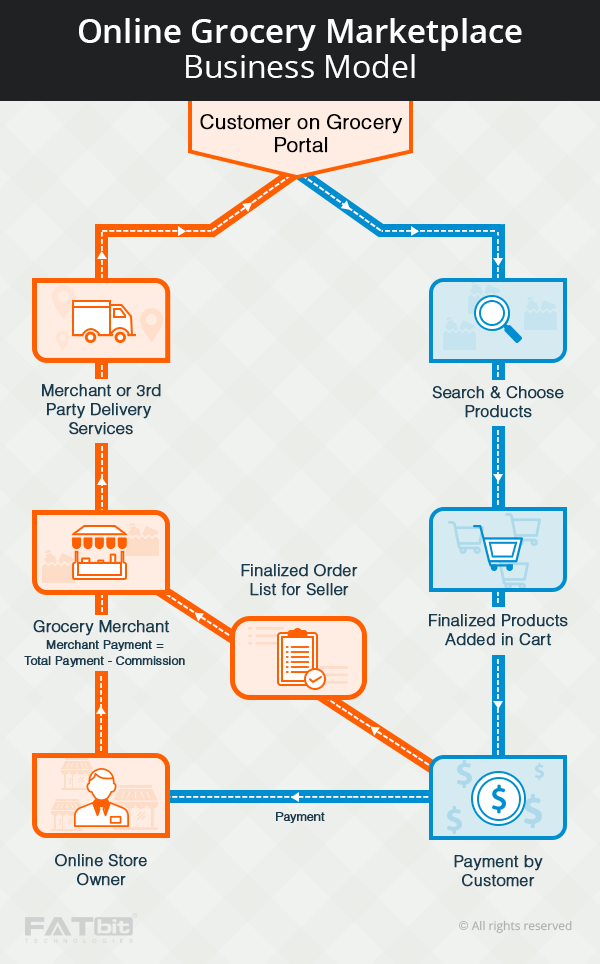 Also Read: Different Business Models To Launch An Online Grocery Business
Revenue Model of Grocery Delivery Platform
As for how a grocery delivery business becomes profitable, there can be many revenue channels. But first, you need to decide on which one of the following will be your primary revenue medium:
A commission cut from what stores earn on every order, or

A service charge from buyers on each order, while the store gets the full order value
First revenue models from the above two have a greater success prospect for the sole reason that customers are not charged extra. As a matter of fact, all major online grocery delivery platforms follow the same revenue model.
Apart from that, other revenue channels include:
An annual membership plan under which customers will receive free delivery for a year (given that order value exceeds a minimum, pre-set amount)

Offering customers a freelance shopper who will do the shopping for you in the grocery stores and will deliver the order to the customer's doorstep
Not only will these additional revenue channels bring in more money but they will also make your grocery delivery website more valuable to customers.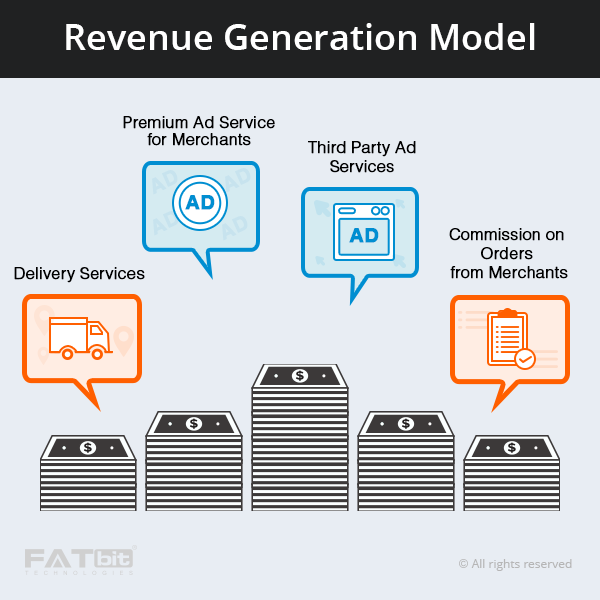 Grocery Delivery Website Features
Your online grocery delivery website should have a neat & clean interface that allows customers to understand your platform easily and begin with the order right away. Here are some essential homepage implementations that you should pay attention to:
A clear website message which explains what the website is about

An input text field that asks users about their location
The sign-up process should be integrated with the zip code/city name input text field. As users enter this detail and click to move forward, the website should ask them their name, email address, and password to create an account and start online grocery shopping.
In addition to that, there should be a sign-in button in the top navigation bar and important quick links in the footer area.
Note, in case the service is not yet available in a user's location, the same can be notified as the zip code/city name is entered. To make things even better, the non-availability message should appear with an option through which users can be notified when the service will be available in their area. Implementing such a feature will improve the user experience of your website considerably.
Also Read: Growcer – The Perfect Software to Set up Your Online Grocery Store
Shopping Functionality
This is the feature on which your business relies, therefore, it is important that you implement it mindfully and carefully. Any flaws in this part of the online grocery store can lead to dissatisfaction among the users. Here are the features to confirm the shopping functionality:
Search by Department
You need to make special department categories within each store to list products. Most popular products should be listed in the front for the ease of buyers. Every store will have different department categories based on its products. All department categories can be further divided into subcategories. All the categories, i.e. department categories and subcategories can be neatly placed in a drop-down menu.
Search a Product
Remember to provide a search bar at the top of the product listing page. The product search should produce results, not from within the selected store, but from all the stores in the neighborhood. Depending on the searched product category, there should also be relevant filters on the search result page.
Add Product as Favorites
To make things interesting, you can also offer an option that allows users to add products to their favorite list. This feature should also come with options to organize the favorited items into different categories.
Share Shopping Cart with Friends and Family
This feature allows in making things interesting as it lets users create a shopping cart and share it with family and friends. They can also add their items to a common shopping cart using this feature.
Apart from the main features listed above, you can also include some other unique features that can impact the success of the online grocery store. These can be:
Lists and Recipes
The store page can have a section that recommends various recipes for dinner, dessert, breakfast, snacks, salad, and parties on the basis of food items previously bought. Following options must also be provided with the recipe section:
Create a new recipe list

Buy any ingredient listed in the recipe

Add recipe as a favorite

Share recipes with friends via social media
Launch your own grocery delivery website with more advanced features.
Checkout Functionality
The checkout functionality should be intuitive and seamless as it has a direct impact on your conversion rate. Following options should be considered while designing the checkout page:
Choose delivery date & time

Tip the shopper while placing the order

Automatically fetch the address details as saved in user's profile
User Profile Features
To deliver customers a rich buying experience, you need to implement the following features and options in the user profile area:
Section to store all the added (favorited) items

Section to store all favorited recipes

Complete order listing

Option to save an order (grocery list) and re-order the same items

General account management options

Features related to promotional offers (redeeming points, earning rewards, etc. which are discussed a bit later)
Become a Shopper
As an online grocery delivery platform, you can hire personal shoppers who are responsible for collecting the ordered items and delivering them to buyers. A lot of youngsters are working as freelance shoppers for all existing major grocery delivery platforms to fill up their free time. Such a feature will be a welcome addition to your online grocery store, but it would require offline access to manage freelance shoppers. Key features of this section include:
Managing freelance shoppers

Managing payments to shoppers

Managing shopper profiles (area wise)

Forwarding grocery orders to shoppers

Hiring shoppers from different areas
So these were the basic features that can be incorporated towards having an online grocery store.  Now, let's discuss a few value-added features for your online grocery delivery store.
Promotional Offers
Businesses love to delight their customers with sales and new offers. Your online grocery delivery platform should also smartly employ this marketing technique. Here is a list of suggestions regarding which promotional offers you provide through your grocery delivery website:
Redeem coupons:

Businesses give discounts and offer to push sales and delight customers. Your website should also offer this feature.

Free first delivery:

This offer will certainly drive in more and more new customers to your website.

Friend referral reward:

This is another excellent marketing feature to reach more people and enhance sign-ups. Your website should also offer a friend referral program through which a user earns a certain amount of credit as his referred friend joins the website and makes his first purchase.
Help/Support Section
A website cannot do without a well-managed Help/FAQ section especially if it deals with online transactions. Since your grocery delivery platform will be serving 2 types of users – customers and stores, there should be separate categories for them in the Help section. Also, make sure that the FAQ/Help section is easily accessible. Additionally, allow users to ask new questions.
Grocery Mobile App – Significance
Grocery mobile apps provide sustainable competitive advantage, empowering eCommerce grocery platforms as they meet the needs of consumers and delivery staff seamlessly. Bringing convenience to the doors of buyers, grocery mobile apps also provide employment to the people who make the order deliveries. Types of mobile apps at glance:
Grocery Buyer App

Grocery Delivery App
Grocery Buyer App: The readymade grocery buyer app provides a seamless shopping experience to people who are looking to shop groceries online, 24×7. Further, the easy to use Android and iOS apps offer an intuitive user interface that improves checkout experience while displaying information in the user's language. 
Grocery Delivery App: Fully equipped to supplement the grocery delivery staff with last mile delivery, grocery delivery app provides operational ease to the delivery staff as they can quickly view orders, mark order status and enable or disable their availability. Integrated maps further offer convenience for easy door-step delivery of every order placed online.
Therefore, you should have an online grocery delivery app for all major mobile platforms to allow your customers to do the grocery shopping on the go. Make sure your online grocery delivery app has all the features with rich functionality present on the website.
Other Recommendations for your Online Grocery Store
Apart from grocery & food items, also offer ordering for basic household items 

Offer eGift cards and coupons to enrich the shopping experience for buyers

Try to focus on faster delivery as it is one thing that will certainly give you the edge over others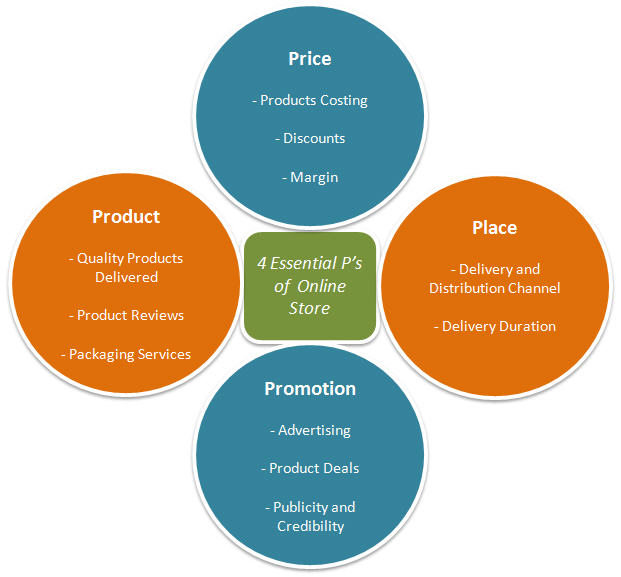 Conclusion
Current market figures state that the online grocery delivery marketplaces are growing at a lightning pace. While their reach is certainly touching new markets with every passing day, lots of potential investors are also showing their keen interest in them.
So, it won't be wrong to say that this is a good time to create an online grocery store for your own area. However, it is essential that your business is built by implementing all the advanced script features we have discussed in this post. Additionally, the execution of these features is equally important. Therefore, it is crucial that you pay attention and hire an experienced custom web and application development company to create your online grocery store.
Growcer is the Perfect Solution to Start a Profitable Grocery Business
Frequently Asked Questions
Q1. Is the online grocery business profitable?
Ans. Yes, the online grocery business is one of the most rapidly growing. As per a market report, grocery eCommerce sales are forecast to account for 9.5% of the total US grocery sales of $1.097 trillion. From here, the online share is projected to expand to 20.5% of $1.285 trillion in 2026. This is because customers have developed the habit of shopping for everything online. 
Q2. Are Mobile apps necessary for an online grocery store? 
Ans. In the current age of digitalization, Grocery delivery apps are important. Everyone uses a mobile phone as a gadget for receiving calls. Additionally, it is used for eCommerce too. So, using a mobile with grocery delivery apps brings convenience, as buyers can shop 24×7 from any place and get the order delivered to their doorstep. 
Q3. Legally what should an online grocery store abide by? (please note: Legal formalities can be summarized here)
Ans. Retailers and business owners should stay compliant with online business laws and regulations to future proof their online grocery business against legal calamities and expensive operational mishaps. Further, to stay safe, it is better to be aware of rights and wrongs when it comes to taxes, payment gateways, shipping restrictions, trademarks patents and copyrights, licenses and permits, PCI compliance, customer privacy, and business insurance. 
Q4. How do I start an online grocery store like "Instacart?" 
Ans. If you are an entrepreneur who is looking to start an online grocery store like "Instacart," then you should understand the pain points of customers and offer better services through distinct features. To draw a better understanding, you can read https://www.fatbit.com/fab/build-grocery-delivery-app-like-instacart/ 
Q5. How much does it cost to develop an online grocery store website and app? 
Ans. There are two options – either to build a website/app from scratch or to use a readymade solution that saves time, effort, and money. However, if you are looking to build a website or an application from scratch then factors like complexity of features, design, location of developers, and other requirements will greatly affect the cost. On average, grocery app development (alone) can cost you between $3000 to $14000.
Here, we would like to apprise you about Growcer, a cost-effective readymade grocery eCommerce solution for multivendor and single vendor grocery stores. Developed by FATbit Technologies, Growcer comprises all high-end features, offers 1 year-free technical support, is fully customizable and its pricing starts at $2499.00 per user, as a one-time payment. 
Q6. How is growcer different from Shopify to build an online grocery store? 
Ans. Growcer is a readymade grocery eCommerce store that is fully customizable, is equipped with a plethora of features, offers payment integration, accepts one-time payment, and apart from several other benefits offers 1 year of free technical support along with the source code. It also comes equipped with mobile apps for buyers and delivery staff (iOS and Android both).
Shopify is an eCommerce store that is not niche-specific but can cater to the grocery industry. Its pricing is on a monthly basis and delivery apps will be at an extra cost. 
Q7. How do I create an online grocery website – both multivendor or single vendor?
Ans. You can choose Growcer as a readymade solution for multivendor stores and Growcer Lite for single vendor.